Through Layered.Home, I support brands by authentically telling their brand story in a creative and inspiring context that speaks their message clearly to a warm target audience.
"Amazing collaboration with Lily, very professional and efficient. Great content and amazing taste & style! Thank you." Noa Home, October 2021
You have been such a pleasure to work with. Samsung / Aspire, September 2021
You've been a genuine pleasure to work with Lily and very accommodating. Re the blogpost, I love it! It's a great read, really informative and helpful to the reader. Thank you for putting together such a great piece of content. Designer Carpet, June 2021
"Thanks so much for being SO on top of everything and organised with this campaign Lily, you're honestly a pleasure to work with. I love how organised you are it's fabulous. Lick, February 2021″
Thank you for your collaboration and work quality! We really loved the content you created with our product. We read the blog article, it's amazing. Moonwall Stickers, July 2020
"You have been amazing all the way through this whole campaign, we can't thank you enough!" Cotterell & Co, March 2020
The following are the ways I help brands grow their audience and conversions.
giveaways – see actual giveaways below
product reviews
Layered.Home helps brands reach a highly engaged target market that not only spread the word about the brand but also helps conversions. As a professional photographer, I also provide press-ready professional photographs as part of brand partnerships.
"Thanks so much for kicking the campaign off with some gorgeous imagery yesterday. Not only are we over the moon, but the client has let us know that they are "incredibly pleased" – yay!" Spode, March 2020
To date I have worked with over 100 different brands on their campaigns and promotions including: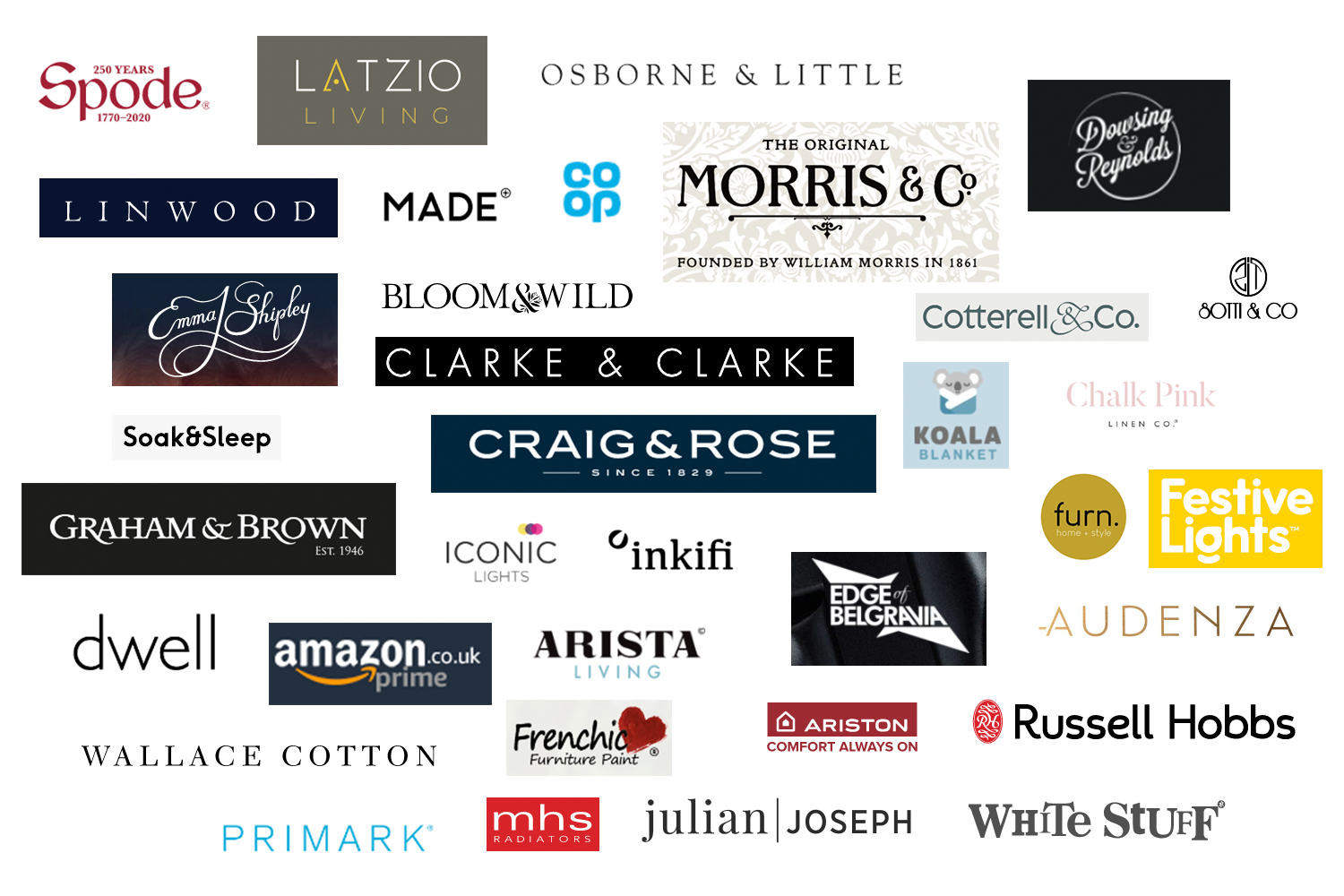 Ronseal, Littlewoods, Gressingham, Trussle, Visual Roar Interiors, Out There Interiors, Wilful Ink, Cushoo UK, Locomocean Ltd, Ink and Drop, Rustic Warehouse Norfolk, Walltones, VonShef, Mocha Home, TIJN Homelife, Linton Art, Roxane Gabriel Art, Scape Interiors Leigh, Sass and Belle, Firefly Home, Murals Wallpaper, Honora, ElsieMarie, Thames Water, The Curators, Hello Pea and Me, Napoleon Rockefeller, Bolt & Star, Artfinder, The Folklore Company, Retroduck, Poster Store, Susi Bellamy, Wild Lampshades, KennaSato Designs, Kiss The Moon, Nanas of Anarchy, Love Frankie, Wild One Interiors, Sukhi Rugs, Carpettale, Sooshichacha, Poster Lounge, Claire Elsworth Designs, SoapSmith, Jacqueline and Edward, The Basket Room, Heritage Geneve, IMSVintage, Tess Daly, Wild One Interiors, MXHome, Avalana Design, Nalys's Candles, Urban Botanist, ToddleKind, Protek Woodstain, Beijaflor World, Charlton Island, Mind The Gap, Catherine Rowe Designs, Susannah Weiland, Sophie James Mayfair, Vintage Playing Cards, Charlotte Jade Design, Fitward & Hayton, Foxology, Nearly New Cashmere, Coco and Kinney, Rebel Walls, Bico Ceramics, Velvet Linen, Dizzy Duck Designs, Dunelm, Warner House, Tesco, Fiona HOward, The Dotmaker, Rockett St. George, Mineheart, Virgin Wines.
"Appreciate all of your input, posts, feedback and general niceness, thank you so much for everything. You have gone above and beyond our expectation and it's really kind of you." — Firefly Home, May 2019
How can I support you? Let's have a chat about it.
Giveaways
In my experience, giveaways are by far the most effective way of spreading the word about a new brand or a brand's new collection. Below are the growing list of giveaways I have run on my page.
Rockett St. George & Craig and Rose
Tess Daly with Clarke and Clarke Interiors
60K giveaway with various brands
50K Giveaway with various brands
Testimonials
"You have been amazing all the way through this whole campaign, we can't thank you enough!" Cotterell & Co, March 2020
"Thanks so much for kicking the campaign off with some gorgeous imagery yesterday. Not only are we over the moon, but the client has let us know that they are "incredibly pleased" – yay!" Spode, March 2020
"I have just read your blog and it's superb, thank you for covering all of the sustainable attributes along with your wonderful pictures. The links all look great too and the whole article will help us so much with our Google ranking which is unbelievably important. We can't thank you enough for all of the dedication you have put into our brand over the last few weeks, the followers are continuing to grow and the Google awareness has been helped enormously. Thank you for doing another story series; it's incredibly lively… which is really pleasing to see so much appreciation for the giveaway. Thank you for all your dedication to helping us grow, all the hard work you have put into our brand over the last few weeks and for being super efficient" Chalk Pink Linen Company, February 2020
"The blog post and the discussion it's created is fantastic, thank you for taking the time to add links to my website, sing my praises and write a really engaging blog post. I wanted to say a huge thank you for this fantastic collaboration, it's my first one and you have been a pleasure to work with, very straightforward and so organised. I'm still absolutely blown away by your wonderful styling and photography of my products and I couldn't have picked a better person to work with! The wardrobe images are so strong and the one with the pop of yellow just sings! I'll be getting them on my website and Pinterest very soon. IG follower wise I'm up by approx 440 ish and they are all interior enthusiasts which is bang on target, in the right age range, mostly women in London. I'm still gaining followers and likes from these target markets so my audience is definitely shifting to my desired target market which is great news and the positive feedback on my designs has been phenomenal." Claire Elsworth, January 2020
"We are really happy to work with you. You did an amazing job." — Kalm Koala, October 2019
"We are very happy with the photos you have taken and how you ran the giveaway. It definitely helped spread the word about Kiss the moon to a wider audience." — Kiss the Moon, October 2019
"Thank you so so much for working with us! We've had a fantastic uplift in followers and orders since you started posting your gorgeous pictures. As a fledgling business your support is now an invaluable part of our ever growing story. You have been an absolute pleasure to work with… so professional, SO helpful and absolutely spot on with your creative and our aesthetic." — Bolt and Star, July 2019
"Appreciate all of your input, posts, feedback and general niceness, thank you so much for everything. You have gone above and beyond our expectation and it's really kind of you." — Firefly Home, May 2019
"I have just seen all your latest posts and really loved the content. I could see from the comments section your followers were really engaged, so great to see the stats back this up to! It's nice to get a fuller impact of our smaller products. I have really enjoyed working with you on this and super happy with all the content you created – hope to do something like this again in the future. Look forward to seeing bits of Sass & Belle in your future posts." — Sass & Belle, May 2019
"When we send out items to the Interior Insta Famous, in return we expect a few pics of our items wonderfully styled up. Never did I ever imagine the beautiful content that would/could be created with our items by one person! Aka Lily is a total force of nature! She is a whirlwind of inspiration for many interior loving Instagram users. I am in awe of her energy and it pours through into her IG account." — RW Norfolk, March 2019