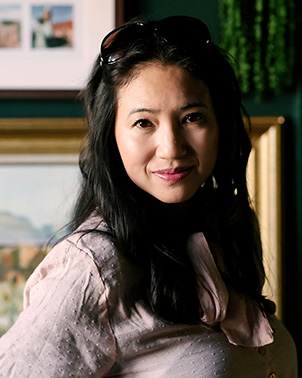 Teaching entrepreneurs and creatives, interiors styling, photography, and creating campaigns for brands constitute my day-to-day.
Layered.Home started out as my creative outlet and a hobby in the summer of 2017. Instagram was a source of inspiration and a lovely community and I shared my home styling on it.
Our home – a 5-bed Victorian house, was full of interesting original features when we moved in: doors, fireplaces, coving, corbels and 135 year old oven that is not functional anymore but more of a feature. There's also a brick-walled side return built to match the original Victorian style. This meant we have space for a proper dining table in the kitchen area which is now an open plan kitchen-diner.
Other than these, it was a blank canvas with plain bare walls everywhere. It's a house that gets very little light being north-east facing. Although the walls were really light, all the spaces looked extremely dull – the muddy magnolia type dull, in the little light that it gets.
Over the past six years, we have been redecorating the house to make it reflect our home life and preferences. We have added a loft extension to accommodate all six of us comfortably. I didn't set out to have one particular style so I guess that makes me an eclectic maximalist. Everything grew organically over time, even the transition from light walls to dark interiors. I'd like to think my home reflects our journey as a family with items that have been collected, learned and experienced over the years.
Story and soul are two very important things for me when it comes to creating a space. Mixing pieces from different eras and style makes our home unique. Going matchy-matchy with soft furnishings and furniture isn't my thing. I'd rather have an eclectic collection of well-loved pieces and a mix of patterns which to me bring real character into a living space. That said, I do enjoy trying out new things so watch this space.
I am also a little crazy about greenery. Unfortunately I've killed one too many and have turned to mixing faux plants in with the real ones both indoors and outdoors.
Now in 2020, my Layered.Homehas reached 100k and is steadily growing. This has opened opportunities for me to work with numerous brands and projects. I now teach creatives through my online branding and Instagram course.
If you've managed to read through all the above, perhaps you're interested in interiors, branding and growing your Instagram. I'd be more than happy to chat with you about how I can help!