How my Instagram account grew by 60K in 12 months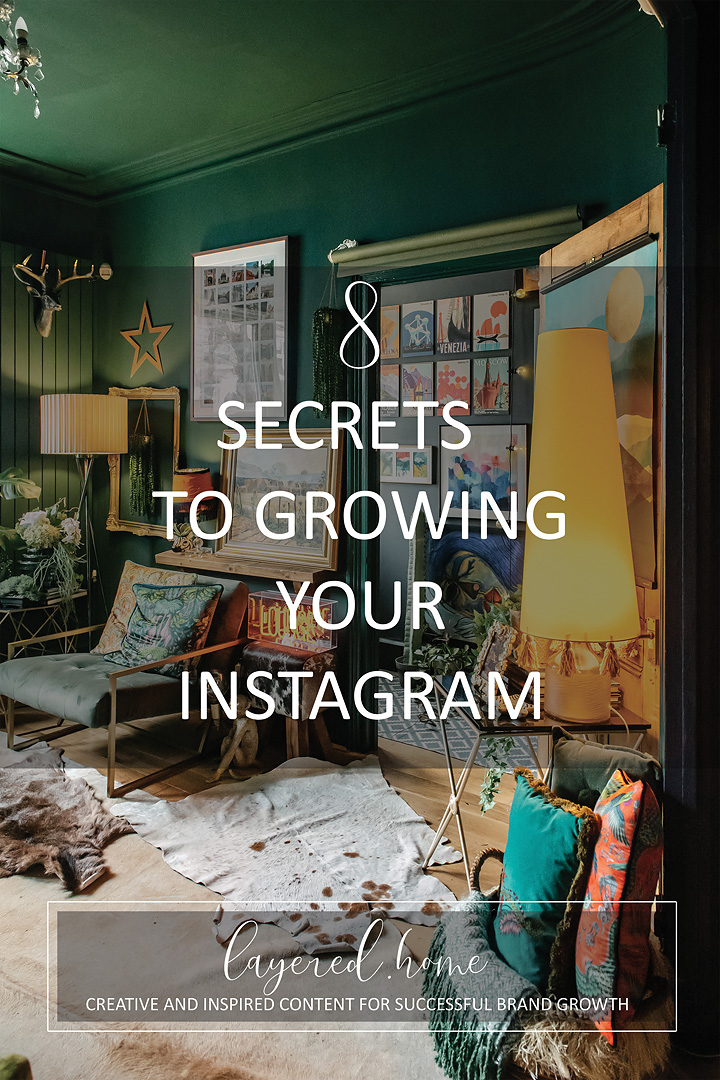 Last year in 2019 around May / June time, I wrote a blogpost on 5 things I did to grow my Instagram account by 22k in 4 months. If you haven't read that blogpost, I encourage you to read it first of all. This blogpost here now is a continuation of the first blogpost and adds 3 more things that I have been doing since. But the first blogpost provides context including the first 5 things which are key, so please read it first and then come back to this one.
Fringed Lamp – Wild Lampshades, Chair – Honora UK, Monkey Lamp – Iconic Lights
My Instagram account has grown a following of around 60k or just under in the span of a year. I have stuck to those 5 things and have added 3 more things that I believe helped grow my account which I'll explain in this article. I get messages asking advice on how to grow Instagram accounts. I don't exactly know why one account grows more than another, but I think it's no big secret either, so I'm sharing what I know over here. I hope these help you in some way! (This blogpost is not sponsored by anyone but photos contain items from previous collaborations with various businesses and companies listed on he4re below the images.) I have also written a free 3-part guide to grow your Instagram account. Sign up here to get it.
Following on from the previous blogpost, here's number…
6. NO COMPROMISE
Soap – Soap Smith
I am now at a stage where I know which type of images do well on my grid and which don't. By this I mean the type and style of an image and not necessarily a particular image of a room. My Instagram Insights provide me with all this useful information as well as common sense analysis of which style tends to do better.
With this in mind, I now only post images I am 100% happy to go on my grid and to stay there. I no longer compromise on this. If I'm unsure of an image, I don't post it. I stick to what I know is strong content and is in line with my style. No compromise. That said, I still don't know why no matter how hard I try to capture the style and type of image, some rooms do better than others. Despite all the elements being present that I think represent my niche, some spaces still struggle. In the same way, other rooms always do well. Regardless of how a post does, of whether it flies or not, at least I know I'm happy with it! Some people just prefer one image to another and that is perfectly alright.
Chair, tables, throw – Latzio Living, Rug – Sukhi Rugs
I have noticed that the key to periods of fast growth in my account have been the features and shares that these successful rooms on my grid get. For example, last summer, my kitchen was featured on Apartment Therapy – an account with over 2 million followers. Over that weekend, I had a growth of about a thousand just from that share alone. The same post was regrammed by Patch Plants, a business with over 100k following and in one day my account grew by 700. It was also shared by Room Porn, another account with over a million following, which again provided a spike to my growth.
Bowls and Planters – Sass and Belle
I am extremely grateful that some of my posts have also been shared by large individual accounts like Abigail Ahern, The Girl with The Green Sofa, Agi_at_59 and Design Attractor to name some and my account's growth spiked each time. I see these as a fruit of having strong content that I should not be compromising on. I have elaborated more on how to create strong visual content on my free guide to growing your Instagram account which you could download here.
Wallpaper and Cushion – Claire Elsworth Design, Rug – Scape Interiors Leigh, Painting- Roxane Gabriel Art, Paint – Craig and Rose
More recently, I have cut down my posting from daily to about 3-4 times per week. This relieves the pressure of coming up with strong daily content and having something new to say. More importantly, it stops me from posting for posting's sake. As a side note, a few months ago, my Instagram Insights started showing me specific stats on follows and unfollows which I never used to have access to prior. With all this growth, there are also daily unfollows. I think this is normal – so if you get them I wouldn't worry about it!
7. TIMELY CONNECTION
Paint – Graham and Brown, Yellow Lampshade – Love Frankie
I have spoken a bit about timing in the last blogpost, mainly about when it works for me. But I have followed my Instagram Insights that tell me that my audience are on Instagram late in the evenings and have stuck to evening postings as that's when most of my audience are online. This also means it's a good time to engage and connect because the people that you know and who you regularly connect with are most likely on there too. This makes sense really as if many of us are at work during the day, how can we meaningfully engage on Instagram at the same time?
Paint – Frenchic, Wall Hanging – Wilful Ink
Unfortunately, if I rely on what Instagram shows me as I scroll down my feed, I hardly see anyone I regularly engage with. Instagram shows me mostly hashtags I follow and some people, many of whom I don't actually know or remember even following! Every time I post on Instagram, I look up everyone I know and want to engage with and see what they are up to. I search for them individually (by typing a letter on the search bar and looking through the accounts that show up) and I comment on their posts that day or even including previous posts that I have missed. I often read the captions too so I can interact properly.
This evidently takes a bigger investment of time on my part but I am grateful for the connection and engagement I get from this community, so doing this is worthwhile. I don't always get to everybody but I do my best. Once I've searched everyone, I scroll down my feed in case there are new accounts I wish to follow and comment on or friends I may have missed or not seen in a while and forgot to search for.
Chairs – Sotti & Co, Dining Set – Made.Com, Chandelier – Visual Roars Interiors
Most of these Insta pals usually comment back or reply on the same night or the following day, so it's a two way communication. I also reply to all comments and usually comment back on their own posts as a way of saying thank you. If people have taken time to comment on my post, I like to return the favour. After all, reciprocity builds connection and ultimately grows your "tribe".
There have been a few Insta accounts that I have followed and on whose posts I commented on consistently but I never get reciprocity back – sometimes not a thank you or an acknowledgment of my comments and never liking my comments and posts either. These include not just small accounts but large accounts too!
I persevere a bit especially if I like their style, but after a while if I never hear back from them or see them interacting back with me, then I take that as a completely one-way relationship and that they are not interested in engaging with me at all so I eventually stop.
Letterbox Flowers – Bloom and Wild, Coffee-maker – Russell Hobbs
A two-way connection is not only really important but also makes being on this time-consuming platform rewarding. Crucially, it also means that this Instagram thing is not all about "just me and my account" or all about "you and your style" but that it is a community and for community to thrive relationship has to be a two-way street.
For me, this community doesn't mean we also like the same style and type of interiors. To a certain extent that's a moot point because I appreciate all kinds of interiors and style – even the ones that look the opposite of my own style, i.e. white walls, minimalist. I love them too and follow some Insta pals who champion these styles. It's similar to having friends in real life; you can be very different but still like each other. We can learn and take inspiration from one another.
8. LINKS TO OTHER PLATFORMS
Leather Sofa – Dwell, Star Cushions – Firefly Home, Coffee Table – Amazon Home, Cushion – Emma Shipley, Throw – Furn, Tassel Basket – ElsieMarie
Links across online platforms can only help. Early on I have switched my Instagram account to a business account with a link to its own Facebook Page. This means that both platforms are connected and that my standard posts and stories are also published simultaneously on Facebook. Facebook owns Instagram so using both platforms somehow can only be beneficial.
Yellow Cushion – Susi Bellamy, Multi-framed picture – Inkifi, Metal Star – RW Norfolk
I also have a website which acts as a base where more information can be found about what I do. On Instagram, this information space is limited to a few lines and characters on your profile. Even captions are truncated after the first 125 characters. With a website, there is limitless space for any information you want to put out there.
The style of my blog is also consistent with my Instagram niche, that is, having a dark background with a moody feel to it. Hopefully, there is no disconnect between both (although this website is an extension of my photography business website so elements from that have been carried over such as the logo and fonts). Whilst photos of me are never shown on my Instagram feed, you can find a couple on my website and blog.
Wallpaper – Linwood
Whenever I blog, the images published on my blogposts are "pinnable". They can be pinned on Pinterest and, more importantly, I pin them myself so they get shared on there. I try and use the most commonly searched words that are relevant to my images when applying keywords so maximise the chances of them showing up. Pinterest is one of the biggest search engines, much like Google, and it's crucial to show up there too.
Wallpaper – Osborne and Little, Linen Bedding – Soak and Sleep
So there you have it – How my Instagram account grew by 60K in 12 months: my 8 no-secret secrets on Instagram growth. I hope some of these will help you on your Instagram journey and go towards growing your account too! Download my 3-part free resource on growing your Instagram account!
If you know someone you think would find this helpful, would you mind sharing it to them? I'd be grateful if you would share on your stories too or mention or tag me Instagram layered.home on your posts. I'd love it if you would follow me on there. Thank you for reading! You are always welcome to send me a DM if you have any questions. L