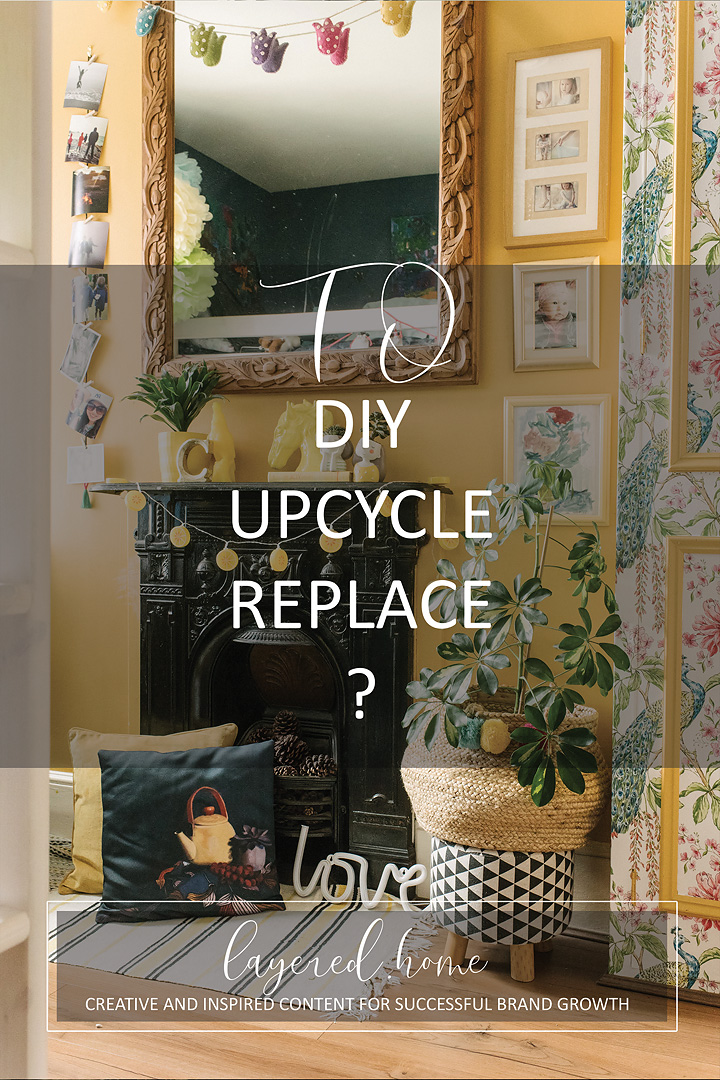 For many of us, those that I know anyway in real life and on Instagram, our lives and interiors would look very different if money was no object. But most of us work on a budget which makes our options limited. This leads to thinking outside the box and being creative – which is a good thing, and to explore DIY, upcycling or save up and buy new.
DIY and upcycling are like Marmite: love it or hate it. Here are my thoughts and tips on when to DIY, upcycle or replace a piece of furniture or home decor. By the way, don't forget to download my free resources that will help you design your own interiors and grow your Instagram account!
WHEN TO DIY?
1. You have zero to very little budget and want to challenge yourself with a project.
Below is a hand-painted DREAM word in metallic lilac paint. I couldn't find big enough letters and these are usually pricey anyway so I thought of painting it. My daughter wanted stars around it so we just stuck gold star stickers all over the wall.
Photo above courtesy of Georgia Burns for Reclaim Magazine October 2018 issue.
Projects can take time so you have to factor that in. Time is money so if it is too laborious, you may want to ask yourself if it's really worth your while.
2. You can't find exactly what you need or want be that the right shape, dimensions or style.
Below is our DIY side table. I wanted a side table with a big enough shelf to house some art book but could not find any that was budget-friendly and the right size. So with the help of my husband, we made it. Using some thick MDF left-over from our wardrobe shelves, we hammered together a box. I purchase 4 steel hairpin legs and marble contact paper to cover the MDF. It fits the space and houses my art books. The best part, it was under £50 all in.
The coffee table in the photo above is a very inexpensive white wooden piece. But it had 4 compartments on both sides and our family A4 albums and travel books fit perfectly inside. I covered it with marble contact paper.
3. You want to to alter the look of an existing item be that old or new.
Below is a vanity that happened to be the right size for the space but I really disliked the original style and colour. I bought it new and painted it black, wallpapered the doors, changed the handles, and used wood effect contact paper on the vanity top which is waterproof and heatproof. Much more interesting than the white shabby chic MDF that it originally was.
WHEN TO UPCYCLE?
1. It brings joy to you so that you can't part with it but you want to give it a new lease of life.
2. It has sentimental value.

3. It still has life left in it and you'd be helping the planet by saving it from the tip.
Below are old wooden drawers upcycled into shelves. I had left-over wallpaper and chalk paint and used them to make these old dark varnished drawers into something fun, decorative and functional. They are shallow enough to go on the wall without my daughter hitting herself on them so were just the perfect depth. Look close enough and you can still see the handles hanging from the drawers.
The black owl lamp is also upcycled using a basic Ikea lamp base, a ceramic owl that we made at a workshop on one holiday, lampshade covered with velvet fabric and a trim glued to the edge.
4. It only needs a bit of tlc to improve it in terms of function and aesthetics.
Below is a very basic and inexpensive wooden white chest of drawers. I covered in wallpaper to give it some personality and make the room interesting. I used wallpaper paste to stick it and decoupage glue to seal it.

If you don't have the time to upcycle items yourself, you can always call on a professional to do it for you. One of my favourite Instagram upcyclers is Marcie of marciekdesigns. She is the queen of upcycling and is a professional upcycler so she knows the right ways to do things. Go check her out.
WHEN TO REPLACE AND BUY NEW?
1. The piece brings no joy to you whatsoever and you actually really dislike it
The mirror on the wall in the bathroom photo above is new and replaced a second-hand mirror which I had bought from Ebay. It seemed like a good idea then but I didn't love it when it arrived. It could still have done the job but it didn't bring me any joy and I really wanted this new one in the newly revamped bathroom!
2. It holds no sentimental value.
3. It has seen better days.
4. You have the budget and can afford to buy a replacement. You can always hunt for bargains or wait for the sales or splurge on an item you have set your heart on.
Photo above courtesy of Georgia Burns for Reclaim Magazine October 2018 issue.
Do share your thoughts on Instagram layered.home and I'd love it if you would follow me on there too! And please share on your stories or repost on Instagram, I'd be forever grateful! Don't forget to download my free resources that will help you design your own interiors and grow your Instagram account!