3 essentials in creating a gentleman's club vibe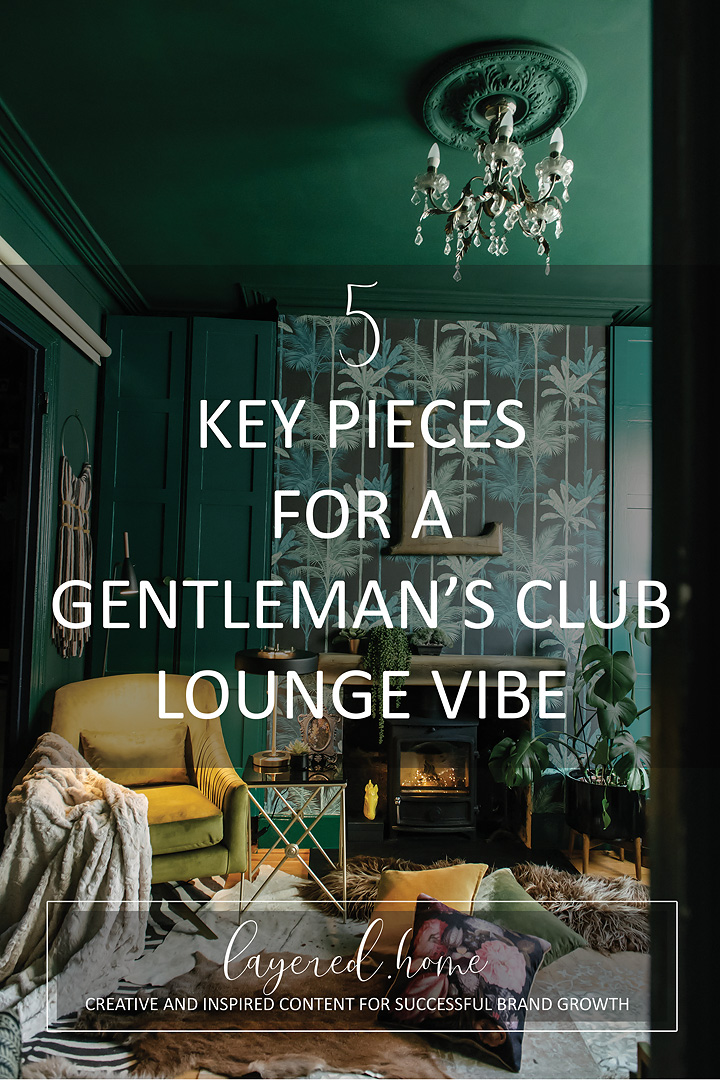 My living room has recently had a makeover from a traditional look to a dark gentleman's club vibe. I wanted it to feel more grown up, a little more sophisticated with a touch of fun.
I have made it a habit now to make a moodboard before I start any makeover or revamps so I can visually edit my ideas. After narrowing down and swapping wallpapers and a few items, the photo above is my final moodboard for this room. I create my moodboard in Photoshop using layers so it's easy to hide items that don't look right and arrange them as they are to be seen, eg. which items are on the front and which one are behind.
And this below is the finished room in real life. By, the way, don't forget to download my free resources that will help you design your own interiors and grow your Instagram account!
Here are my 3 essentials in creating a moody dark room with a gentleman's club vibe:
1. RICH TEXTURES
Rich textures such as velvets, lush rugs and thick throws give that inviting and cosy feeling. It makes the space immediately feel cocooning and a bit luxurious. Imagine walking in a log cabin, baskets overflowing with logs, floors covered in skins and the smell of a roaring fire… Shown here are a sustainably sourced reindeer rug, a faux throw and a woollen berber rug from John Lewis.
The Hilda chair from Honora UK is the perfect addition here with it's classic buttoned seating style in fine velvet set in a contemporary frame design. I love mixing classic and contemporary elements. The tension that this combo produces is what makes a design stand out from the norm.
Fringes and satin remind me of the decadent 1920s flapper style, beautifully designed opulent interiors in rich colours, heavy with textures, flamboyant yet classy and elegant. I love everything Emma Shipley. The quality of Emma's Jungle Palm cushion thickly fringed in olive green reminds me of that era. Her Phoenix satin cushion is also the perfect contrast to the rich velvet – the unashamed tangerine colour with her feisty Phoenix design on both sides held together by fine piping.
Glass is one of the key smooth and shiny textures that I added here in the form of a vase from Audenza Home, the bare bulb monkey lamp from Iconic Lights, the cruz globe lamp, again from Iconic Lights, and the glass mirrored gingko side table, also from Audenza Home.
I love matt and hate gloss. But this space needed not just glass but heavier mid-sheen textures for the perfect gentleman's club vibe. Enter Graham and Brown's jewel toned Eva paint. It's colour and sheen bring the old drab cupboard doors to life! Paired with some metallic gold letters from Rustic Warehouse (photo above) and glass and metallic accessories like the monkey lamp, candles and the mirrored gold table, and we're almost there!
2. DEEP COLOURS
When it came to colour, I had to be stricter than usual and kept the scheme to 3 main colours: strong dark colours, natural accents, colour accents.
Keeping to a dark them, green and black are the main strong colours that hold everything together. Panelling, wallpaper, chair, wood stove and hearth and planter from La Redoute are all solid elements that anchor the scheme.
Natural accents are in the form of wood, green plants and metallic gold. Wooden lampshade, wooden letter, wooden shelf, wood to burn, greenery, gold letters and accessories.
Colour accents help break that catalogue matchy-matchy look which I am not a fan of. Mustard is so close to gold that it's almost the same colour but it is just the right secondary pop. It also ties in nicely with the honey-coloured floor. Tangerine is my choice of primary pop to break up the greens and blacks.
3. UNEXPECTED CONTRAST
I wanted to bring all these elements together in a cohesive design. I also aimed to steer clear of a boring space or something that feels too curated. With colour reined in, juxtaposing contrasting elements is the answer to elevating this space to another level.
Matt wallpaper in Jungle Mood design and mid-sheen Eva paint work well next to each other. Both are from Graham and Brown.
Gold metallic letters against matt wallpaper. Wooden lampshade on a copper and black light with a marble base. The soft twinkle of fairy lights illuminating a solid black metal stove. All contrasts that create intriguing friction.
Bolt and Star luxe candles peppered in places draw you in at once. Hello Pea and Me's gracefully drawn pictures of birds against a more geometric backdrop of uniform lines and arrangements bring in that pleasantly unnerving feeling.
Do you have exciting ideas to add to the above? Do share and let's connect on Layered.Home. Don't forget to download my free resources that will help you design your own interiors and grow your Instagram account!
If you found this post on 3 essentials in creating a gentleman's club vibe helpful, I'd be grateful if you would share on your stories or mention or tag me Instagram layered.home on your posts. I'd love it if you would follow me on there too!
P.S. Although this blog is not sponsored, some of the items mentioned above have been gifted and are listed below.
Honora UK Hilda Chair
Emma Shipley cushions
Graham and Brown wallpaper and paint
Audenza Home Gingko table
Rustic Warehouse metallic gold letters
Iconic Lights Monkey and Cruz Globe lamps
Bolt and Star candles
Hello Pea and Me Bird poster