4 new ways to bring the outside in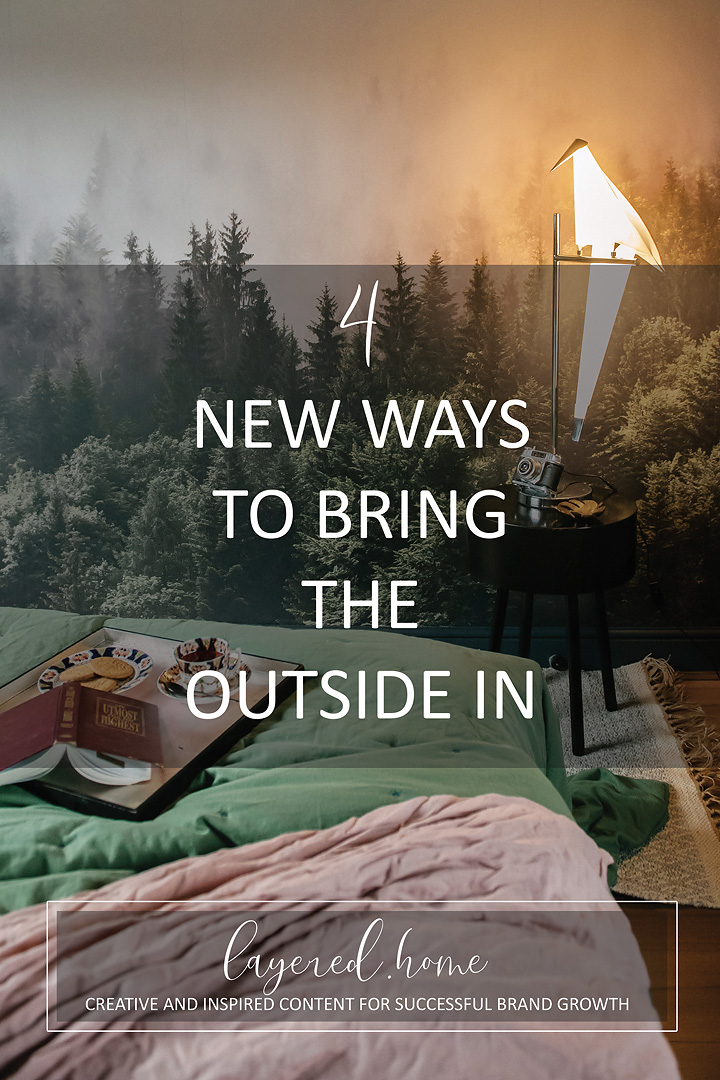 If you're anything like me – loves plants but has a track record of killing them including the unkillable ivy (twice!), then you'd find ways of still being surrounded by greenery despite our lack of green-fingers.
Here are 4 ways I have brought the outdoors into my north-east facing darkly-lit home. I won't include greenery as that is the obvious way and feels self-explanatory when you hear of the phrase bringing the outside in. In this respect, Hilton Carter is the absolute goals of bringing greenery into our homes. Don't forget to download my free resources that will help you design your own interiors and grow your Instagram account!
1. MURALS AND WALLPAPER
Living in London where open space is at a premium and most houses are squashed into small terraced roads, I find myself longing for some country from time to time. Lush forests and open skies, rolling hills and the smell of the sea. My dream home is a cosy steel and wood cottage next to water, surrounded by lush trees with a snowcapped mountain in the background. I'm not asking for much am I!
The next best thing was to get a forest mural indoors. This wall faces the bed so when we wake it is the first thing we see. If life weren't so hectic, I'd probably add some music to the sound of a gentle breeze, lapping waves and chirping birds.
This 'Into the Woodlands' mural (see here for global link) is a gift from Murals Wallpaper and is the perfect view for me in my little dark loft bedroom. In fact I have a photo of this very forest framed and hung in my entrance hall for a few years now and so I am delighted to have this cover an entire wall.
I have ordered from Murals Wallpaper before for a client and they have always been very professional and the delivery was quick too. There are choices of 3 different papers from lightweight, medium weight and heavy-weight. The wallpaper comes as a roll but the sections that need cutting to piece them together horizontally are clearly marked. It also comes with a set of instructions on how to hang wallpaper. All the hard work is done for you – unless you have wonky walls like me that requires you to trim every edge. Fortunately, Murals Wallpaper always give you some wiggle room with the measurements so you will get the full perfect picture up in no time.
I have a variety of wallpapers in my home – all nature inspired including a hand-painted floral mural in my Mum's bedroom. You can see my kitchen here – the most popular space in my house on Instagram, my light-coloured lounge with a William Morris wallpaper, my daughters' bedrooms with Hibiscus wallpaper in two colourways and my back toilet with hand-painted ferns.
2. LIGHTING
You'd be surprised at all the flora and fauna themed lamps you can find nowadays from pineapples, ferns to rabbits, horses and flamingos. But this is the first time I've come across this cool bird lamp – oh my word my mind was blown. The bird has two really pointy claws that connect it to the branch and make it swing! Its a table lamp but it quite big so it's worth the money, which at 50% in the sale is an absolute bargain! This lamp was gifted to me by Scape Interiors Leigh. They have an array of interiors products to choose from including really lovely unusual and quirky items such as this lamp.
3. NATURAL FABRICS
I love the feel of natural fabrics like 100% cotton and 100% pure French linen when it comes to bedding like Soak and Sleep's new French linen bedding range. It has the softest linen feel in the most delicate and creamiest rose pink hue. I love it. Although this bedding has been gifted to me by Soak on Sleep, I have been a loyal customer over the past decade with them buying our all our pillows, duvets, toppers and protectors from them. They have the most reliable quality products at reasonable prices too.
My absolute favourite bedspread is this Matapouri reversible bedspread gifted to me from Wallace Cotton. It looks like linen but is the softest cotton I have ever come across. It came with not one but two laundry bags – one matching and the other a palm tree print on white cotton. They are worth it for the laundry bags alone – because I have a thing with bags!
Rugs are another way of using natural fabrics in your home. I love cowhides and sheepskins as they are easy to clean. Jute is also one of my favourites. This rug, again gifted to me by Scape Interiors Leigh, is cotton and jute woven into the design throughout. It is thick so has a bit of a give when you walk on it. It's soft and and feels like carpet with that little squishy comforting feel on your feet. It comes in a variety of colours. I chose the light grey as this lives by the mural and I didn't want any strong pattern to take the focus off the mural.
4. WALL COLOUR
Paint your walls "nature" colours like greens and blues or earth colours like chalky mineral whites or middle Eastern browns and sand or jewel tones. I find the deep greens calming and cosy. My front room has green walls and I love it. I still have a light wall and cupboard doors in that room that are pale colours and I have been working on moodboards to change it to a darker hue – green of course. Here's a peek at one of the moodboards I have been working on. Which one do you prefer?
The olive green chair on the moodboard is from Honora and is currently in the sale! The wallpaper on the left is jungle mood by Graham and Brown. Don't forget to download my free resources that will help you design your own interiors and grow your Instagram account!
Do you have any fresh ideas of bringing the outside in? Do share and let's connect on Layered.Home.
If you found this post on 4 new ways to bring the outside in helpful, I'd be grateful if you would share on your stories or mention or tag me Instagram layered.home on your posts. I'd love it if you would follow me on there too!