3 Ways to welcome spring in your interiors with Chalk Pink Linen Company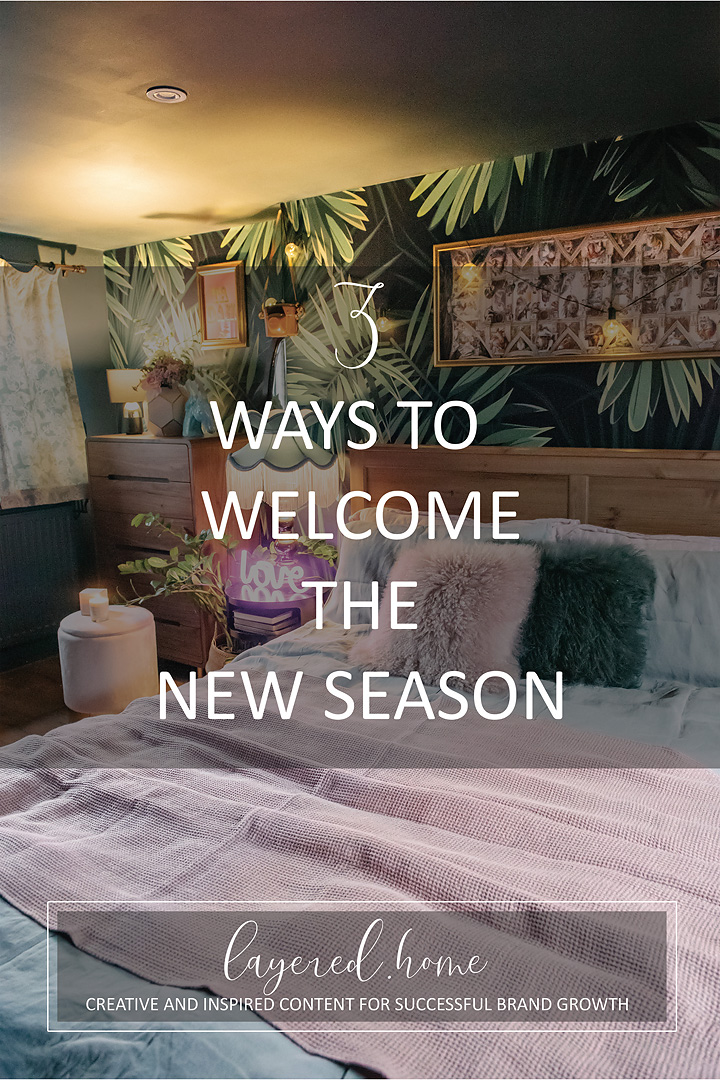 Autumn and is cold and dark, yes, but the New Year, the brighter and lighter days remind me that spring is near!
Around November and December time, I embrace the darkness and decorate my home with fairy lights and candles for a moody vibe and a cosy ambience. But, come February I cannot wait to change things up and get ready to welcome spring!
If like me, you experiment with seasonal changes, you are probably regularly moving things around in your home and switching up your accessories. The photos above show how my bedroom has been transformed from autumn, through winter and now spring, just by changing a couple of things. As you can see, the walls, furniture and most accessories remain the same.
Changing the look of your home need not be expensive nor require a huge amount of effort. Something as simple as switching up cushions, throws and bedding could make a real difference. I have written more quick and easy DIY update ideas on my free resources page which are available for you to download.
Today I'll will talk about three tips you can use to welcome spring in your interiors without breaking the bank. I have used products from Chalk Pink Linen Company, but of course you can use any product you want that achieves the look you are after.
1. BRING IN THE PASTELS
When I think of spring, the following words come to mind: light, airy, breezy, fresh, spacious. Pastel colours help bring these vibes into my home. Gone are the dark blues and rich hues. Instead I brought in the pale greys, blush pinks and chalky blue tones. These delicate pastel shades also provided contrast against my dark walls and floors and made the room feel more spring-like!
Last November, my husband and I celebrated our 16th wedding anniversary. We stayed in a hotel in the Isle of Wight and we were provided with white waffle robes in our room. I said to my husband I'd never buy a waffle robe ever. It wasn't soft at all, really rough and uncomfortable on the skin. He disagreed and wondered why I was complaining. But then later he picked up our robes to put them away and the penny dropped. His waffle robe was soft and thick and mine was a different brand, rough and of poor quality. I was telling the truth after all!
I can attest that this waffle weave Dusty Pink throw is super soft despite being 100% linen in waffle design! It has a beautiful natural feel to it and the waffle design, keeps you cosy and warm with it's thermal properties. Let's face it; it's still really cold and will be for a while yet!
2. BRING OUT THE LINENS
By simple switching you bedding from rich velvets and woollen fabrics for example, into natural fabrics, you'd be amazed at the transformation. In my bedroom, I changed my dark thicker cotton mix bedding into these gorgeous pale Tumbled Grey 100% natural linen from Chalk Pink Linen Company. I've always loved grey, especially in cool tones, and this perfectly fit the bill.
Being a natural fabric made purely of natural fibres, linen is recyclable and biodegradable. Chalk Pink Linen Company ensure that they only offer linen products that do not use harmful chemicals in the dyeing process. They make sure that these conform to the Oeko Tex 100 standard certification.
Don't be fooled by its delicate look! Linen is more durable than cotton which makes it resistant to wear and to abrasion. We already know that it becomes softer after each wash. But did you know that it becomes 10% stronger when wet, unlike other fabrics?!
Linen is also hypo-allergenic, skin-friendly and has antibacterial properties. It's resistant to moths and mildew and prevents bacteria growth with its natural pH balance. I have learnt so much about the beneficial properties of linen from reading up on Chalk Pink Linen Company's ethos!
3. DECORATE WITH TULIPS AND SPRING FLOWERS
Arguably the most inexpensive way to bring in seasonal changes is through seasonal florals. To me tulips are a celebration of spring. Once I see tulips in the supermarkets, my heart skips a beat because they tell me spring is just around the corner.
Similar to linen which is incredibly eco-friendly and renewable, flowers are compostable. This is super beneficial to the planet because the nutrients are returned to the soil to fertilise it.
The soft and delicate texture of flowers compliment the delicate look of linen. Linen is made from flax plant which has hollow fibres as opposed to cotton fibres which are dense. Hence, the light and airy feel to linen fabrics when handled.
Needles to say I am loving the lighter days that bring brightness into my home and I am complimenting these with pastels and beautiful linens for that light and fresh feeling at this time of year. For more ideas on easy and quick DIY updates for your home, check out my free resources download.
If you are looking for the best quality linen, check out Chalk Pink Linen Company for elegant options. It's truly a "buy once, buy well" with their products. You can use the code Layered for 20% off their duvet bedding sets valid until Wednesday 26th February. They have just launched Klarna to help with purchases.
This blog is sponsored as part of my collaboration with Chalk Pink Linen Company.
If you know someone you think would find this article on 3 Ways to welcome spring in your interiors with Chalk Pink Linen Company inspiring and helpful, would you mind sharing it to them? I'd be grateful if you would share on your stories too or mention or tag me Instagram layered.home on your posts. I'd love it if you would follow me on there. Thank you for reading!
Don't forget to download my free resources that will help you design your own interiors and grow your Instagram account! Let's chat on Instagram and follow me on layered.home for more inspiration.