5 Quick DIY updates you can do during this lockdown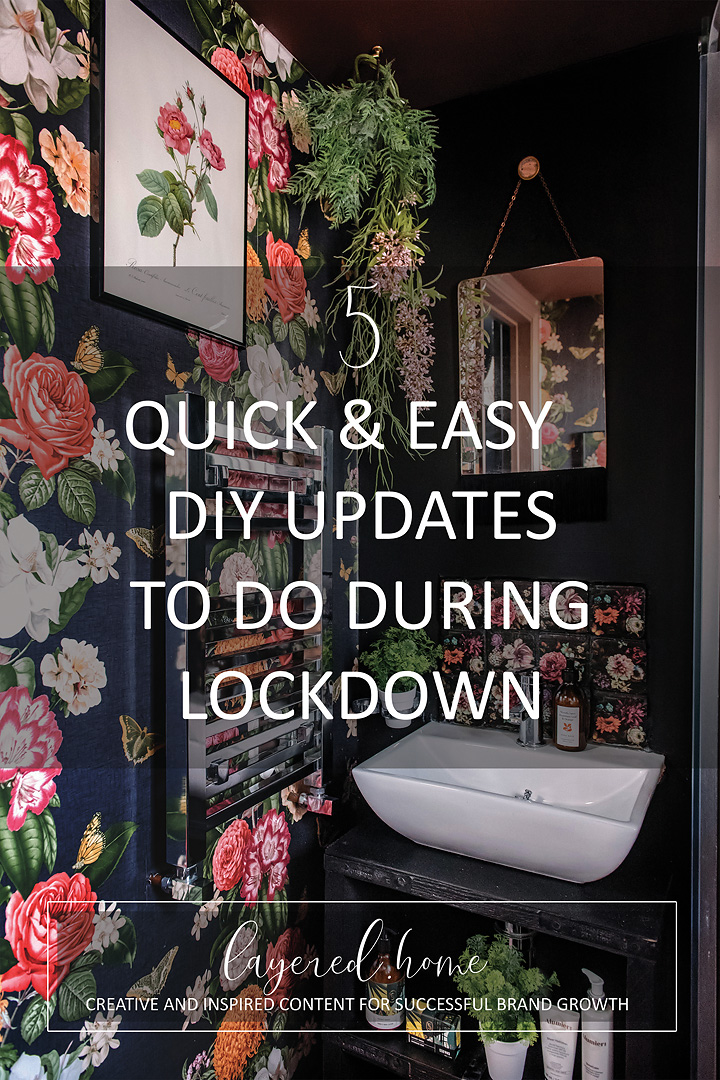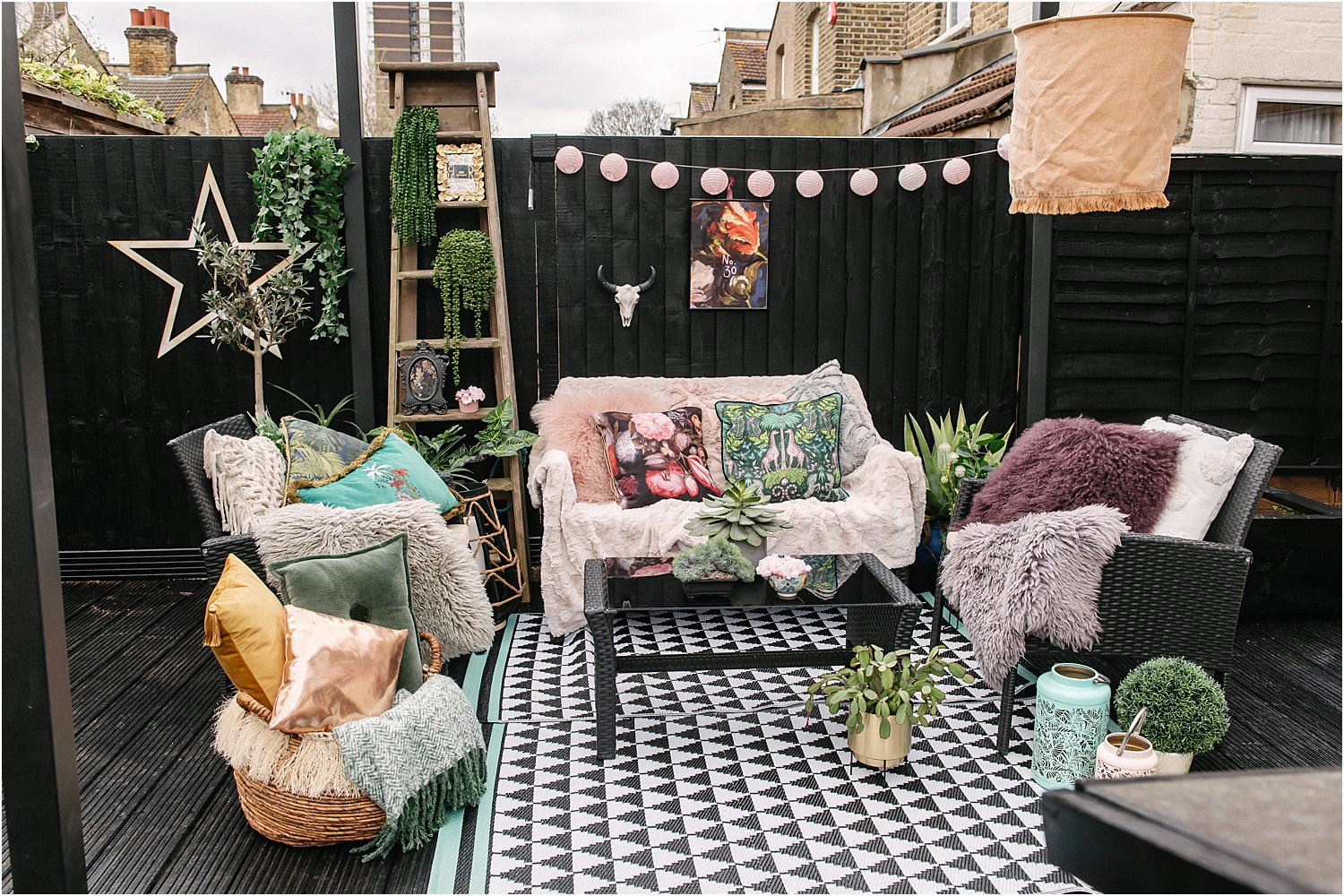 What strange and uncertain times we are living in right now. A large part of the world is shutting down. We are told to hunker down indoors, only ever going out for absolute necessities. No one can tell us how long this will last. Tracking the pandemic is an ever-changing target so we take it one day at a time.
I wrote some free resources in the hope that they offer help to those who want to embark on home projects during this time or take their mind off the pandemic for a moment. You can download them on here for free by singing up to my email list. On INTERIORS DIY, I have included a bonus section on creative ideas for shoestring budgets.
Here are 5 of those 20 ideas. These are quick and easy DIY projects you can use to update your spaces without the need for extensive work or a big budget!
1. USE LEFTOVER WALLPAPER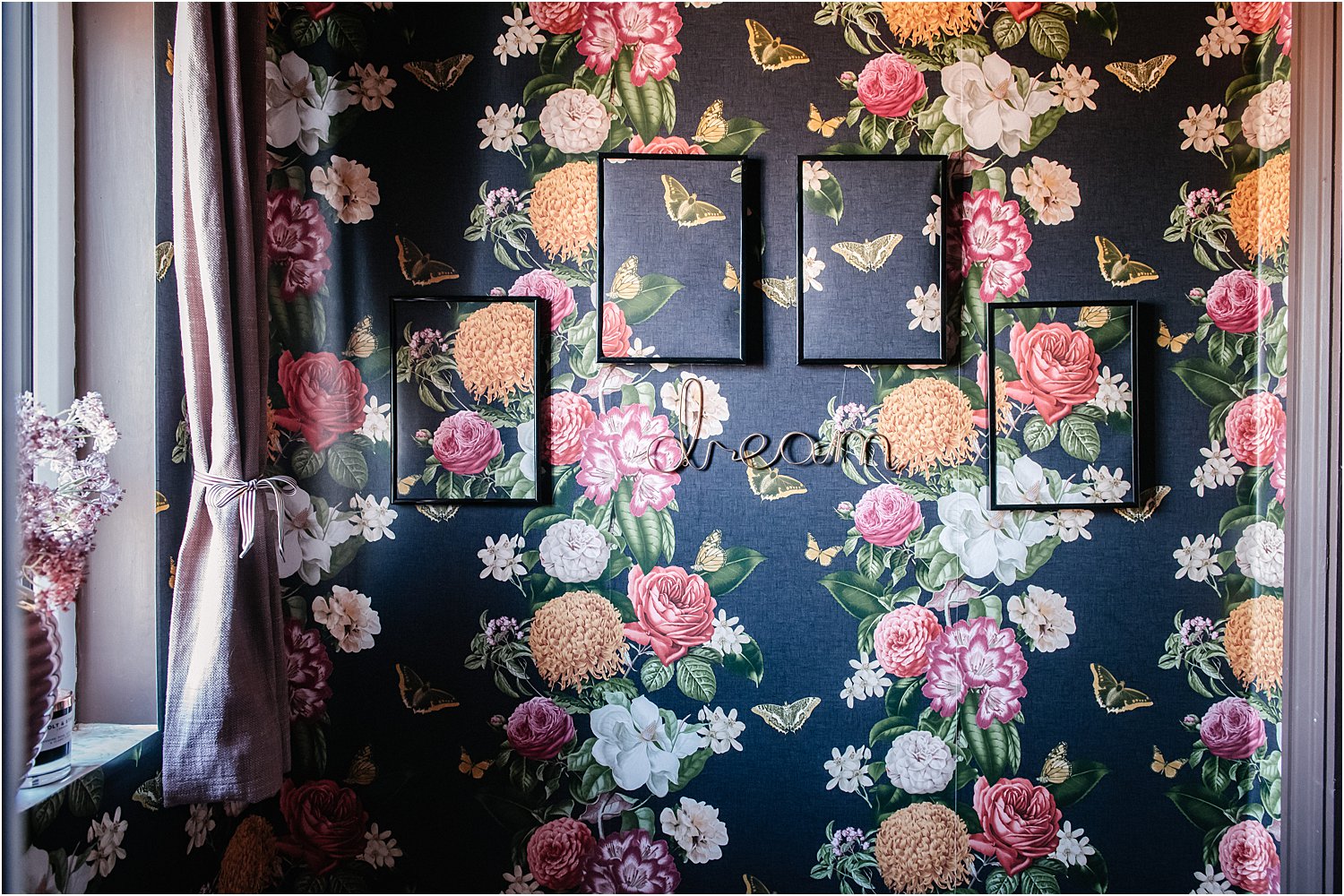 I have done this a few times in my home decor. Wallpapers I have been in love with and couldn't afford rolls of, I ordered samples of them and framed them. You can do the same with leftover wallpaper like these ones I've done here – as a floral-on-floral pattern in the shower room. This is a really quick, easy and cheap way of updating pictures in your home. Tip: Take the glass or perspex off the frame if you want to photograph your wall to avoid glare.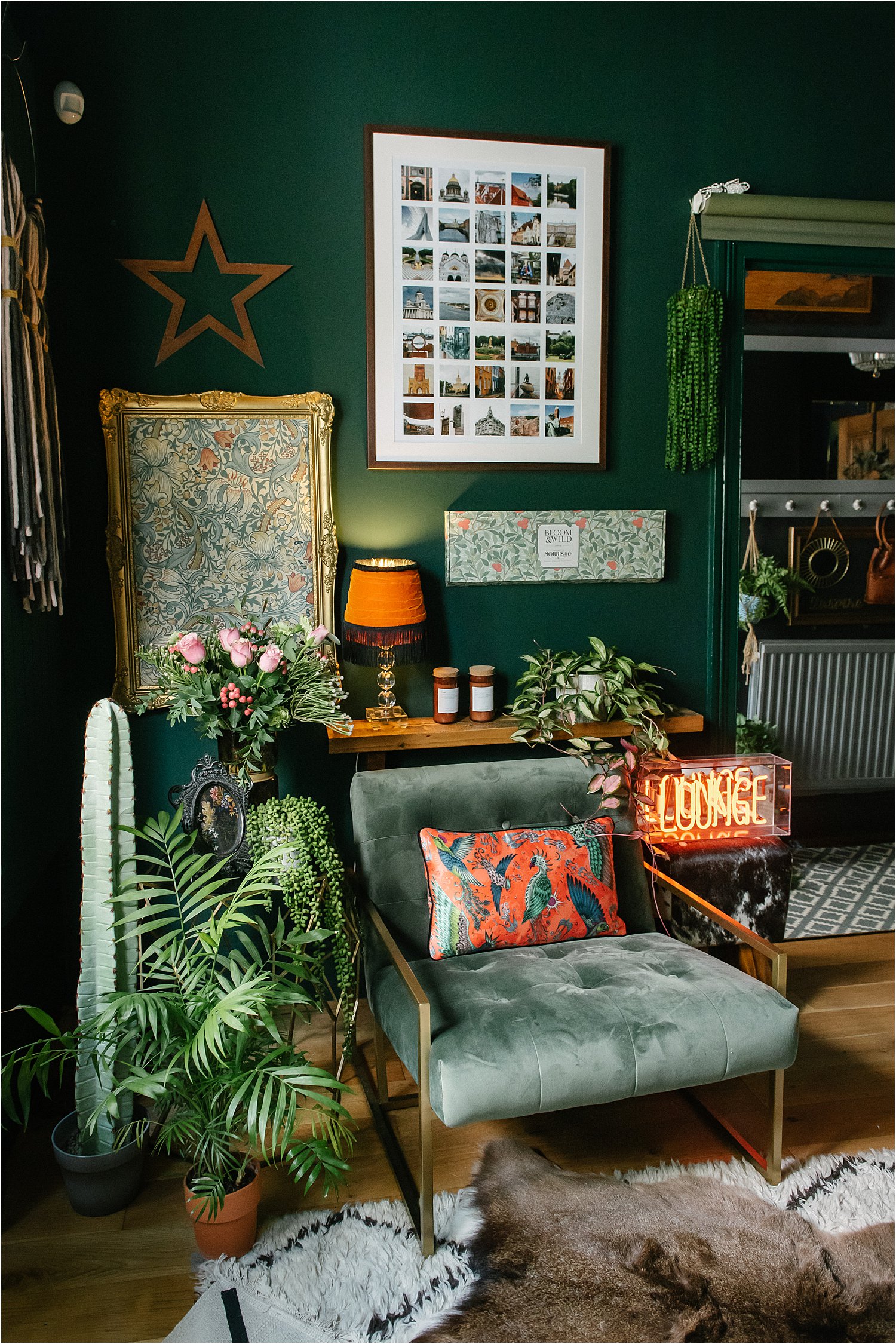 You can frame off-cuts like this Morris wallpaper above using a nice ornate frame. It's quite a large frame so I joined two off-cuts together. Displaying samples or cut-offs of the wallpaper will also tell you just how much you love that wallpaper or not, just in case you are thinking of covering your wall with it.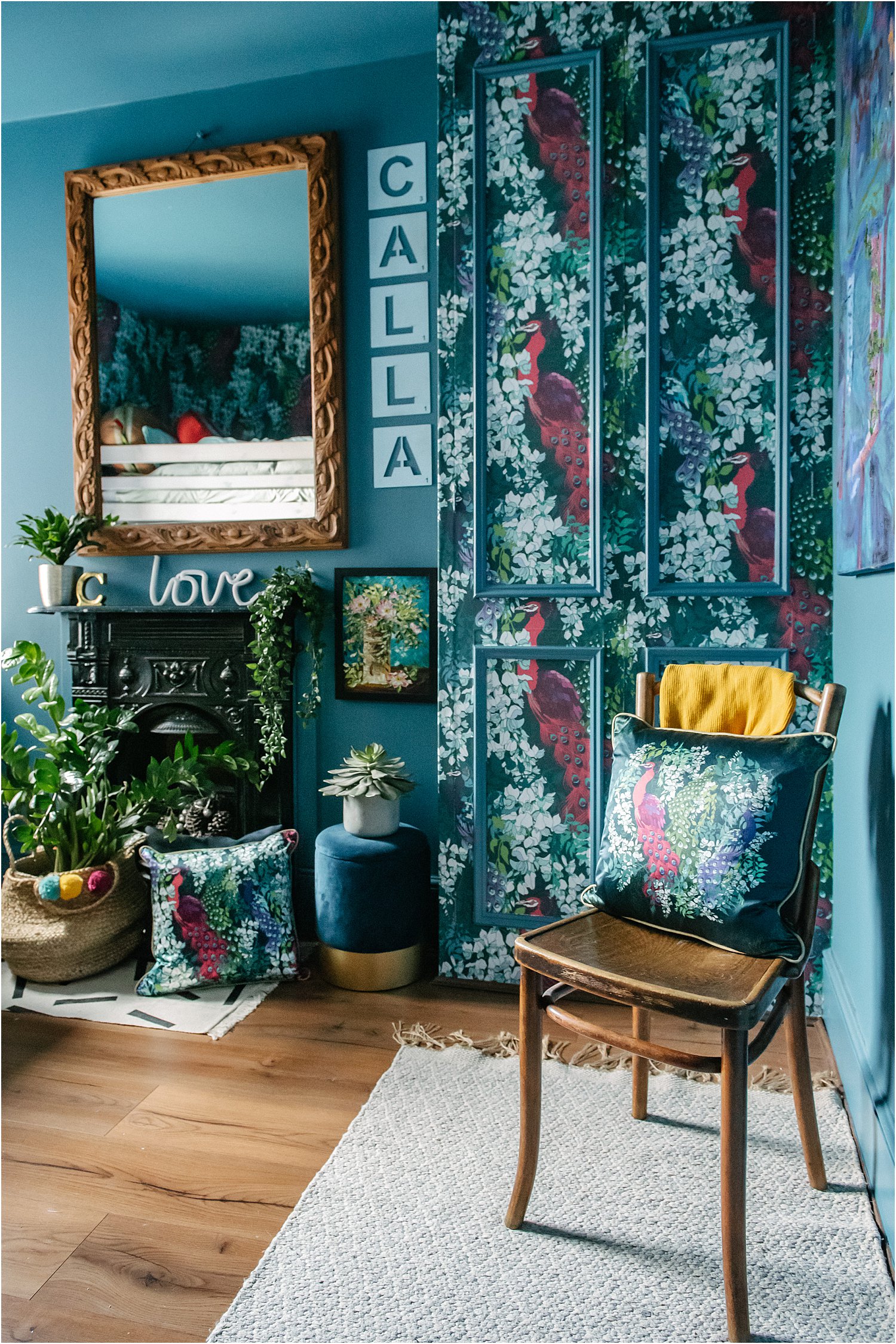 Here I used wallpaper to cover a wardrobe and used the wardrobe beading as a feature. You could also use wallpaper to prettify boxes or use as wrapping paper for gifts.
2. REPURPOSE LAMPSHADES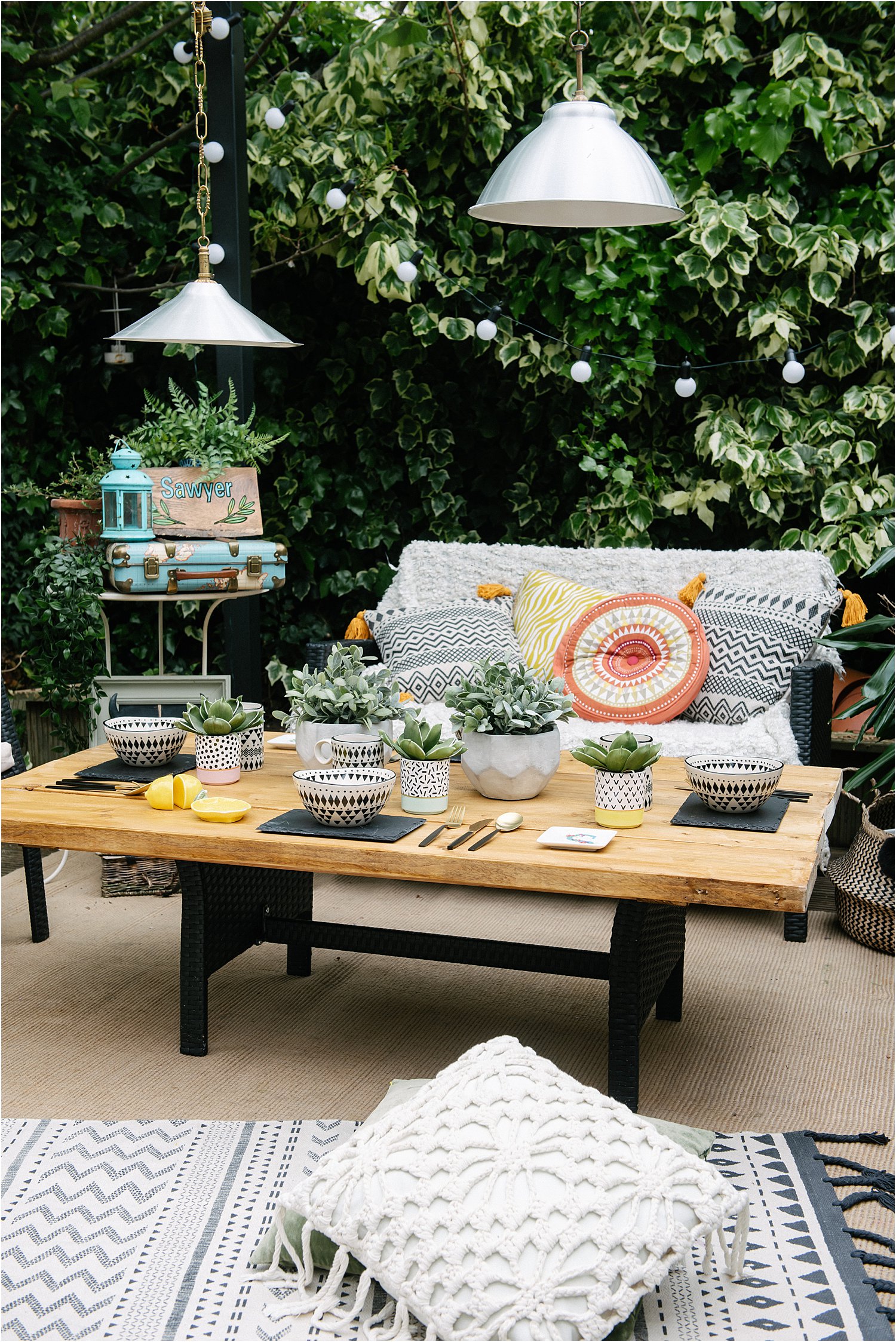 When we moved into our house nearly 6 years ago, there were light fittings left by the previous owner and some lampshades in the cellar. I changed all the lighting but kept some of the shades for upcycles. I used these two shades in the garden – they have been out there all year and have fared well and not rusted.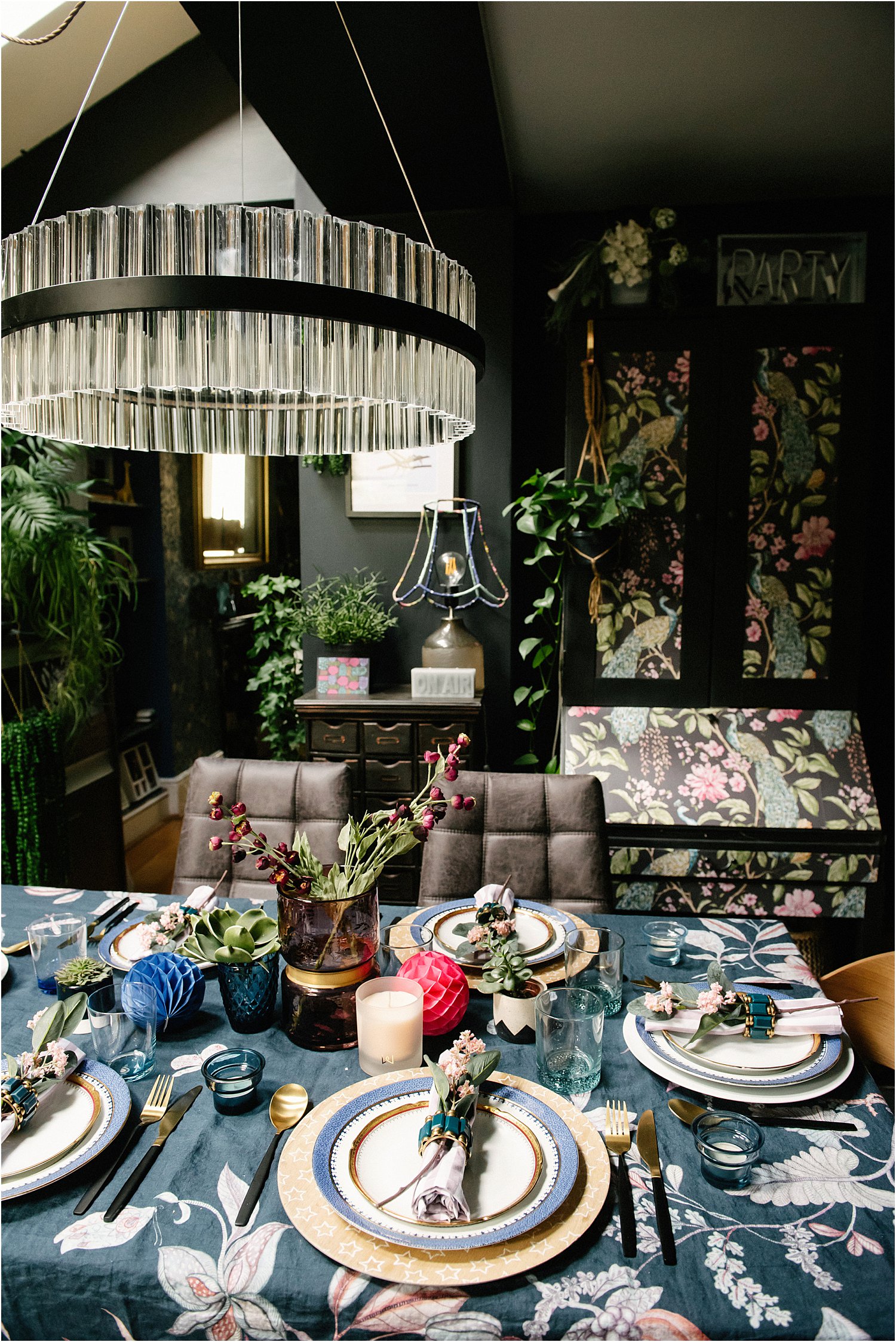 If you are not repurposing your lampshade, you can upcycle it or give it a new lease of life. For a quick DIY lampshade spruce up, remove the fabric, spray paint the frame and have it as a skeleton shade or cover shade with wool or thin strips of fabric as I have done in the skeleton lampshade above.
3. TURN SCAFFOLDING BOARDS INTO FURNITURE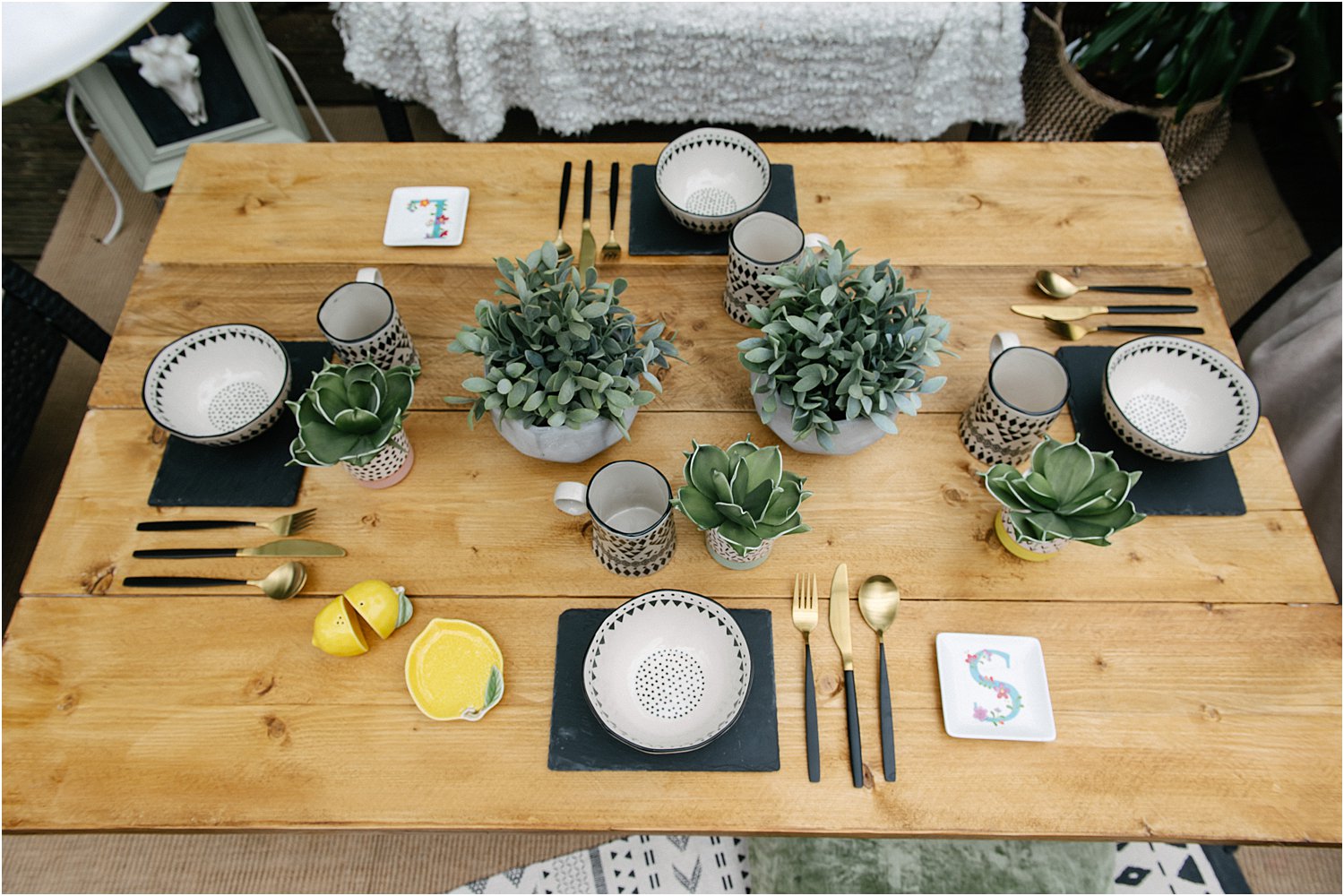 Scaffolding boards are cheap as chips and you get them in long lengths which often means there would be decent-sized off-cuts and leftovers. We built this table surface which just sits on the small garden coffee table for when we want a bigger table surface. I varnished it with yacht varnish to protect it as it lives outside. It's an easy enough DIY project and so inexpensive too.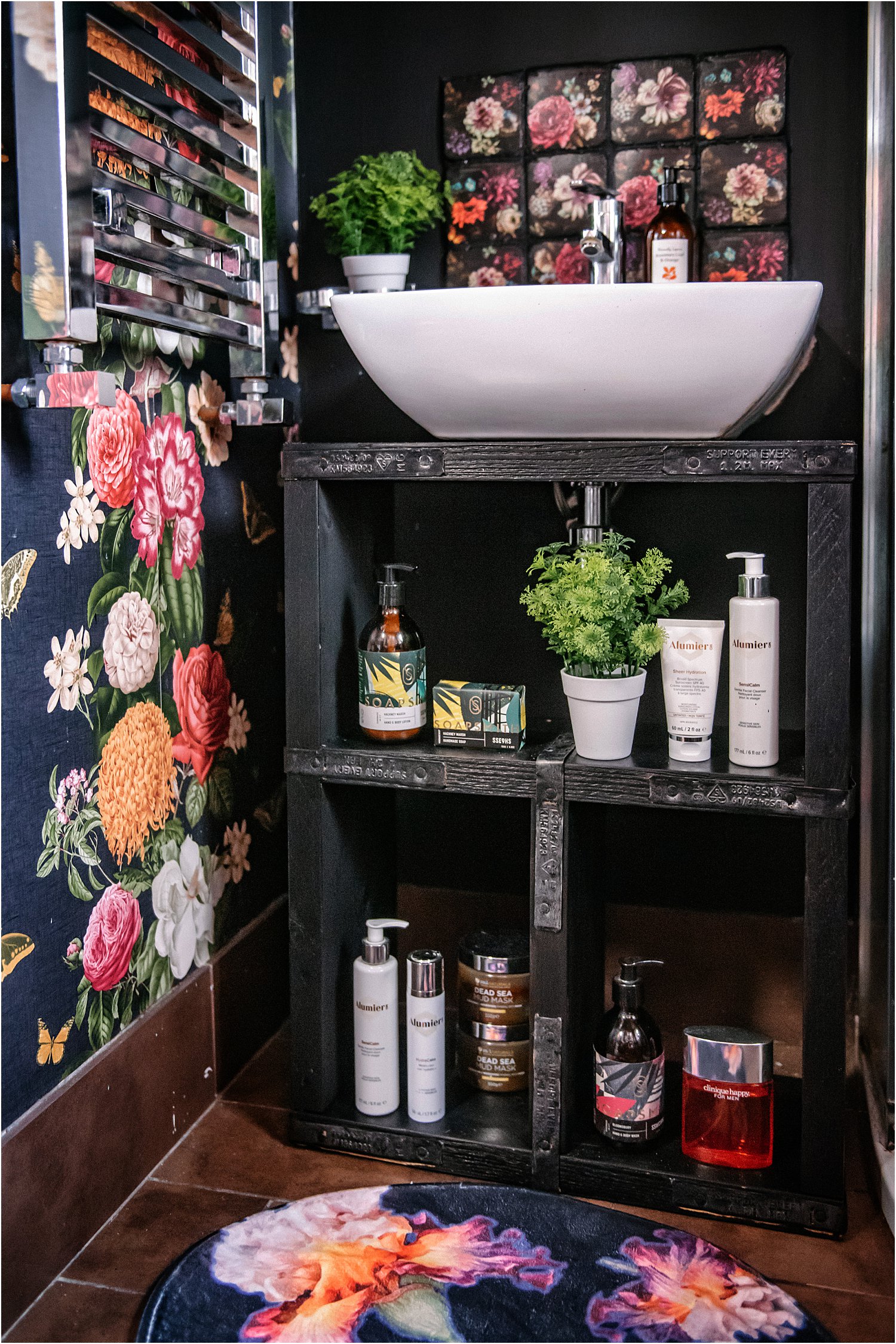 I still had some leftover boards which I had made into a bespoke made-to-measure vanity for my shower room sink. For a long time I have been on the hunt for a old mid-century chest of drawers that would fit this space but could only find ones that were too big or too small. These scaffolding boards became the affordable tailor-made solution.
4. REPURPOSE OLD LADDERS AND DOORS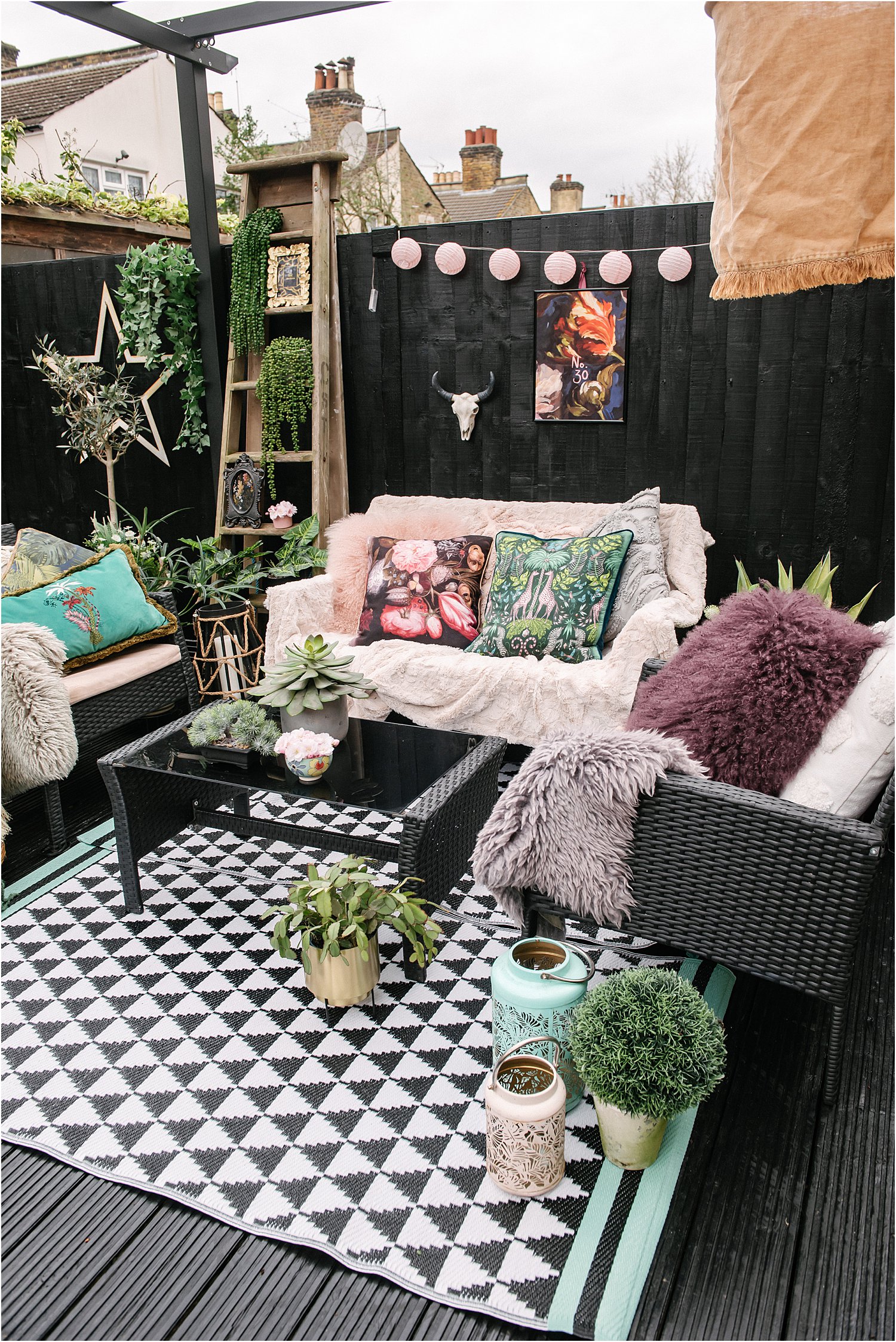 We've had this old ladder from our previous house which we thought might come in handy as we didn't have a proper tall ladder. I'm glad I held on to it because now I use it as shelves for my plants in the garden. This is the magical easy DIY type where you actually don't have to do anything but reposition the item!
It has that rustic wooden look, old and weathered and fine to live outside all year round. I did the same with some old small doors that were left in the loft when we moved in to this current house. I just leaned them on either side of our bed as panel feature and clipped on some Ikea wall lights on them to use as bedside lights.
5. TASSEL IT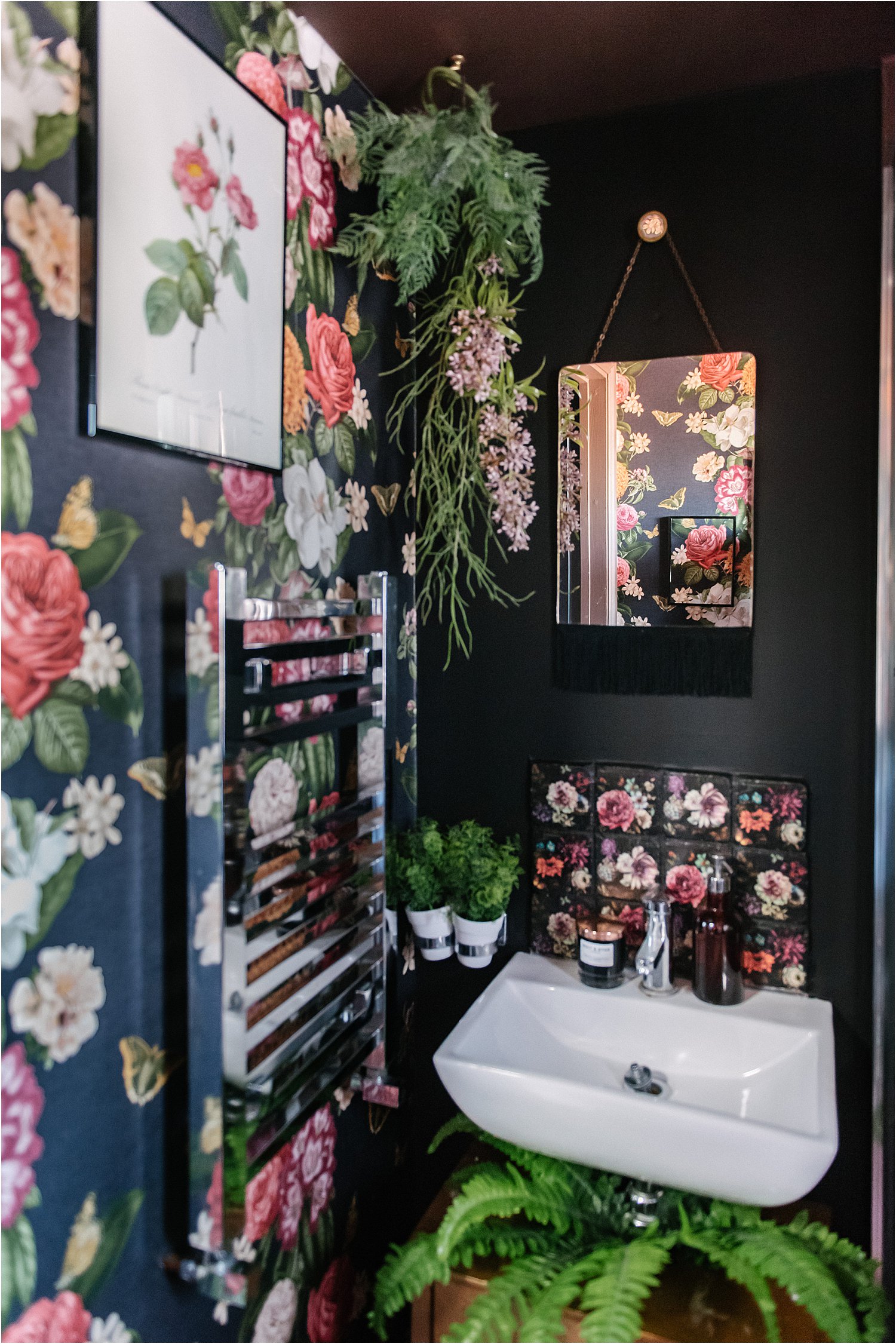 Embellish little object like mirrors, lampshades (see orange lampshade under idea #1), chairs etc with tassels. They usually are priced by the metre and you an buy as many as you need. I usually use double sided tape to stick them rather than glue gun as the latter can be rather messy. This is one of my favourite easy and quick DIYs as it's rather crafty. Tip: Spray the tassel with hairspray afterwards to stop the static.
I hope these 5 Quick DIY updates you can do during this lockdown have inspired you to do something quick, unique and inexpensive that will bring some creativity into your space.
Don't forget to download my free resources that will help you design your own interiors and grow your Instagram account! Let's chat on Instagram and follow me on layered.home for more inspiration.