4 Garden styles and ideas for spring and summer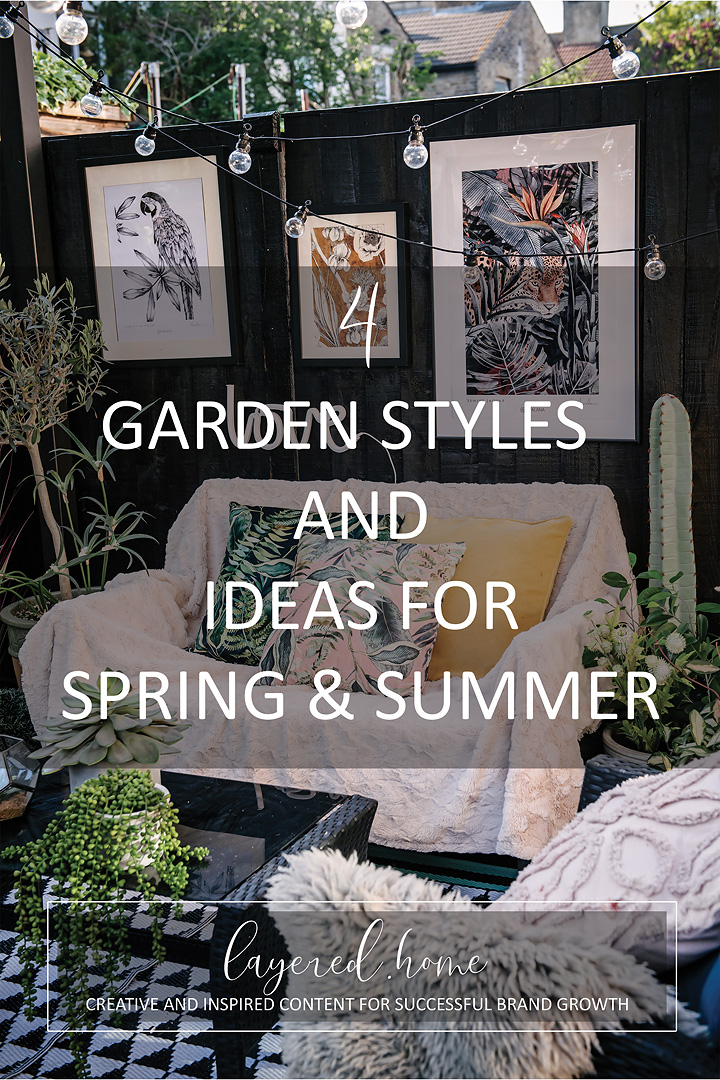 It's that time of year when we start thinking of outdoor spaces, aka our home gardens, balconies or patios, and how to get them ready for spring and summer.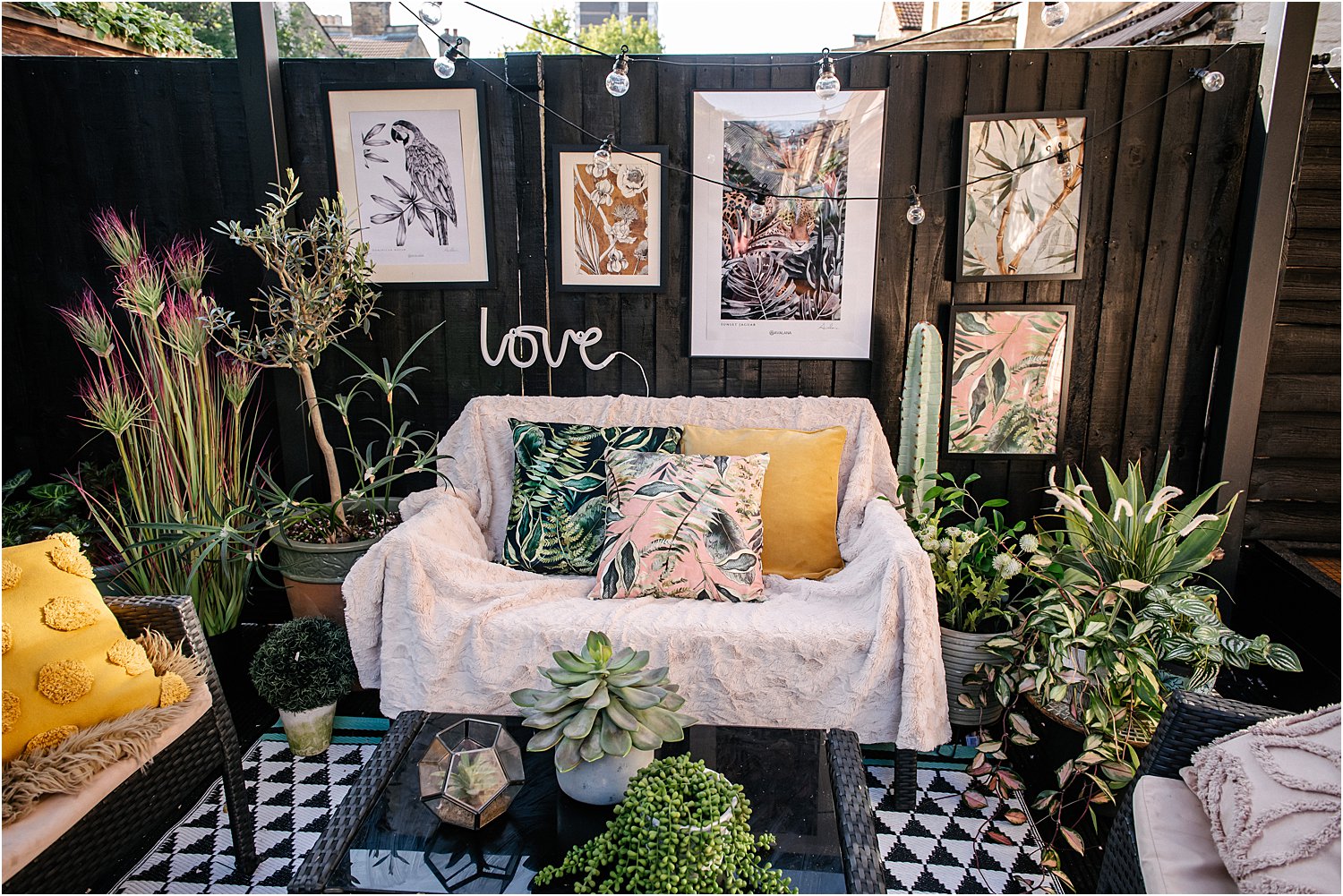 One garden four styles. I've styled one part of my garden in 4 different ways. Whilst reusing the same black pergola, main furniture and rugs which I had bought from Argos, I switched up some accessories to create different looks. If you need a helping hand on how to start choosing colours, styles etc, download my free Interiors DIY PDF training with worksheets to get you started.
But first, the backdrop. My garden is decked so no greenery apart from a cherry tree. I wanted my backdrop to be black as that makes it easy for things to pop and creates a clean background for my accessories. My fence and decking are painted black and my furniture is nondescript standard garden black furniture. I used Protek Wood Stain Royal Exterior for the fence and Protek Black Decking Stain.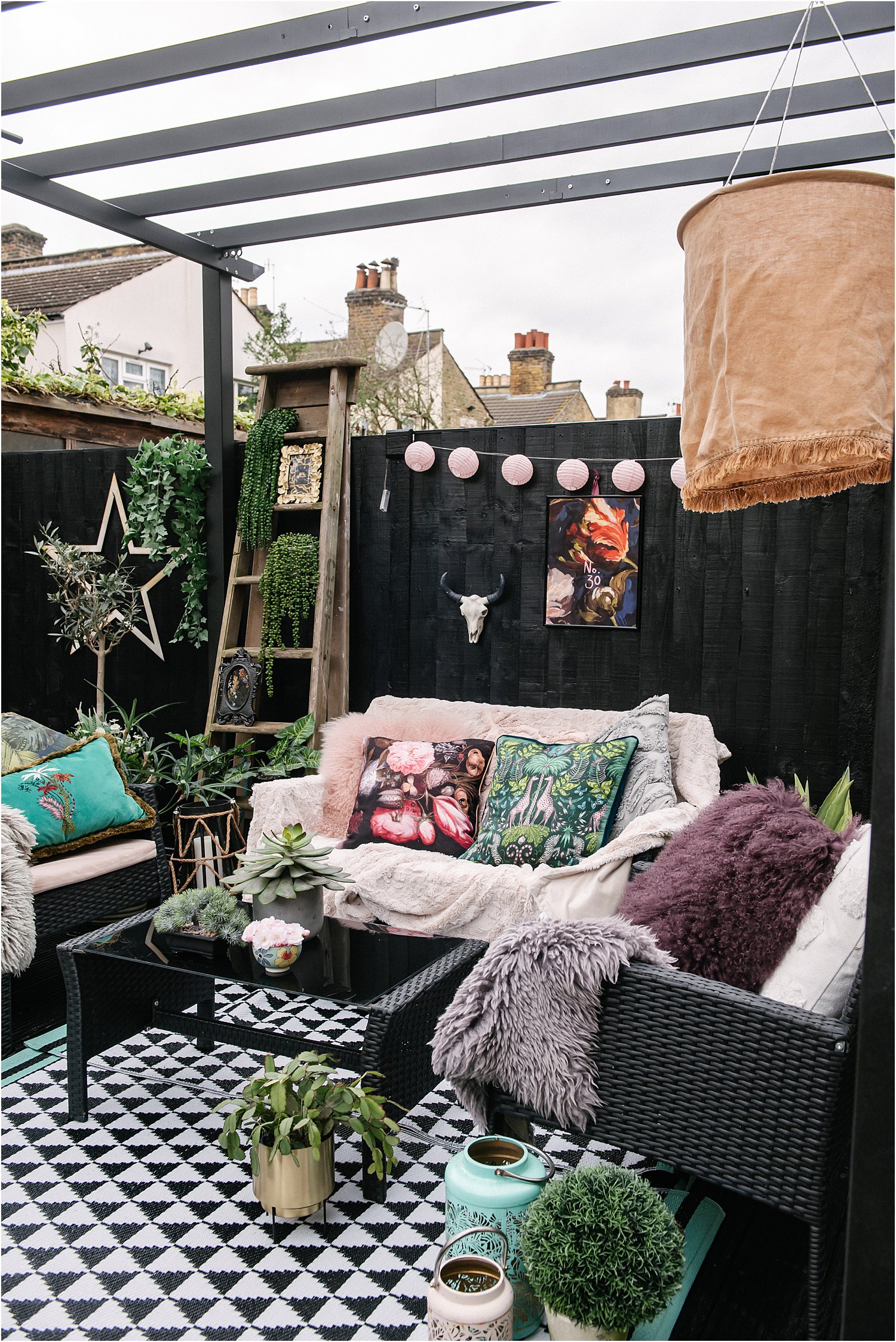 1. THE ECLECTIC GARDEN
There is no particular theme to this garden. I just used what I had and mixed them all up. So here we have some an old ladder repurposed as shelves for plants, boho fringed baskets and lampshade both from Elsie Marie, mismatched cushions that I already own from Emma Shipley, TkMaxx, Furn, H&M and Primark.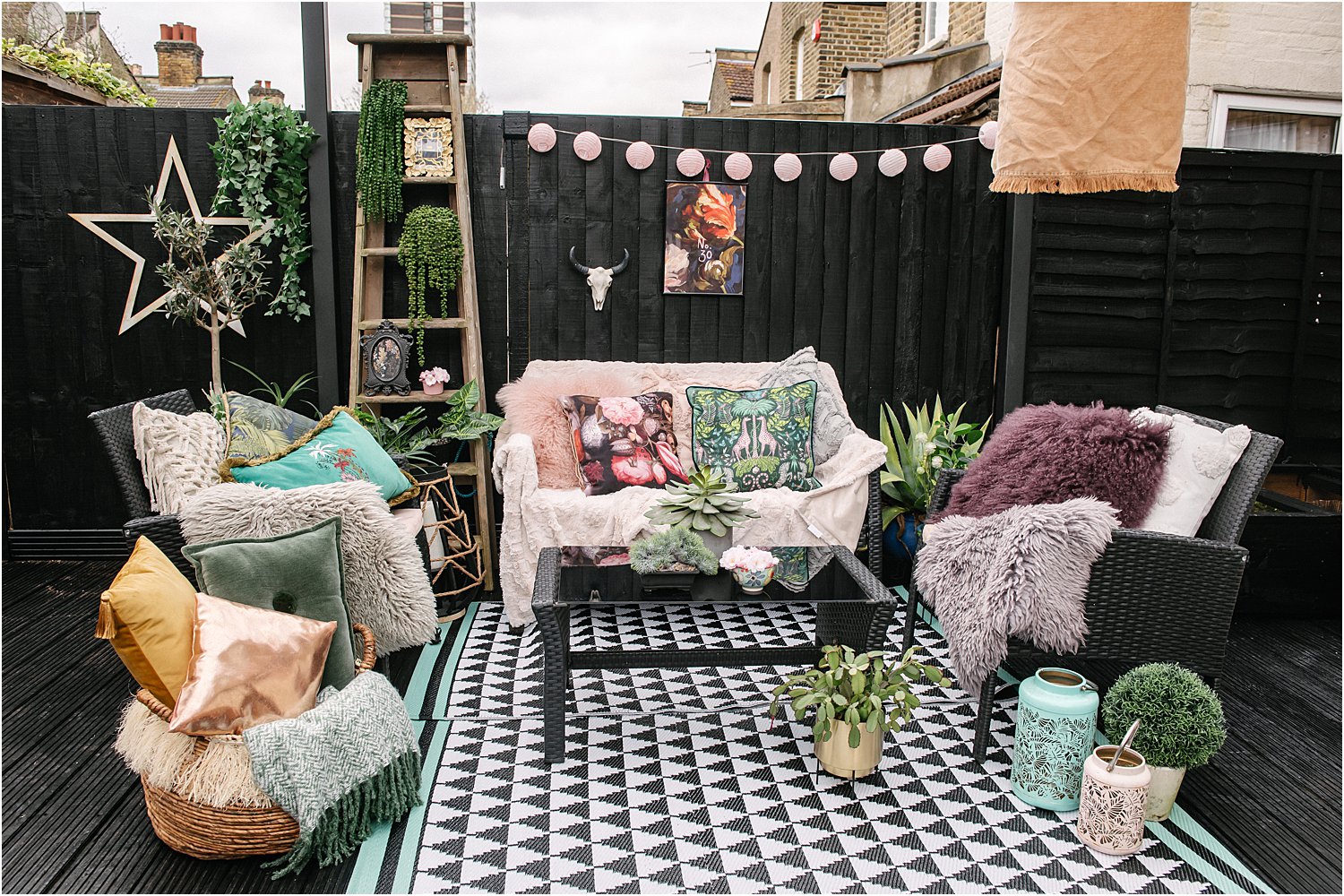 The look I was after however was that of pale hues of blush and earth with colour pops of teal and pink. The plants provided additional texture. I also used a couple of frames to style on the shelves and make it more homely. For more ideas on choosing accessories, download my Interiors DIY freebie here.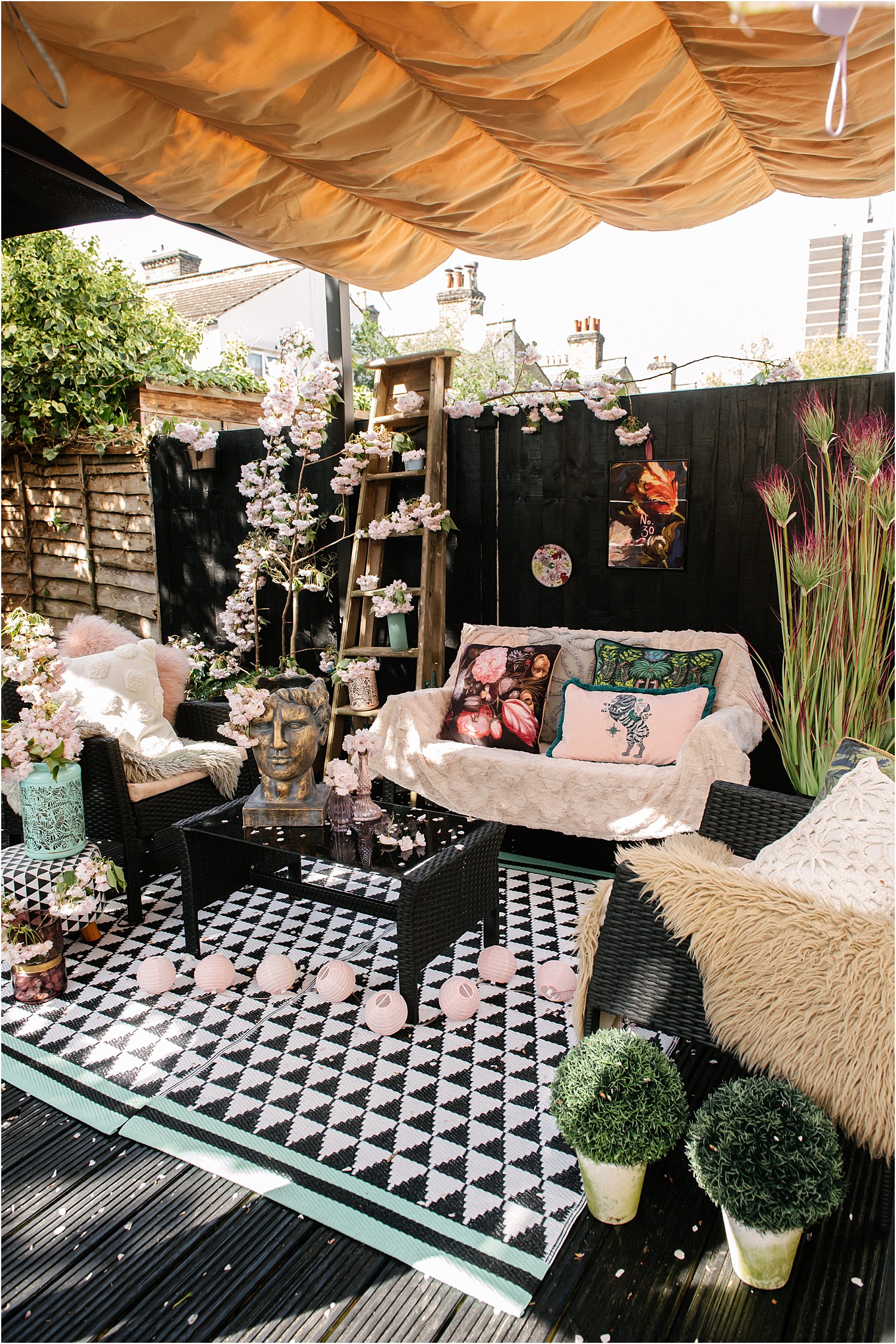 2. THE CHERRY BLOSSOM GARDEN
Around March and April, our cherry tree rains blossoms in our garden. The beginning of April is when we get the cherry blossoms in full bloom. So I decided to style them just using the blossoms and going with the pink.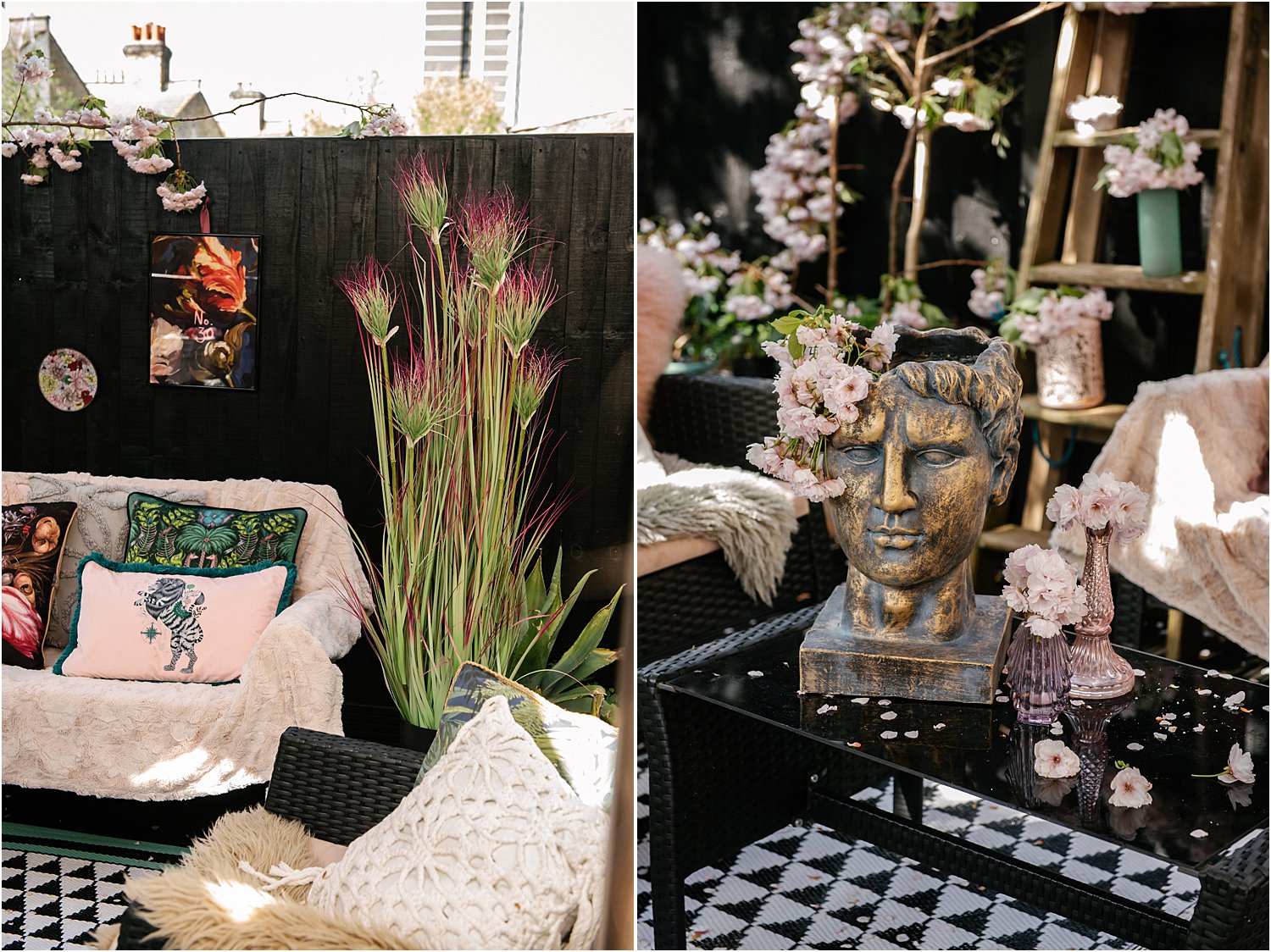 The main accessories here are the pink tall grass and the gold Roman bust vase both from Wild One Interiors.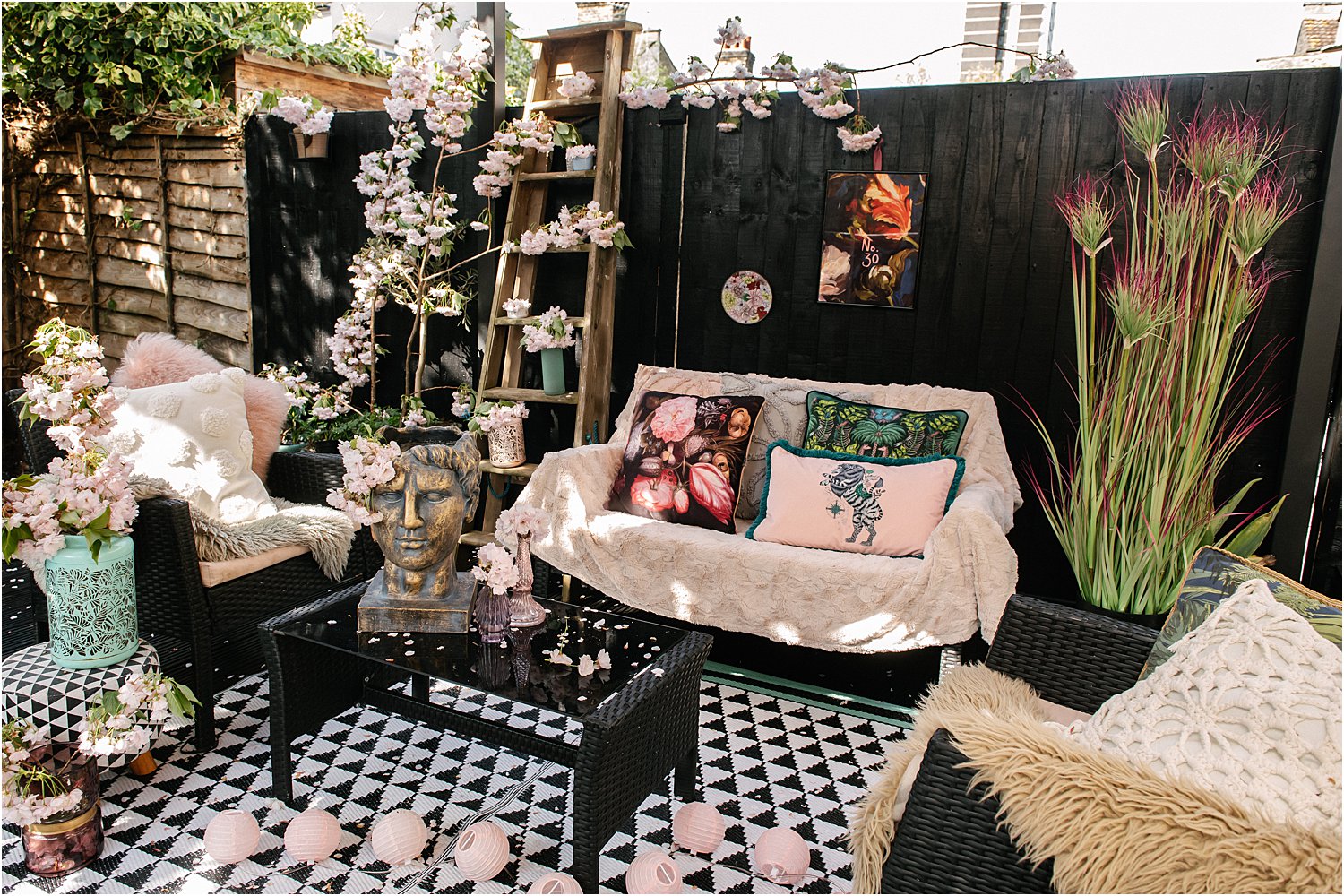 I just switched up the arrangement of the cushions and added the pale pink Caspian velvet cushion from Emma Shipley to the mix. This time though, we had put up the canopy for the pergola as we've started to have dry weather. The canopy helped contain this space especially that as you can see from the unpainted fence, that part of the garden is still unfinished.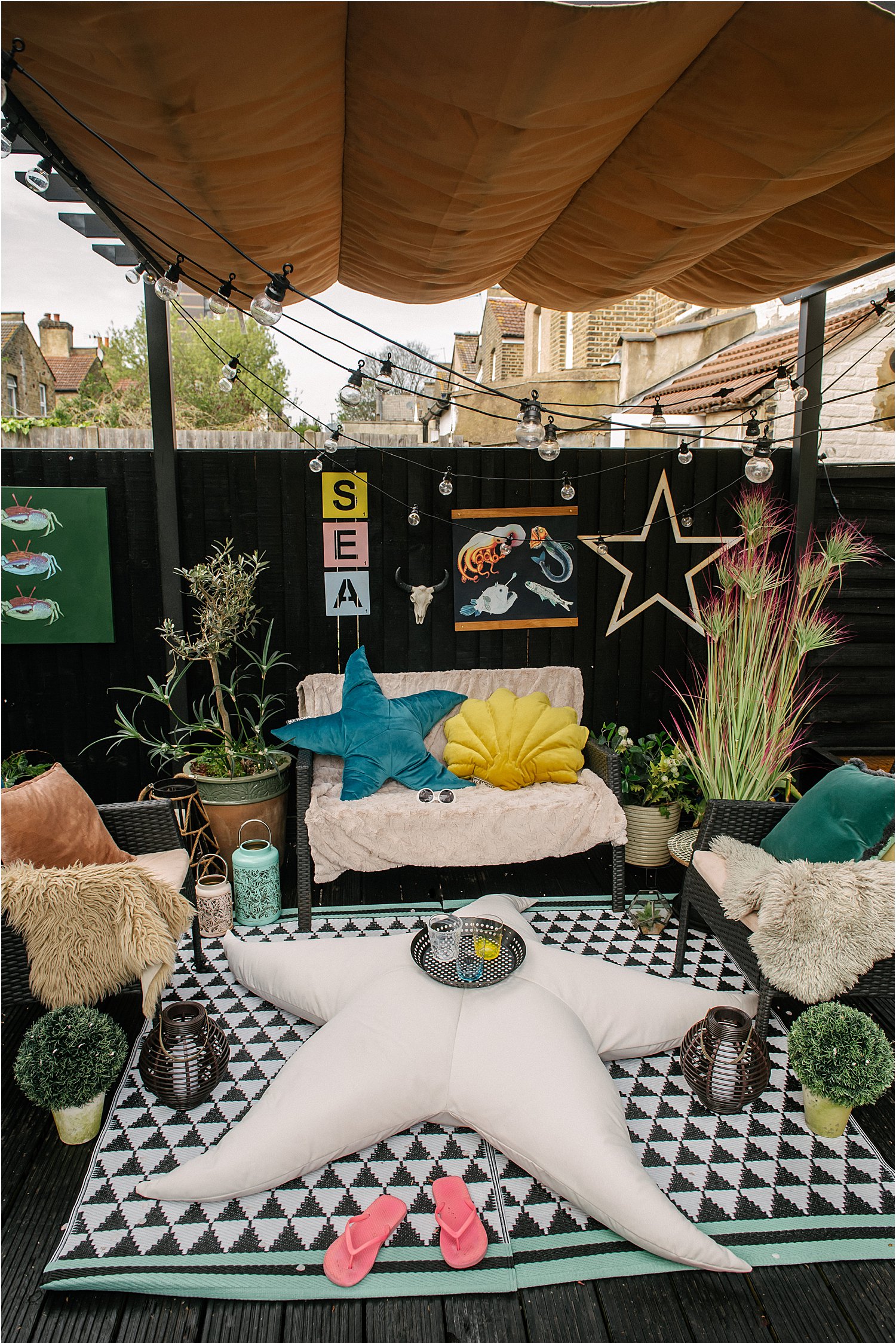 3. THE SEASIDE GARDEN
Due to the pandemic, we've have to cancel two holidays this year one of which is our seaside holiday in the Isle of Wight. The kids have always loved our seaside lazy days so I decided to recreate it here.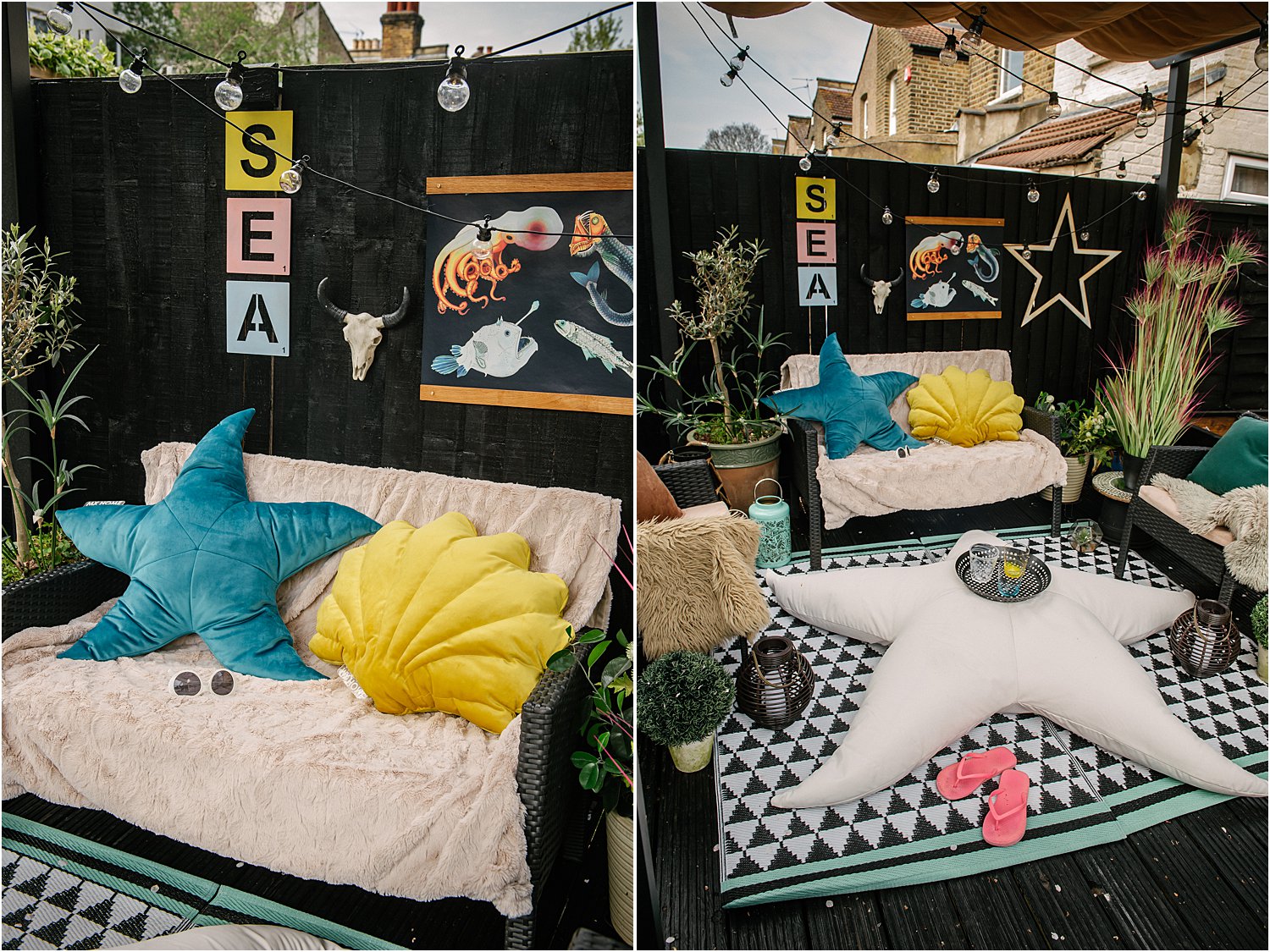 MX Home have amazing sea creatures shaped bean bags that float on water like this huge starfish. They also do the most gorgeous velvet cushion like these start and clamshell ones. They have an awesome array of shapes including jellyfish, tortoise, lobster, sea urchin, lips, cactus, crab. You need to check MX Home out!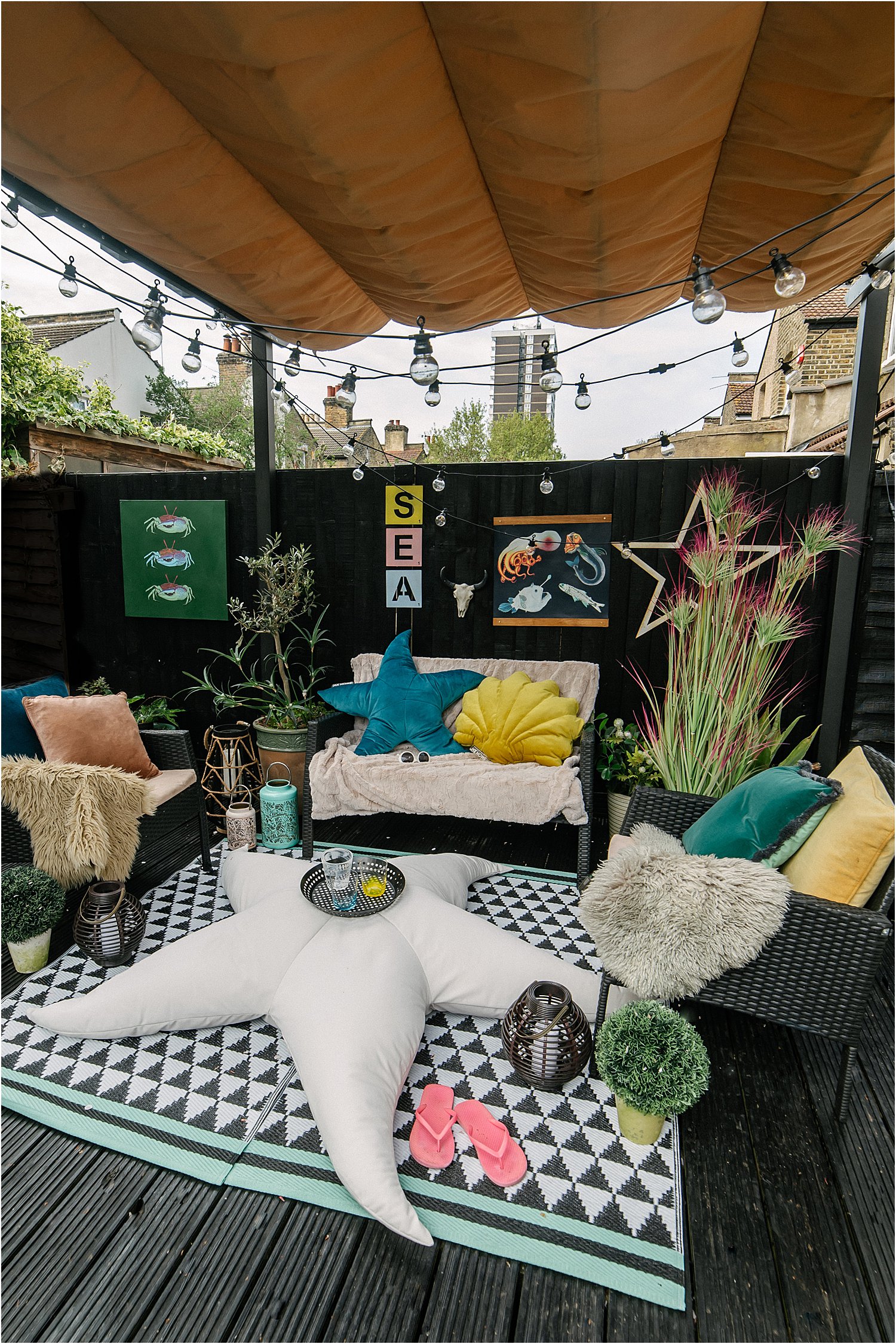 To carry on with the sea theme, I used Wilful Ink's wallpaper hanging of her octopus and other sea creatures. This is the great thing about wallpaper hangings – they are portable. The metal scrabble letters are from Rustic Warehouse along with the white star on the top photo. I also hung my outdoor festoon lights which I had bought from Festive Lights a couple of years ago. If you're wondering how to narrow down all these choices we have, my Interiors DIY freebie PDF training will help. Download it here.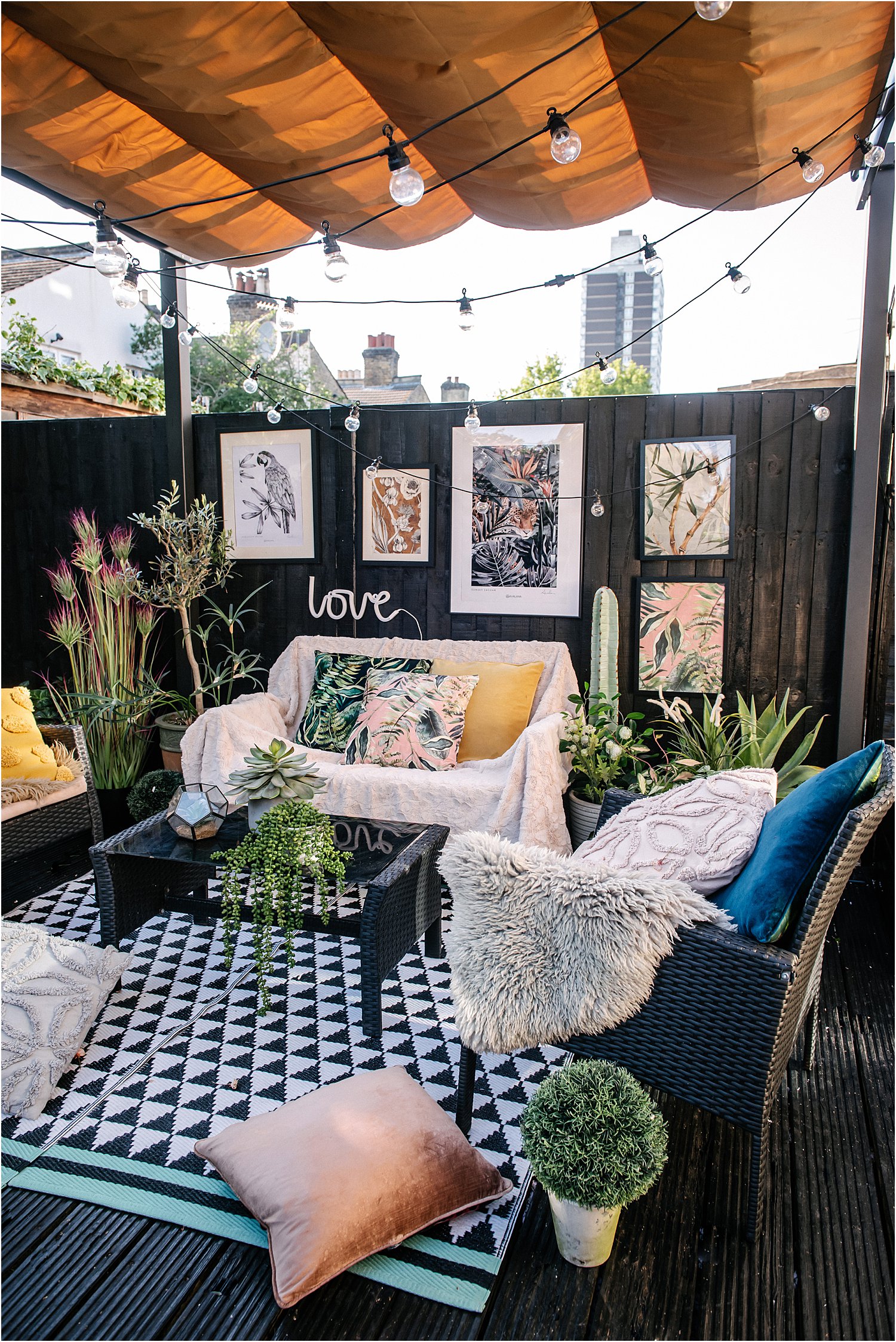 4. THE JUNGLE GARDEN
In this garden, I exclusively used Avalana designs products which are all hand-painted maximalist jungle inspired drawings. I absolutely love them and just added a few plants and the love sign to complete the look.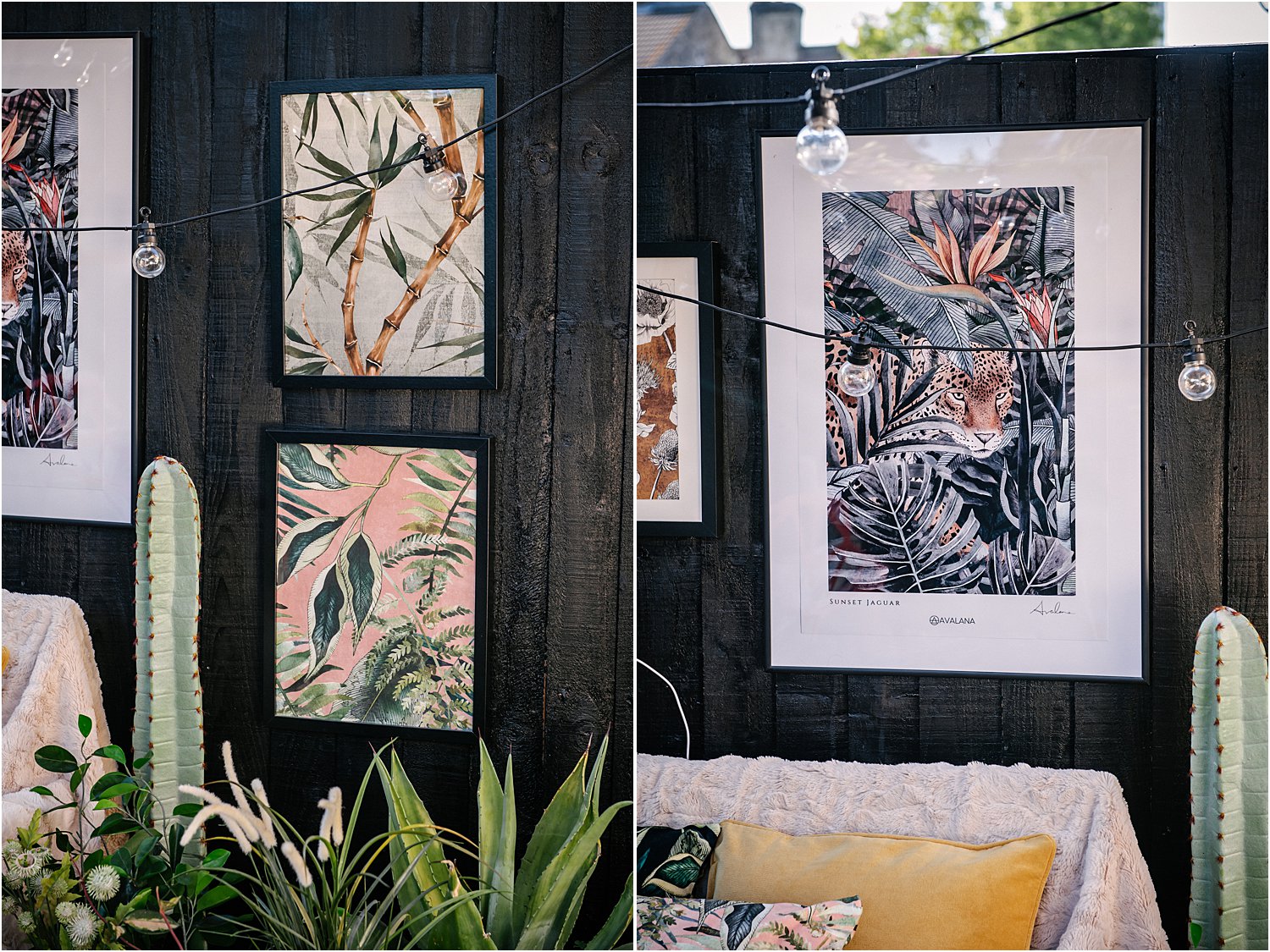 As a colour pop, I added 2 mustard cushions which I already have to add some more dynamic and finish the cosy homely look. Adding a pop of colours helps in making the eye move around the space more. Avalana's prints and wallpaper samples on the fence and two velvet cushions brought the whole space together in a cohesive whole. I talked about the importance of leading the eye and colour pops in my Interiors DIY freebie so download it now.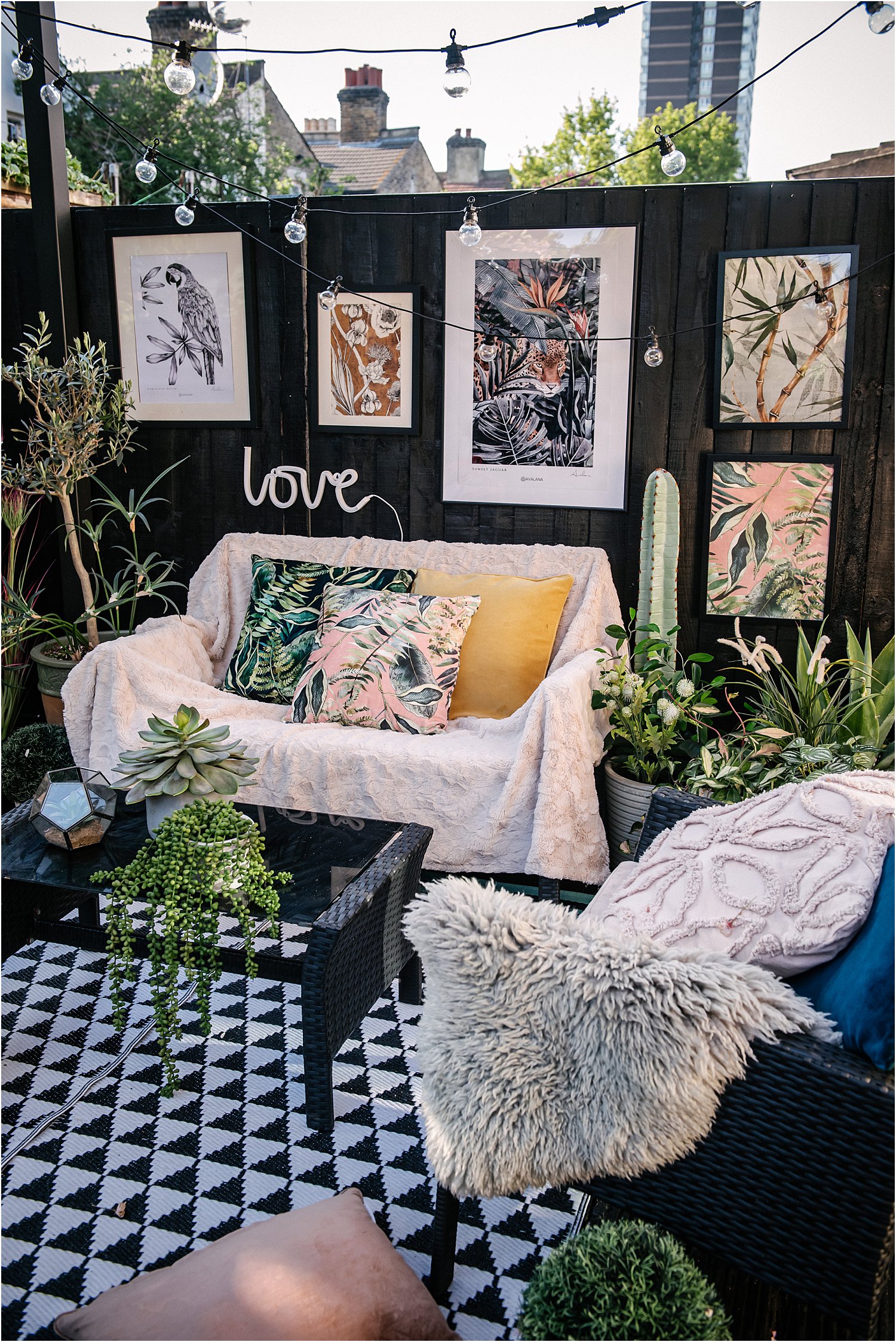 BONUS NIGHT SHOT!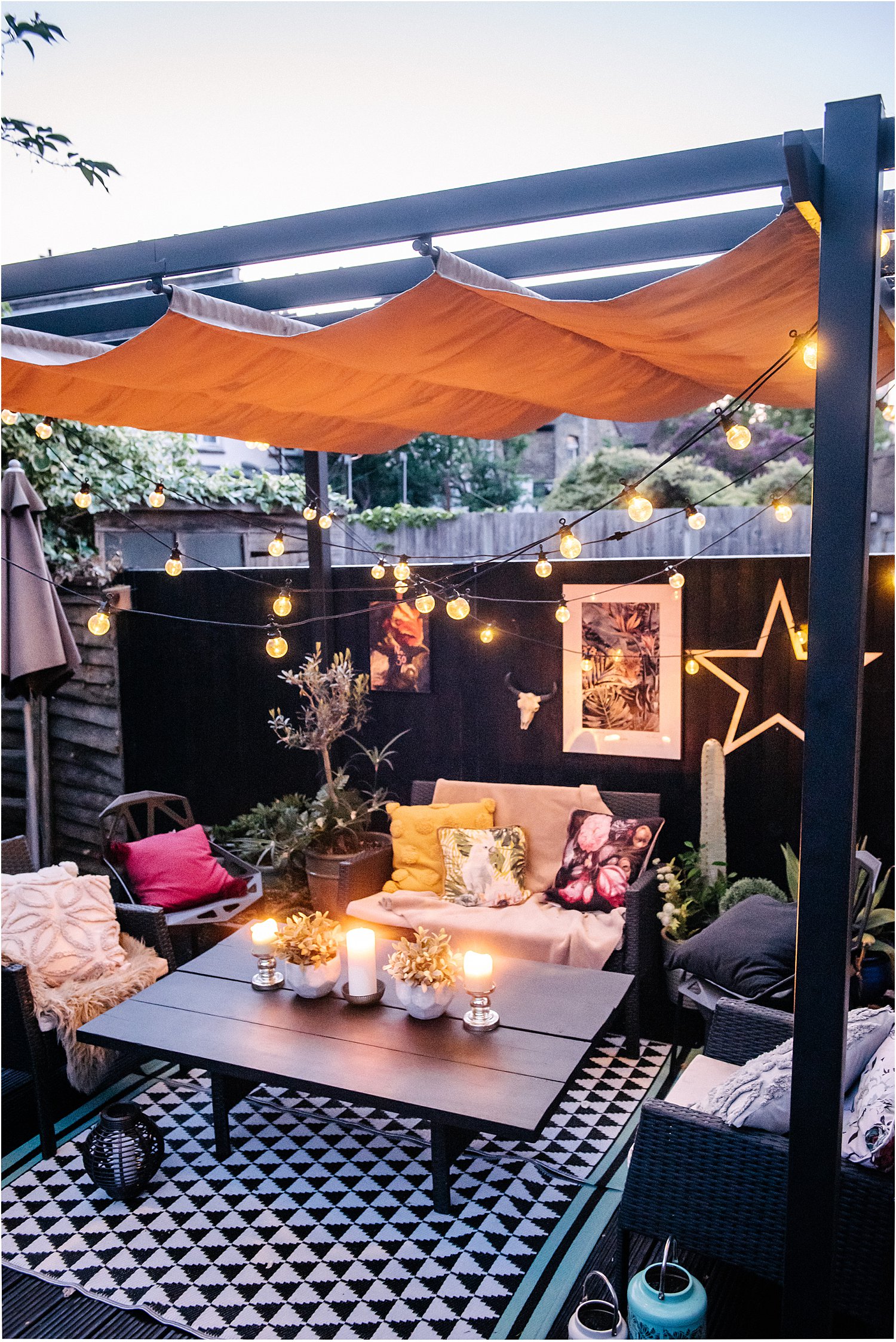 I recently painted our scaffolding table black and a couple of chairs too using Black Jack by Frenchic Paint. Here it is at night!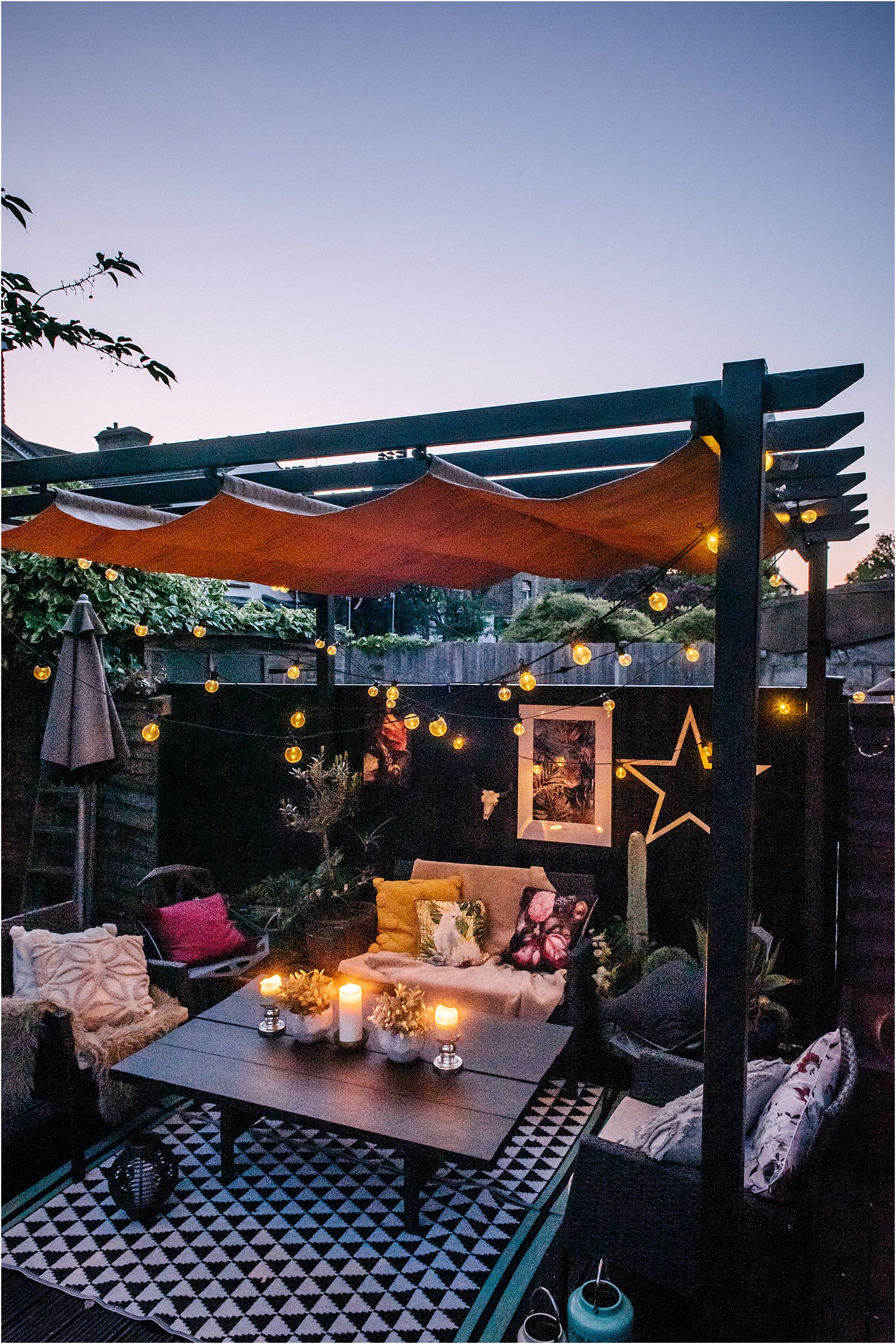 So tell me, which one is your favourite? The main trick in all of the above is to decorate your outdoors like you would your indoors.
I hope you enjoyed this article on 4 Garden styles and ideas for spring and summer.
This is not a sponsored post but I have been gifted these items by most of the brands above and also contains an affiliate link with Frenchic.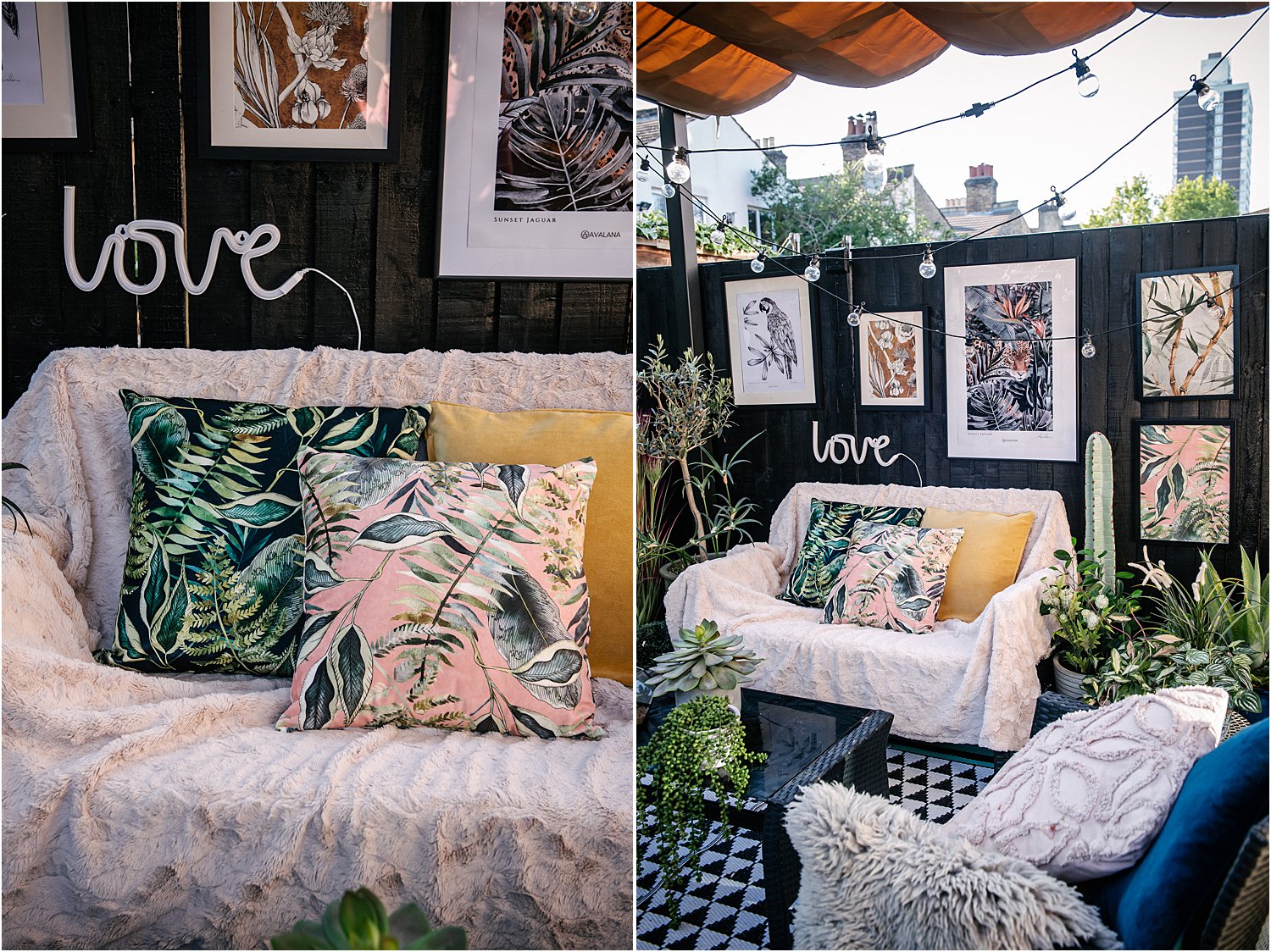 Don't forget to download my free resources that will help you design your own interiors and grow your Instagram account! Let's chat on Instagram and follow me on layered.home for more inspiration.