4 Tips in styling an indoor and outdoor table with Sass & Belle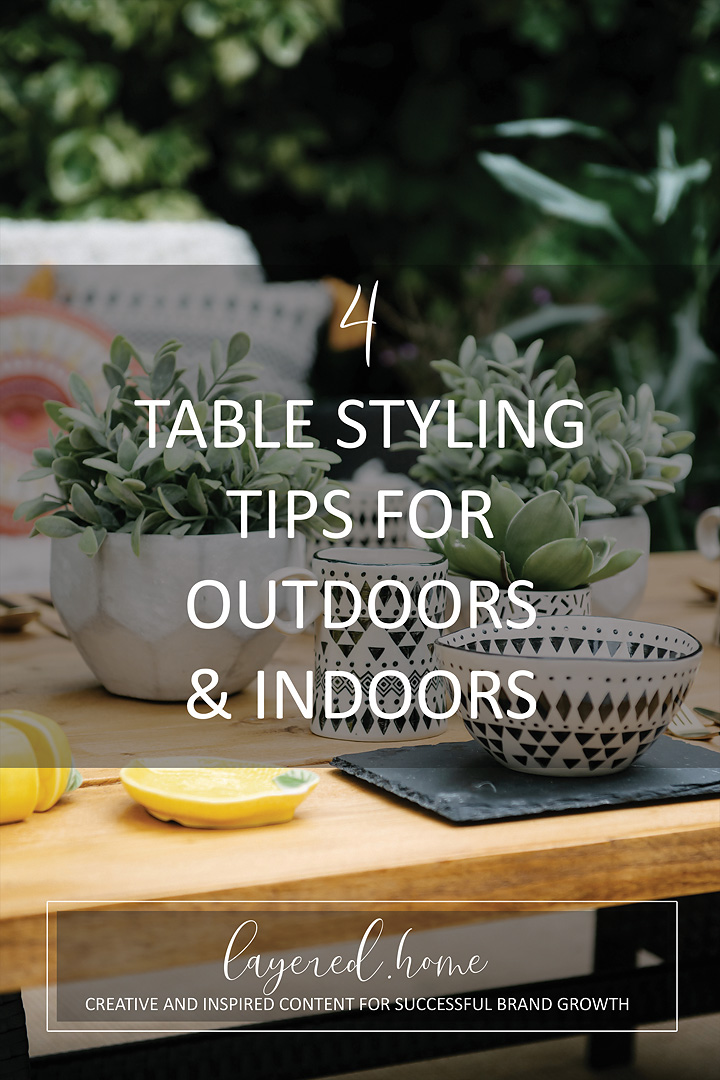 I was delighted when Sass and Belle, an online shop I have been a customer with for a decade, contacted me regarding a collaboration. We decided on a table styling project using products I carefully selected from their new collection, the Boho-Geo collection, that they wanted to push for this season.
I'll be sharing some table styling tips in this post. But first, let's talk moodboards. Many of my design work start with a moodboard and this was no exception.
Moodboards give me confidence that my choices go well together especially when styled and photographed. Seeing all the items side by side help me edit what goes in a space. By editing, I mean doing away with some items that don't quite go well with the scheme and replacing or adding others that do and would enhance it. I've talked a little bit on here about how I put together my moodboards.
Below are photographs of the resulting plan. You will notice the pink linen is absent from this outdoor styling. I decided to incorporate the pink linen in my indoor version of this table. Scroll further down. Don't forget to download my free resources that will help you design your own interiors and grow your Instagram account!
Let's dive in…
1. Do the place setting in even numbered sets
While sometimes a table can have odd numbered place settings, for me an even numbered one looks better for the purposes of styling. Sets in twos, fours and sixes are the easiest to style. I think the symmetry makes the table look more balanced, grounded and orderly. Any form of order especially within a maximalist setting is very welcome.
2. Have a "starring theme" and a supporting element
I already knew the boho vibe is the starring theme here. Strong black geometric lines against beige and white. It's a busy pattern and so I set them against a plain supporting base like slate mats and linen cloths and wood to act as backdrop. I liked the natural feel of these textures and they don't steal the limelight either.
3. Introduce greenery
For me, plants and florals be they faux or real, bring in some freshness and a living dynamic when grouped amongst inanimate objects. I'd do two or three of the same rather than 6 different types. Grouping is always a trick that works for me.
4. Add something unexpected
If you want to take your styling to another level, think outside the box and add something that people do not expect to see. This could be a pop of colour, a new texture that stands out or something oversized. In this case I chose the following:
*lemon salt & pepper shaker and dish for the colour pop, small enough not to take anything away from the Boho-Geo vibe
*gold and black cutlery, again a subtle texture that brings out the black slates more
*oversized ceiling light – the eclectic oversized item that is far away enough from the table items so that it draws the eye in from a distance but is then forgotten when you focus on the table details.
5. Last but not least, rein in your colour palette
Here I chose 4 main colours for outdoors – warm hues (wood and yellows), greens, concretes, and a splash of blue
For indoors I also chose 4 – blush pink, greens, off-whites / concrete and the dark surrounding hues (blacks and deep hues)
A great big thank you to Sass and Belle for this table styling opportunity! I hope the above tips have given you ideas to use when styling your next table. I'd love to hear your tips too. Share them on Instagram layered.home with me. Don't forget to download my free resources that will help you design your own interiors and grow your Instagram account!
If you found this post on 4 Tips in styling an indoor and outdoor table with Sass & Belle helpful, I'd be grateful if you would share on your stories or mention or tag me Instagram layered.home on your posts. I'd love it if you would follow me on there too!