Christmas gift guide: gifts ideas under £30, with discount codes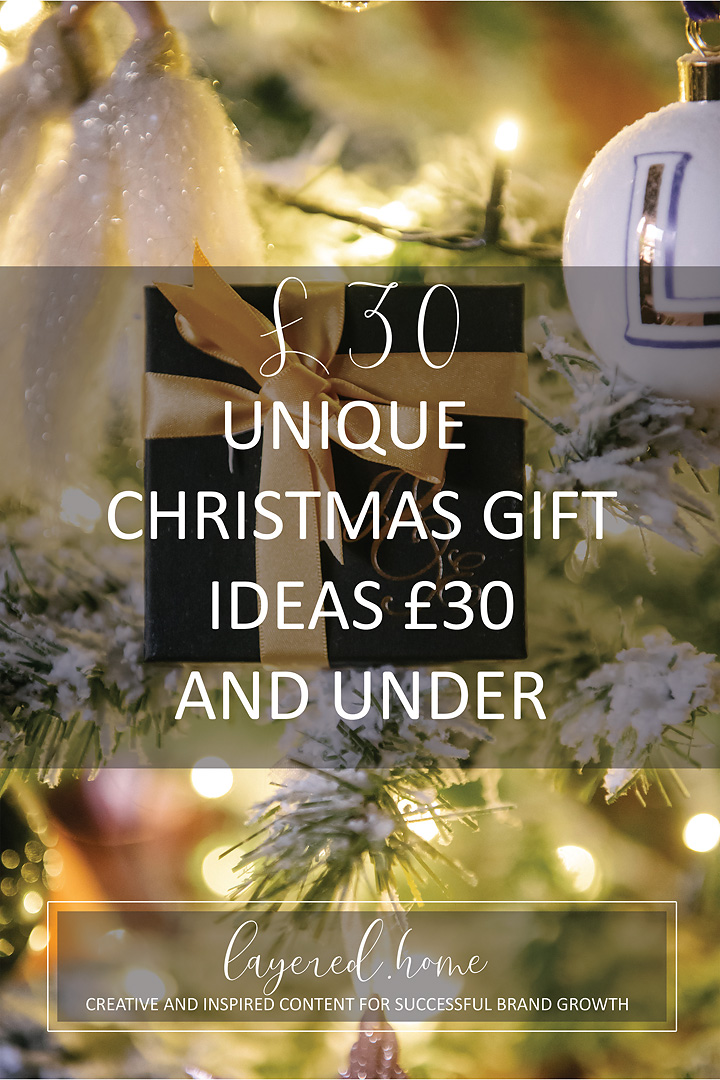 It's almost the end of November and the unmistakable sparkle of twinkly lights on Christmas trees accompanied by joyous carols have started to fill the high street and social media pages. It won't be long until we get swept up in the Christmas mad rush and festivities.
So why not plan ahead and get your shopping list ticked off and get ahead of Black Friday sale too! In my family, we put all our names in a hat, draw one name and we buy for that person. We then tell whoever picked our name what we want for Christmas so we absolutely get what we want. I know, I know, there's no element of surprise. At least we get what we want though. The budget is also usually around the £30 mark. If your family is like mine and you need some ideas for gifts to ask them, maybe you can find one from the list below. Or better yet, if you would like to surprise your loved ones with a nice Christmas present, I hope this list provides you with some exciting ideas.
I have personally tried the products of many of the brands below and can vouch for them. I have also picked many who are small businesses and family-run businesses as we all know how crucial it is to support them especially at this time of year.
The best bit, many of these brands have kindly offered me a special discount code for you to use in their shops!
Whilst majority of the gifts mentioned below are under the £30 mark, some of these brands also offer luxury choices of over £100 for when you do want to splurge on a special someone. These gift ideas are listed in no particular order under a category, but are numbered to make searching a bit easier. Don't forget to download my free resources that will help you design your own interiors and grow your Instagram account!
ARTIST/DESIGNER GIFTS / INDIE SHOPS
1. HELLO PEA & ME – Prints and posters from £8.00.
Contemporary fun prints bursting with colour is Pea and Me's trademark. Ibby is a talented designer and Mum of Penelope who has inspired her to start her business. Below are some of her prints on my youngest's gallery wall. Use layeredxmas for 15% off!
2. EMMA SHIPLEY – Home accessories from £5.50.
Fantastical designs by the amazing Emma Shipley are unmistakably unique and always a show stopper. Her home accessories range include smaller items like coasters, trays, placemats and notebooks. Bigger items include luxurious velvet and silk cushions, lampshades, bed linen, scarves, throws and furniture upholstered in her signature patterns. Did you know that her wallpaper range are only £49 per roll? It's a steal if you ask me! Shown below are a couple of her cushions in velvet and satin and her silk and merino wool Kruger throw. Below it is a photo of her fantastical phone cover designs at £30. Use LAYEREDSPECIAL for 10% off!
3. WILFUL INK – Gifts and cards from £3.00.
If you're looking for something different, striking and a unique statement piece, look no further than Wilful Ink's nature inspired designs. Her products include homewares and wallpaper. These cosmetic bags are so handy when organising various things like make-up and jewellery. They are at £27 each , often printed in both sides and in 100% cotton. Use code CHILLYLILY for 20% off until 8th December.
4. ANNA JACOBS – Home accessories from £12.00
A British artist and designer, Anna has one of the most inspiring success stories ever. Her collections includes a range of lamps, cushions, t-shirts, bed linen, wallpaper and mugs. Her gift cards start at £25. This Black Swan design on the cushion here is also available as a beautiful mug, a magical mug that is black matte finish when cold and as you fill it with hot water, the swans start to appear! Use code LAYERED10 for 10% off!
5. ABIGAIL EDWARDS – Home accessories and wallpaper from £10.00
I love Abigail's designs – all hand-drawn and inspired by nature and fairy tales. I'd describe her style as whimsical and quiet. Peaceful. I actually have this Owl tea towel, which unfortunately, before I could take a photo of it, I found out that someone in the house had used it whilst cooking curry and stained it. So here's a photo from her website instead.
6. THORNBACK & PEEL – Gifts from £10.00
Thornback and Peel is the home of intricate and beautiful screen-printed deigns on home accessories. Inspired by an eclectic mix of British design, they're products celebrate the quirkiness of nature and the British countryside. I especially love their Tote Bags made from 100% cotton canvas and start at £20.
FAMILY-RUN BUSINESS / COOPERATIVES
1. RUSTIC WAREHOUSE NORFOLK – Metal letters from £6.29.
Whilst RW Norfolk stock a host of vintage treasures, one of their specialities is the art of metal letters and shapes. These come in a variety of styles and fonts and are also finished in a a choice of colours from rust, to gold and more contemporary shades like baby pinks and blues. Below are metal white stars, a set of 3 mantle stars starts at £29.00 and their scrabble letters are at £8.99 each in the colour of your choice! Use LAYEREDHOME for 15% off!
2. FIREFLY HOME – Artisan cushions from £28.00.
Kate and her family work with gifted artisans in the age-old craft of crewelwork. Their cushion business provides income for these artisan communities who make the cushions in small batches. As a result, we get to enjoy amazing and contemporary cushion designs lovingly made the artisan way. Use LilyXmas15 for 15% off until the 31st December.
3. NAPOLEON ROCKEFELLER – Vintage goods and traditional upholstered chairs.
A treasure trove of vintage and retro goods, it's hard to put a starting price on what they have as various collectibles and antiques come and go. But they also specialise in the most gorgeous traditional chairs like this one below. Furniture pieces start at £395 if you are looking for a special piece that could be a family heirloom this Christmas. Use NRXMAS for £25 off your first chair order.
4. THE BASKET ROOM – Woven sisal baskets from from £9.00.
Focused on supporting African weaving communities, The Basket Room have the most gorgeous collection of woven sisal baskets from wall baskets, fashion bags and totes, planters, laundry bags, and even lampshades! The basket below on the left is a handy medium size storage for my daughter and was £16. On the right is a massive laundry bag which has a leather trim and handle and is £105. It's the best laundry bag I've ever had! Use LAYEREDHOME for 10% off until 25th December.
5. KENNA SATO DESIGNS – wall vinyl decals from £18.86.
If you want to save yourself the hassle of putting wallpaper up or drawing your own mural on the wall, then you must consider wall these decals! They are available in many colour options and are made with high quality vinyl and adhesive. They are also soooo easy to install and Kenna Sato have the most amazing design choices for you. I'm sure you will find one to your liking! The gold hot air balloon to the left was £18.86 and the constellation stars on the right was £33.37 for one set. The number of sets you need depend on the size of your wall or ceiling. There is a 10% off sale everything in the vinyl wall decals until the end of 2019 and 15% off Cyber Week sale between 25th November to 3rd December.
6. VISUAL ROARS INTERIORS – Home accessories from £3.00
You'd be totally lost and wonderfully immersed in all the choices Visual Roars have to offer on their amazing website! You should also check out their online gift guide with plenty of gift ideas including great presents for under £10.00 like this purse below. This monochrome Zebra cushion is so durable and plump it always bounces back up to shape. It rings at £30. The trinket dish on the right is now reduced to £12.75 and holds plenty as it's a good size. Use LHGIFT15 for 15% off excluding sale items.
7. PAVOT BLUE INTERIORS – Dried flowers from £5.00, sheepskin from £27.00
If you are a lover of boho, Pavot Blue interiors is a must visit site. It is owned by my pal Danielle who sources the most beautiful home accessories from dried flowers to sheepskins, wall art to fringed baskets and juju hats. Everything in Danielle's shop is inspiring and gorgeously styled. Danielle's eye for creative styling makes you want them all in your home! Use pavot20 for 20% off!
8. LOVE FRANKIE – Ceramics from £6.00
An eclectic haven, Love Frankie is full of playful, bold and unique homewares that are uncompromising in style and are guaranteed to add a slice of fun in your interiors. They are the home of made to order lampshades and creative lighting. Their site is well worth a visit and so is their stunning shop in Totnes. Check out their gift guide where you can fine gifts from under £10 to over £100. Use Layered Loves Frankie for 15% discount.
9. WILD ONE INTERIORS – Gifts from £8.00
Wild One Interiors is a new business run by Cat and her husband. Both are creatives and have a bold sense of style and interior design. Their choices are discerning and worth a gander if you are looking for a small (at the moment) curated collection.
PAMPERING AND SKINCARE
1. BOLT & STAR – Vegan candle £25.00
Vegan, hand-poured soy wax candles with essentials oils. Does that sound lovely? These candles have the most gorgeous scents and I love them. They burn clean and leave no wax residue. The jars are so beautiful in black with a choice of gold, copper or silver lid. Each candle comes in a luxury box too. Oh and always trim your wick before every burn!
2. KISS THE MOON – Beautiful products for a beauty sleep from £5.00 .
Night-time aromatherapy products created with beautiful sleep in mind. These products are 100% natural and include facial and bath oils, sleep balms, creams, candles and pillow mists. One of my absolute Kiss the Moon product is their hand cream at £28. It's the big pot pictured below. I absolutely love it's non-greasy consistency, divine scent and soothing feeling on my hands. I slap it on rather thickly at bedtime to heal my frequently-washed hands whilst I sleep! This really is so good and it's no wonder they have won so many awards for their products. If you want to pamper someone this Christmas, have a look at their range. Use 15LH for 15% off until Friday 20th December.
3. SOAP SMITH – Soaps from £10.00
They may only have a small range of scents, 7 scents to be exact, but boy these scents pack a punch! They are beautifully packaged in abstract art designs for each of their collection, all of which are inspired by London places that Sam – the soapsmith- loves. I chose the Bloomsbury to match my Bloomsbury shower room and Sam wasn't kidding! My shower room smells of English roses. Delightful. The hand and body wash comes in a glass bottle at £16.00. And can I just say again – Soap Smith have nailed their branding. Love it!
4. KALM KOALA – weighted blanket from £109.99.
Okay this is far from the £30 mark but if there is one thing useful and beautiful you want to splash out on this Christmas to help yourself or someone sleep better, this is it. I have written an in-depth product review of our experience with the blanket (both my Mum and mine) on here if you want to have a read. Use LILY17 for £17 off good through till Christmas.
5. BLOOM & WILD – Letterbox flowers from £22.00.
Who does not love getting flowers, especially when you don't have to wait in for them! Beautiful blooms are always a treat in our home. These ones fit through the letterbox and I can tell you I find so much pleasure in cutting and arranging them! To make them last longer, I re-cut and re-arrange after a few days twice, so that's triple the pleasure altogether. I have written more on here about Bloom and Wild Flowers. Use LILY10 for £10 off your first order.
JEWELLERY
1. COCO & KINNEY – designer jewellery from £18.00.
It's fair to say I'm in love with everything on their website. If you go and check them out, you'll see why. Elegant yet creatively designed jewellery in various metals and stones, add in some tassel options and they have got me totally hooked! The one pictured here below is the Matilda Kate choker in gold at £43.00. I've got my eye on the green tassels in gold and they ring in at £20.00. Use LAYEREDHOME for 10% off.
2. JEWELLERY BOX – Silver and gold jewellery from under £5.00.
Last year we bought a lovely locket necklace with my youngest daughter's name engraved on it and a bracelet with trinkets too, all at reasonable prices from them. The bracelet with 3 trinkets all came to £25. Their packaging is beautiful too, handmade and recyclable. Back in July I was delighted to come across them at the Christmas in July Fair and it reminded me to check them out for more presents this Christmas. Use LAYEREDHOME for 20% off until 13th December.
3. JACQUELINE & EDWARD – Christmas tree pendant from £75.00
If you have a budget for a special piece of jewellery, handmade by artisans with ethos that includes supporting the health of the planet, then look no further than Jacqueline and Edward. Whilst they specialise in handmade wedding rings using gold ethically sourced from sustainable methods, they currently have a partnership with Caledonian Tree Trust where one tree is planted for ever tree pendant bought. You can read more about it here. These Christmas tree pendants are such a perfect keepsake present and come in sterling silver, white gold, yellow gold and rose gold. This rose gold tree pendant pictured here below is reversible – shiny on one side and has a satin finish on the other. This is going to be a present for my youngest daughter whose birthday is Christmas Eve (very apt) and is moving schools in January, so a huge upheaval for her emotionally. I hope this special pendant will help make her feel better somehow!
CRAFT
1. THE FOLKLORE COMPANY – Cross stitch kits start from £20.00.
I love Christmas holidays. It's that time of year when I feel we are allowed to completely do nothing and relax at home with the family. If like me you have kids, I relish the time snuggling up with them and doing some activities that are far removed from today's high-tech fast-moving past-times, for example, doing some home crafts. I'm planning to do more cross-stitch with my girls using my Folklore Company embroidery kit. On this link I have written more about just how good cross-stitching could make one feel! It's therapeutic! Use 15%layeredhomexmas for 15% off their entire website until 17th December.
2. TOM MARTIN LONDON – Glass baubles from £20.00
Tom Martin London will blow your mind. Just wait till you see their hand-painted baubles. Wait for it. They are hand-painted from the inside! Think snowy London scenes, wintery country scenes, Liberty, and THE SNOWMAN. Yes the one with the green hat and scarf who flies Billy over snowy landmarks in The Snowman's sequel The Snowman and the Snowdog. Each hand-painted bauble comes in a white presentation box with a purple ribbon. They have videos on their site and Instagram on how these baubles are painted from the inside! Amazing stuff! I actually have a personalised bauble that they sent me from coming across them at the Christmas in July fair. Hand-panted glass baubles from £20.00. Use LAYERED10 for a 10% discount.
Craft Editions are a collective of craftspeople who make all thing by hand. The collection is stunning. They have been recommended to me by my friend Jackie Hoyte who takes care of their PR. Have a gander and appreciate the skill in all these gorgeous handiwork. This photo below is taken from their website.
HOME ACCESSORIES
1. ELSIE MARIE– Home accessories from £4.95
I wouldn't know where to start because Elsie Marie is FULL of absolutely beautiful and inspired items for your home from accessories to occasional furniture and outdoor living inspiration. Julie has a strong eye for style. You can go through page after page utterly mesmerised by the styling and product range. I love this glass planter below as it's perched on a natural wood tree root! How cool and so unique. Not one vase is the same. Now that would make a beautiful present, don't you think! Use LILY20 for 20% off from 1st – 23rd December.
2. FURN – Finishing touches for your home from £10.00.
Another unique item I have not seen elsewhere before is this Bobble cushion by Furn. This comes in 5 gorgeous colours and rings in at £30. I have written an article on 3 winter-warmer interior tips with Furn on here where you can see a couple more of their products styled in my home and read more about their collection too. Use LAYERED30 for 30% off!
3. SASS AND BELLE – Gifts from £1.50 (no joke!)
If you are looking for a delightful collection of products great for sprucing up your home or gifting to your loved ones, then look no further than Sass and Belle. They have a wide range of gifts and accessories that cater to the more colourful tastes to the scandi-boho pared back style, from whimsical to super fun, from florals to geometric. Shown below are these stunning ombre mugs at £9.00 each in the most delicate pink and grey colours, a jewellery stand for £10.00 and their stunning new collection of baskets. Currently they have alphabet trinket dishes for £1.50 – see the letter S below on the table styling photo. They'd make the cutest stocking fillers! 30% off all online orders over £25 excluding sale items. Good until the 3rd of December.
4.AUDENZA HOME Isla blue glass vase £28.95
This vase was bigger than I expected and very beautiful! I actually won it from using their hashtag #livefabulousandfearless. And that sums up their interior products – not for the faint-hearted. They are bold and beautiful, fierce and fearless. Their mantra is Be Bold, Be Brave, Be you. Check out their Black Friday sale for amazing offerings! 10% off orders over £100* Use code: FRI-YAY10 / 15% off orders over £250* Use code: FRI-YAY15 / 20% off orders over £1,000* Use code: FRI-YAY20
*Ts&Cs Promotion Codes
Offers valid from 7pm 27/11/19, until 23:59 02.12.19. Offer may only be used once per person and not in conjunction with any other offer. Excludes delivery and any items in the sale. Minimum purchase value applies and the value must be met on non-sale items. Cannot be used whilst redeeming a gift voucher. Promo code must be used at the time of purchase and cannot be applied retrospectively.
5.DOWSING AND REYNOLDS – Artificial Plants from £17.99
Dowsing and Reynolds, known for their beautifully designed switches and sockets, taps, showers and lighting, have now expanded their range to include faux foliage. These artificial greens are very realistic and start from £17.99. This one shown below is a large fern and is at £79.99.
6. LATZIO LIVING Accessories from £16.00
Latzio source the most beautiful, unique statement pieces from the best designers around the world. They are forward thinking with European lifestyle aesthetics. One of my favourites and a steal at £35 is this Marilyn throw. It's so soft and feels luxurious. Unlike many other throws at this price range, this throw is made of high quality faux fur and velour. Latzio is a one-stop online interiors shop so you can find products from under £20 to high-end furniture pieces that are made to order. I have written more about Latzio Living on here.
There we are – some gift ideas that hopefully will help you tick off your Christmas present list! This post contain previously gifted items.
If you know someone you think would find this Christmas gift guide: gifts ideas under £30, with discount codes helpful, would you mind sharing it to them? I'd be grateful if you would share on your stories too or mention or tag me Instagram layered.home on your posts. I'd love it if you would follow me on there and all the brands mentioned in this article as well. Thank you for reading! Don't forget to download my free resources that will help you design your own interiors and grow your Instagram account!