3 "winter-warmer" interior tips with Furn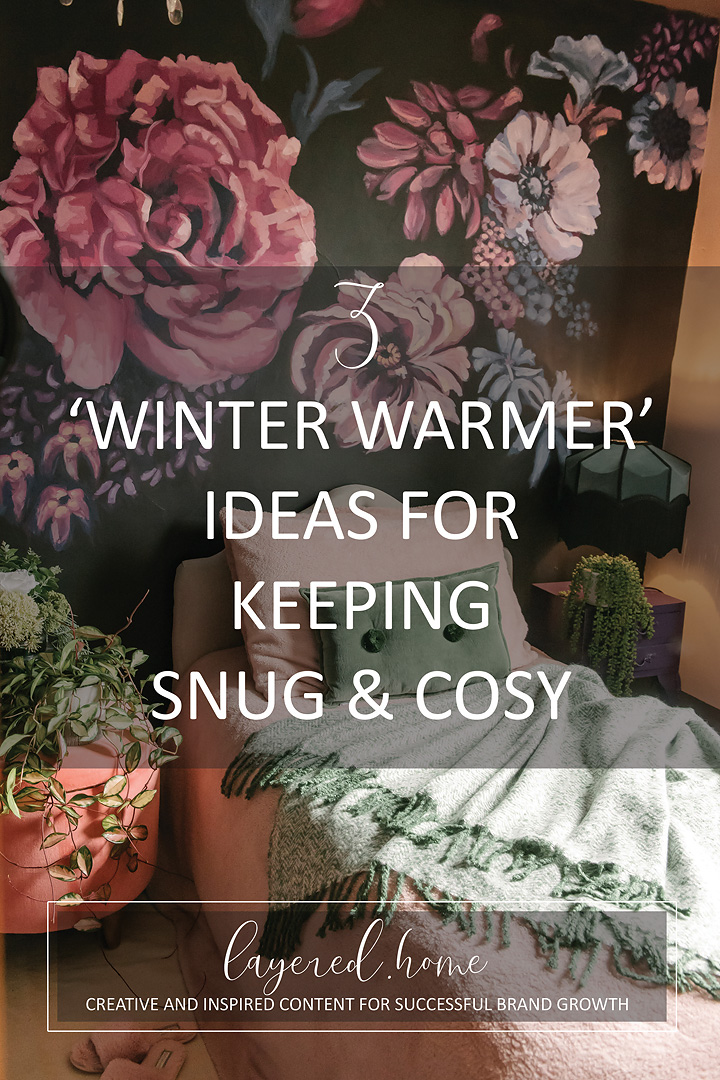 The weather has definitely turned over here in the Northern Hemisphere. It is noticeably colder especially in the early mornings. It's time to get our "winter-warmers" on!
I don't know about you but, although I love winter, I also want to be warm. In fact, I love winter because I can layer up and keep myself snuggly and warm. In the summer, if it gets too hot (which to be fair rarely happens), it's not possible to cool down in London where normal homes like mine have no air conditioning nor swimming pools.
I keep myself to a minimum of clothes styles in the winter, preferring comfortable jeggings and jumpers with thermals underneath, and sheepskin shoes! In my interiors, it's the same – we get the thick duvets out, warmer bedding textures and lots of throws ready for a snuggle. I love using candles for a warm wintery atmosphere and lighting a log fire when the whole family is snuggled up in the front room.
Recently, I have been collaborating with Furn, a new online brand focused on finishing touches to help you show off your unique style and make a space your very own. Furn have a well-curated collection of home accessories in inspiring prints and styles and, as a bonus, at affordable prices too. Their tassled throws are currently sold out, just to show how popular and accessible these are.
Here are my 3 "winter-warmers" tips for your home interiors featuring some of Furn's gorgeous new accessories. Don't forget to download my free resources that will help you design your own interiors and grow your Instagram account!
1. WARM UP WITH SHERPA
I've never had Sherpa before and what an eye-opener! There are actually really soft bedding fabrics out there that are warm and perfect for winter. This blush pink Sherpa bedding is being used by my youngest. She absolutely loves it and her comment, without me prompting, was that "it feels like sleeping in the clouds". That's how soft my 10 year old says this Sherpa bedding is. She literally rolls herself inside this bedding like a sausage roll and has her head sandwiched in between the soft pillows for extra cosy!
2. SNUGGLE UP WITH THROWS
I love having cold feet says no one ever! Throws are always on hand in my house for when the kids want to sit on the sofa and keep warm. This herringbone Weaver throw is unlike other textured fabric which can be quite rough to the touch. No, no we don't like rough.
This summer we visited some European cities including city markets. There were plenty of woollen and felt blankets, scarves and shawls – all beautifully hand-crafted in unique designs. However, they felt rather rough. I wouldn't want a scratchy fabric around my neck.
This Weaver throw is super soft and yet has a wonderful herringbone pattern and is also pretty textured. I love the fringe detailing too. It's a bonus that I can use it as a shawl or a big scarf, not just as a blanket. It also comes in 5 other colours!
3. COSY UP WITH VELVETS
There's nothing like velvet textures when it comes to setting a moody deep wintery scene in a dark maximalist interior like mine. Cushions are a great way of adding velvet to your home if you are not sure whether they'd look too heavy or just a bit too much in your interiors. This little Bobble cushion is made of 100% cotton velvet with twin stitched pompoms so they don't come off even with some rough and tumble from the kids.
I haven't seen this Bobble cushion design before, a bolster cushion in shape but also a contemporary nod to the buttoned upholstery style. It comes in 4 other colours, the rock rose being my other favourite!
As mentioned above, one of the best things about Furn's collection is that they are affordable despite being a carefully curated selection of stylish patterns and inspiring colours. Because they are currently focused on just 4 finishing touches namely: bedding, cushions, throws and curtains, they can be meticulous about the quality of their offerings.
Check Furn out especially their first collection for AW19 which is nature-inspired. Their colour choices are spot on in my opinion. You may just find the perfect present for your home this Christmas!
I hope you enjoyed this article on 3 "winter-warmer" interior tips with Furn.
Some photographs in this post contain previously gifted items as well as the 3 Furn pieces featured in this blog article. I hope you like them. I'd be grateful if you would share on your stories or mention or tag me Instagram layered.home on your posts. I'd love it if you would follow me on there too! Don't forget to download my free resources that will help you design your own interiors and grow your Instagram account!