5 key pieces in creating a gentleman's club vibe lounge with a feminine touch with Latzio Living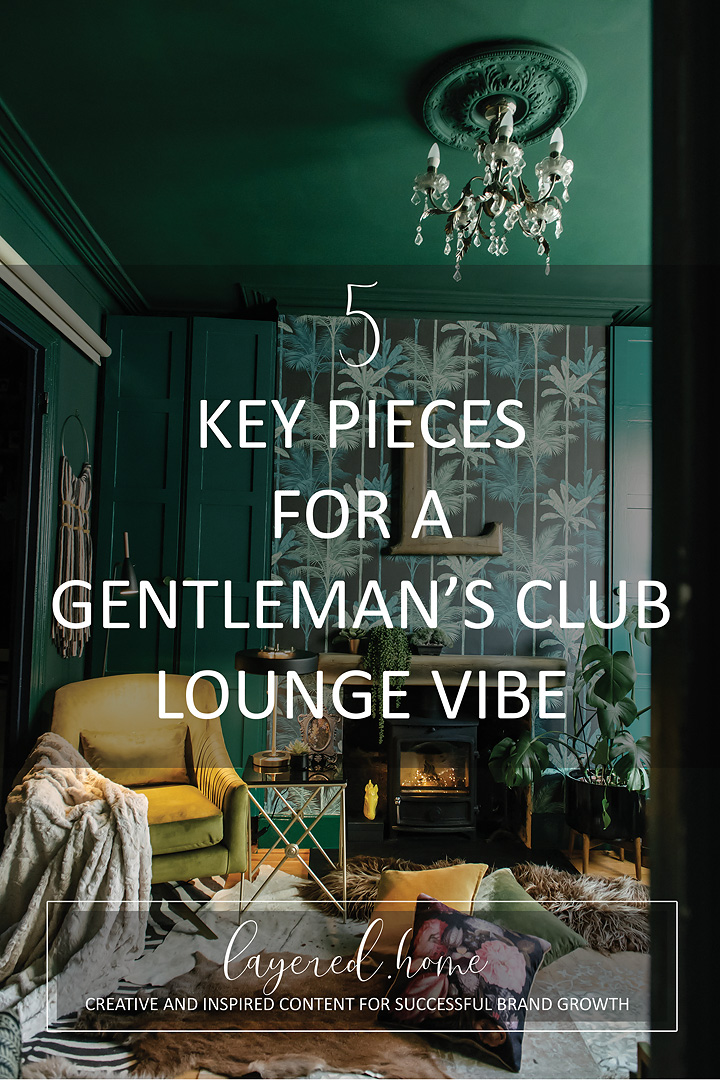 If you have followed me for a while you might remember I have been redecorating my lounge to have a gentleman's club vibe and I think I got halfway there.
Recently, I had the ceiling painted the same colour as the walls and trims and this gave the room a totally whole new feel. It's incredible; it feels more cohesive, bigger, deeper, cosier and much warmer – a feeling that you are being hugged by warmth! By the way, don't forget to download my free resources that will help you design your own interiors and grow your Instagram account!
Still, I felt it lacked soft feminine touches. As a serial faffer, I moved things around and experimented on where best to put particular chairs and lights etc. Eventually I had 2 corners sorted but the main corner next to the wood burner was still empty.
Then I found Latzio Living. Actually, they found me and asked if I had any projects to finish at home. This was the perfect opportunity to finish my gentleman's club lounge with feminine touches to get my vision realised.
Latzio Living's interior style leans toward a European lifestyle feel. Not only are they are forward thinking, offering ultra contemporary statement pieces along with strong and timeless modern designs, they are also environmentally aware having sustainability at the heart of their brand.
I have to say their website is amazing – fresh, easy to navigate, with very helpful filters to narrow down your choices. Check out their page and you'll know what I mean! It's like a one-stop shop platform with carefully hand-picked designs from the very best designers around the world. I love that many of the items are so unique and enables one to have interiors unlike anyone else's. Some items are ready to ship, others have to be custom-made for that personal style touch.
I chose 5 KEY PIECES to bring my vision of creating a gentleman's club vibe lounge with a feminine touch into reality:
1. A STATEMENT PIECE OF FURNITURE
The statement Carnation Luxury chair! I have been looking for a mustard velvet chair for a while now to bring that warmth this space is missing. This chair, especially with a spotlight shone on it, is the perfect piece. I love its elegant style, sensuous velvet material and brass legs, and it swivels too! It's a solid, heavy piece and required two people to unpack it and put it in situ.
2. TALL LIGHTING
Talking about lighting, I fell for this clean line design spotlight floorlamp with a tilting head, the Nordlux Pure 10. It's understated and super elegant. I love the combination of wood, brass and black steel. This light is made for the Carnation Luxury Chair, putting it in the spotlight (pun intended), and it's not as expensive as you think!
3. LOW LIGHTING
I often think of the decadent 20s and the flapper era, think Gatsby style: velvets, brass, black and gold and low interior lighting. I have found the perfect table lamp – the Belize Table Lamp: sleek black shade with black brushed finish and diffused downward lighting. Again a solid piece with the little pull light chain as the perfect touch – so much better than in-line switches! For the quality and size that it is, you'd be surprised at the price!
4. SMALLER SECONDARY STATEMENT PIECES
Side tables are always nice and practical for drinks and books and, if you're like me, to put non-practical accessories on them too (can't help being a maximalist – sorrynotsorry!). The Monroe Gold Finish side tables come in a set of two and are made of gold steel frame and a thick tempered glass surface which makes each table steady and secure. Tables with steel legs that are open allow you to see the space behind and beyond the table giving the illusion of larger space and more depth. The eye is invited to travel longer and follow the floor rather than being cut short by, say, chunky or boxy furniture. I am delighted with these tables – something that is definitely new in my design scheme.
5. FEMININE ACCESSORY
Last but by no means least, the Marilyn Throw, a steal at £35, brings the ultimate minky softness that makes you want to snuggle up next to the fire on a cold winter day. This comes in oyster pink, the palest, most delicate of pinks – the perfect and final feminine touch this space needed.
By reining in the main colour scheme tighter, limiting it to green, mustard and gold, this space feels more cohesive and much softer too. It does feel cosier in here – I cannot wait to light the fire!
I hope you enjoyed this article on 5 key pieces in creating a gentleman's club vibe lounge with a feminine touch with Latzio Living.
A huge thank you to Latzio Living for helping me finish my lounge project! If you are in interiors, a designer or looking to decorate and furnish your own home, you need to check them out. Don't forget to download my free resources that will help you design your own interiors and grow your Instagram account!
Some photographs in this posts contain previously gifted items as well as the 5 key pieces from Latzio Living featured in this blog. I hope you like them. I'd be grateful if you would share on your stories or mention or tag me Instagram layered.home on your posts. I'd love it if you would follow me on there too!