Product review of the Kalm Koala Weighted blanket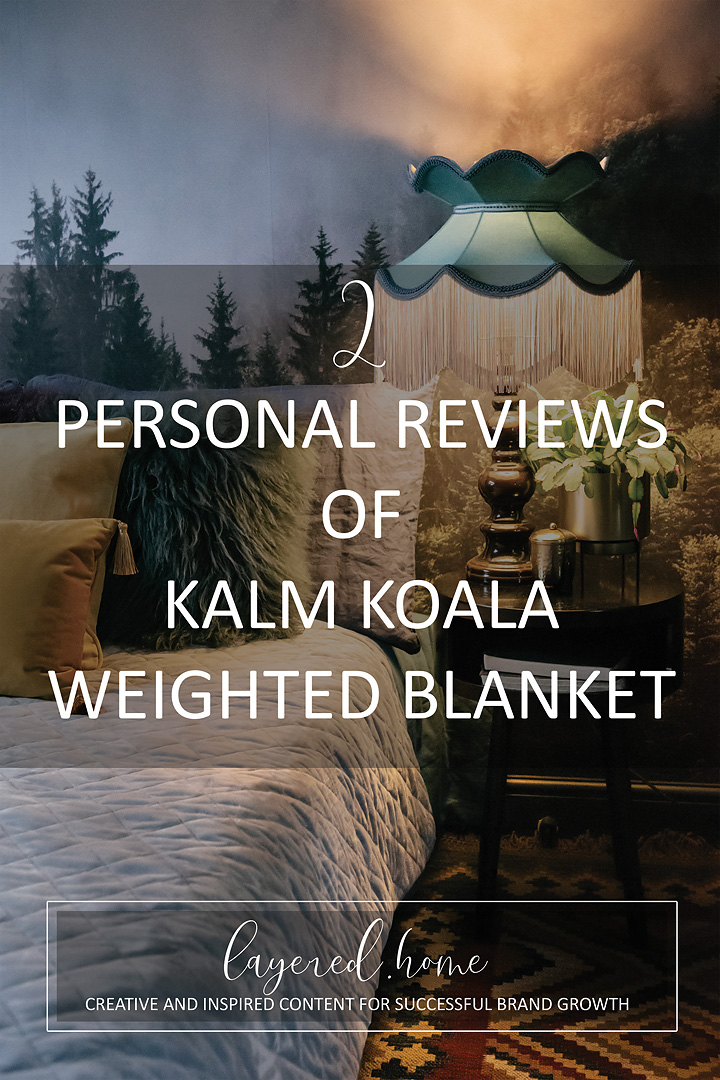 Before Chris Katona, founder of the Kalm Koala, contacted me about a collaboration, I had never heard of weighted blankets. As per my usual practice, I looked into the product before any collaboration was agreed. Kalm Koala's website looks great and legitimate and so I read up more about the benefits of weighted blankets.
Having read that this Kalm Koala blanket could be beneficial for my mother who has Parkinson's disease, I was really keen for her try it. As a side effect of her various medications, she gets very little sleep, often going to the toilet in the night several times and unable to get back to sleep. She averages 2-4 hours sleep per night and has been prescribed melatonin for times when she really needs to get at least some sleep.
Weighted blankets are quite simply heavier duvets, filled with beads inside to add the necessary extra weight which needs to be within 7-13% of your body weight. This extra weight is meant to simulate deep pressure stimulation giving you a feeling of being hugged and cuddled. This stimulation is meant to increase serotonin – the chemical responsible for producing hormones, and melatonin – the hormone responsible for inducing sleep. Deep pressure stimulation has also been known to reduce the stress hormone cortisol and therefore helps with anxiety, calming the mood down. This was music to my ears as my Mum often gets a lot anxiety about her conditions and the possibility of acquiring new conditions.
One of the things I'm happiest about is that this is not another pill my Mum has to take. She already takes so many as it is. As long she gets the correct weight, it is safe for her to use as she has no conditions that require checking with her doctor first before using this blanket. To read more about the benefits of a weighted blanket including helping with various syndromes and even depression, check this and this.
I'll now talk about our personal experience using the blanket: Part 1 is my Mum's and part 2 is mine. Before I continue, just so you won't forget, Kalm Koala has given me a code for £10 off. Just use LAYEREDHOME at checkout.
PART 1: MY MUM'S EXPERIENCE
Let me now to talk about my Mum's personal experience with using the 6.8kg single weighted blanket.
My mum was skeptical at first but I convinced her to try it. The first night she slept an hour longer and was able to fall back to sleep after a trip to the toilet. Still she was unconvinced. She first tried the soft minky side against her body and the silk side on top, but felt this was too warm and she woke up sweaty. From the second night onwards, she tried the silky eco-bamboo side which was just right. After two more nights of the same, having an extra hour's sleep, sometimes a little more, she was getting persuaded that this is actually helping her. This blanket could also be used without the cover if you find it's still too warm.
She had some interrupted nights when she got a streaming cold and a cough and these didn't help with her sleep as she had to sleep upright, but it wasn't worse than the usual. When she got over the virus, she started sleeping even longer, now averaging 2 more hours sleep than normal! One time she slept for 6 hours straight which she hadn't done for the longest time and a day before that she slept a total of 8 hours sleep after having gone to the toilet 3 times in the night and being able to fall back to sleep.
At the time of writing this review, my Mum has had the Kalm Koala blanket for 19 days and I am pleased to report she will not be looking back! Not only does this blanket work for her, as a product, it is very well made. The weighted blanket / duvet is made like a big waffle, if you like, with hundreds of squares stitched carefully so that they hold the weighted beads in. This ensures that the beads don't all roll into one side of the blanket but are contained in the little squares they are stitched in, therefore being evenly distributed throughout the blanket.
This blanket is tied inside the cover via 14 little loops and so it stays in place and keeps in shape when the cover is used with it. One side of the cover has an ultra-soft grey minky material meant for colder days and the other side has a silky eco-bamboo material meant for warmer days. I also like the fact that it looks classic and easy to use in many interiors styles too. By the way, if you are interested in designing your own interiors, I have written a free guide here to help you get started.
It comes in two sizes: 48×78 just right for a single bed, and a bigger size 60×80 which can go on a single, double or king size bed. See here how these sizes look on your bed.(Latest addition: Kalm Koala have just released a 4kg weighted blanket for kids!)
The outer cover is machine washable and the inside weighted blanket can be washed by hands. I'm pretty sure you have a lot of questions still. Kalm Koala has a great FAQ page which provide many answers to possible questions. I encourage you to read more about it.
PART 2: MY OWN EXPERIENCE OF THE KALM KOALA
Sleeping problems isn't something I'd wish on anyone – I've had my share of it. I have three children, now in teens/almost tween, and I had them within 3.2 years so it was all go. I've had sleep deprivation as expected with having small children but never as bad compared to an experience I had just a few years ago.
I went through a phase of severe insomnia where I did not sleep at all for days. Now people said that even when you think you haven't slept, your body must have slept and you just didn't know it. Those comments hurt a little because I knew for a fact that I did not sleep a wink and it's not fair to assume that's not possible.
I was actually away from my family, out of town, with no access to sleeping aids or pills and I have also never heard of melatonin!
Zero sleep messes with ones head and mental state. It's out of desperation when you physically cannot do anything, try as you might, to get some sleep. Zero sleep, whether caused by anxiety or something else, causes even more anxiety including concerns about health which were previously not there. Zero sleep makes one fearful of the future.
When I got back home, I thought sleep would just come back naturally, but no, it took a while. I was thankful for any time I got to sleep – an hour was better than zero. Two hours – I'll take that, that's better than nothing. Even if I managed to get broken 30 minute sleeps over five hours totally to 2.5 sleep, I was grateful for it. Anything I can get to not be awake for 8 solid hours with my own thoughts with no sleep forthcoming! Over time my sleep gradually increased until I managed to get back to normal sleep duration for which I was extremely grateful.
Recently, I've been waking up at night, several times, usually for trips to the toilet. This is mainly my own doing – because I drink a couple of cups of liquid (tea and vitamin drink) before bedtime. But it's also because sometimes I get cold in the night or I get too warm. And this messes up my sleep cycle too. For months I have not had straight sleep through the night.
Last week, I tried the Kalm Koala and have slept in it for 7 nights now.
(I'll write the first night off because two of my kids slept with me and that's never comfortable. They also decided to bring in a million favourite teddies and put them in the middle of the bed without me noticing, so it was uncomfortable to say the least on top of the fact that I was falling off the bed nearly the whole night.)
The first time I tried it, I could not fail to notice how soft the minky fabric is and how smooth the silky side felt on my body. The moment I got underneath the blanket. I felt reassured – it's a weird thing to say but the weight was reassuring! The blanket is heavy to lift but when you're underneath it, the weight feels more spread out and not heavy on the body but just "reassuringly there". I also felt really "comforted" – another weird feeling because I didn't think I needed any comforting! With these, it felt so cosy and snug and felt like there's this peaceful, safe, firm and reassuring hand on me.
I hadn't changed the amount I drank before bedtime so I was still going to the toilet several times, but able to get back to sleep nonetheless. So in terms of actual sleep, it's the same for me, but in terms of getting so comfortable and not having to toss and turn and find comfortable sleeping positions as I am trying to drift off to sleep, this is working wonders.
The weight of the blanket reduces my tossing and turning to find that initial comfortable sleep position. I also prefer the blanket flat over my body rather than bundled up (I have the double so it can be bundled up). Having it flat feels more peaceful and calming. When I wake in the night for trips to the loo, I find myself in relatively the same position and still under the blanket.
I sleep with the mink side on top and the silky side underneath touching my body and this feels just the right temperature for me. I think because I don't toss and turn too much, the blanket stays in place and I don't get too hot or too cold and therefore not waking up from these anymore.
In the morning as I wake up, I'm still in the same snuggly position under the blanket and it feels like I've woken up just as comfortably as I've gone to bed the night before!
It's still early days getting used to the blanket. I will try and change my liquid intake before bedtime so I can get straight sleep again and less middle of the night loo trips. But for now, I love this blanket for it's comforting, reassuring, calming feeling it gives me as I go to bed and as I wake up.
I hope you found this product review of the Kalm Koala Weighted blanket useful.
This Kalm Koala blanket is definitely worth a try if you want to see if it works for you. Don't forget to use LAYEREDHOME at checkout for a further £10 off. P.S. If you want to create your own spaces putting your own stamp to it, see my free guide here on designing your own interiors. Don't forget to also download my free resources that will help you design your own interiors and grow your Instagram account!
Some photographs in this posts contain previously gifted items as well as the the Kalm Koala single and double weighted blankets featured above. This blogpost is also sponsored by Kalm Koala and contains affiliate links. My review from my mother's experience and my own personal experience of the blanket are true and so are the opinions on this blogpost. I'd be grateful if you would share on your stories or mention or tag me Instagram layered.home on your posts. I'd love it if you would follow me on there too!