3 Ways to elevate your interiors with florals with Bloom and Wild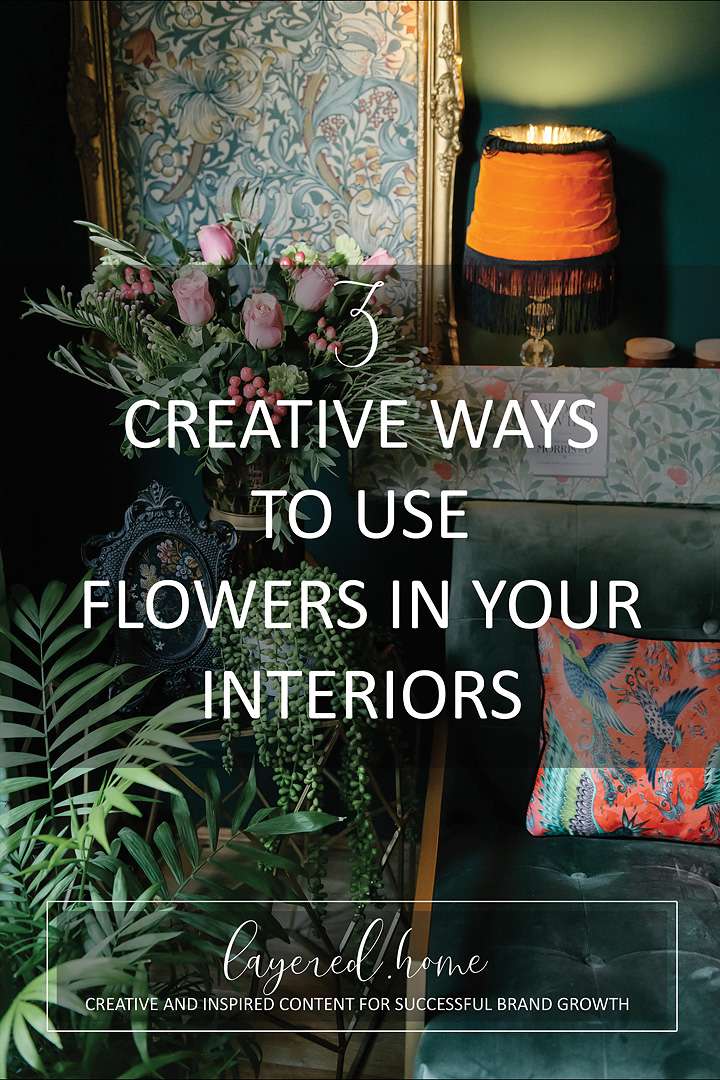 There's no denying that fresh florals bring much joy to any space. Flowers and plants are, after all, the easiest and surest way to bring nature into our homes.
Now whilst I'm a fan of faux florals and greenery, nothing compares to the real thing. Fauxs try to imitate real flowers and nowadays many fauxs do a great job. But let's face it, when we see the real thing, it's incomparable. Genuine fresh floral textures and plants are inimitable. Faux cannot trump real.
I'm also a huge fan of fresh flowers in colour! Colours just lift the spirits. Trust me, I know. A decade ago I decorated our first flat with black accents and nothing else. I had that for years! Every time I visited friends' homes peppered with colour, my heart would do somersaults. My life clearly lacked colour then! Bi those days are long over. When it comes to flowers, I'd have an explosion of colours please!
I'm delighted that Bloom and Wild have partnered with William Morris and Co and are producing special limited edition bouquets inspired by some of William Morris' prints. And they are all in a stunning mixture of colours! Tastefully and elegantly put together, they bring interiors to a whole new level. Don't forget to download my free resources that will help you design your own interiors and grow your Instagram account!
HERE ARE 3 WAYS I USED FRESH FLOWERS TO ELEVATE MY INTERIORS.
TEXTURE OVERLOAD
Bloom and Wild's bouquets are so rich in texture. There are 23-28 stems in each of these bouquets and the base stems are usually an interesting mix of textures like waxflower, eucalyptus, seed head, pitto, fern, olive and photinia. Then you have lush and thicker florals to support the focal flowers (usually roses). My favourites are snapdragon, kangaroo paw and hypericum.
The more clashing textures you have in your interiors, the better, in my opinion – velvety rose petals against delicate seed heads, ferns, glossy hypericum against the matt texture of eucalyptus leaves, crinkle solomio petals next to sturdy waxflower. Clashing textures work just like in interiors – smooth luxurious velvet against satin and wood. The flattest of matts next to gold and gilt. Cowhide against contemporary neons, wool juxtaposed with granite. Icelandic sheepskin against smooth leather.
PATTERN ON PATTERN
Fearless layering of pattern over pattern is big at the moment. The bolder you are the better. And these patterns don't have to match either! Busy on busy – it's all a feast to the eyes! Geometric against a busy-all over pattern creates strong contrast. It's immensely fun too.
COLOUR PICK-UPS
Whilst I don't like going matchy-matchy in my interiors, I do love a sense of cohesion in my spaces. One way to achieve this is to use a limited colour palette with some colours picking up from other areas of the space. It keeps items together whilst helping the viewer's eye move around the entire space. You can call this colour-coordination if you like, just as long as it's not all entirely colour coordinated. I like injecting something rogue or unexpected in and amongst the colour coordination. In this way, you're making something stand out a bit too – different from the rest.
BLOOM AND WILD LETTERBOX FLOWERS
One of the best things about Bloom and Wild Letterbox flowers is the fact that you don't have to stay in for the postman. The flowers are carefully packed in-bud inside these pretty boxes that fit perfectly through the letterbox!. They are laid so carefully inside the box in a compact manner so there's no movement or breakage of the stems. I was astonished at the number of stems they were able to fit in the box!
Because they are cut in-bud, they are still sleeping and takes a day or two to wake up once in water. The box comes with a dedicated flower arranging guide providing information on the type of flowers in the box, how to care for them and more importantly how to make them last longer!
I never knew roses have tough outer guard petals that need to be removed so the rose can open and bloom. There's plenty of info in the little booklet including the best way to trim the stems and why, how to choose the right vase, when to put flower food (you get 2 packs) and how to arrange like a pro! I have created some videos including time-lapse videos on my Instagram story highlights for Bloom and Wild.
The special edition boxes are printed in three of William Morris' designs:
The Cray inspired Bloom and Wild's The Hazel bouquet
The Arbutus inspired Bloom and Wild's The Bramble bouquet
The Strawberry Thief inspired Bloom and Wild's The Aviary bouquet
By the way, I have a discount code for you. Use LILY 10 for £10 off your first order from Bloom and Wild.
I could not bear to throw these boxes away so I am using them as my "sentimental" items boxes – home of the little cards and notes that my children make for me.
These special edition bouquets also come as hand-tied bouquets, already perfectly arranged. Luxury limited editions come with vases and chocolate for that very special present.
I am utterly delighted with these bouquets. The Bramble is still going strong two weeks on! Don't forget to download my free resources that will help you design your own interiors and grow your Instagram account!
I hope you enjoyed this article on 3 Ways to elevate your interiors with florals with Bloom and Wild.
The photographs in this posts contain previously gifted items as well as the three Bloom and Wild bouquets featured above. This blogpost is also sponsored by Bloom and Wild. I'd be grateful if you would share on your stories or mention or tag me Instagram layered.home on your posts. I'd love it if you would follow me on there too!