Floral wall mural bedroom revamp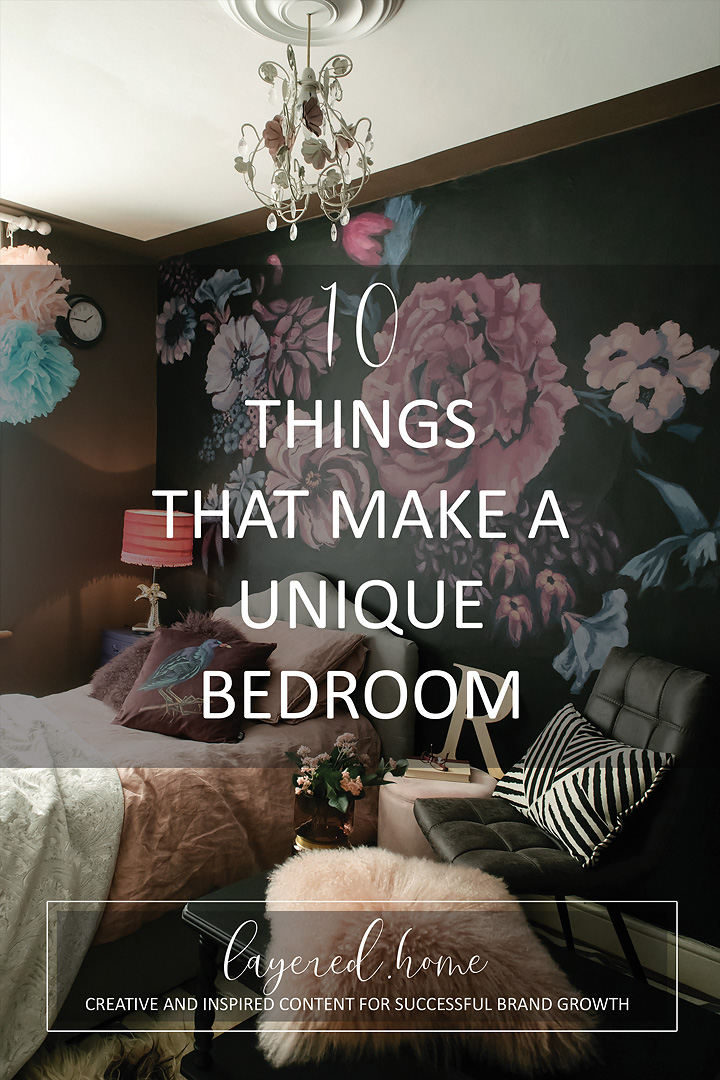 It all started with a bed. This is the story of the room that started off like this (top) when we bought it 5 years ago…and became this (bottom) after the recent revamp…
As Layered.Home, I work with brands on their brand awareness campaigns and product placements and this bedroom revamp would not have been made possible without the following brands…By the way, don't forget to download my free resources that will help you design your own interiors and grow your Instagram account!
When Arista Living offered me a bed, any bed, any size, I had to make a decision as to which bed in the house to replace. And this room, my Mum's bedroom, had a bed that she didn't like and had been complaining about for some time. And so it was a no brainer that this should be where the new bed goes.
Arista Living doesn't have many choices which was great for me because, much like in a restaurant, if I get offered hundreds of choices, I get indecision paralysis. With fewer options, it was quick and easy to make a choice and the ordering process was a breeze. In fact, it wasn't just a breeze, it was more like a gust of wind. It's so quick! Three steps and you're done. You build your own bed by choosing a base, the fabric and headboard design and that is it.
I chose the ottoman bed base, a storage under the bed which is as big as the bed itself! It's perfect to hide my Mum's belongings that she can't part with. My husband built the bed and the first thing he remarked on when he unpacked it was the quality of the material. So here we are, a light grey bed with a suede feel to it, buttoned headboard and masses of storage space. It's perfect!
You can still use the code LAYERED50 for 50% off your bed order (if you are happy to wait 4 weeks for the bed) and is valid until the 30th of April so don't miss your chance.
Prior to the revamp, I had been looking at wallpaper murals for this room for a while and the ones I wanted were eye-wateringly expensive. But then I had a brainwave – I thought I should just paint it myself to save on costs. I have put a step-by-step tutorial on my DIY highlights on Instagram if you want to see how I painted this wall.
I'm so grateful to the lovely Pam and Rob of Frenchic Paint who collaborated with me and supplied me with all the paint I needed for this room: chalk paint for the walls, mural, trims, furniture, door frames.
I am no stranger to chalk paint as I've painted a few furniture pieces before, But this was the first time I used Frenchic and my goodness what a revelation! I love it's creaminess; it doesn't smell at all and it paints like a dream! I mixed colours for this mural and they are so easy to work with – no muddy mixes and they dried at just the right pace. The best thing about chalk paint is that it goes on almost everything. I even painted my UPVC white plastic windows and frames with it!
They have chalk paint that doesn't need waxing! That's just magic right there. Magic in a tin! I still have paint leftover and will be painting my front door soon so watch this space! P.s. This section contains affiliate links.
At this stage I was already collaborating with Visual Roars Interiors and one of the things they gifted me with was this dining chair which caught the eye of my Mum and now lives in this bedroom. It's "just right" – the perfect size, comfort, shape. Great to sit on for hours watching TV. It's "Goldilocks" right. In fact, everyone in the house wants this chair. It's the "treat" chair and if you're late at the dinner table you lose it as there's only one other. Visual Roars has the most amazing collection of interior products – they have a good eye with so many inspired choices and statement pieces. Check them out – their site is worth a good browse. They are also very generous with their sales so keep an eye out! You can use VRLH15 for 15% off full priced items.
Another company that contacted me is Mocha Home. They have been around for a while with over 20 years experience in the furniture business, mainly in the commercial area. They have expanded their offering into a furniture online shop where you and I could access their speciality: sustainable hardwood furniture as well as other ethically chosen pieces. They sent me the Aureate Light Gold Chest and it arrived as a beautifully and solidly assembled piece. No flat packs here! All I had to do was to attach the legs. The drawer fronts have brass inlays designed into the wood – I don't know how they crafted that in so well. I love wood and this is a real delight as is the Wayne cowhide footstoolthey also sent me. You can use Gold5 for 5% off the Aureate Chest.
Who would have thought a bit of functional metal could be a thing of beauty? Seriously I am in love with this cast-iron radiator. MHS Radiators specialise in designer radiators – they have radiators that look like art work and sculptures! They also have the traditional ones like the one I chose, the Clasico and can paint them in the many colours. I chose Matt black with Chartwell brass valve fittings. My experience with them was a real pleasure – they were very specific with their advice on the size of the radiator based on the size of your room and the placement of the radiator. For someone like me who has no plumbing know-how or understanding of, they made it so simple. And this, needless to say, is the best radiator in the entire house!
Scape Leigh Interiors sent me a couple of items once of which is this solid wood velvet covered footstool. It's no ordinary footstool though, it's big and it's an ottoman footstool. More storage for my Mum's stuff that she needs regular access to. It's another one of those "Goldilocks" pieces. Check out their eclectic range of ethically sourced furniture and many other decors. Use LILY10 to get 10% off your entire purchase.
When it came to soft furnishings for this bedroom, Wallace Cotton sent me this gorgeous reversible bedspread in the softest textured cotton. You wouldn't believe it though as it looks like linen but feels much softer than linen. Wallace Cotton is a contemporary interiors brand based in New Zealand and have now expanded into the UK. They only use organic cotton and work with partners with high ethical standards and exceptional craftsmanship. No wonder this cotton bedspread is as soft as a baby's skin!
I'm also presently collaborating with Soak and Sleep and one of their items went into this room collaboration – their new digital floral bedding in 100% pure cotton with a 200 threadcount. I've been a loyal customer with them having bought all our pillows, toppers, protectors etc from them for over a decade! It was a no brainer when they contacted me to collaborate.
One of the many talented designers I have come across on Instagram is Emma, the genius behind Wilful Ink. She draws the most exquisite designs of birds, insects, sea life and she makes them into wallpaper, prints, cards and fabrics made into cushions and homewares. This is her Gallinule bird design as a cushion and a print. I love everything Emma creates and I'm so fortunate to have quite a few of her designs dotted around in my house. I have one more project coming up using Emma's wallpaper so watch this space!
Last but not least, the lovely Lou who owns Rustic Warehouse Norfolk sent me some metal letters and stars. These letters have made their tour in my house hence you see a letter here and there styled in this room. If you're looking for rustic letters, vintage, upcycled and industrial furniture, look further than Rustic Warehouse!
All products mentioned above have been gifted by the respective brands for this bedroom collaboration. Don't forget to download my free resources that will help you design your own interiors and grow your Instagram account!
I hope you enjoyed this floral wall mural bedroom revamp.
Do share your thoughts on Instagram layered.home and I'd love it if you would follow me on there too! And please share on your stories or repost on Instagram, I'd be forever grateful!