Gallery wall tips with Folklore embroidery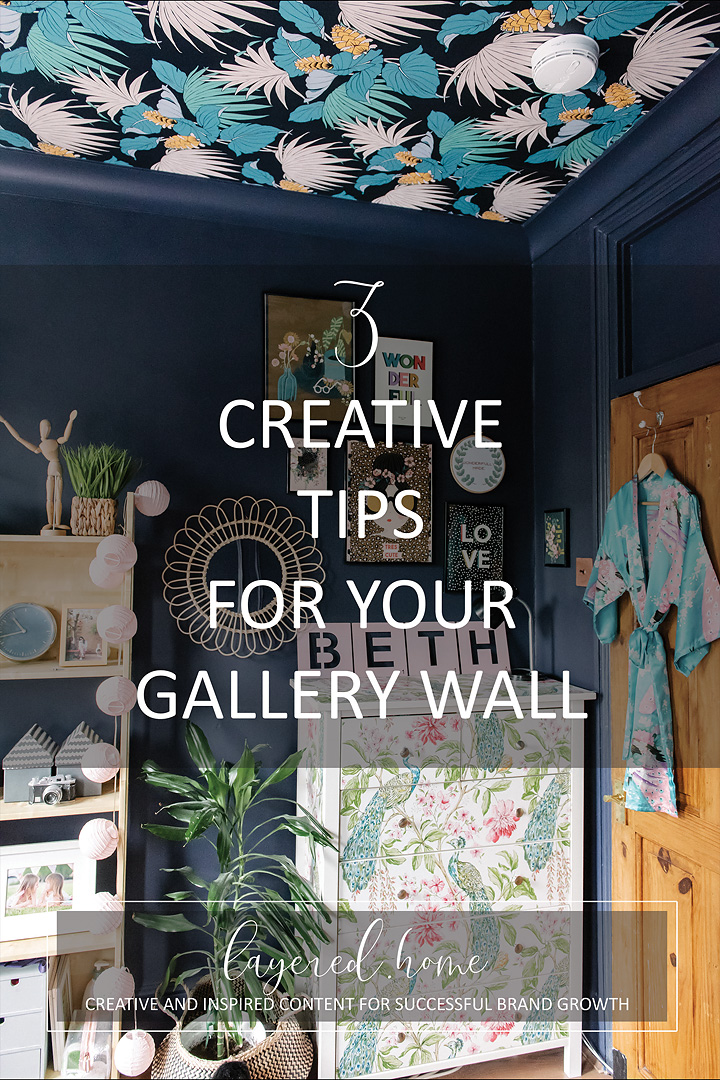 I think I must have been 10 when I learnt how to stitch in my Home Economics Class. It was compulsory so there was no bunking it. I'm so glad I did it as some 30 odd years later, I have found enormous satisfaction in making embroidered pieces for my children's gallery walls, thanks to The Folklore Company (special discount code below). I love The Folklore Company's vision of bringing this cultural tradition of needlework to the younger generation. I want my girls to experience this pleasure too.
Before I show you our cross-stitch projects close-up, here are three tips on how I designed my gallery walls in various areas of my house. (Shown on this blog is just one small wall in my youngest daughter's bedroom.) Don't forget to download my free resources that will help you design your own interiors and grow your Instagram account!
1. MIX THE IMAGES UP
In my home, the photos on the walls are all made up of various types of images: prints (graphics, images and typography), photographs, a framed tea towel too pretty to use, water colours / acrylic / oil paintings, wooden and metallic letters, old tiles, plates, empty wooden frames and embroidery. These are all usually mixed up in no particular scheme or order – it's just whatever looks right to my eye.
Apart from this particular small wall in my youngest daughter's bedroom featured on this blog where most of the images are from one source, things that go up on the walls in my home are from all sorts of places: high street shops, brocantes, hand-made paintings and makes by my children and myself, charity shops, online shops, boutiques, galleries, museum shops, friends, gifts, etc. The more varied the source and style, the more I find them interesting. Each has a story of its own and adds to the history of our lives.
2. GO UNIFORM(ISH) ON THE FRAMES
On two of my walls where the pictures are an eclectic mix, I went uniform on the frames – all black and modern looking. I think the uniform frames anchor the images and give a sense of calm and order to what could otherwise be a super chaotic wall. I also like how contemporary black frames are so understated and allow the design to shine even more. They contain the design and somehow make a riot of patterns and colours come together in a cohesive whole.
3. BE INSTINCTIVE WITH THE ARRANGEMENT
I don't have a gallery wall in the house yet that has a grid-like arrangement. I do it all by eye and go with my gut instinct; I tend to go with what arrangement looks and feels right. There's nothing wrong with grids, one day I'll probably have a grid wall. For now, I love the sense of a "lived-in"-ness and the homely atmosphere an ad-hoc arrangement does to my walls.
THE AGE-OLD CRAFT OF EMBROIDERY
1. TIME INVESTMENT
I wanted to add a strong contrast of style to this contemporary gallery wall made up of Hello Pea and Me's beautiful contemporary posters and Rustic Warehouse's pink scrabble metal tiles. A cross-stitch piece from The Folklore Company framed on a wooden hoop was the perfect contrast – a traditional age-old craft juxtaposed against contemporary graphic design and typography. It's also different from buying ready-made prints and images as I've had to make it myself. It took many hours but I have planned to do this whilst on holiday and I found great pleasure and satisfaction making it. Because of the time I have invested in it, this piece now carries sentimental value. It is a special piece that my youngest daughter and I will cherish for a long time.
2. CUSTOMISED MESSAGE
One of the best things about The Folklore Company is that they specialise in design customisation. They have a wide selection of patterns you can choose from. These are fully customisable where you can choose colours and text on each pattern at a keystroke.
For my youngest daughter, we went for this eucalyptus pattern, chose the colours to incorporate our favourite pink hue and changed the words into Wonderfully Made. This has personal meaning to us and comes from Psalm 139 v 14 "I praise You because I am fearfully and wonderfully made; Your works are wonderful I know that full well." It is a daily reminder for my daughter as she grows up in this day and age where it is crucial to have a strong identity and not be easily swayed by changing world views.
My eldest daughter, like many teenagers, is rather obsessed with Marvel at the moment, Spider-Man in particular. If I had suggested a floral pattern, I'm certain she would have said an absolute NO. Instead, I asked her what text she wanted to cross-stitch and of course it's "Your friendly neighbourhood Spider-Man" with plenty of hearts in Spider-Man colours. This put a smile on her face too. Plus, this is going on a black tote bag that she can use daily to carry her belongings in. Win-win! In order to embroider on other types of fabric, The Folklore Company has this magic soluble canvas you attach to whatever it is you want to embroider your design on. It dissolves in water after you've finished with the cross-stitch!
3. COMPLETE KIT
The Folklore company has made cross-stitch easy as pie especially if you are a beginner and need a complete kit. Standard kits include a needle, all the threads needed for your design, embroidery cloth / fabric, a colour chart and a pattern guide you can refer to when you are stitching the various colours. If you already have needles and threads, you can also just purchase a downloadable PDF pattern instead of purchasing a whole kit.
You can also purchase additional accessories such as hoops, scissors (I'm in love with the gold stork scissors!), ribbons and suchlike. You can even embroider on a phone case! The Folklore Company sells mobile phone cases that have holes ready for stitching and cost under a fiver each! Pretty cool! I am utterly delighted with this project and would wholeheartedly encourage you to try it. Thank you The Folklore Company!
Take advantage of this discount code 15%LayeredHome valid until Sunday 25th August for 15% off your purchase from The Folklore Company.
Have you tried cross-stitch? Which one is your favourite design? Share and connect with me on Layered.Home. Don't forget to download my free resources that will help you design your own interiors and grow your Instagram account!
If you found this post on gallery wall tips with Folklore embroidery helpful, I'd be grateful if you would share on your stories or mention or tag me Instagram layered.home on your posts. I'd love it if you would follow me on there too!
The kits shown on this blog have been gifted by The Folklore Company who also sponsored this blogpost.