Going dark with Graham & Brown WOTY COTY 2020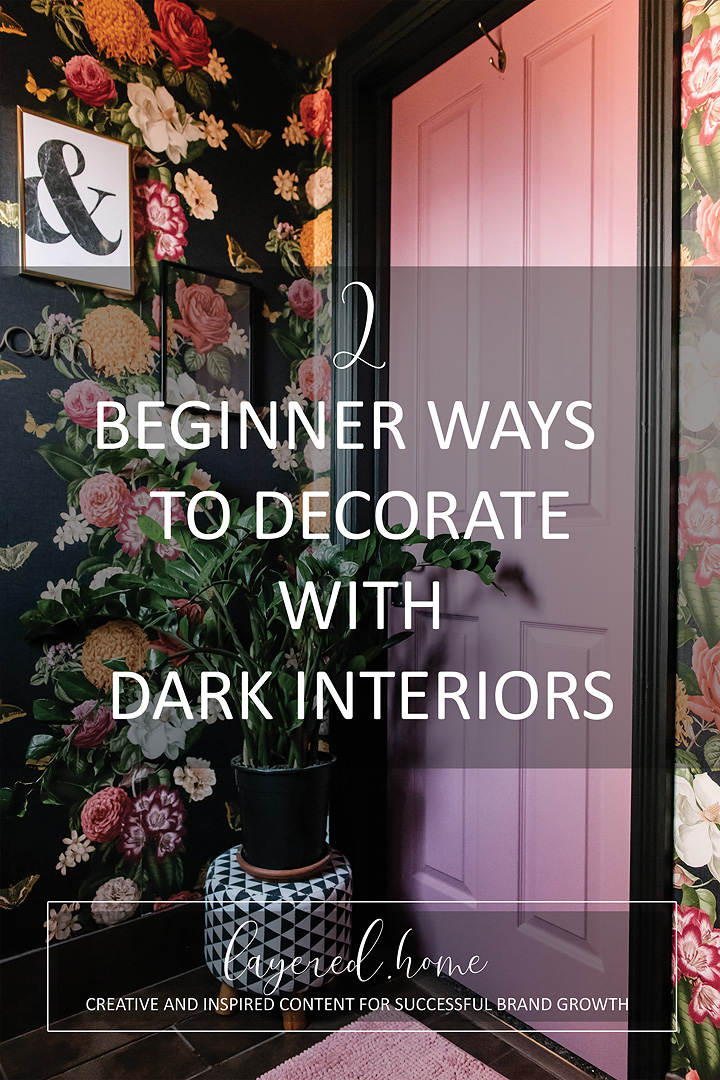 There are two easy ways to go dark in your interiors: wallpaper and paint colour.
Nearly three years ago we had a loft extension built and I had planned to go dark in all of it. We opted for a shower room shared between two other rooms rather than an en-suite. This afforded us a hallway leading to the shower room and the back bedroom and which made the whole extension feel like it's been part of the original Victorian terrace structure. I painted the front loft bedroom in a dark blue and the back loft bedroom is a storm grey colour. Both worked well. I painted the shower room brown – probably one of my biggest interior mistakes ever. Here below are photos of what it looked like before the recent revamp.
I liked how cosy and cocooning it was but let's face it, this brown was the wrong brown. It's not an elegant understated brown. It's a warm cappuccino brown. In my north-east facing house, I have learnt that it's better to choose a cool shade of a colour. The light here just makes anything warm look very muddy. As if to confirm this, whenever I posted these brown photos on Instagram (about twice) they always bombed. It's time for a re-think!
1. WALLPAPER
Graham and Brown just launched their Wallpaper of the Year 2020 and I was thrilled when they asked me to be involved. Bloomsbury is a beautiful floral print on a background that is designed to look like fabric. It reminded me of the wall coverings in Peterhof Palace, Russia which were made of luxurious silks and satins on which the intricate designs were embroidered (see some photos below). There was no sign of wallpaper, only lavish embroidered fabrics covering entire rooms. The Bloomsbury design cleverly imitates this look and gives it a contemporary touch.
Thankfully, Bloomsbury comes in 4 colourways: Neo Mint, Clancy Grey, Emerald and Noir. I could still have my dark interiors with the Bloomsbury Noir or Emerald and I went for Noir. I put the wallpaper up myself and it was really easy to work with. Thick and coated, it was easy to wipe excess wallpaper paste off without leaving any marks on the paper. I wallpapered behind the radiator without taking it off and did this by careful measuring on where to cut to slot in the wallpaper pieces without having to cut them in small strips. Below is the result! I'm delighted with this project and it has totally transformed the space. Even my husband and son (who has the back bedroom and therefore uses this shower room and toilet) love it! Yes, even with the pink florals!
2. PAINT COLOUR
To compliment the Bloomsbury design, Graham and Brown also launched their Colour of the Year 2020 and it's Adeline, a deep rich bottle green. If you've been following me for a while, you probably know I love green and have revamped my front room studio using Graham and Brown's Jungle Mood wallpaper and Eva paint. I have been wanting to paint the ceiling a deep green tone and Adeline is the perfect colour I have been looking and waiting for! Elegant, deep and rich in pigment. I used the resistance Ultra Durable Matt emulsion, a premium ultra matt finish that is scrub-resistant and can be used for kitchens, bathrooms and other hardworking areas of the house like hallways. I say "I" but my husband painted the ceiling and he said it's a really good quality paint, rich and very easy to use. It took three coats to make this white ceiling an evenly painted deep bottle green with an elegant matt finish. I love it.
All trims, skirtings and window frames will also be painted in Adeline eggshell soon to complete the look. Below is a before and after of this room, going from light to dark.
Graham and Brown have developed their paint colours so that they can be perfectly partnered with their wallpaper range. It makes choosing really easy when the options are narrowed down for you. I am utterly delighted with these rooms now so much so that I'm actually inspired to clean these rooms and keep them tidy! That's quite unheard of in my house – the cleaning bit – so it's a bonus!
I hope you enjoyed this article on going dark with Graham & Brown WOTY COTY 2020.
Wallpapers and paints have been gifted by Graham and Brown as part of a paid collaboration. Follow them for inspirational posts and download their free augmented reality app which let's you have a preview of how their paint and wallpaper could look in your house before you buy them. Check out my Graham and Brown story highlights for a demo!
I hope you enjoyed this post. I'd be grateful if you would share on your stories or mention or tag me Instagram layered.home on your posts. I'd love it if you would follow me on there too!