Step-by-step story of my boiler utility revamp with Ariston UK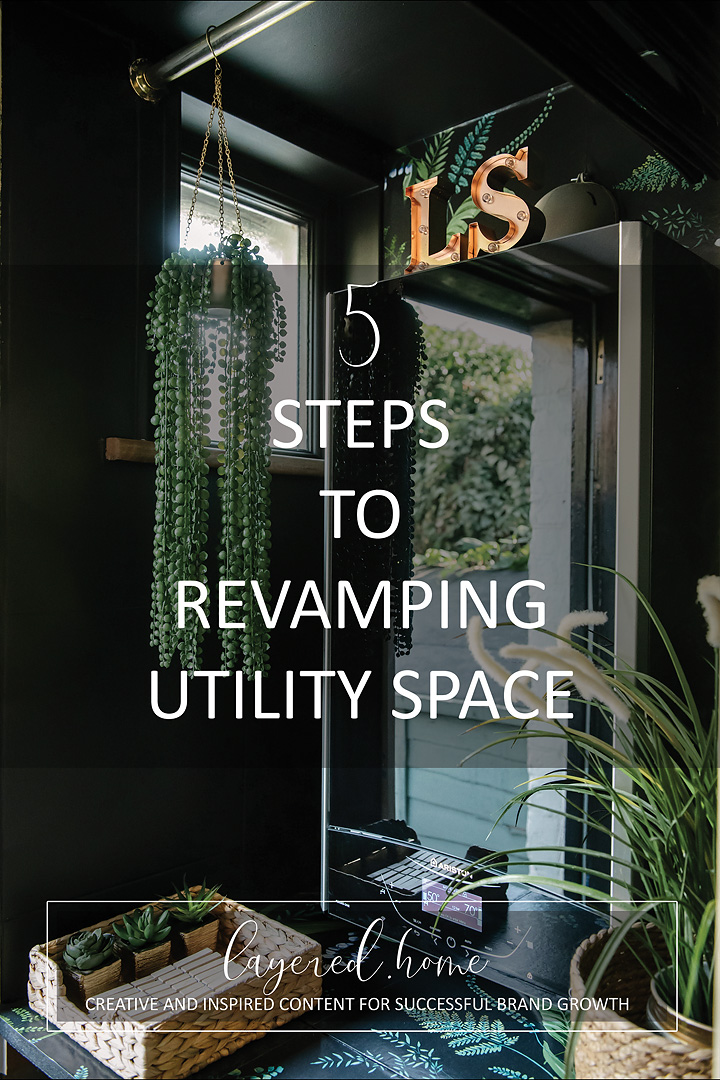 This space is tiny. It's not even a metre wide. Opposite this is a small toilet which you can just about see on the reflection on the boiler above. This area leads to the back door of the house (door as pictured below) into the garden. As you can imagine, a tight cramped space with the walkway of 0.8m covered by 3 doors out of 4 sides, toilet door, kitchen door and back door. We used to stack dirty tea towels and miscellany on the washing machine and they start flying off when the spin cycle is on. It was far from ideal. I have since removed the toilet door and replaced it with a curtain. The back door and kitchen door are lockable so there is still privacy.
Recently, Ariston – heating and boiler specialists who have expanded their commercial client base to now include residential homeowners, offered to gift me one of their boilers, the Alteas One Net which is black to complement my dark interiors. It was time to give this area a facelift. When I posted this on Instagram, the feedback was positive and I was asked for a step-by-step demo of how I revamped this space. So here we are, how I did this step-by-step. Here is a before and after of the space. Don't forget to download my free resources that will help you design your own interiors and grow your Instagram account!
1. CLEAR THE AREA COMPLETELY
This is always the most efficient start to any small or big area makeover – clearing everything out (or whole blocks of sections of the space) so I start from a blank space. This also clears my head and makes me edit what items I'll be introducing in this space.
2. CREATE A ZONE
I had a shelf put up to separate the washing machine space and the boiler space. This not only stopped items from flying off during the spin cycle, it designated an area for the washing machine underneath and an area for the boiler.
3. PROFESSIONALLY INSTALLED BOILER
First of all, because the installation cost quite a bit of money, we had to check whether our old boiler needed replacing or how much life span it had left. It was more than a decade old, maybe even 15 years, and although it could have probably lasted another year or two, it was not big enough for our house which we had extended to include a loft. My husband was keen on getting this done whereas I was unsure. Role reversal I tell you! On the whole we both tend to wait until things die on us before replacing anything! We decided to go ahead especially because the Alteas One Net 35 is suitable for a 5 bedroom house. There is also the Alteas One Net 30 which is enough for a 3 bedroom house.
It took me a while to gather professional quotes for a boiler and decide on who to go for. I spoke to 4 gas men and each told me different things! One person said the pipes needed changing as they did not meet the new regs while another said there was no need to change the pipes. One charged extra for changing the pipes, another included it in the labour. Two said a power flush is not needed and one said it is absolutely compulsory or the new boiler warranty will be voided. One said I need to purchase a smart thermostat for it as my old one is no longer compatible. Another said I didn't need to do this as the boiler came with it's own smart thermostat! And it did! As you can imagine gas and heating talk are foreign language to me so I had to look into it before making a decision. I was very pleased with who I went for in the end and he installed it in one day including a power flush.
4. COVER UNSIGHTLY AREAS
I hired a carpenter to do this properly by creating a frame (see photo above) and safely covering the pipes and sockets with a plasterboard whilst still being accessible and removable if necessary. The sockets are accessible by a flap inserted into the plasterboard (see above right) that then opens when I need to use the socket. This is not something I could have done myself as I did not want to risk doing anything shabby with all the utility pipes and switches around the boiler.
5.TIME TO PRETTY THINGS UP
I'm pleased to say this was my area of expertise and so decided on a design that complemented the sassy new Ariston boiler but kept everything simple. I installed a rail above the boiler for the coat hangers which I use to hang clothes when drying. We used to have various coloured plastic coat hangers. I changed all those to these slim space-saving velvet ones I purchased from amazon for under £20 for 50pcs. I also had an electrician change the light switch into this blackish colour – another Amazon purchase for about £5.
I painted the back door, tiles and ceiling with Frenchic Paint which I've used for so many jobs in my house and I can totally vouch is an amazing quality paint and paints like a dream. So easy to use it is self-priming and self-levelling and do not contain toxins nor do their paint smell. In this case, I used the Al Fresco range in Black Jack.
Just to make sure the surfaces are ready, I gave the tiles and windows a wipe and sanded them lightly to key. I then slapped on 3 coats of paint, drying in between which only take an hour anyway, and that's the paint work done.
I had some left-over wallpaper from the kitchen wall just next to this area and decided to use that to continue the design. I wallpapered the door panels, plasterboard and shelf using wallpaper paste, like you would wallpaper a wall. I then painted the wallpaper over with two coats of Frenchic finishing coat. This is a protective transparent finish used to seal areas from water splashes. Although this area does not get any water splashes, it is still a good protective water based finish that acts like lacquer without the nasty chemicals and smell.
Finally I got to my favourite bit – accessorising. I kept it simple with using natural materials – basket and box, wooden pegs, faux hanging plant and cacti and some metallic textures to go with the gold hanging rail: gold frame and copper letters. Nothing else was needed. And it's now so pretty I'm not tempted to dump miscellany and clutter in this area anymore!
So what do you think of my utility area makeover? I hope you like my step-by-step story of my boiler utility revamp with Ariston UK! I'd be grateful if you would share on your stories or mention or tag me Instagram layered.home on your posts. I'd love it if you would follow me on there too! Don't forget to download my free resources that will help you design your own interiors and grow your Instagram account!
Gifted items here include Ariston Alteas One Net 35, Frenchic Paint products, Poster Store print