This is an updated version of a blog I wrote a while back on 10 Easy Christmas DIY Decor Ideas. I thought it's a good time to share this blog again given the current climate we are in. I hope you enjoy these ideas!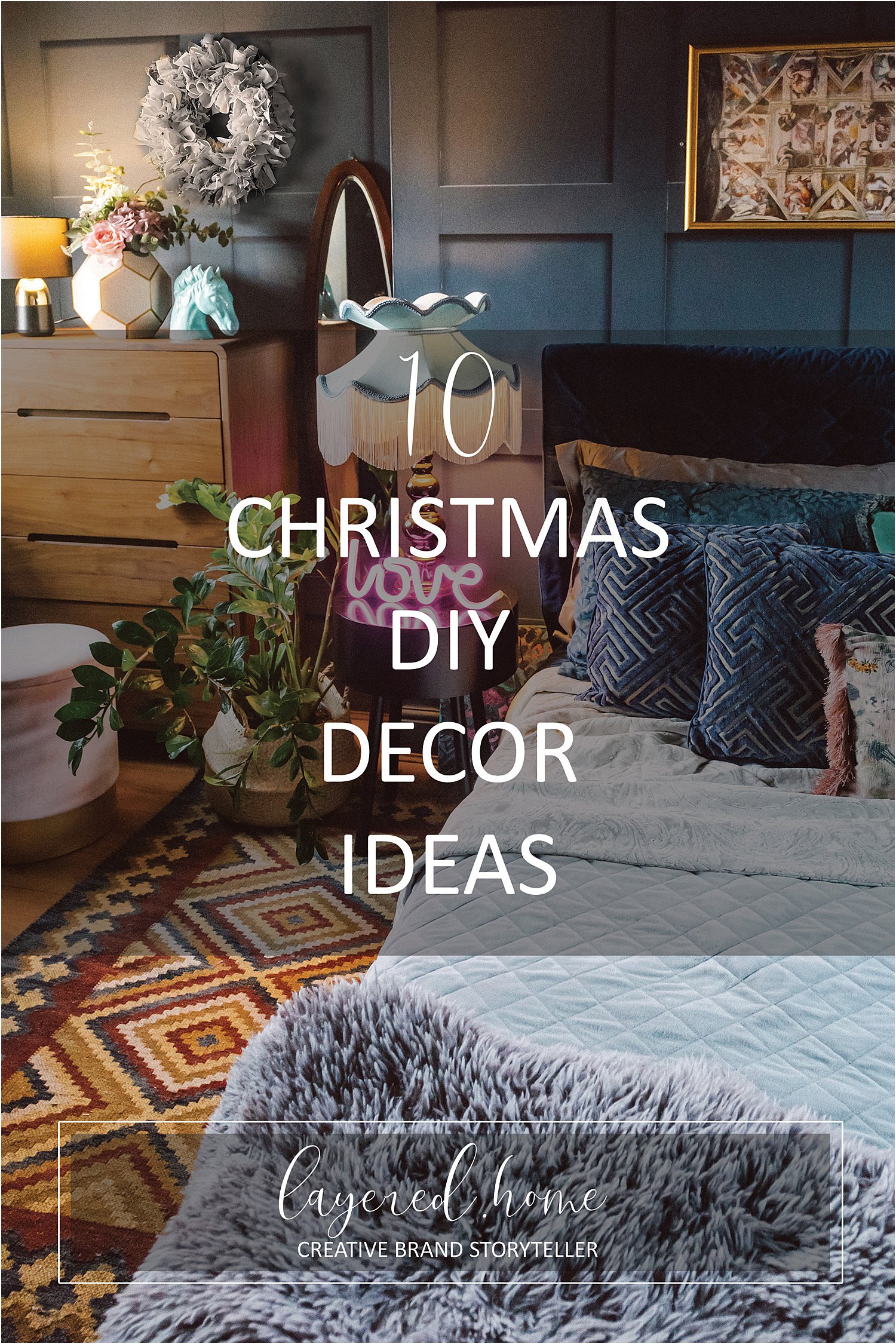 But first, A BONUS IDEA:
THRIFTED CHARITY SHOP CHRISTMAS DECOR
I decorated my flat using charity shop finds and items I already have after having been inspired by this year's Anthropologie Christmas styling. I made the stocking using fabric off cuts and some tassels, decorated my mantle with plenty of bric-a-brac finds and twinkly lights. I also made the wreaths and decorated them with vintage baubles and Christmas decorations.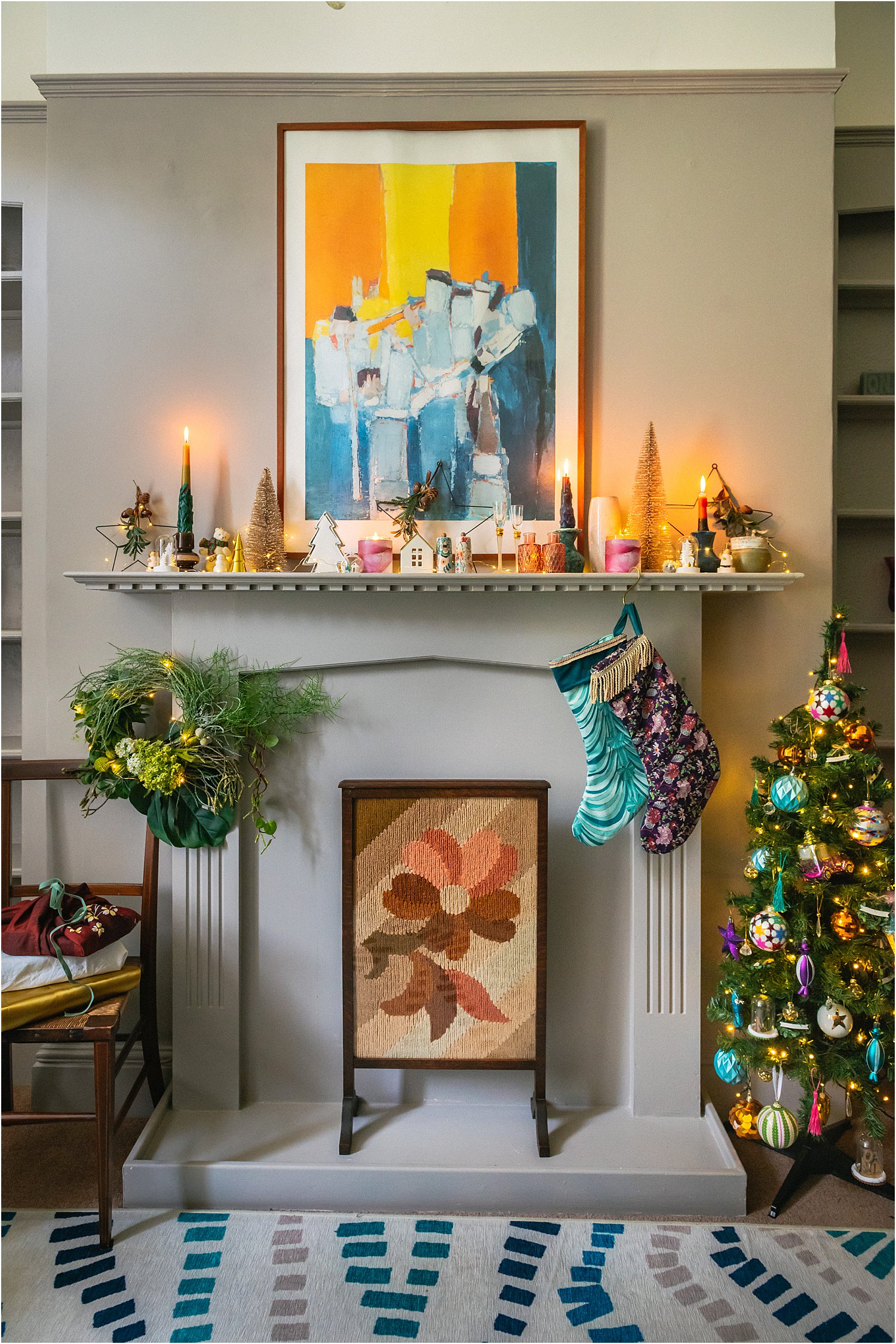 I must admit this was a hugely satisfying little project which I enjoyed very much. This just goes to show we don't need bright shiny new things to decorate, just an eye for what could work in your space, especially if you've found some inspiring ideas.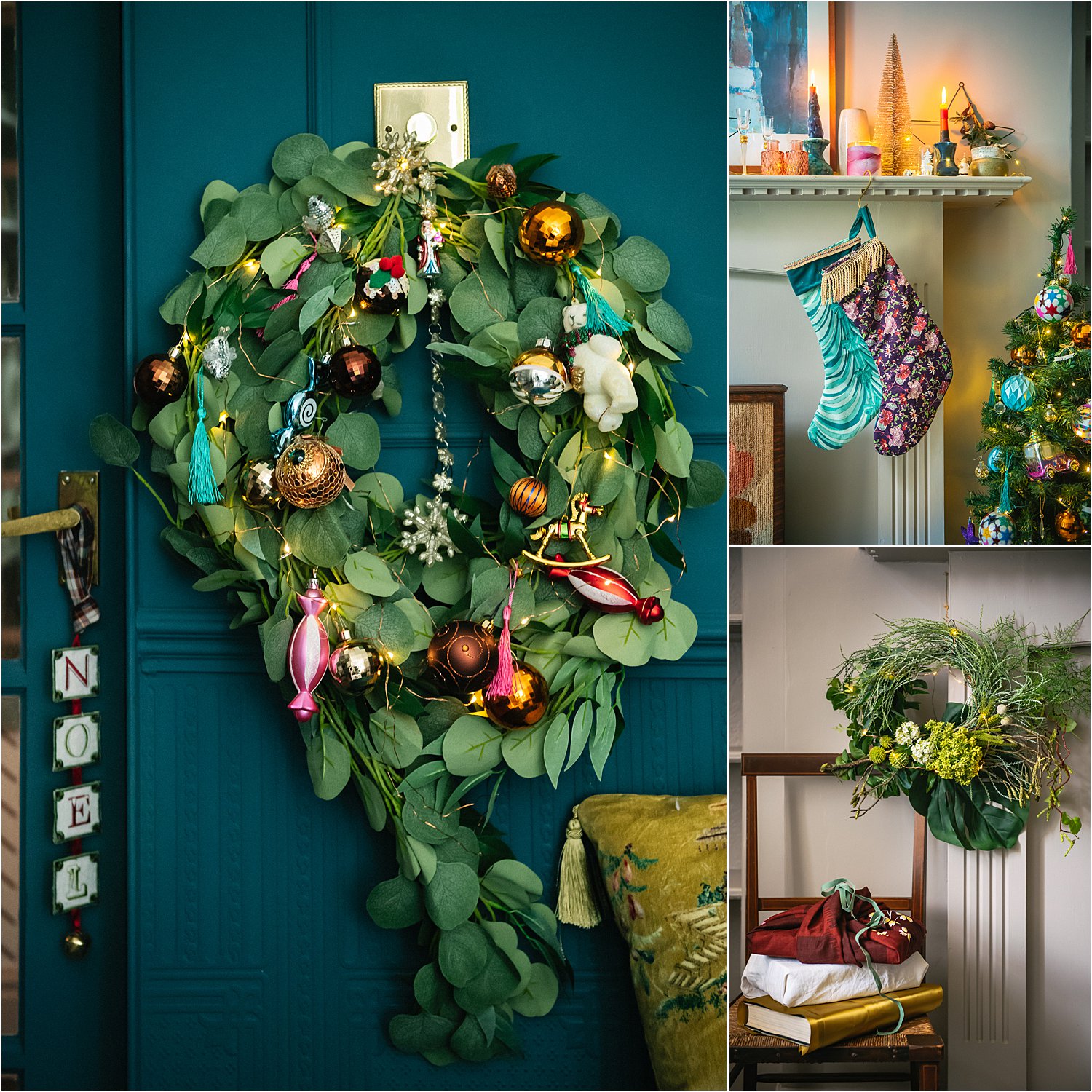 Without further ado, here are my 10 Easy Christmas DIY Decor Ideas which are not just creative but also eco and sustainable.
This year we decided not to buy any new Christmas decorations and make some eco DIY Christmas crafts instead. Here are my 10 Christmas DIY decor ideas.
Most of these are easy to make with things that you have at home already or can forage from your garden or nearby green areas.
1. FABRIC WREATH: RAG AND SCARF
Rag Wreath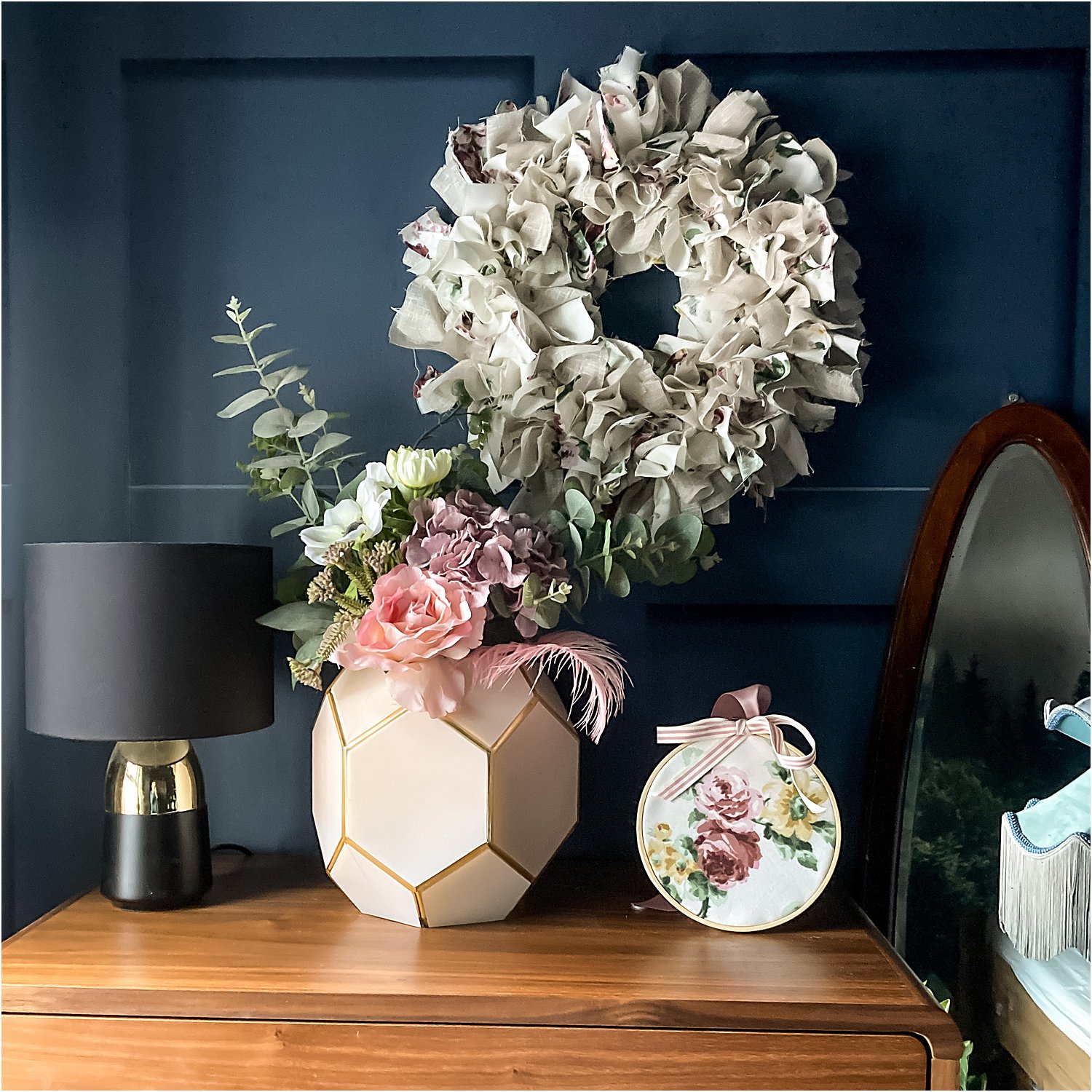 This rag is so easy to make and requires no skill other than tying a knot! Here I used fabric I've had in the cupboard which I've had for ages. You can use scraps and left-over fabrics. Cotton, linen and wool are best because they are soft and easy to knot.
You will need:
10 or 12 inch ring wreath (I used an old ring wreath I kept from a wreath I'd made in the past.)
about 80-100 strips fabric cut into 10 inch x 2.5 inch size
Tie each strip around each of the the outer ring and the inner ring and bunch them up so they look full and fluffy. That's it!
Scarf Wreath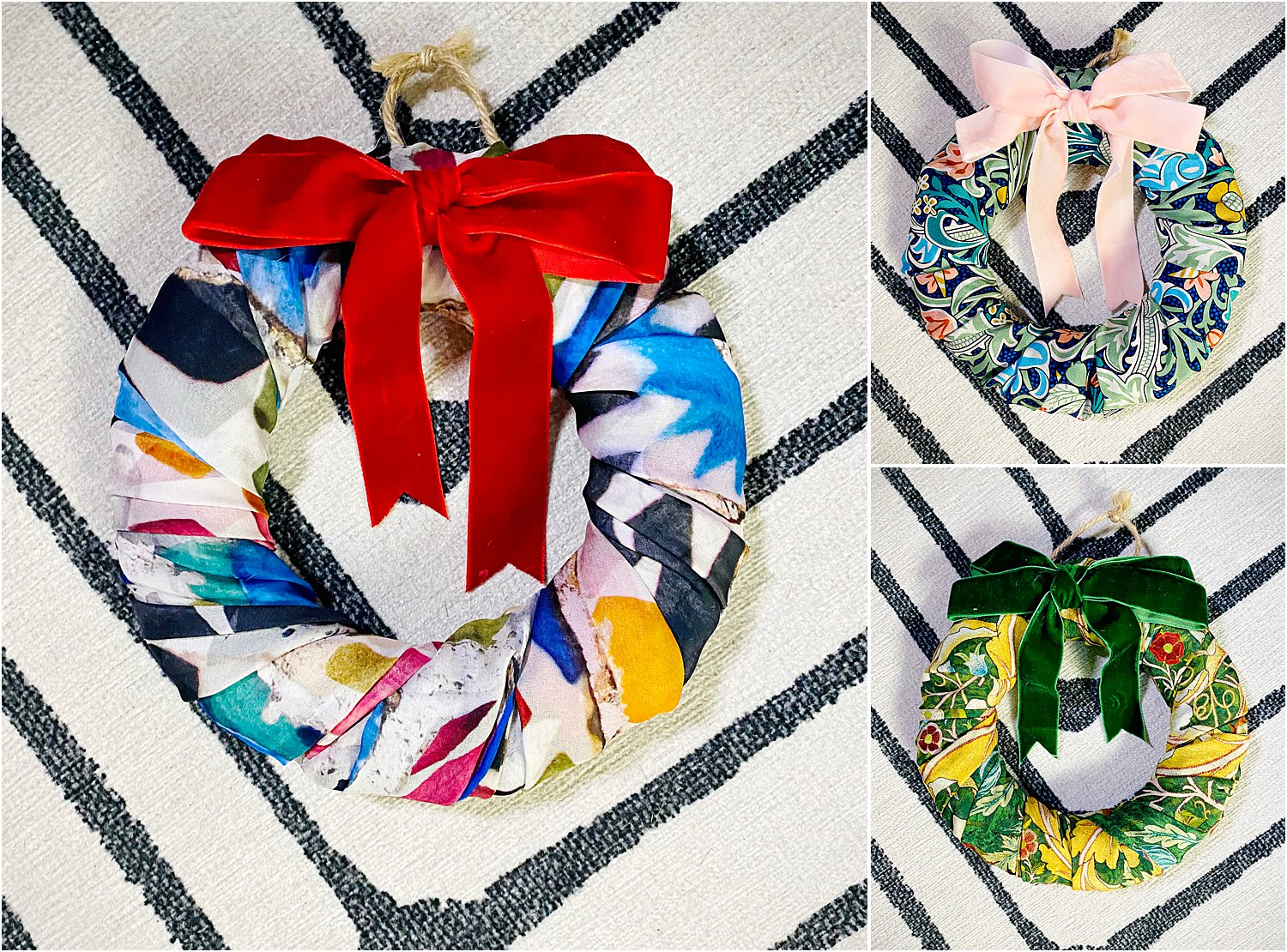 I found some pot coasters from Tiger for £2 and wrapped these in some printed these Fox & Chave silk scarves in festive colours. You can use any printed thin material like old chiffon scarves that you already own, or those that your friends and family don't use anymore. You can also look in thrifted / charity shops where they are usually found in a heap in the bargain basket for 50p or a £1.
I then finished it off with a velvet double bow at the top. I got these velvet ribbons by the yard from Amazon in a variety of colours as a bundle and was such a good value. I hung one beside the fireplace, another on a door and another on a hook as they are small enough at about 20cm in diameter.
You can see a video of how I made these little wreaths with silk on here.
2. EMBROIDERY HOOP BAUBLE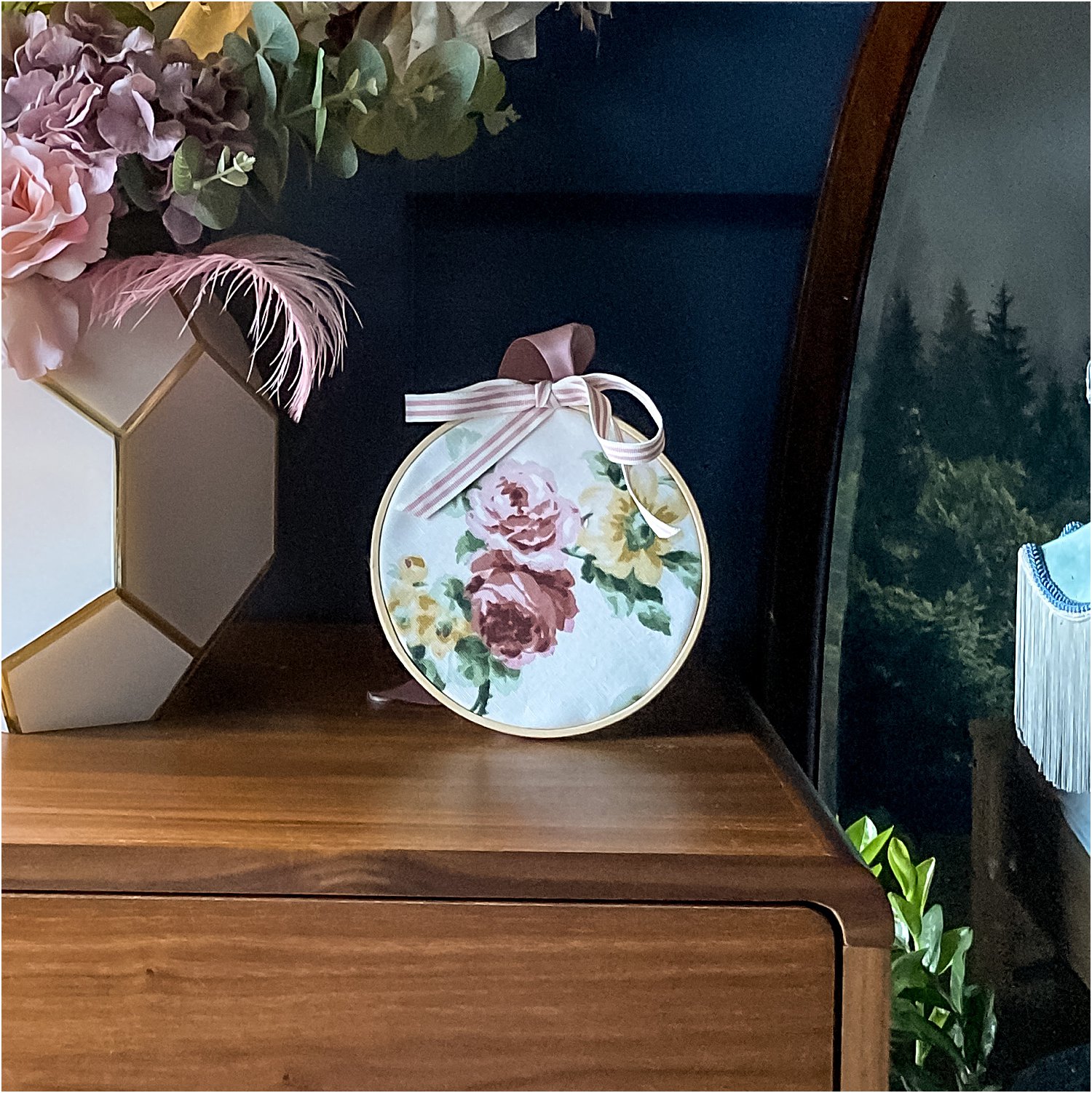 I still had some left-over fabric from the rag wreath and an old unused embroidery hoop. I simply cut a square slightly larger than the hoop, secured the fabric in-between the 2 hoops and cut any excess fabric off at the back neatly. You can also leave a centimetre of fabric around the hoop and sew a running stitch around it to pull it into a neat finish at the back of the hoop (but I didn't bother doing this).
Finish with tying a ribbon at the top of the bauble. Simples!
3. DIY GARLAND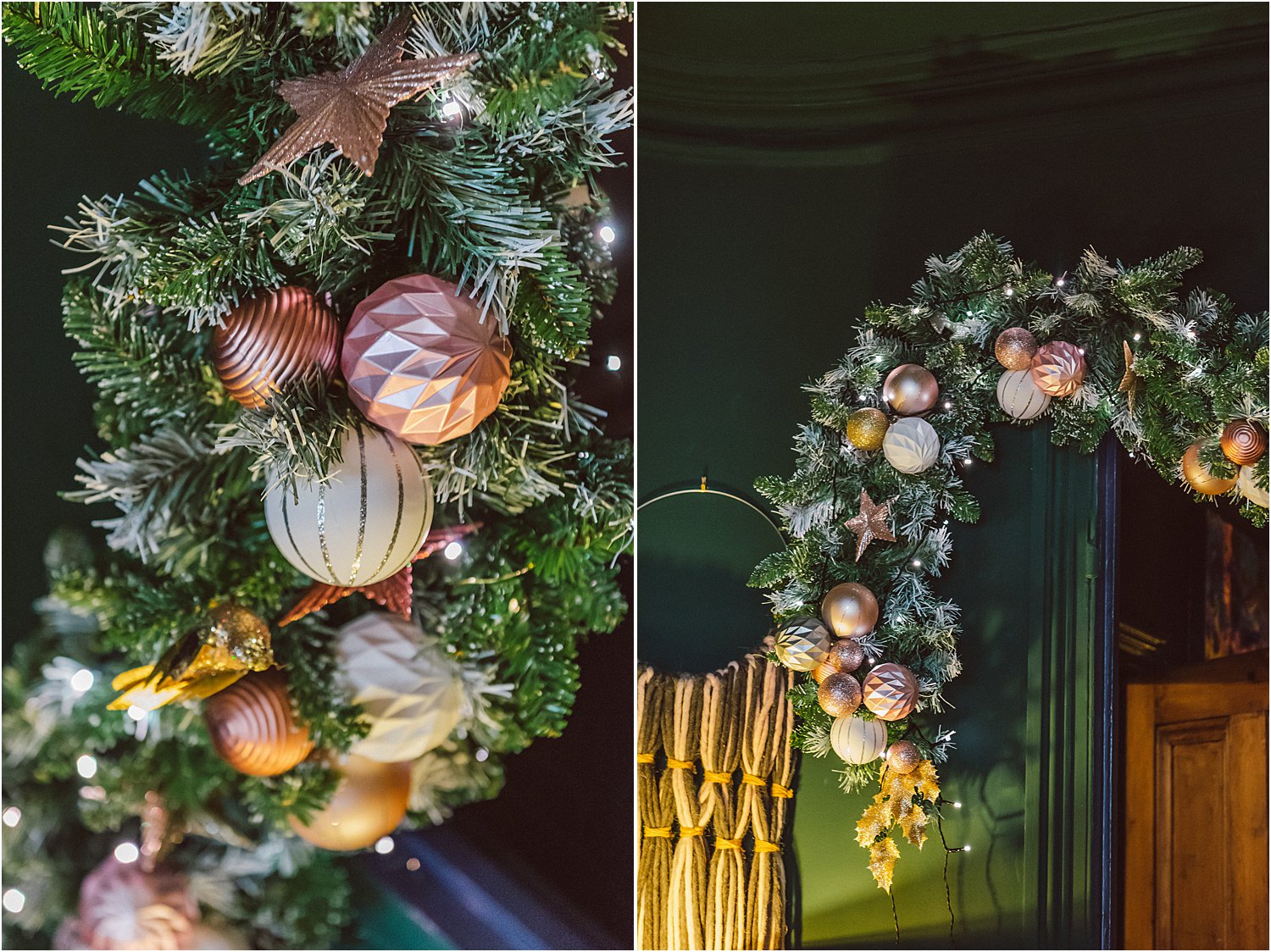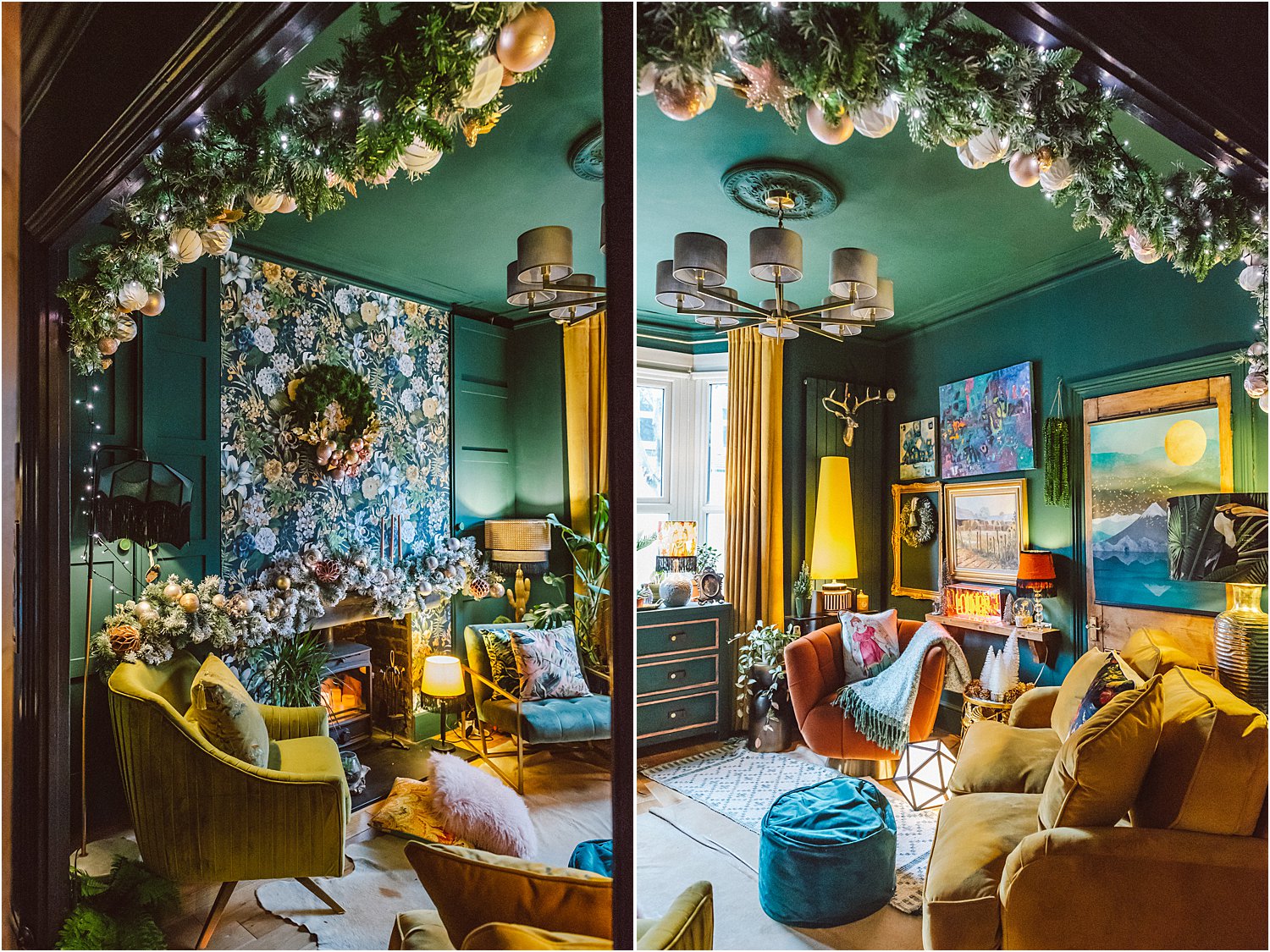 I made the garland you see at the top of the door frame in this room. I had some old garlands (made of similar material to an artificial Christmas tree) which I used to put on the banister. I just tied bundles of baubles which we had spare using green garden wire. I then wrapped some fairy lights around the garland and hung them up.
4. PAINT A CHRISTMAS TREE MURAL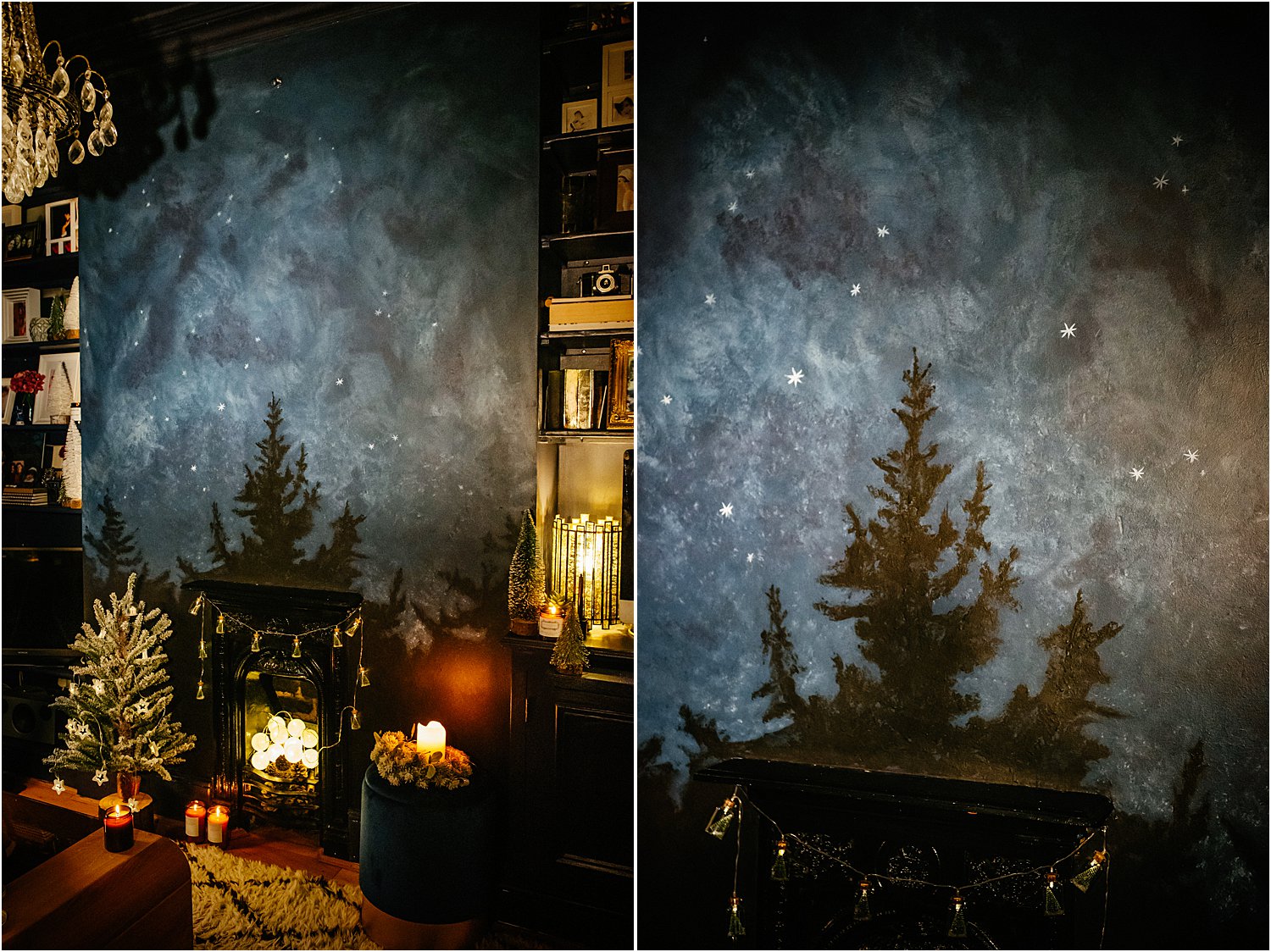 On our middle living room chimney breast, I painted a night sky Christmas tree mural using Craig and Rose paints – one of the most superior quality paints I have ever tried.
Craig and Rose have an Artisan paint range that allows you to create many various paint special effects such as concrete, marble and patina amongst others in various colours and metallics.
Here I used Chalk Wash which results in a highly textured surface. It's a simple process – one that surprised me as I thought this would be so complicated to do!
Step 1: Paint the wall a colour of your choice. I chose a darker base colour – Craig and Rose Lido Blue which is the colour of the walls and ceiling in this room.
Step 2: After 7 days when the wall has dried and cured completely, paint over the base colour with Chalk Wash. I used Blue Ochre which is a sky blue hue and covered the wall with it.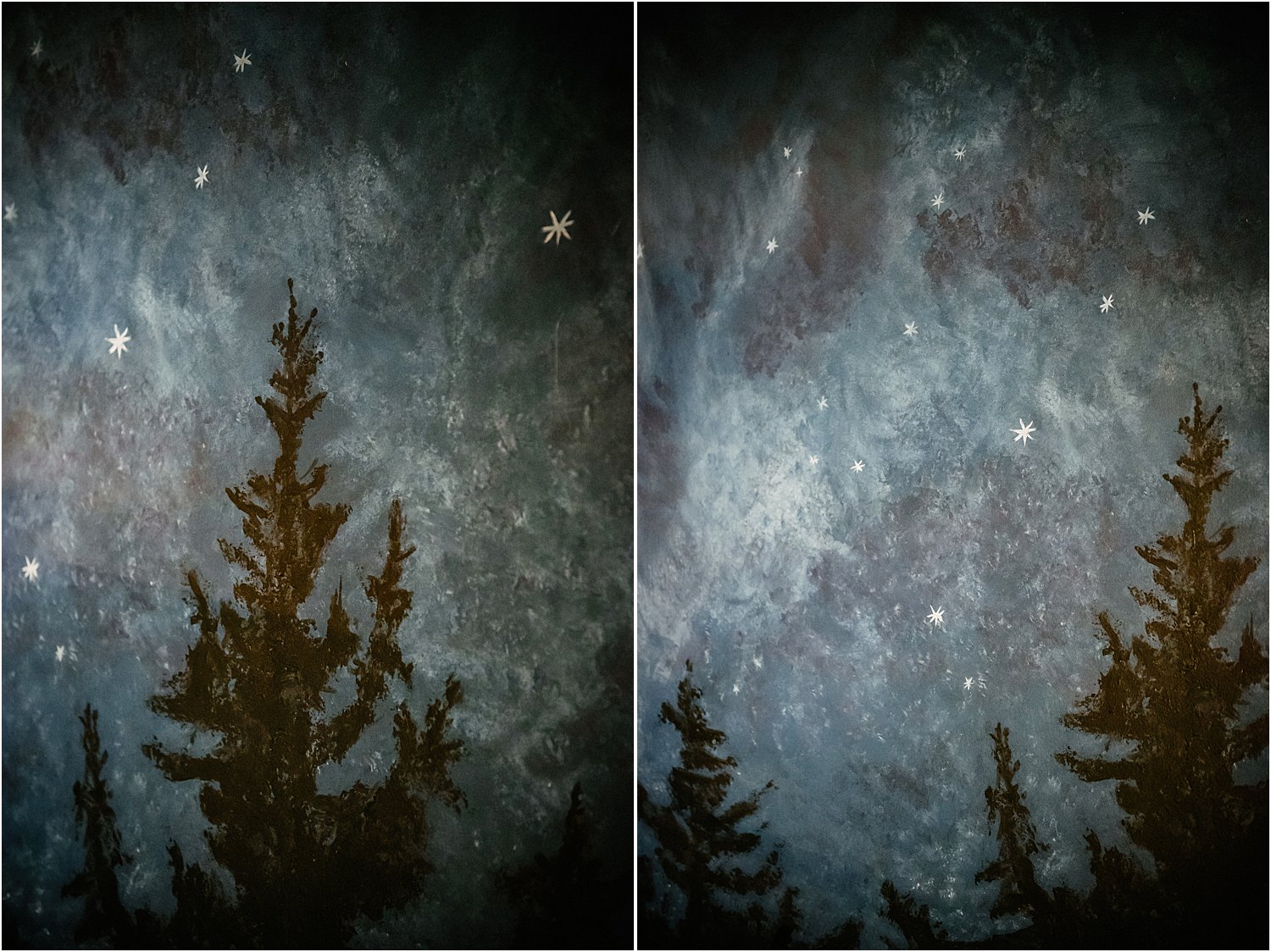 Step 3: As soon as the wall is covered with one coat, lift off the Chalk Wash with a material of your choice like muslin, rag, sponge or in my case bubble wrap! I tested these options first on a piece of cardboard to make sure it worked.
This resulted in some of the dark blue base colour showing through. So now I have two colours on the wall – dark blue and mid blue.
Step 4: Sponge a lighter colour on areas you want to appear lighter. In my case, I used a small amount of Craig and Rose Marble White mixed with some Chalk Wash and using a sponge I applied this lighter colour on areas that I wanted to look like grey and light blue sky.
Step 5: Paint Christmas tree silhouettes using a sponge dipped in black paint.
Step 6: Paint some small stars using a fine brush.
(I did this project as part of a paid partnership with Craig and Rose. You can read more about it here.)
5. ADVENT CALENDAR VILLAGE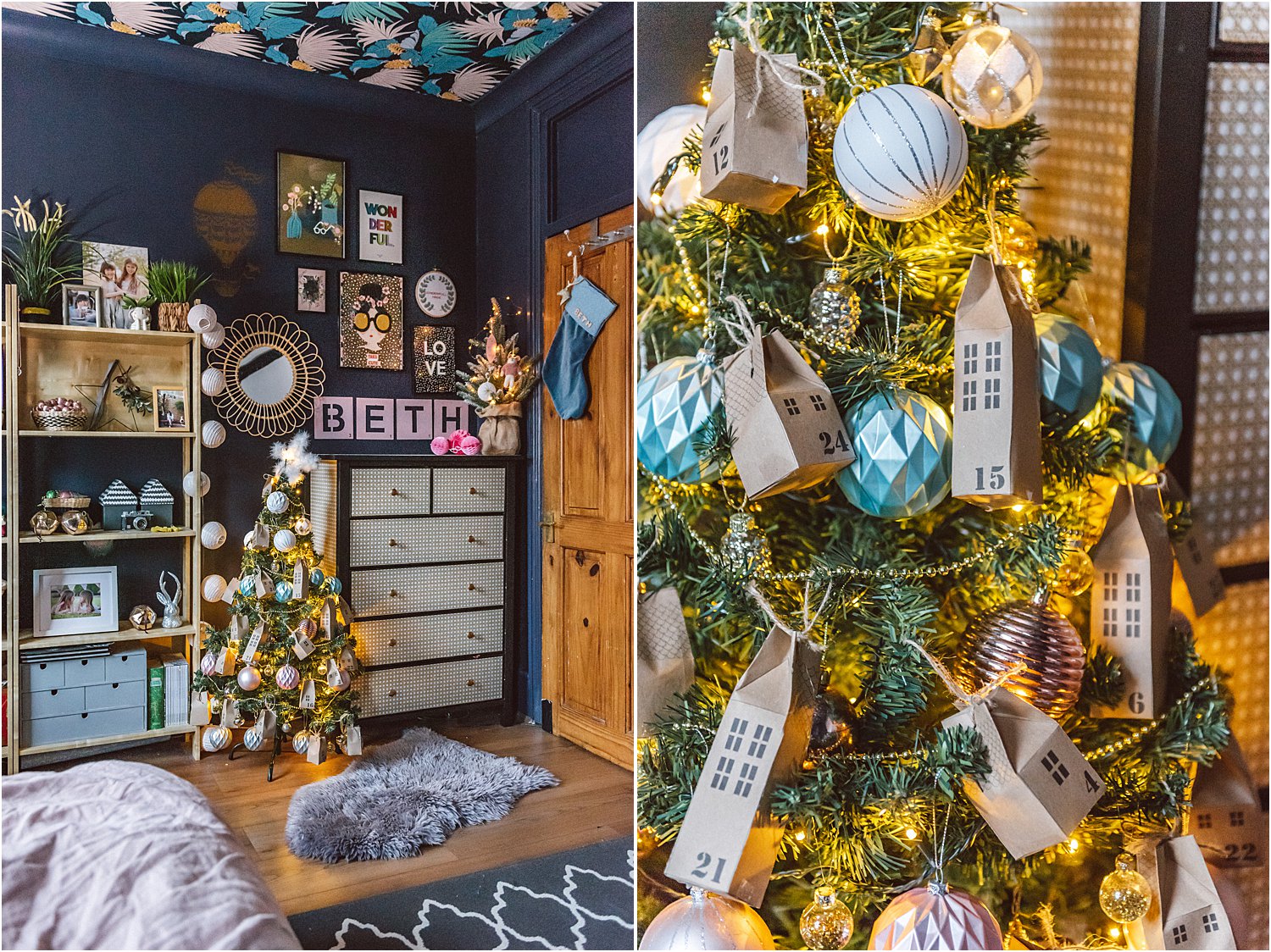 My girls made these paper advent calendar village using a template downloaded from the internet and printed on brown paper. All you need to do is cut along the outer lines, score the fold lines and then fold away. Secure by taping or glueing the edges together.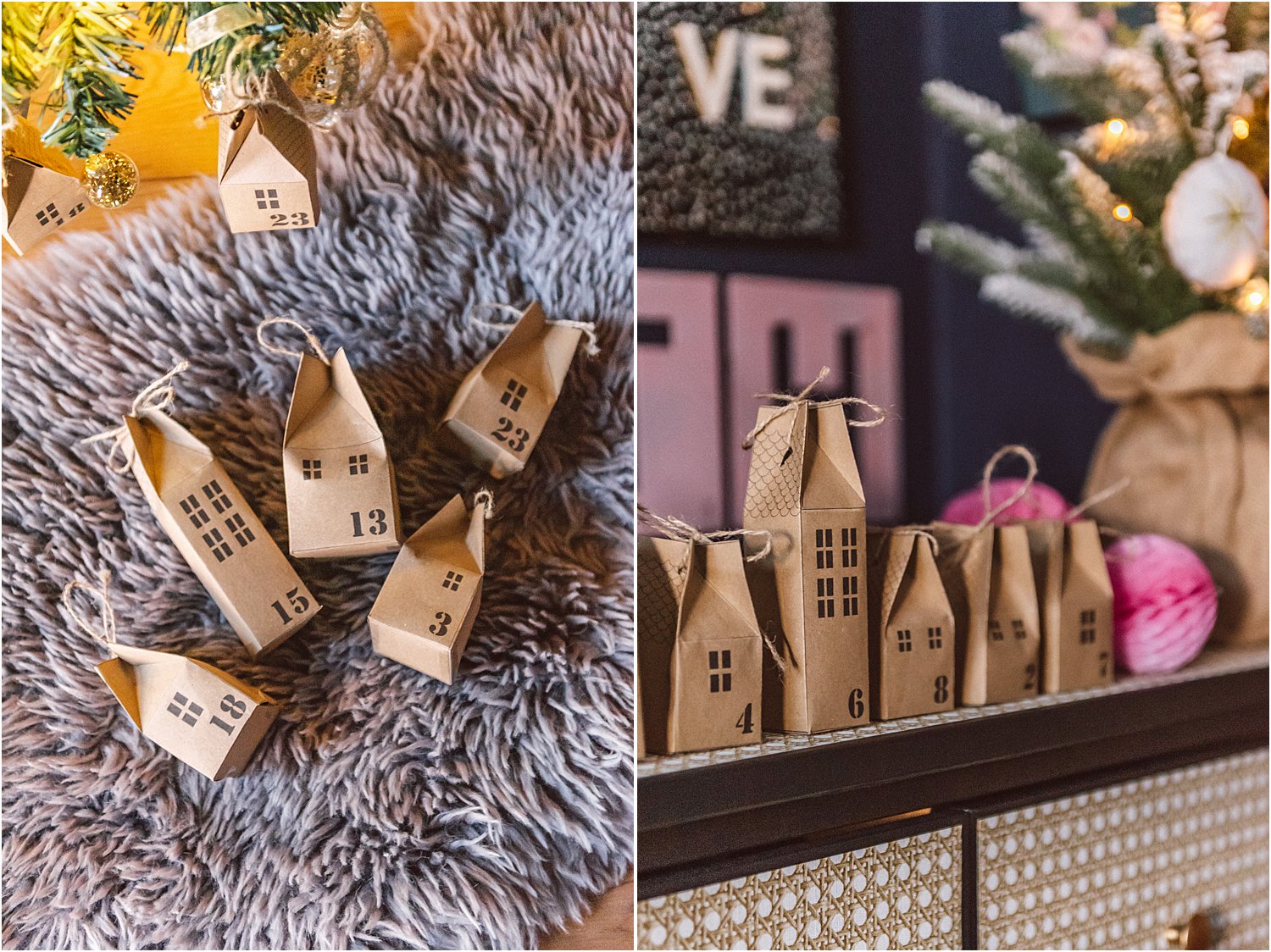 Fill the little houses with chocolate before securing the rooftops with string. You can use these to hang on the tree as decorations or as little houses in a village lined up.
6. DIY STOCKINGS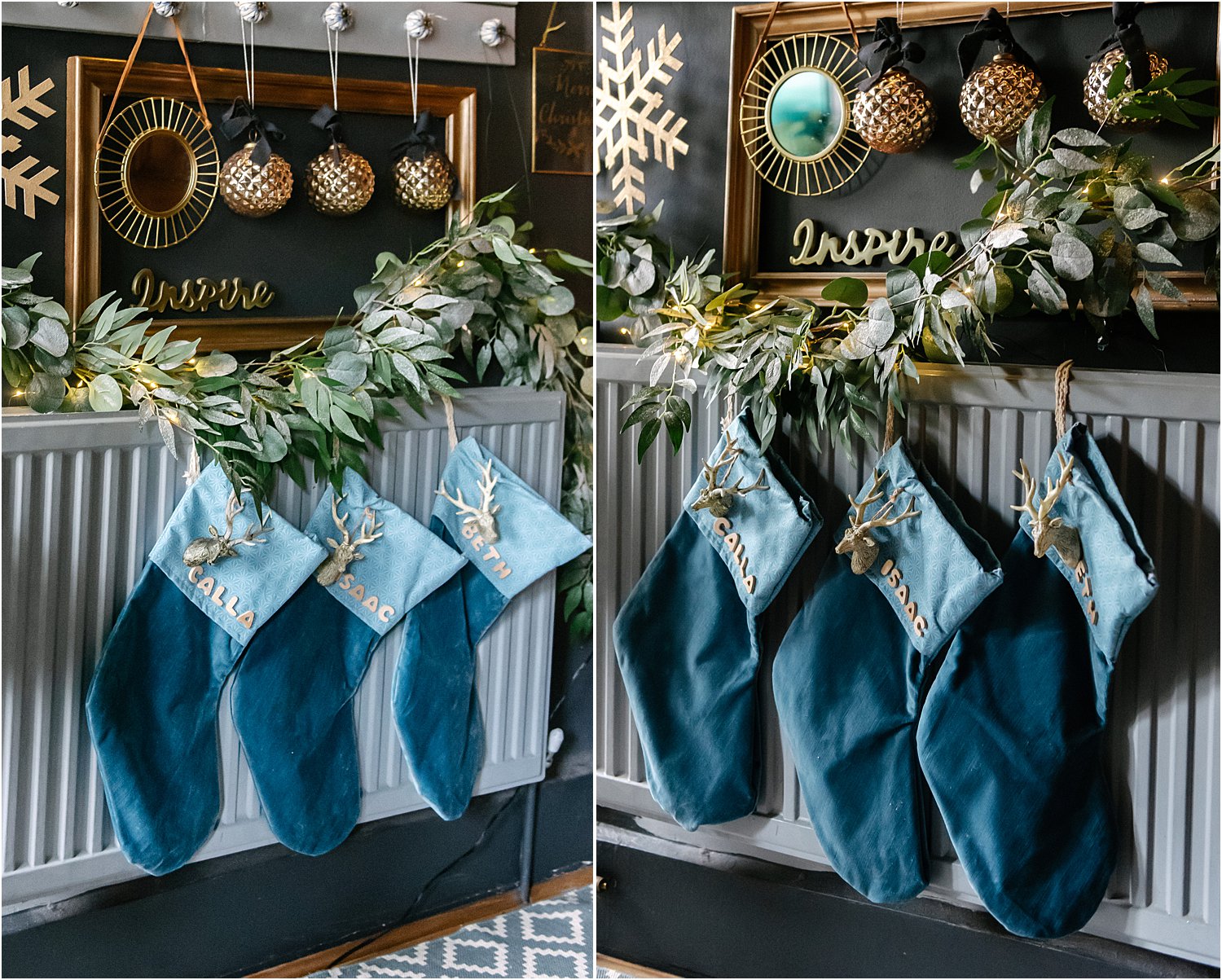 I had some velvet fabric cut-off and some pretty tea towels. I made them into these stockings and used wooden letters and stag Christmas decorations to embellish them. We've been using these for many years and they have held up well thankfully!
7. PAPER CHRISTMAS TREES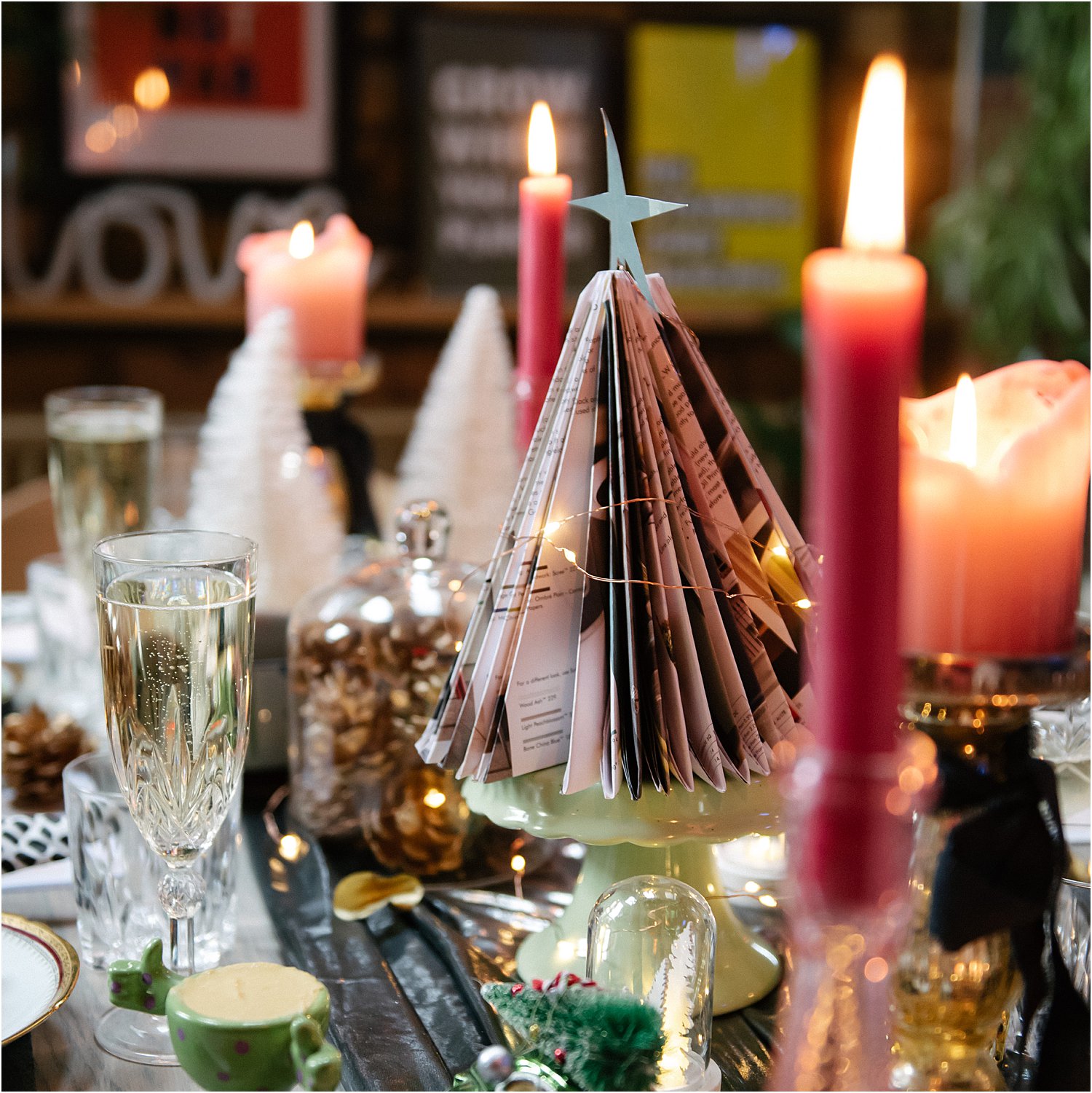 These are super easy! You could use books or magazine or brochures – choose ones that are not too thick. Remove the front and back cover and then fold each page from the top right corner to the spine on the left. Make a second fold towards the spine again and tuck in the bit that sticks out. Here's a YouTube tutorial that shows you how.
8. HANGING WREATH CHANDELIER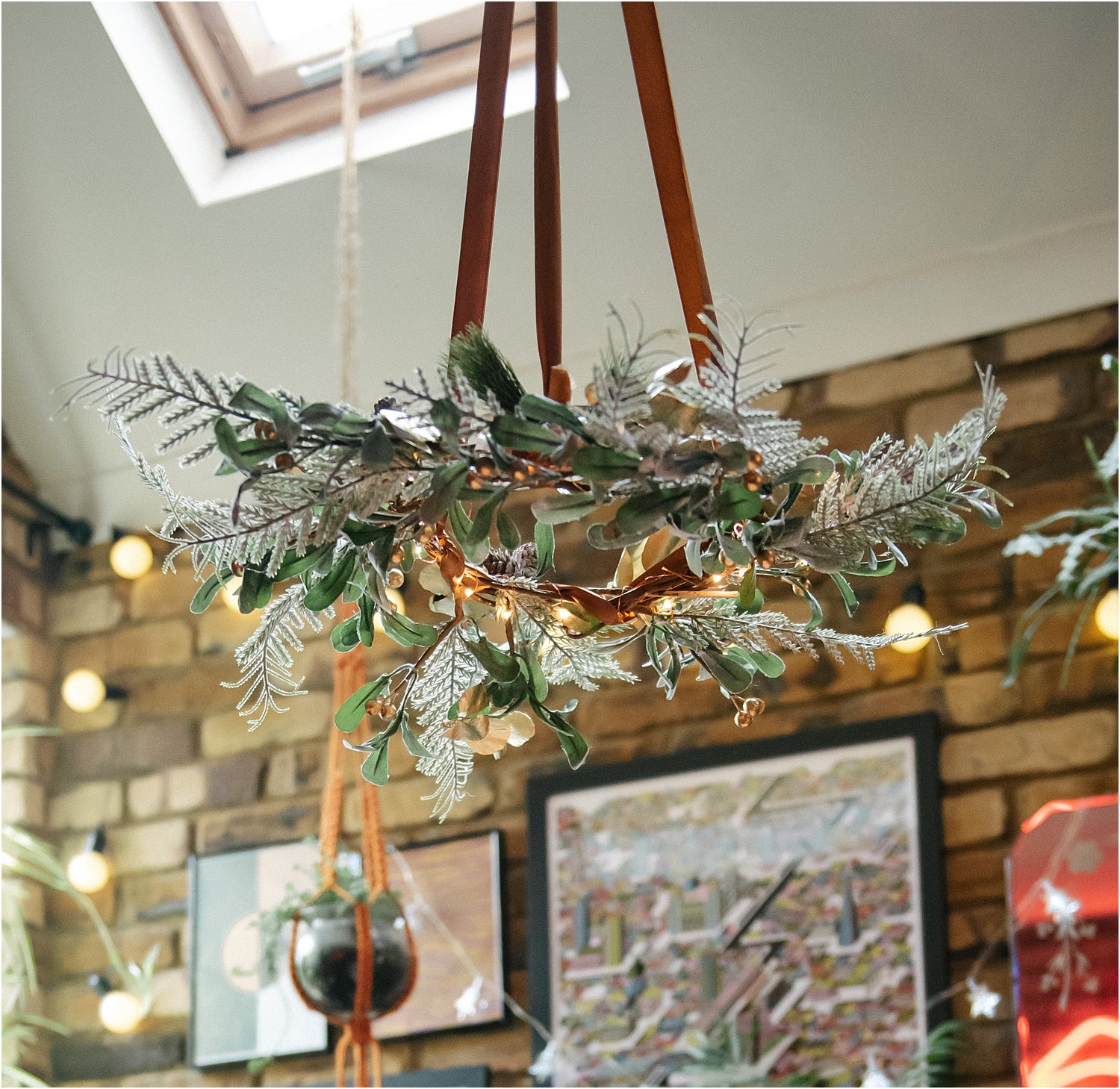 I've tried a few versions of this over the years. I've kept it pretty simple – using a garland and securing it with wire on a metal ring. On the version above, I used gold ribbon to suspend this wreath and secured it on a hook on the ceiling.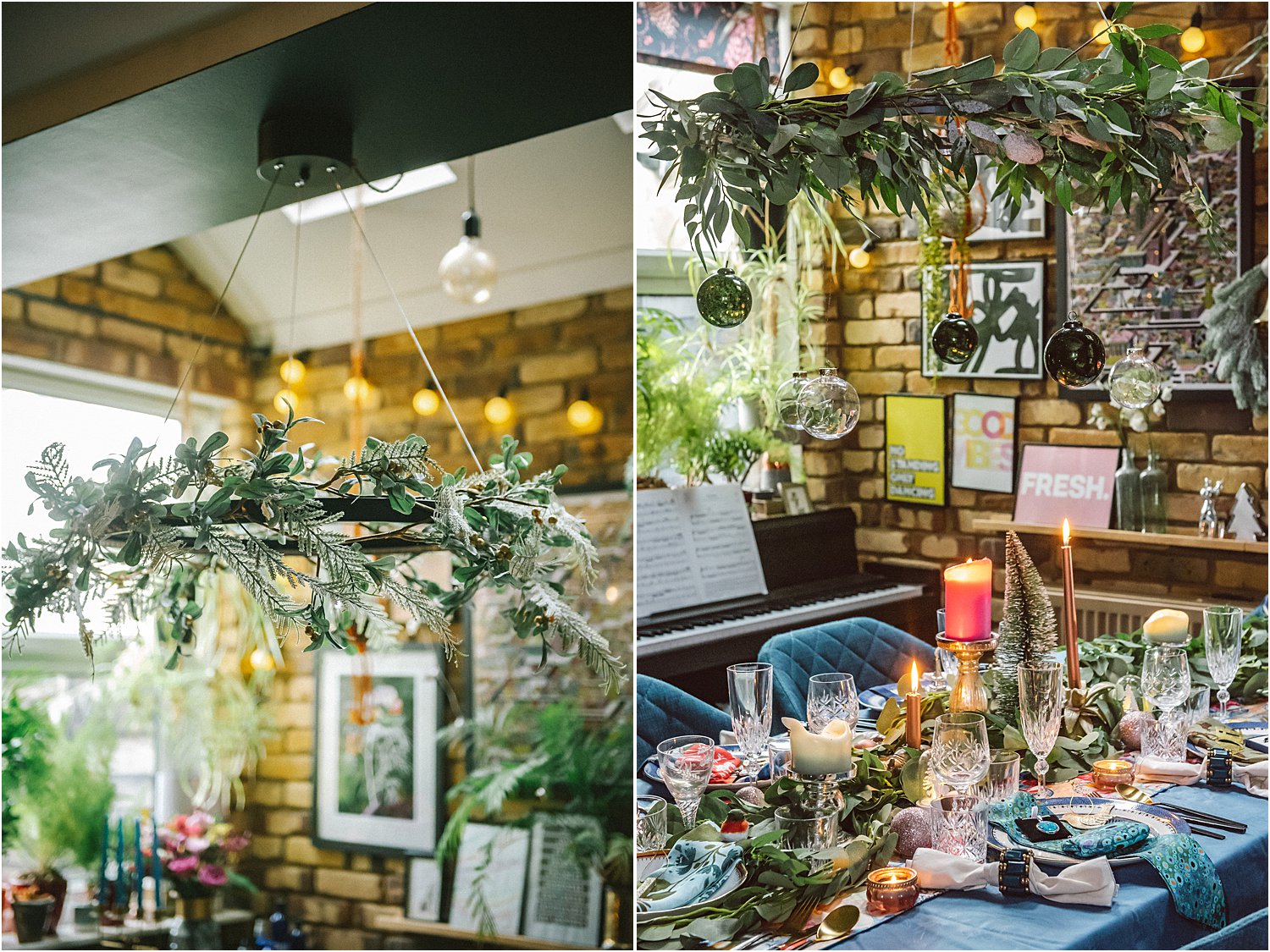 The version above left is the same garland but this time secured on a light fitting. On the wreath on the right I changed the garland into a eucalyptus and willow mix which I had sprayed with snow spray and then suspended some baubles underneath.
9.DIY WREATHS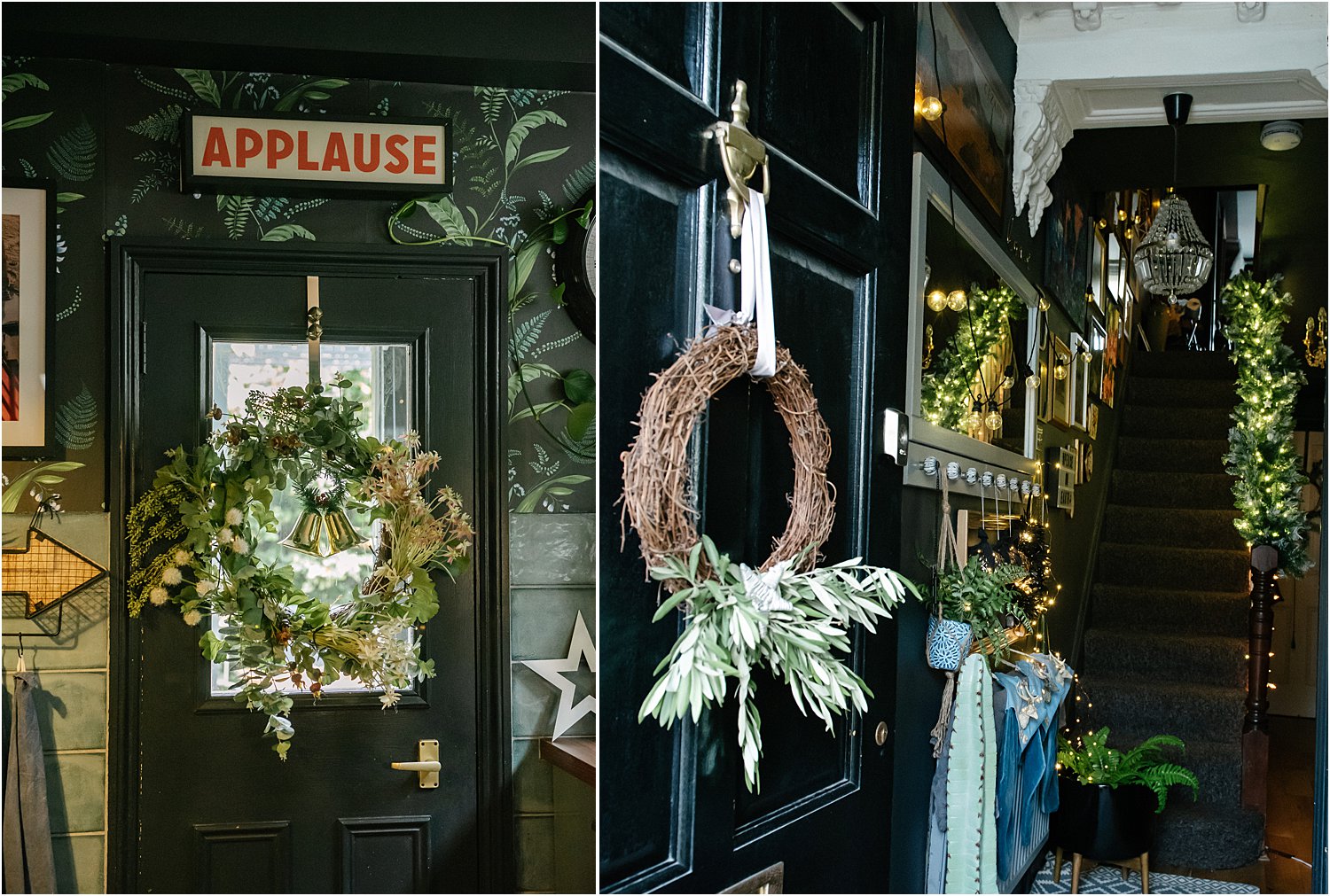 On these two wreaths above, I used a brown willow wreath ring. Using artificial foliage and flowers I arranged these stems around the ring and secured them with garden wire. The smaller door wreath on the right is made simply by securing two bunches olive branches snipped from my olive tree with wire at the bottom of the ring. To finish I put a star in the middle and the rest of the willow wreath ring showing for a rustic look.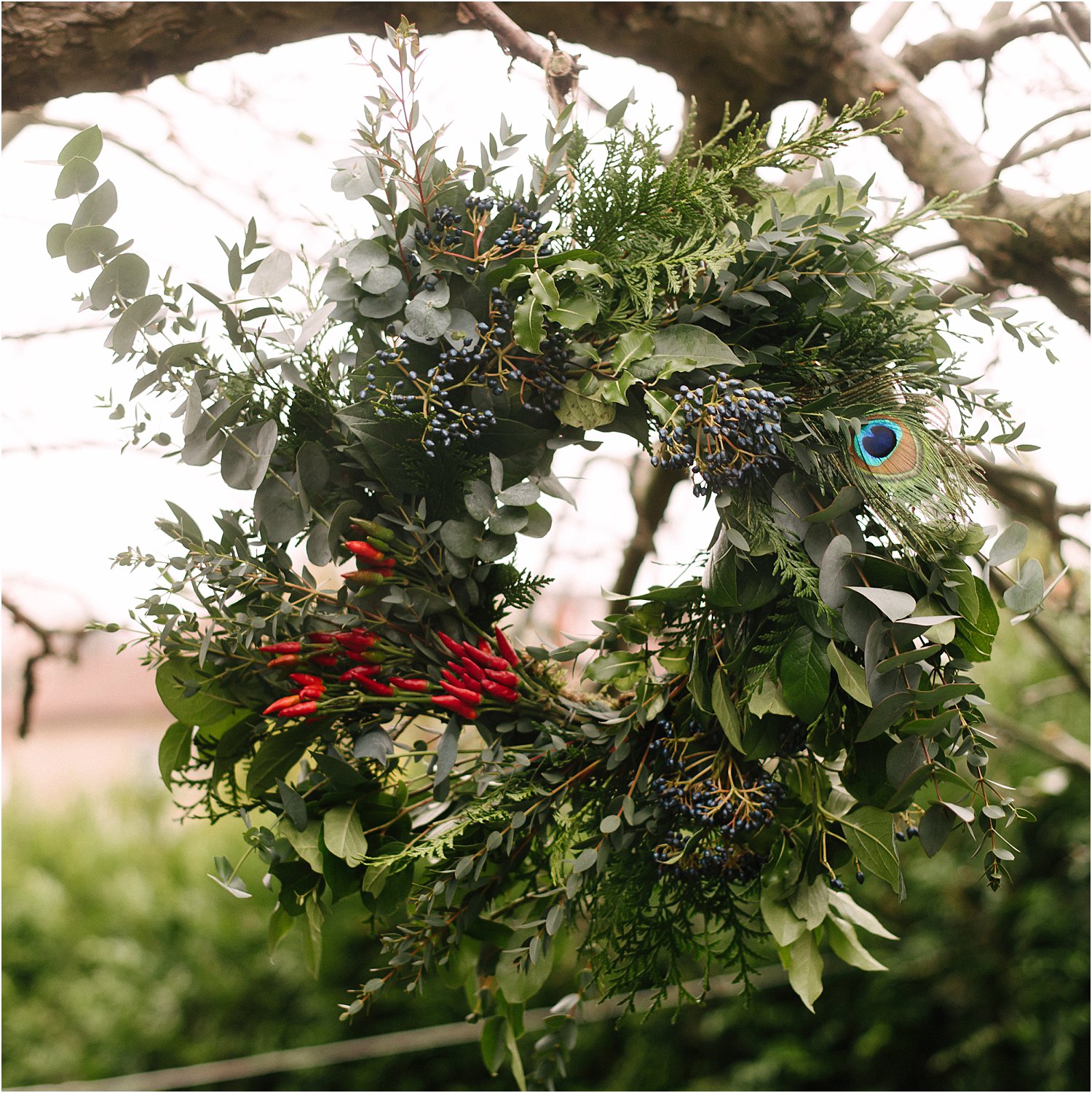 I made this wreath above using a metal wreath ring, living moss and real foliage secured around it with thin florist wire. I embellished this wreath with some black berries, chilli bundles and a peacock feather as a finishing touch. This wreath lasted a few weeks – I made sure I sprayed it regularly to keep the moss moist.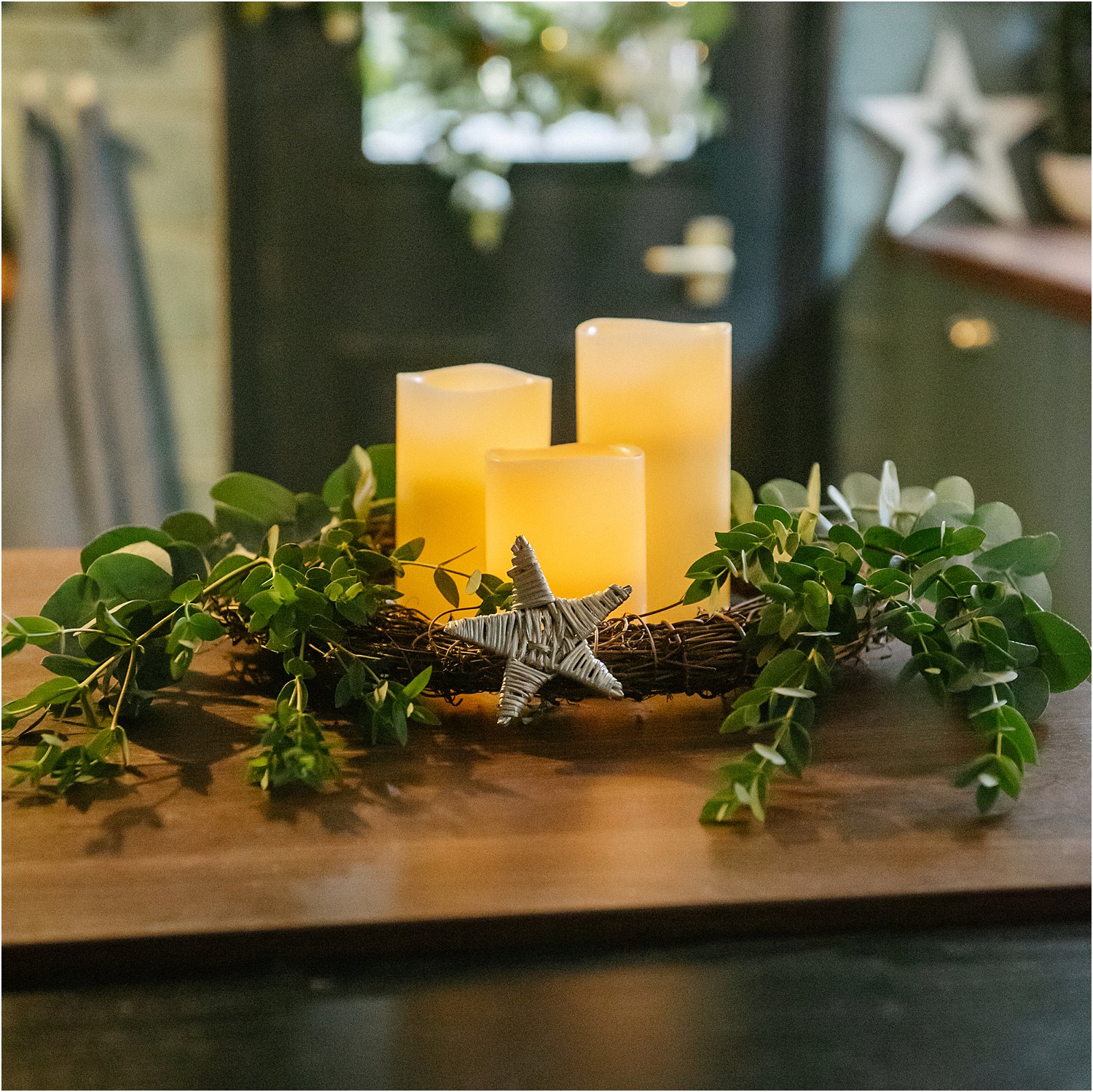 You can also use a wreath ring as a candle wreath. I used eucalyptus from a floral bouquet (after the flowers have died, the eucalyptus were still fine) and attached them on to the ring. Pop some pillar candles in the middle and you have a candle wreath.
10. CHRISTMAS VILLAGE CAKE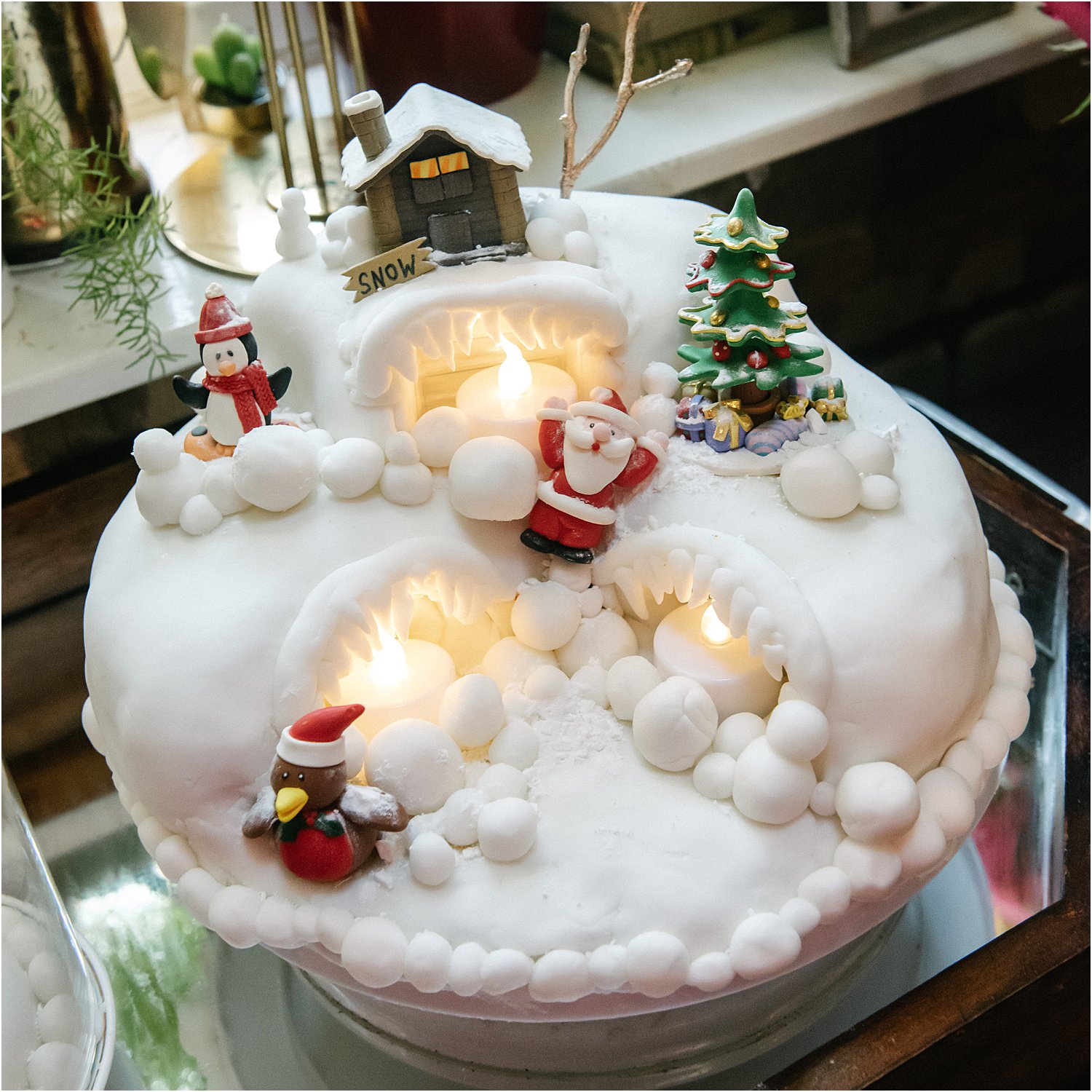 We have made this cake twice now! It's our version of the Christmas village cake using artificial tea lights to light the little houses in the village. To hold the opening up, we use round cookie cutters and covered them with rolled icing. My girls and I had so much fun designing this cake. You could even use Christmas tree decorations for a different vibe.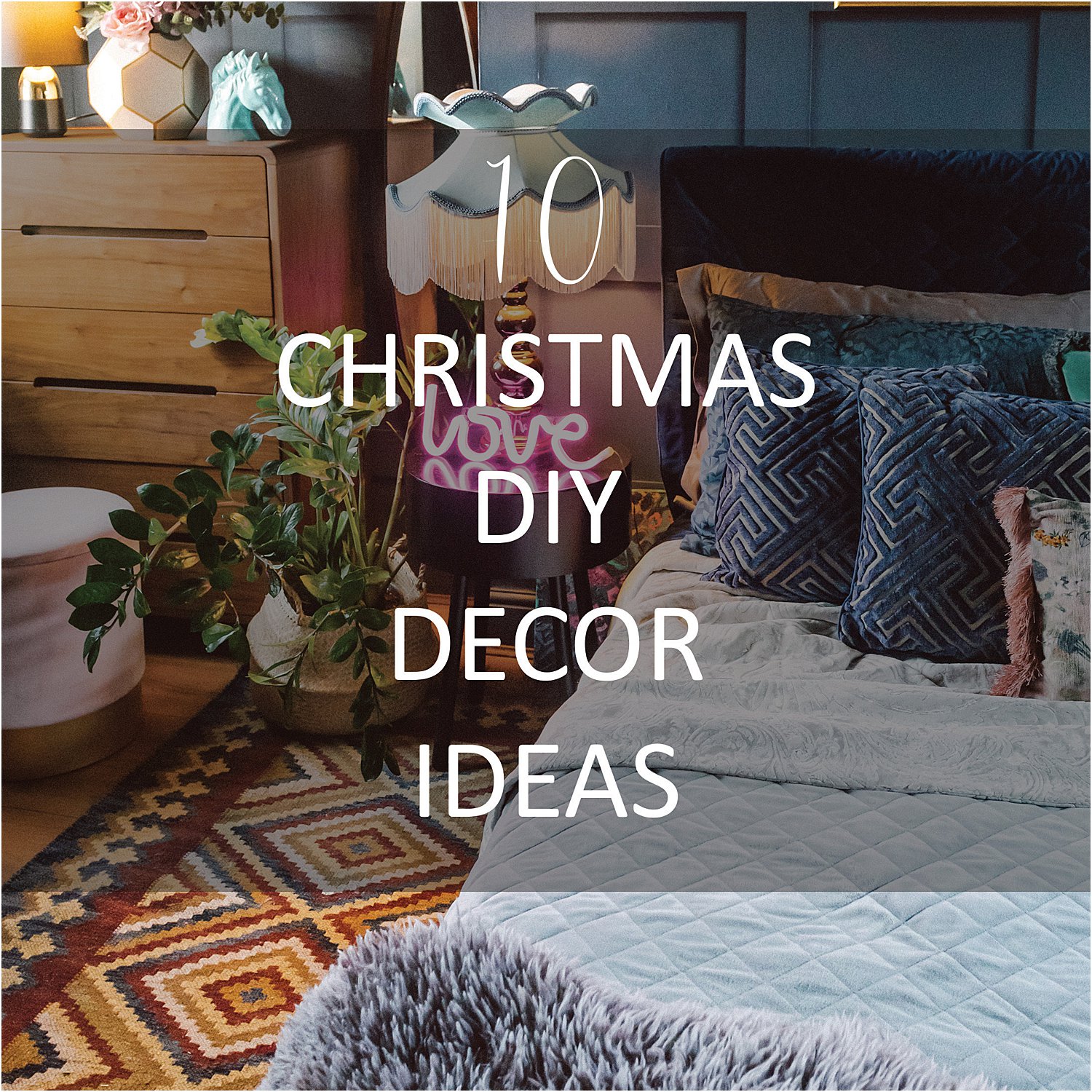 And there you have it, 10 Easy Christmas DIY decor ideas and crafts to do this festive season!
Don't forget to download my free resources that will help you design your own interiors and grow your Instagram account! Let's chat on Instagram and follow me on layered.home for more inspiration.