Boy's bedroom revamp: from tot to teen with Rockett St. George and Craig & Rose. If you have been following me on Instagram Layered.Home, you would have seen my son's bedroom before and after it was transformed from tot to teen with furniture and accessories from Rockett St. George and paint from Craig and Rose.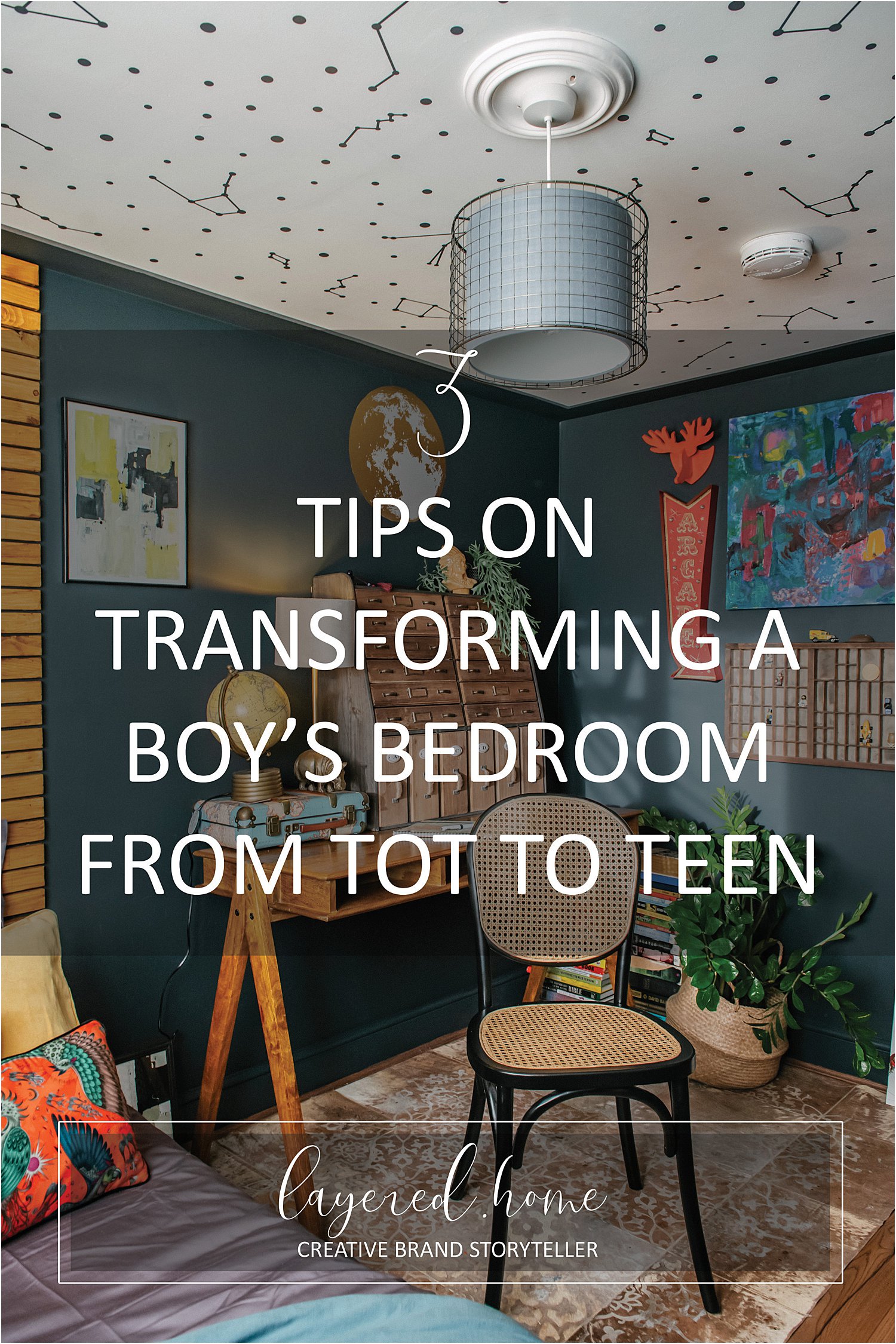 My son's room is right at the top at the back of the house in the loft. It's the smallest bedroom and also the sunniest, given that it gets some Southwest afternoon sun.
When the loft was built, this started out as a pink and orange room for my youngest daughter. Both didn't work – the pink and the orange combo was a disaster and my youngest refused to sleep in it. And so it became my son's room and over time I slowly painted storm grey over the pink except for the back of the door and the radiator (didn't have the time nor inclination)!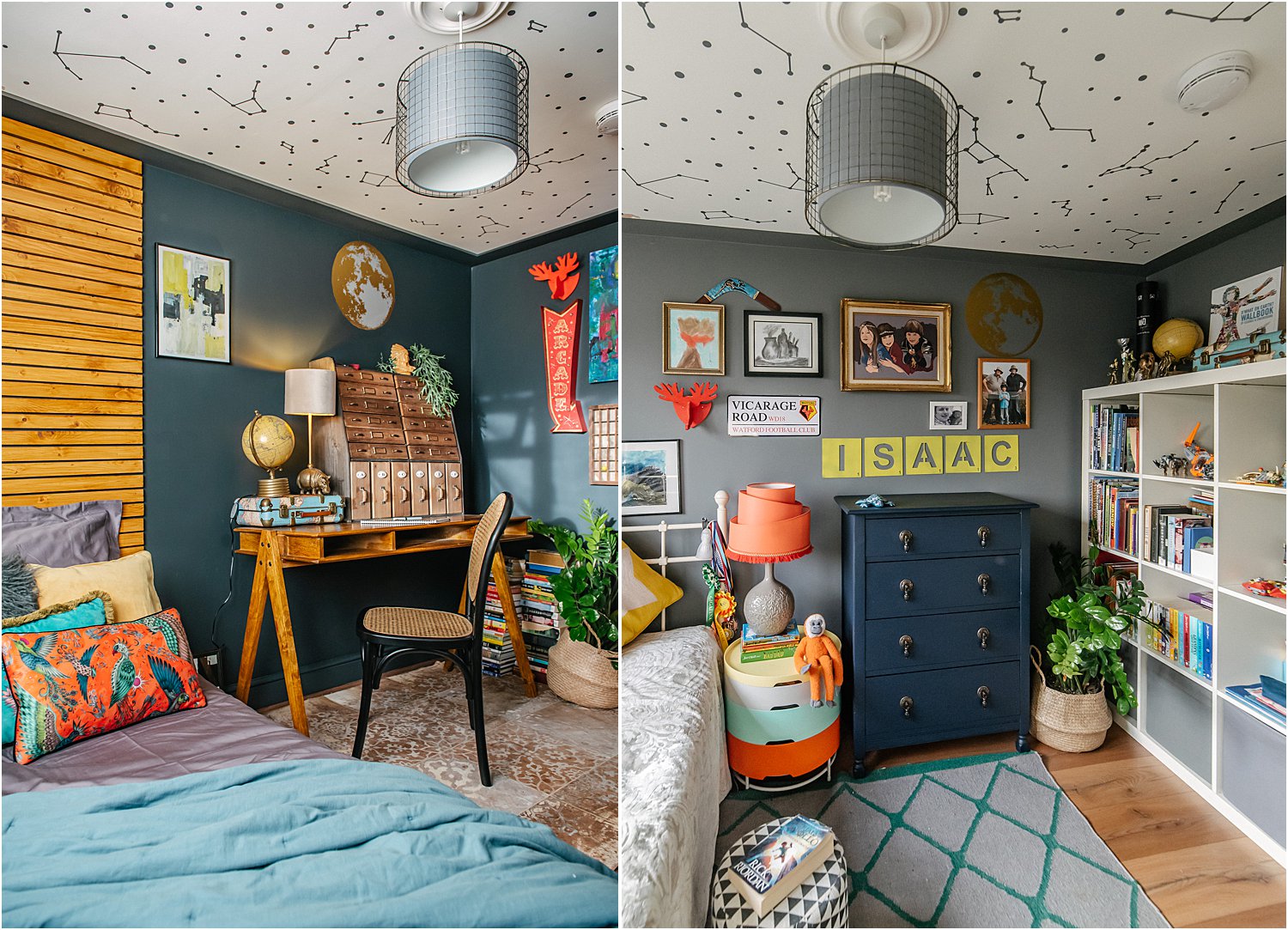 This was the only Ikea room in the house – daybed, bookcase, shoe cabinet. The chest of drawers was a vintage piece which I had painted in Frenchic dark blue paint. It was a playful room with pops of colour and a mixture of my son's artwork and his beloved Watford yellow stuff.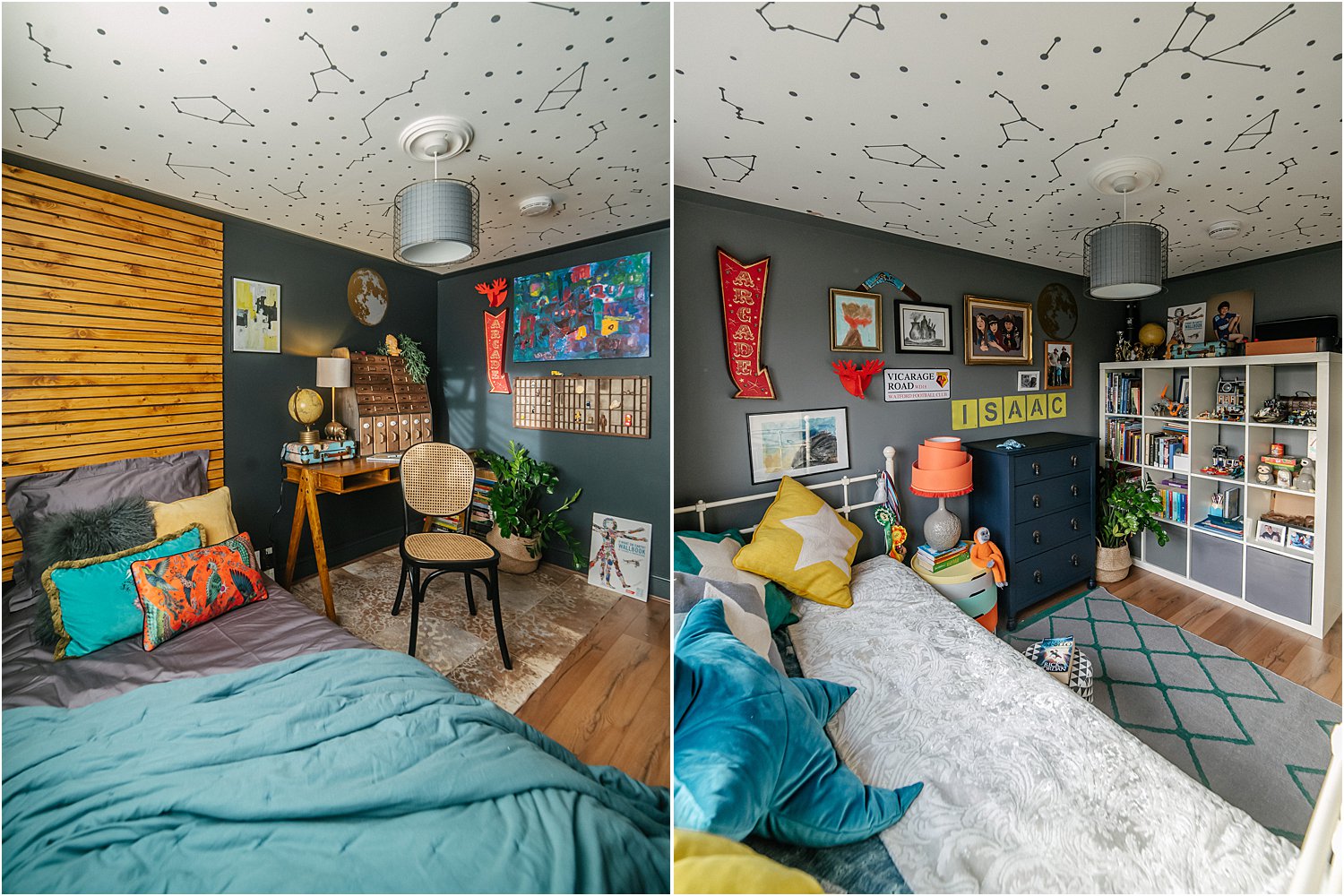 Over lockdown my son had suddenly shot up, always hitting the ceiling light when he walks in. And his voice had broken! He sounds so deep, so much so that at first we all thought there's a stranger in the house! He's now 14 and it's time for a bedroom change.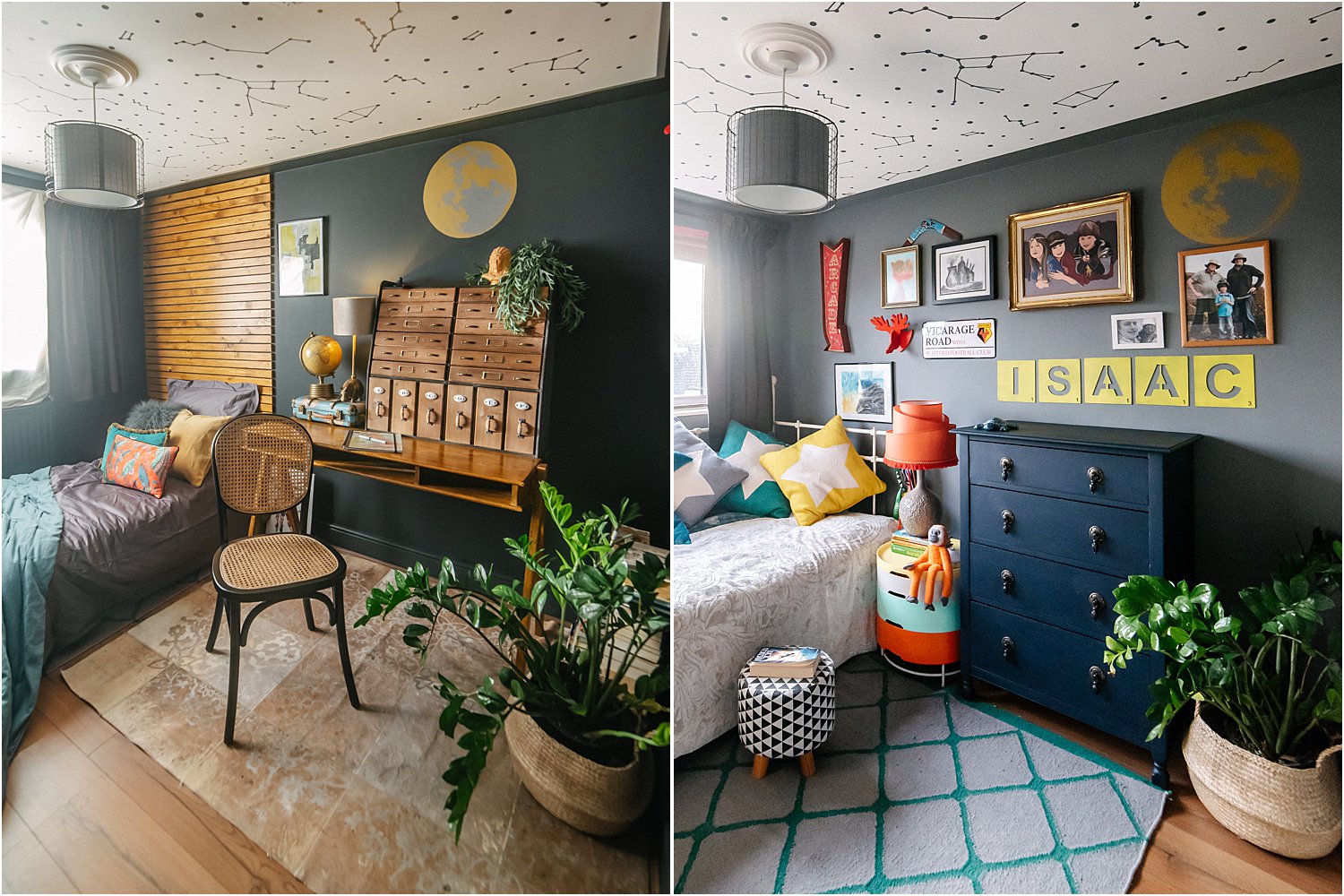 I am very grateful to be working with two of my topmost favourite brands in this room revamp: Rockett St. George and Craig and Rose Paints. If you haven't discovered these brands yet and you are doing up your home or are an interior-lover, you are missing out big-time!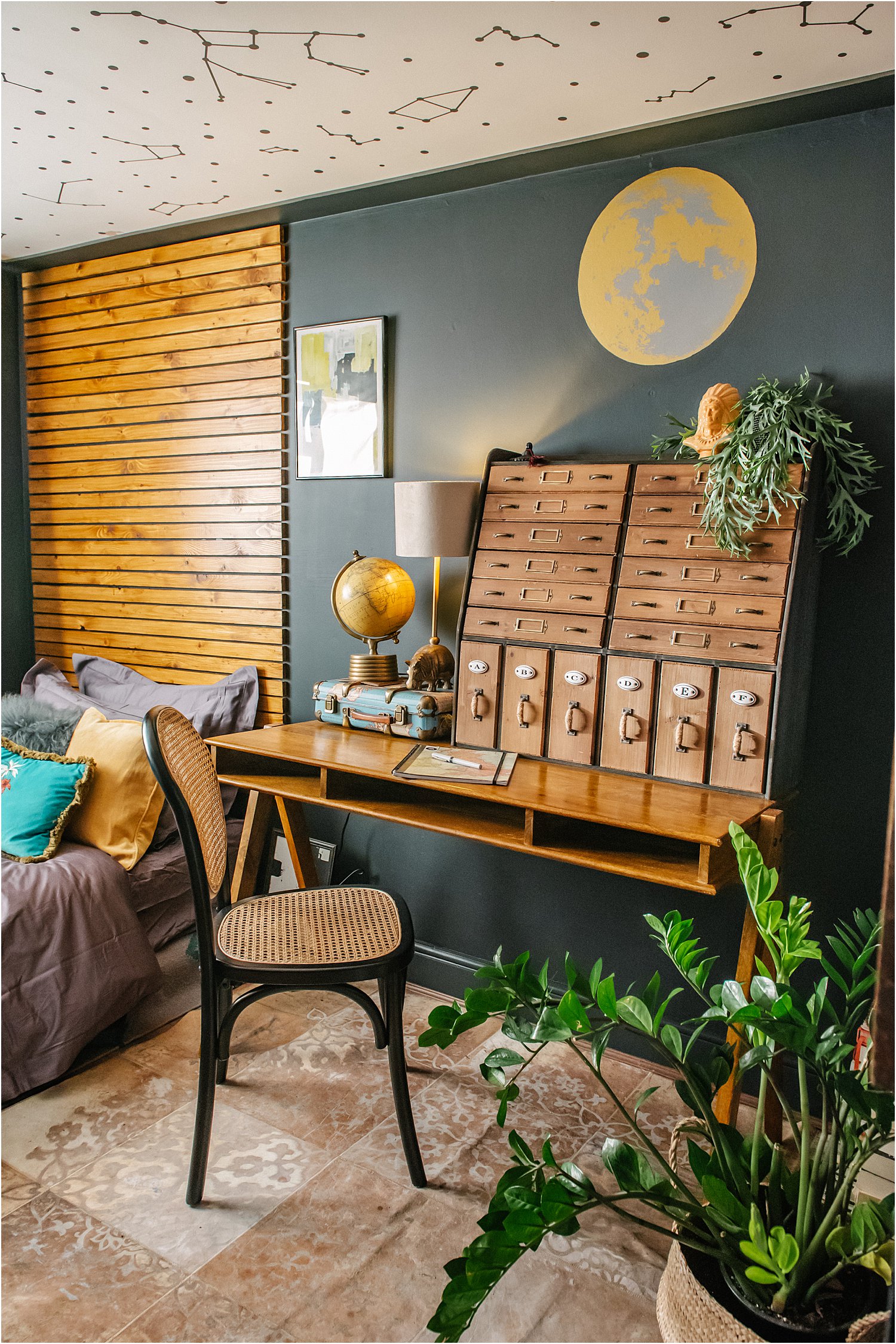 Rockett St. George is a brand that "revitalises the interiors market with unique treasures, oddities, and curiosities". Their own label and other brands that they sell are chosen with the most tasteful and distinctive taste. Their brand has phenomenally grown that they now have a concession at Liberty London.
Craig and Rose is a paint brand known for manufacturing superior quality paint. They have a wonderful heritage which started in 1829 when two Scottish entrepreneurs James Craig and Huge Rose became renowned for going the extra mile with their paint: grinding thrice instead of just twice as their competitors did. As a result, they won large contracts like manufacturing paint for St. Paul's Cathedral, Forth Bridge and various palaces around the world!
I can attest to the superiority of Craig and Rose paints having painted four full rooms in my house with their paint!
So here are my 3 tips on transforming a boy's bedroom from tot to teen style:
1. USE NATURAL MATERIALS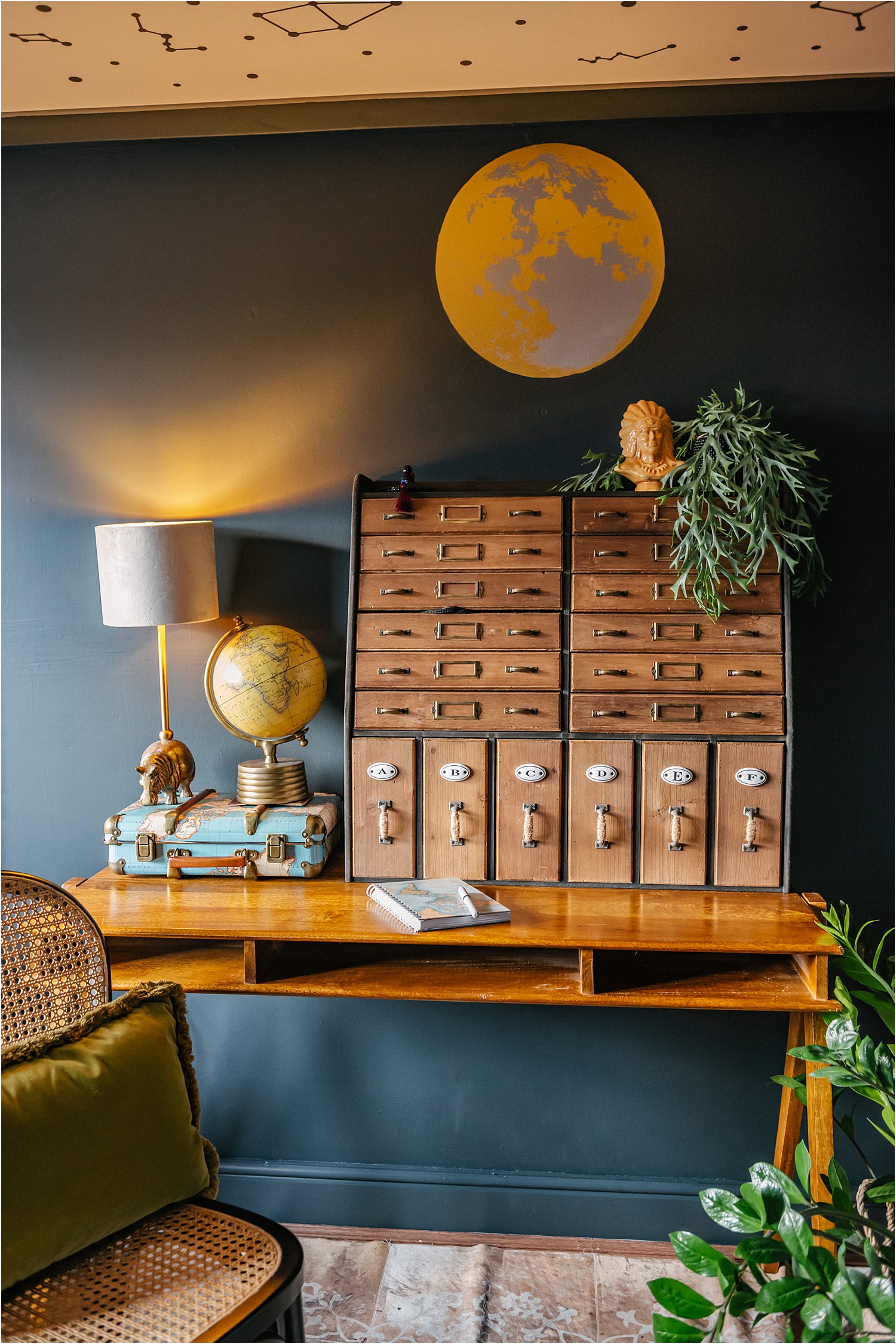 Wood is a timeless and classic material that is difficult to outgrow. If you want mileage in your interiors, use materials that age well and wood is one of them.
Rockett St. George gifted me with this solid wood Mango desk and apothecary cabinet. It took no time to attach the legs to the desk and the cabinet came already fully assembled. The desk has three open drawers which are wide and deep enough for my son's A4 notebooks and workbooks. The apothecary cabinet is the perfect storage for his pens, marbles, special cars from when he was little, medals and other boyish trinkets.
To mirror the Rockett St. George mango wood desk, I bought some 2 x 1 timber pieces, stained them in oak and stuck them on the wall as a headboard / wall-panelling behind the bed with no more nails.
For the platform bed frame, I used two pallets and put a mattress on top.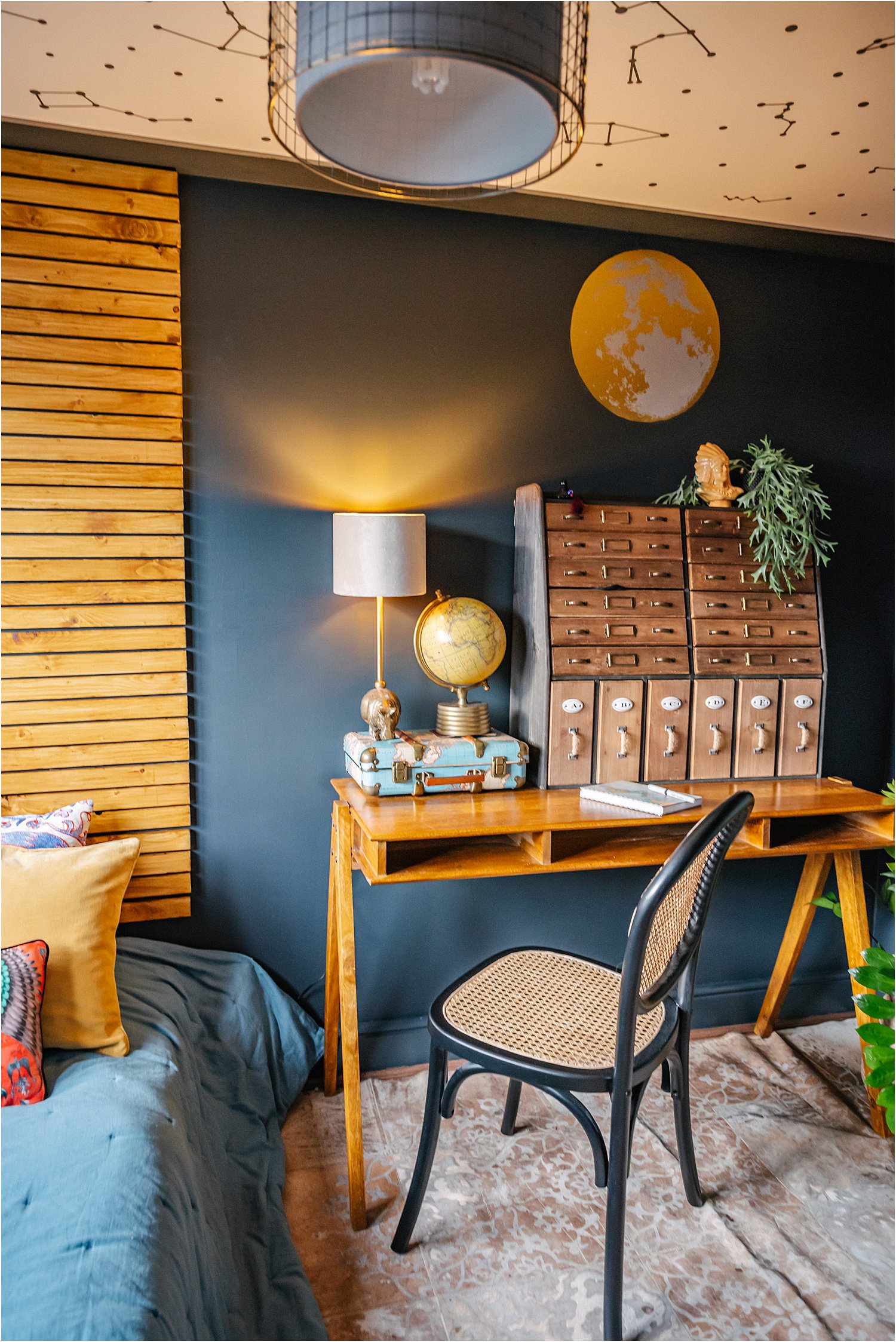 Cane webbing is another material that I love. It reminds me of my childhood. It's intricately woven structure bring a delicate feel to the material yet is so sturdy and strong. This Chez Pitou Cane chair from Rockett St. George is light yet robust. I also love how smart it looks.
2. USE DARK COLOURS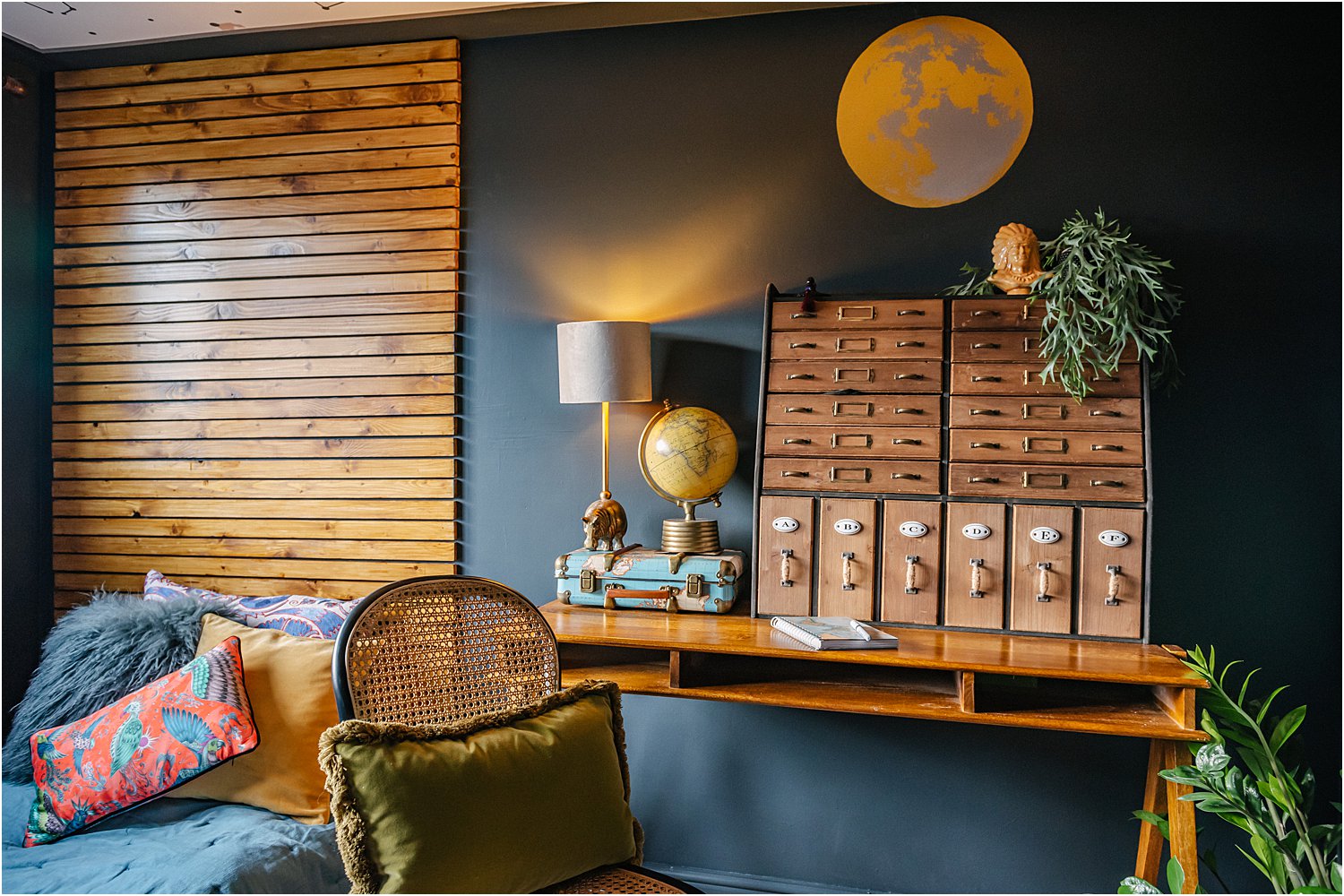 I chose Craig and Rose Zeitgest on the walls because it's sumptuous and cosy with a classic elegant feel. I like the chalkiness of the finish and it provides the perfect backdrop for wood.
One of the best things about Craig and Rose is the coverage! I'm always blown away by how far a small 750ml tin goes. That small 750ml tin covered the radiator, door and skirting in this room with three coats. One 2.5ml litre of chalky emulsion covered three walls with three coats with leftover enough for the fourth wall (which is going to be wallpapered that's why I didn't paint it).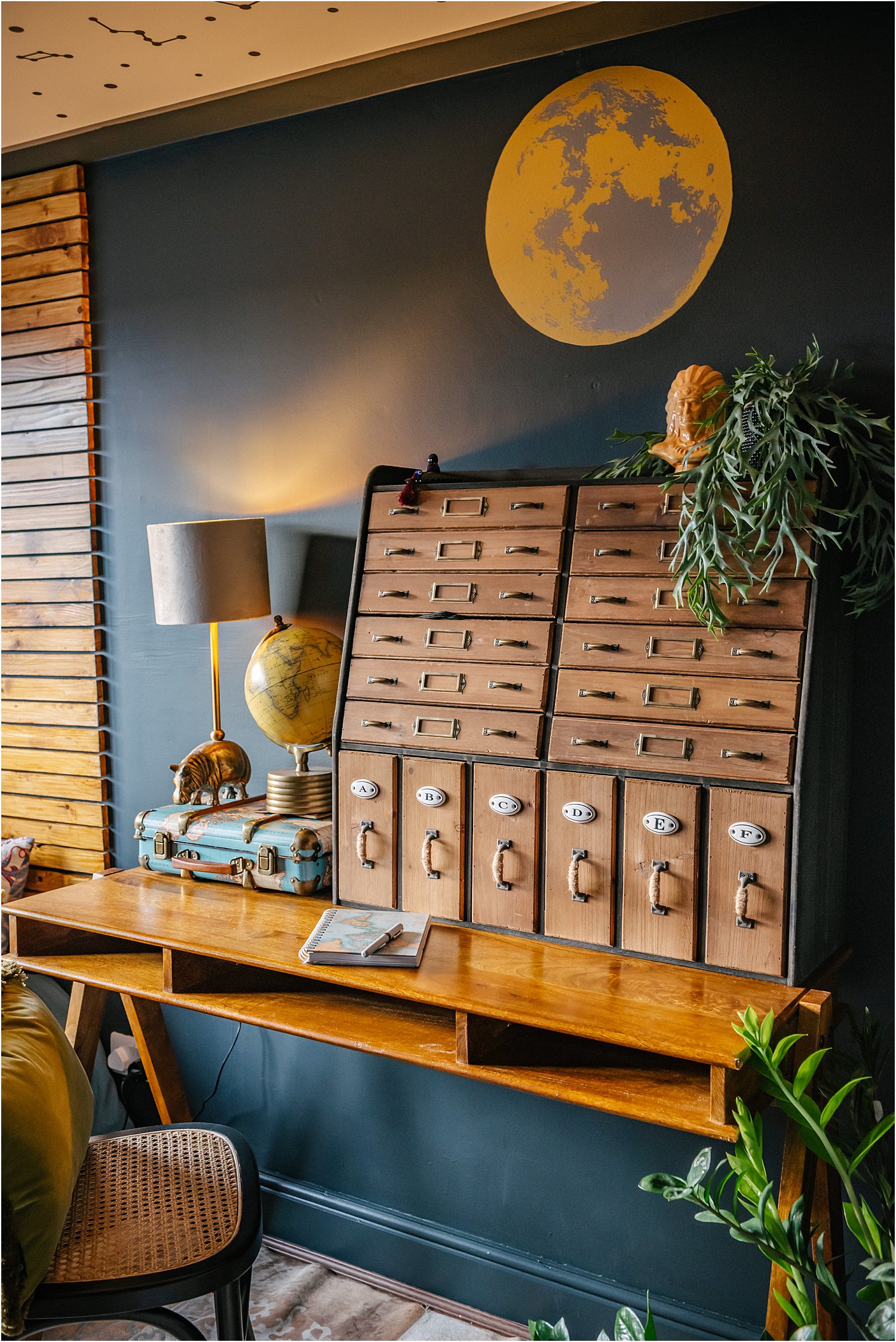 Craig and Rose paint is so easy to apply – it's the perfect texture and creaminess. No need to dilute and it's rich in pigment. It also dries so quickly that it only took a total of one day to paint this room (2 afternoons).
I'm always recommending Craig and Rose to my friends and those who ask me for paint recommendations.
Craig and Rose have recently introduced Colour Patch. These are patches of colour perfectly matched to the actual paint colour that you can stick on your wall. Gone are the days of painting swatches on paper or painting a patch of colour on the wall. These colour patches are re-usable and accurate colour representations. An eco alternative to tester pots. A genius product!
3. ADD CONTRASTING TEXTURES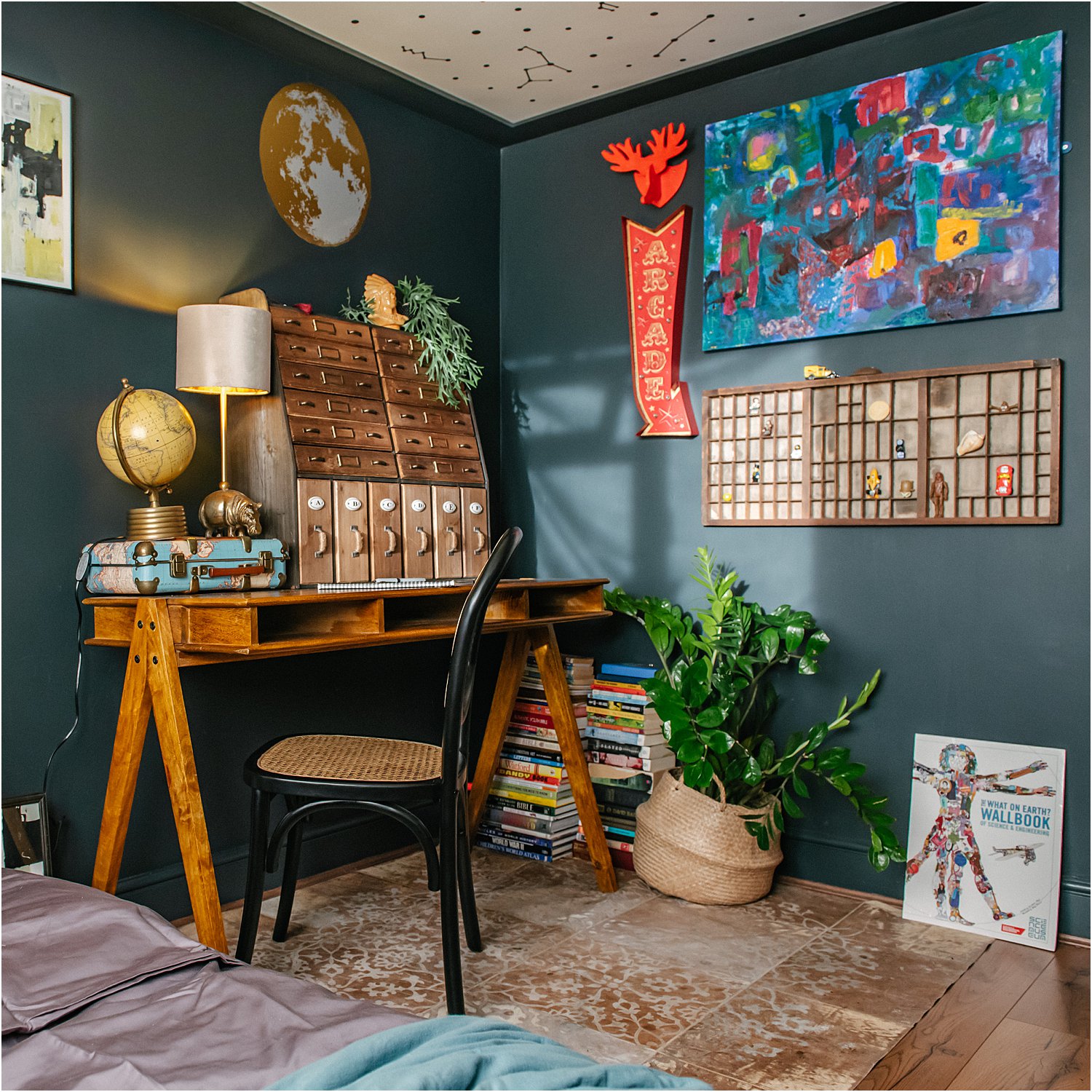 To make a room zing, you need various textures. Here I chose metallic, velvet and foliage. This brass hippo lamp with a nude velvet gold-lined shade from Rockett St. George added the contrasting textures to go with the natural wood and chalky wall. The brass picks up the gold moon decal on the wall and the sumptuous yet subtle velvet complements the chalky matt wall.
Don't forget what foliage can do to a space. It brings softness and the feel of nature indoors. I love this little faux stag fern trailing plant from Rockett St. George. It's lush and full and you won't believe the price point!
BONUS TIP: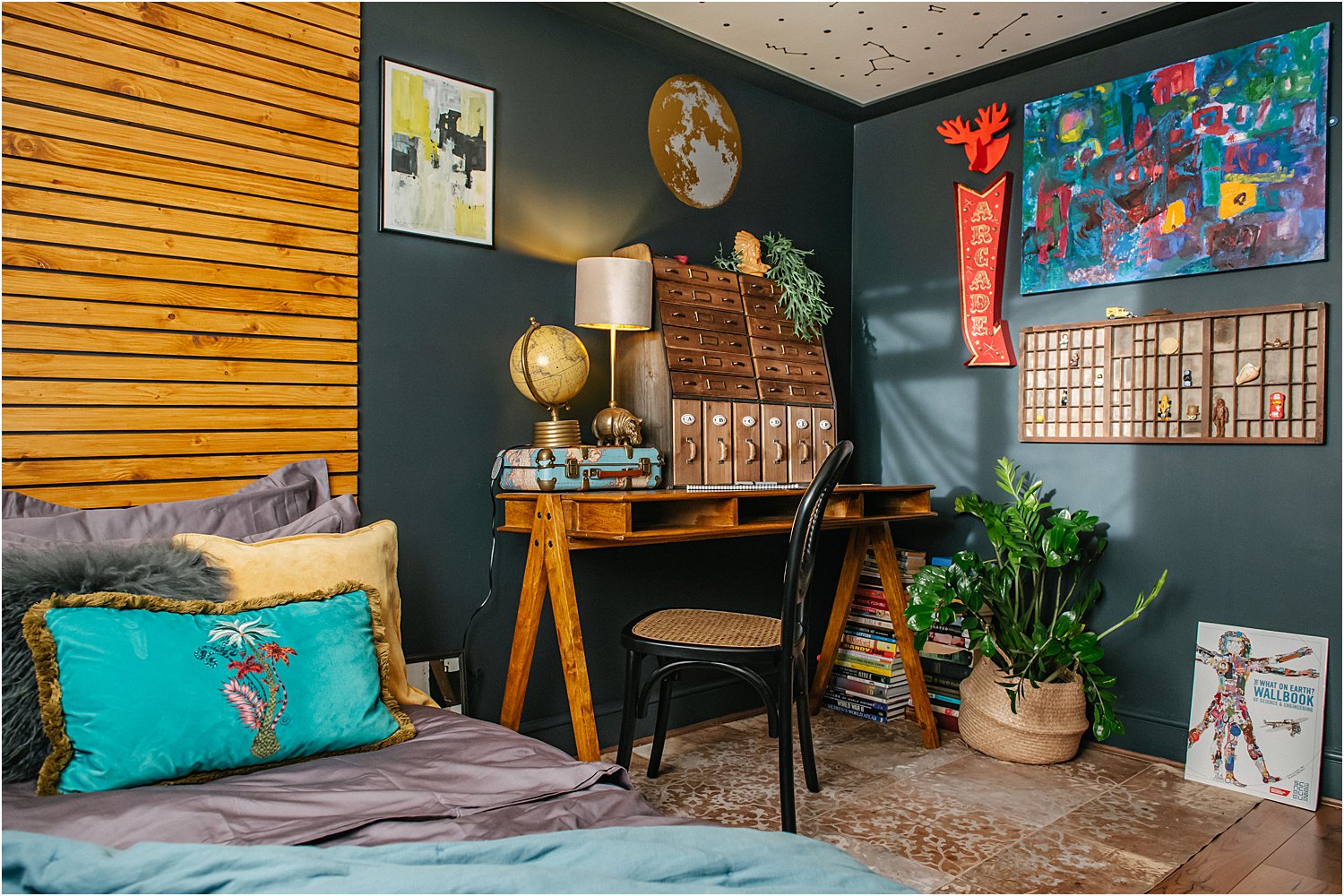 So as not to make the room look tot-like again, reign in the colour palette. With the dark backdrop and wooden materials, we stuck with just reds as the dominant colour pop and yellow and green as secondary. I'm never one for matchy-matchy, 2 colours-only interiors. I like an element of surprise, a touch of quirkiness. But to make it feel cohesive, I didn't go overboard with the colours.
I hope you enjoyed this post on Boy's bedroom revamp: from tot to teen with Rockett St. George and Craig & Rose and found my tips useful!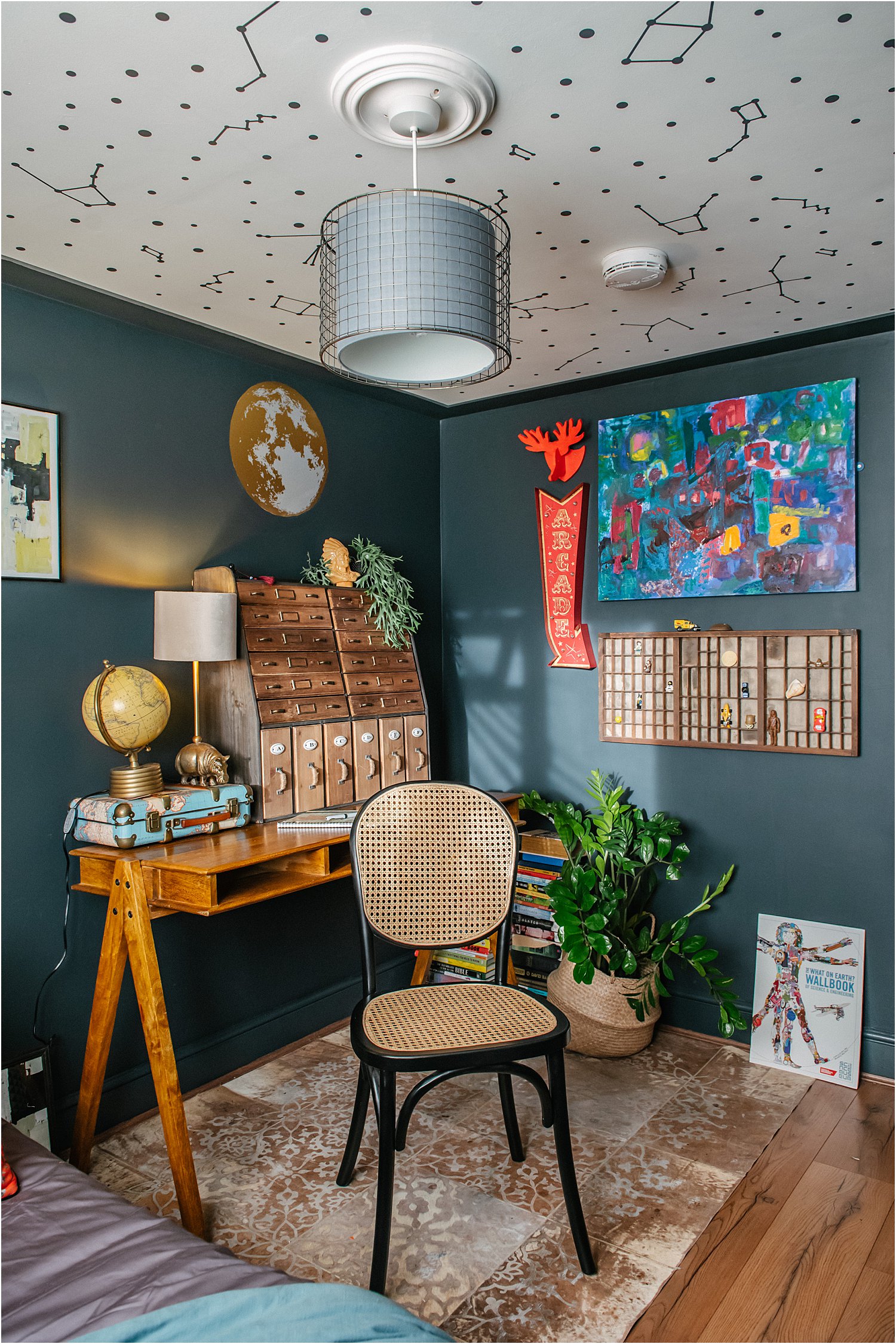 Check out Rockett St. George for the most amazing interior furniture and accessories and Craig and Rose for their full colour range of superior quality paints.
Whilst this is a sponsored blogpost as part of my paid partnership with Craig and Rose and collaboration with Rockett St. George, all opinions are my own. Previously gifted items seen in these photos include the moon and constellation decals from Kenna Sato Designs, Sass and Belle suitcase, Emma Shipley cushions, Frenchic paint (affiliate) and Soak and Sleep bedding.
Don't forget to download my free resources that will help you design your own interiors and grow your Instagram account! Let's chat on Instagram and follow me on layered.home for more inspiration.