3 Reasons why you should choose velvet upholstery, cushions and sofas.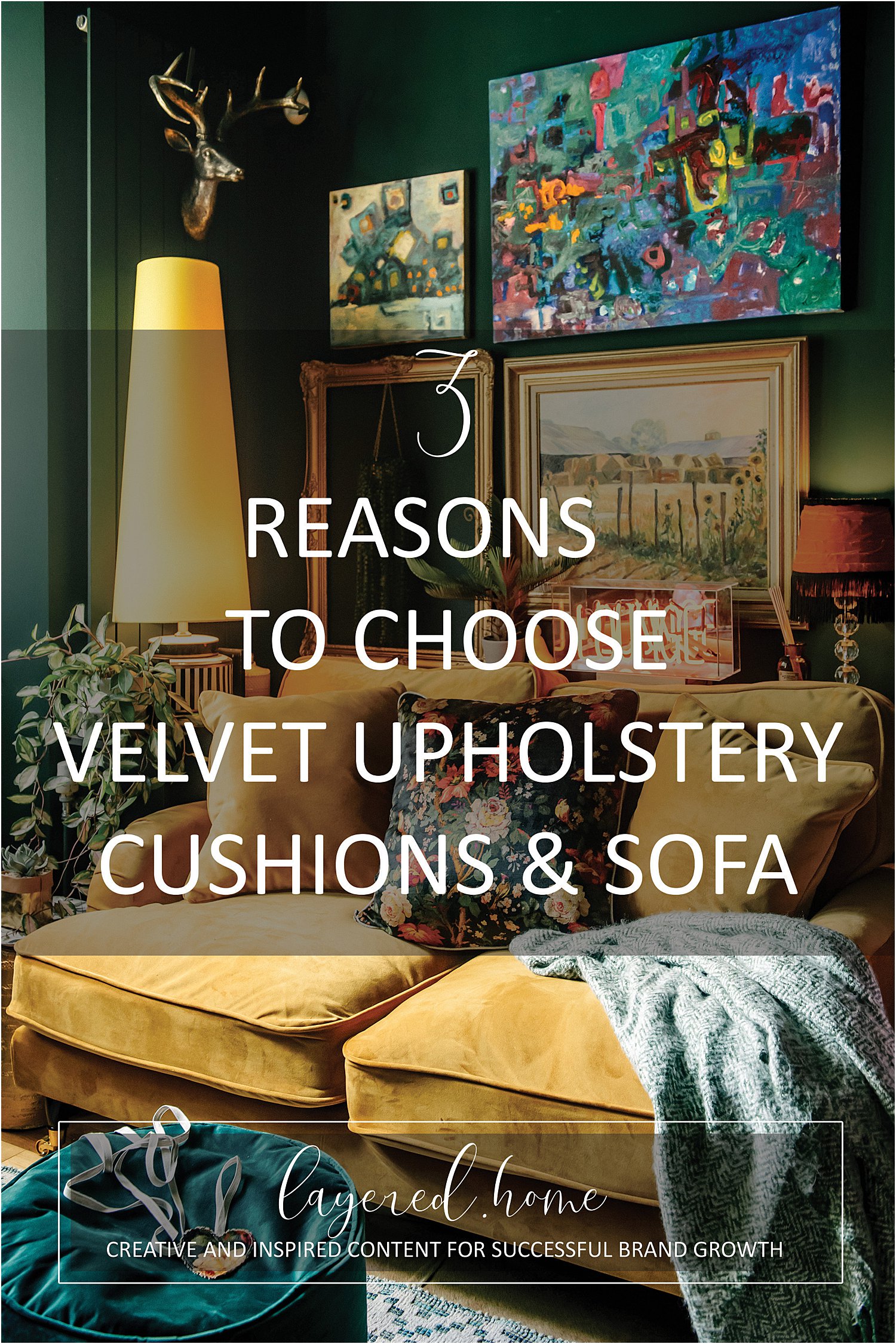 Before going into the 3 reasons why you should choose velvet upholstery, cushions and sofas, let's first deal with the misconceptions about velvet.
Misconception 1: It's too delicate.
The way velvet is made makes it a durable fabric. Made from layers of fabric with dense pile where the threads are closely woven together, velvet is one of the top fabric choices for upholstery. This densely woven property makes velvet unstretchable, compact and strong hence a perfect choice for seat pad covers, cushions  and upholstery. Whilst velvet is definitely not delicate due to the weaving structure, it IS soft! And it doesn't only look soft, it feels soft too. Just look at my Gorgeous and Glamorous Velvet cushion below by Velvet Linen;  the photo doesn't do it justice!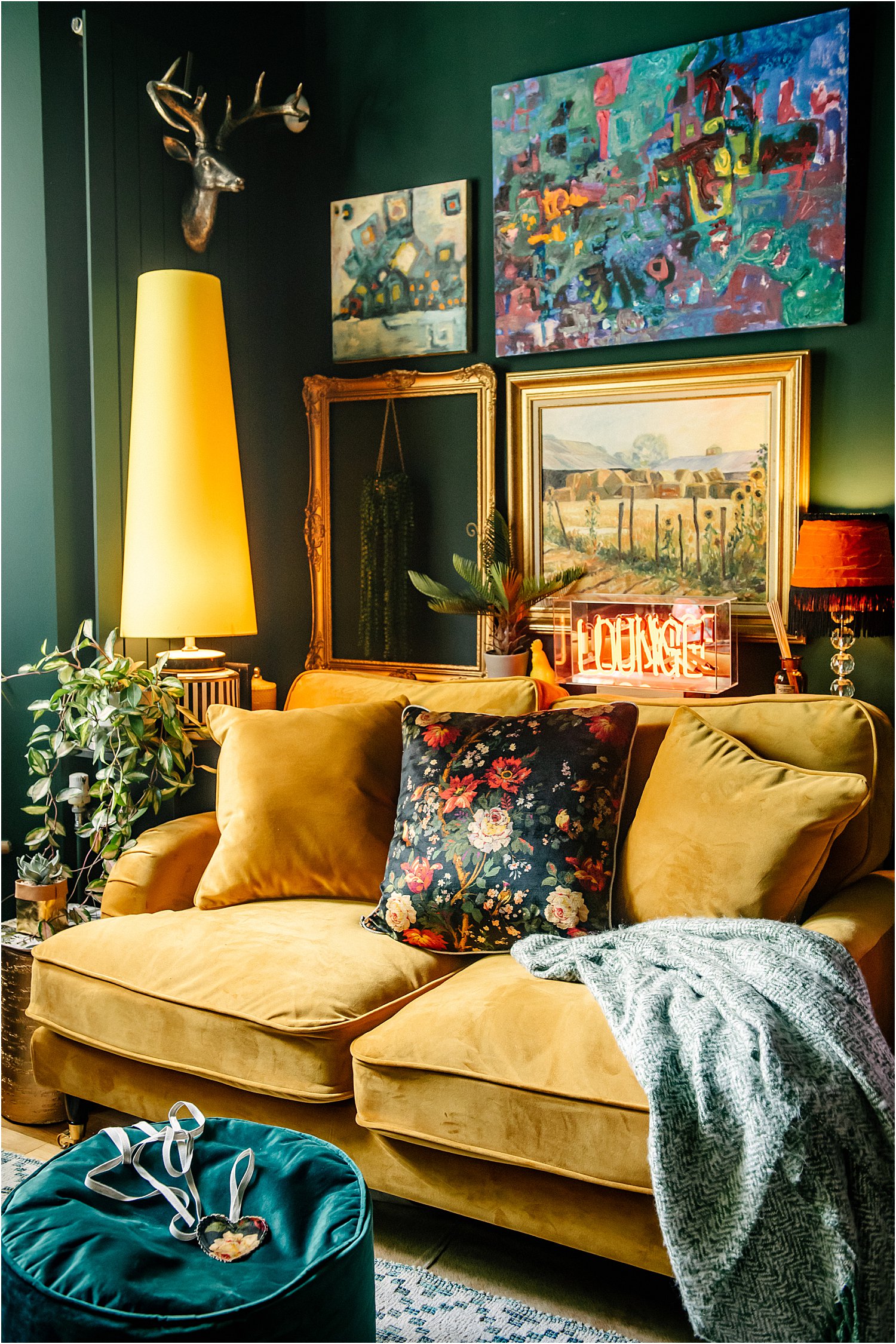 Shown below are velvet seat pad covers and pouffe made by Velvet Linen in these beautiful fabrics! Run by Liz Poole, a costume designer who works on West End shows like HAMILTON London, the soon to open DISNEY FROZEN London, along with Andrew Lloyd Webber's CINDERELLA, Velvet Linen offers a charming collection of mix and match velvet and linen accessories.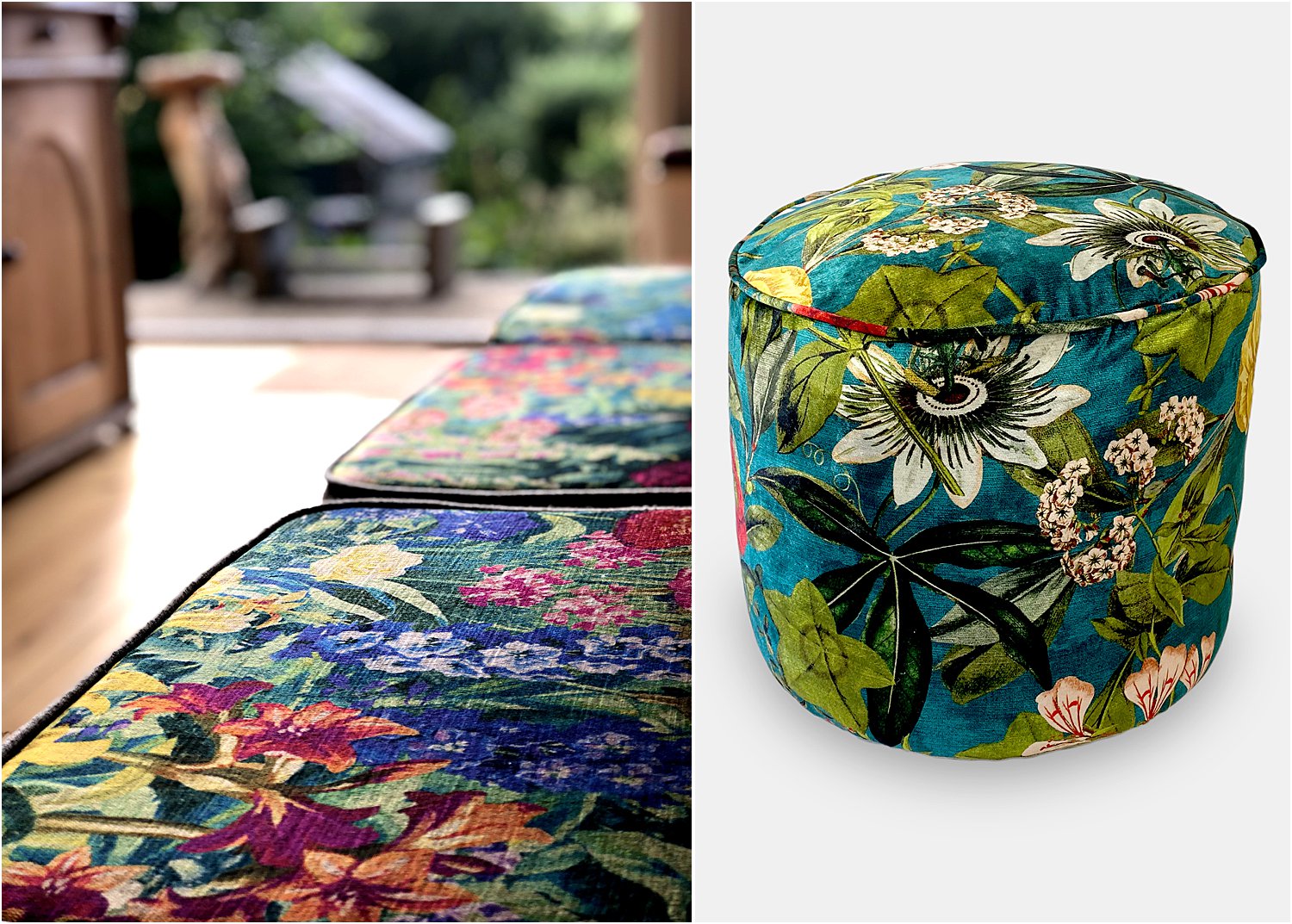 Did you know that Liz is also the Creative Development Cutter for SUSIE CAVE and her super cool fashion label THE VAMPIRES WIFE! Liz and her team worked with Susie to make the Gorgeous Bespoke Burgundy metallic lace dress that Kylie wore at Glastonbury last summer. Yes, THE Kylie Minogue!
Misconception 2: It's high maintenance
To my utter surprise, my cotton and polyester cushions require more maintenance than my velvet cushions of which I have 28! Shown here is my current favourite the Gorgeous and Glamorous velvet cushion made by Liz in this sumptuous Liberty fabric. Unashamedly, I admit I stroke it quite a lot!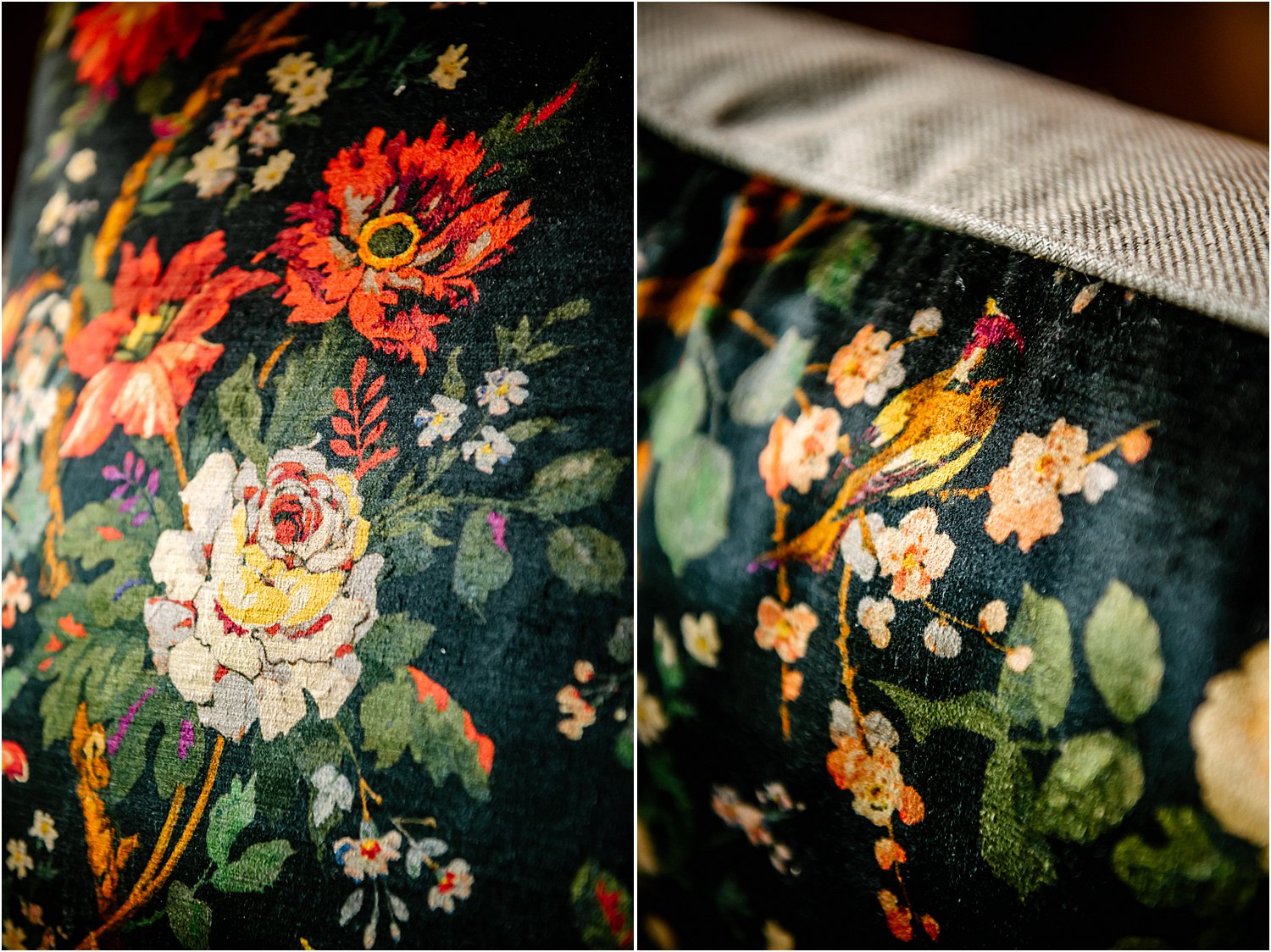 Believing that velvet won't hold up to abuse by little ones, I waited until my kids were out of primary school before getting a velvet sofa. Perhaps I was right, perhaps not. But my kids and husband certainly give my velvet sofa, velvet chairs and velvet cushions plenty of TLC without the "tender" part! Cleaning is a matter of patting and fluffing and hoovering. Job done!
Velvet is made to last! It doesn't come as a surprise that it can be costly depending on the raw materials used. High quality velvet last for decades and is a worthy investment. Liz sources her velvet from iconic brands like Liberty. These are high quality furnishing velvets made of 52% viscose, 44% cotton, 4% polyester. This careful mix allows fabric breathability coupled with the beautiful feel of natural fibres combined with semi-synthetic /synthetic fibres for durability and longevity. Liz is now developing her own fabrics inspired by these gorgeous iconic brands and her Railway Cottage surrounded by wild flowers that Liz herself has carefully planted!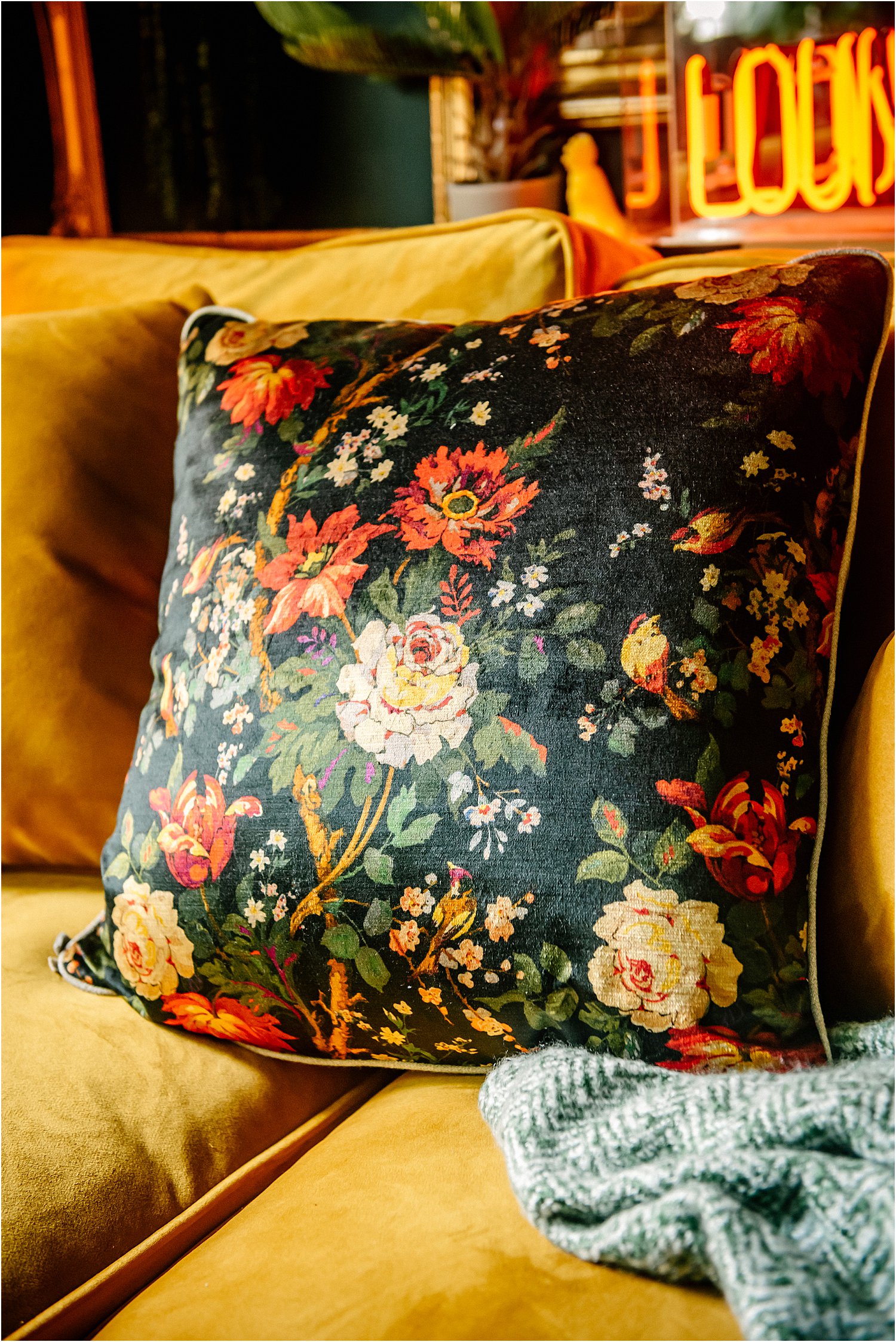 Have I mentioned the snagging issue yet? I haven't because with velvet, there is no snagging. No snagging means I can be relaxed and unworried about damaging my velvet fabrics.
Misconception 3: Velvet marks easily
In my front room are 3 velvet chairs a velvet sofa and velvet cushions. We haven't spilt any liquids on them yet, so I can't personally speak about mopping up spillages on them. Apparently, any marks left when spillages dry depend on the type of fabric your particular velvet is made of. Many velvet fabrics in various mixes are pre-treated with stain repellents to make accidents and spillages more manageable.
There is a thing unique to velvet which is called "bruising". This happens when pile ruffles up causing it to appear darker, hence "bruised". Not a reason for concern, this bruising phenomenon disappears after a while or you can brush it off with your hands to calm the ruffling. This uneven tone of velvet helps with any imperfections caused by marks and stains.
My Gorgeous and Glamorous Velvet cushion is made from black velvet fabric with beautiful floral prints. Being black, I don't notice the bruising, though I wouldn't have minded that at all. For me, it just adds to the authentic charm of velvet.
Now that we have those 3 main misconceptions out of the way, I'd like to go into the 3 reasons why you should go for velvet.
1. VELVET AGES WELL
When it comes to style, velvet ages superbly well. In terms of wear and tear, yes eventually velvet will not look brand sparkling new anymore. But, like fine wine, velvet looks better aged. Velvet is a fabric that is able to retain its history and tell stories of its journey. In other words, it has enduring charm.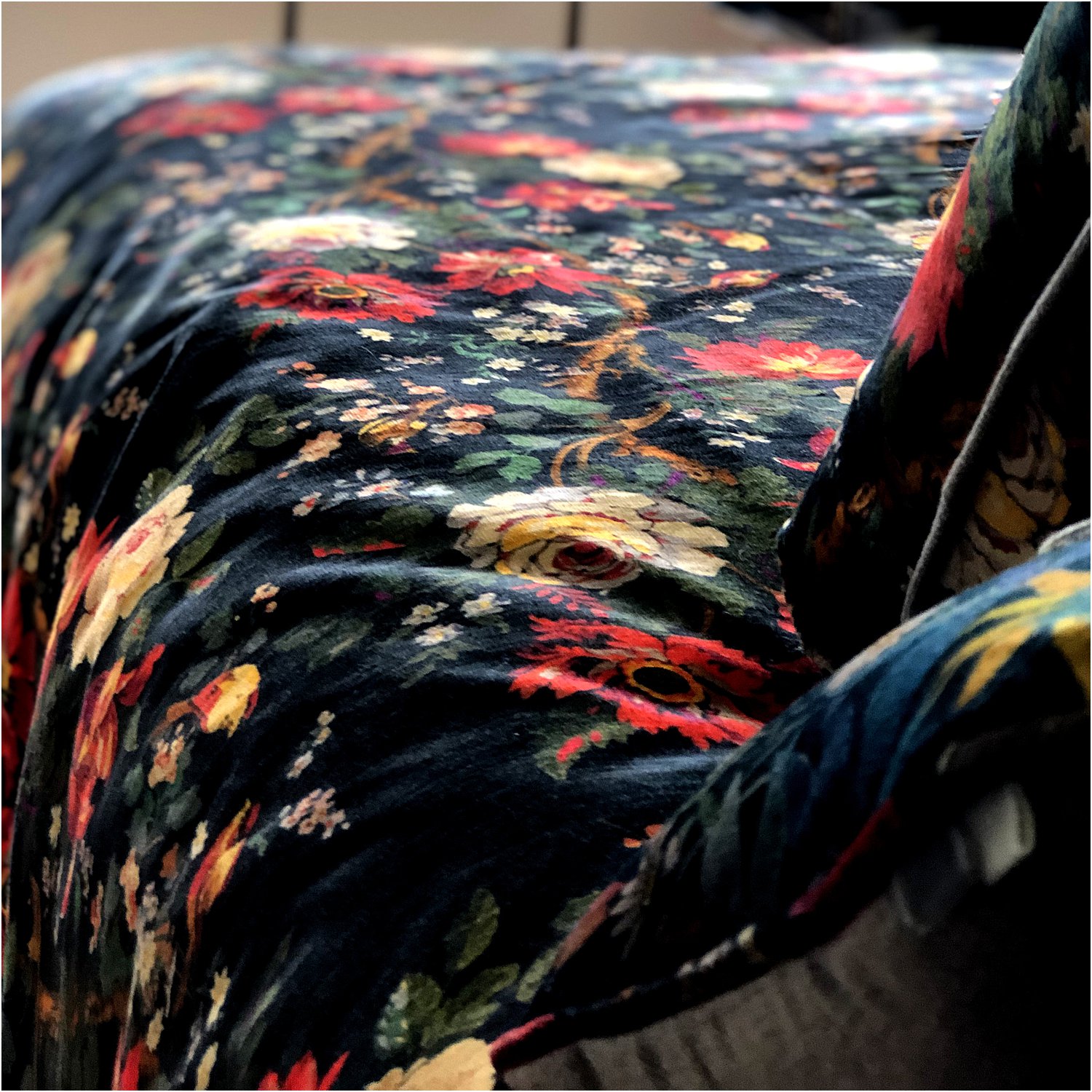 This is the velvet SUKI quilt that Liz made with the same Liberty fabric. Imagine yourself snuggled up under this luxurious blanket. Because of velvet's insulating properties, it is also used as blanket and quilt covers. We commonly see velvet bedspreads nowadays but not so much quilts. Velvet quilts are used whether in between sheets and duvets or on its own. Having a velvet quilt would be an absolute dream come true for my bedroom.
2. VELVET IS VERSATILE
I mentioned I have 28 velvet cushions. Some of these cushions are full velvet, some have one side velvet and the other side silk, some have cotton or cotton-mix on the other side. Velvet looks great juxtaposed against other fabrics, especially linen.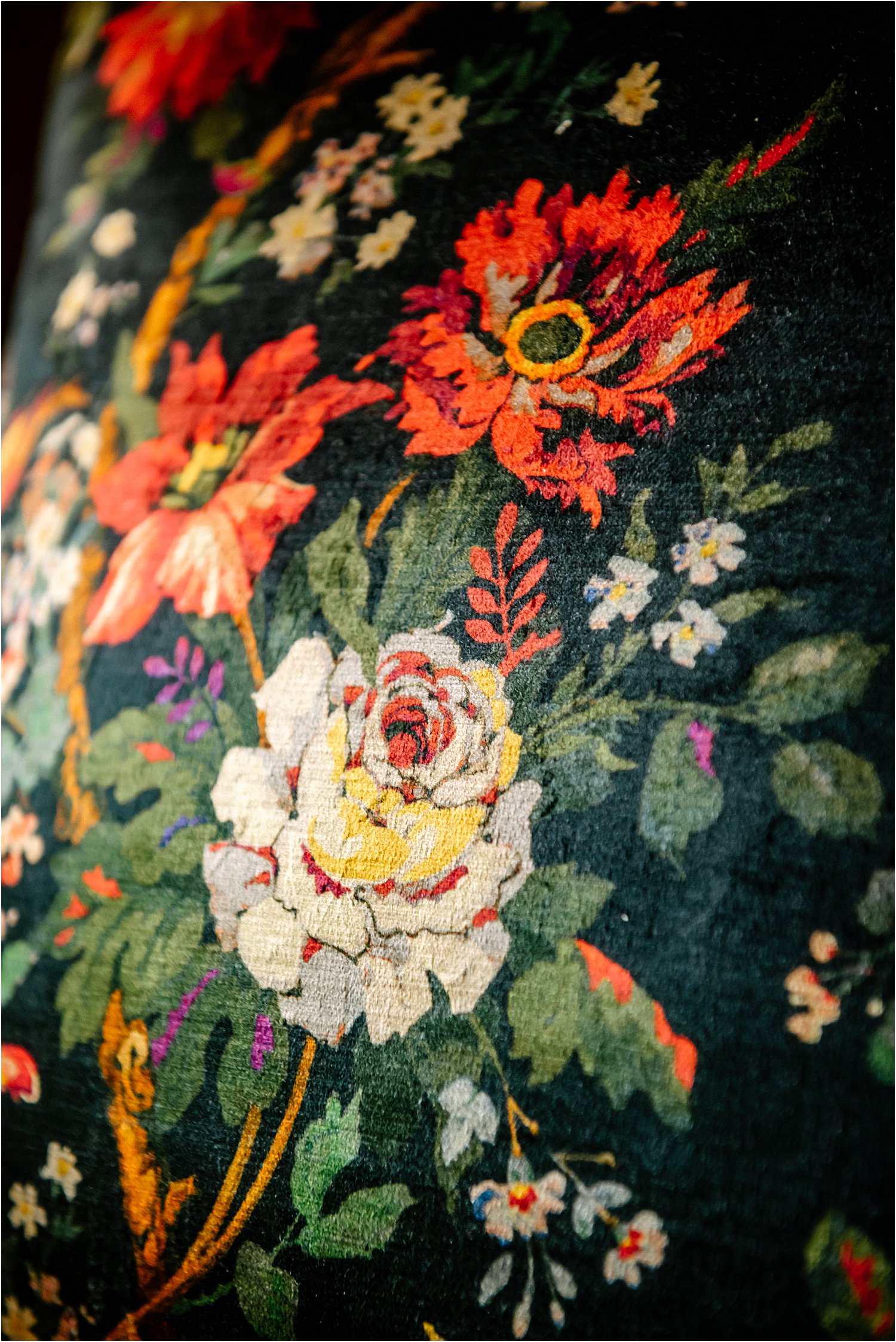 My Gorgeous and Glamorous velvet cushion is linen on the other side. Made of flax plant, linen is stronger than cotton lending itself wonderfully to furnishings as a long lasting material. It is naturally moth resistant, has antibacterial properties while still being absorbent and breathable so that it keeps cool against your skin. It is resistant to pilling and is good for sensitive skin with qualities that lend itself towards being hypoallergenic.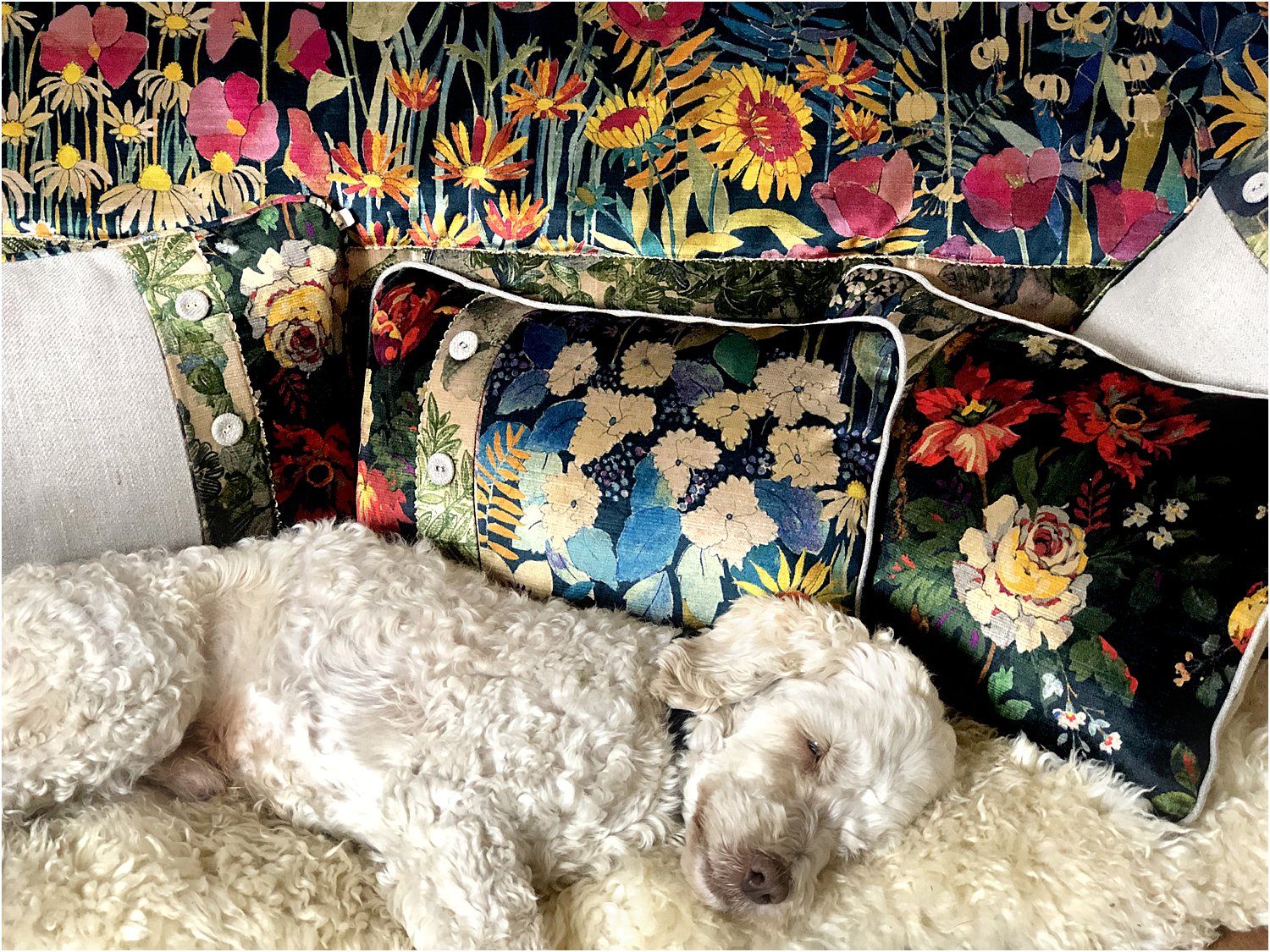 Personally, I love mixings patterns and textures and this Liberty cushion velvet-linen mix is utter perfection. I have been told that the florals from this particular design is a reflection of Liz's passion for growing her own stunning cut flowers in her railway cottage.
3. VELVET ADDS AN INSTANT TOUCH OF LUXURY
Regardless of the interior style, colour or space, velvet never fails to add a touch of instant luxury. What's better than luxury is the feeling of cosy that comes with velvet, that homely vibe that makes you want to hunker down and snuggle up after a long day. The bold florals only accentuate this charming elegance and vintage feel. It's like being welcomed into a big warm hug!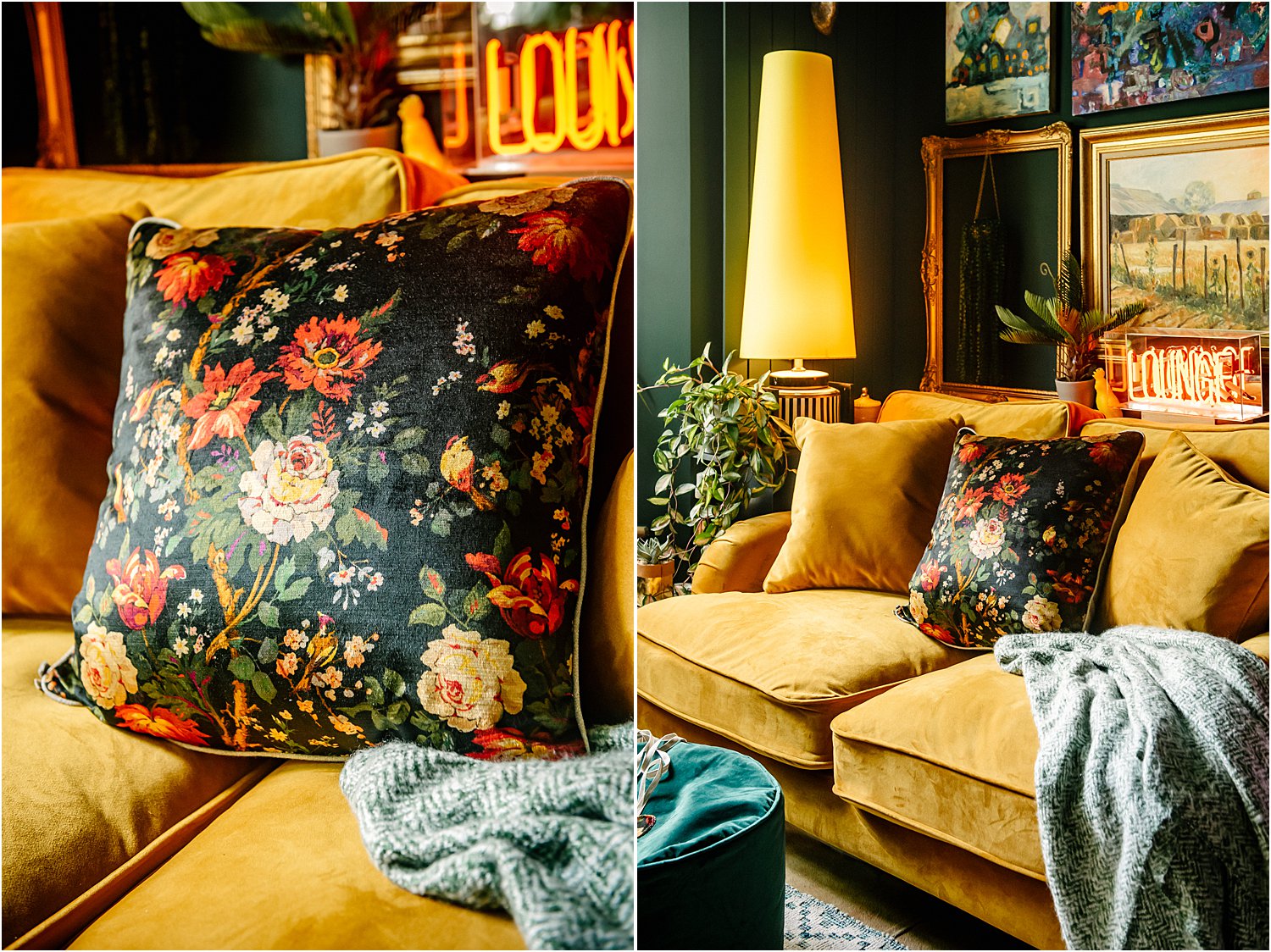 The entire Velvet Linen collection has a charming hint of the theatricals, with a touch of home spun, and a glamorous tactile elegance. Combination cushions and Velvet Linen's mix and match accessories were designed to evoke the complete essence of a Velvet Linen Home .
A note on sustainability.
Velvet is the name for the structure of the fabric and not the raw materials it is made from which can be a variety. By choosing natural materials sourced responsibly, choosing to recycle, making off-cuts into cushion covers, seat pads, pouffes, decorations such as this velvet heart that Liz makes into a charming garland, we save the planet from the disposal of unused velvet.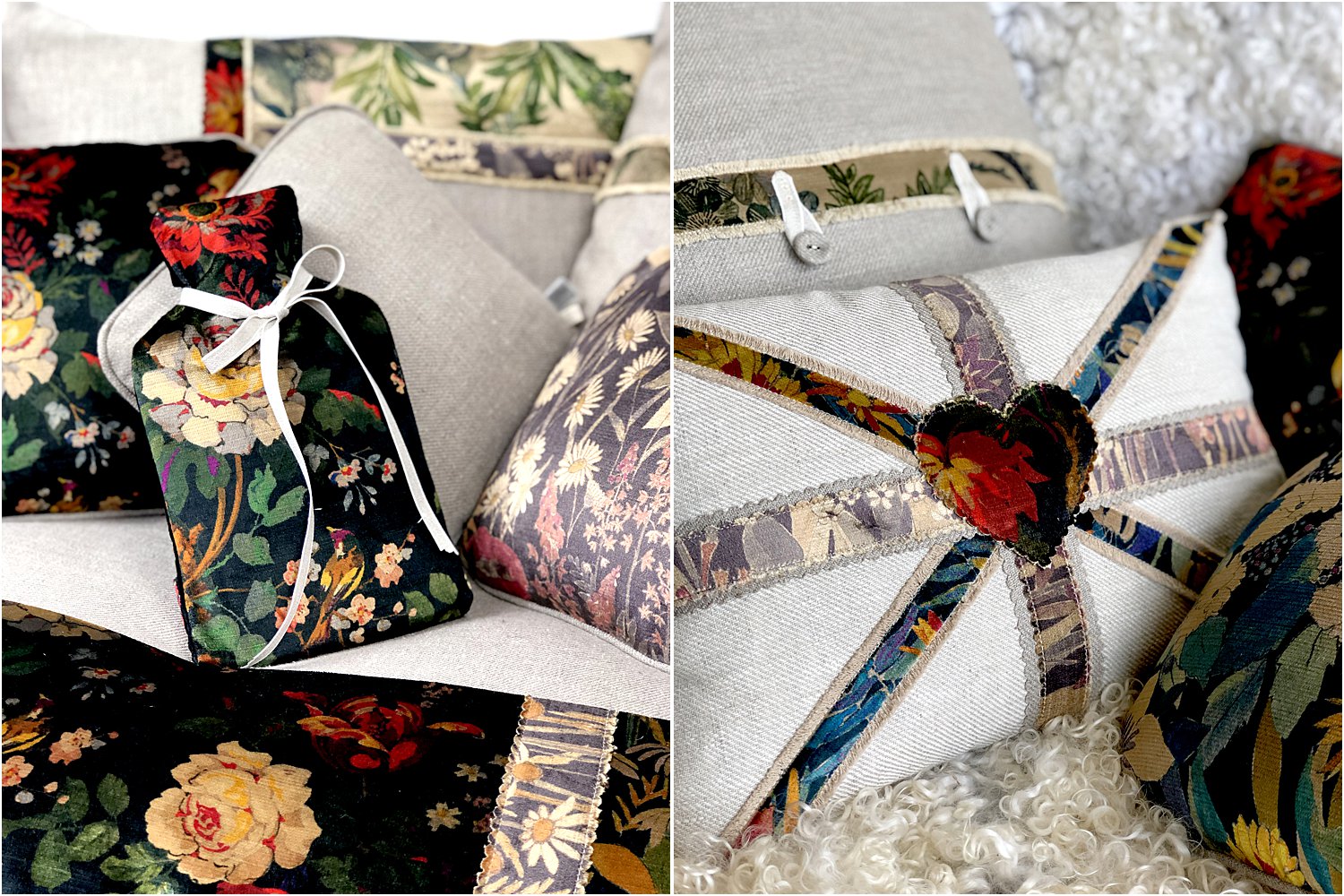 Velvet Linen strives to be as environmentally friendly as much as possible and are very careful in their cutting practices in order to be low waste. Their combination cushions and happy hearts were designed with this in mind- to use every last bit of fabric and keep as much out of landfill as they can. Case in point, look at this photo of the Combination Cushion that shows how Liz uses various materials wisely to avoid waste. As a matter of fact, Liz utilises very last inch of fabric and makes them into beautiful products such as organisers, needle cases and hot water bottle covers!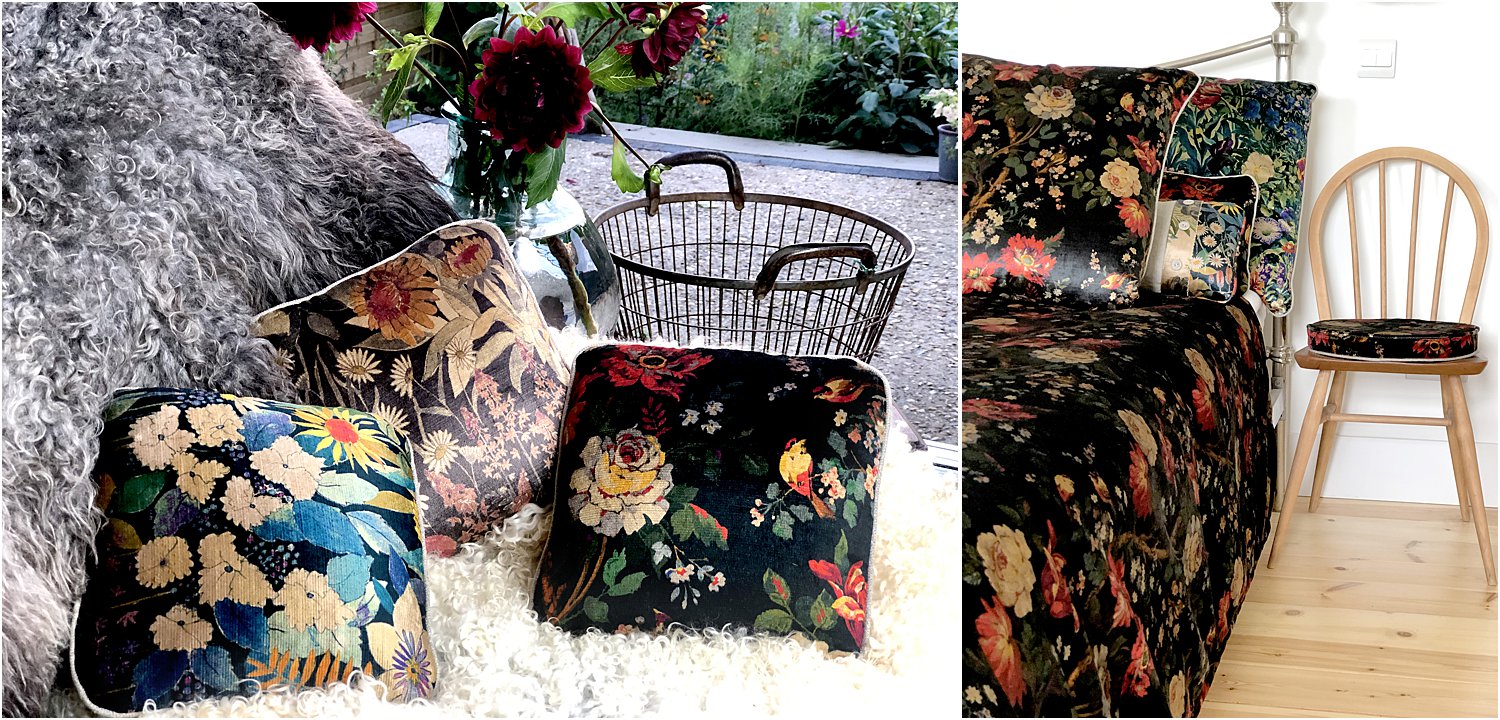 Liz tells me that everything at Velvet Linen is made to order and is 100% British and British-made. Feathers for the cushion pads and cushion inserts are strictly and responsibly sourced using British companies – locally made as much as possible- which has also allowed Velvet Linen to support local workers and factories. All production is done by an expert team of local makers in their workroom in the countryside of East Sussex.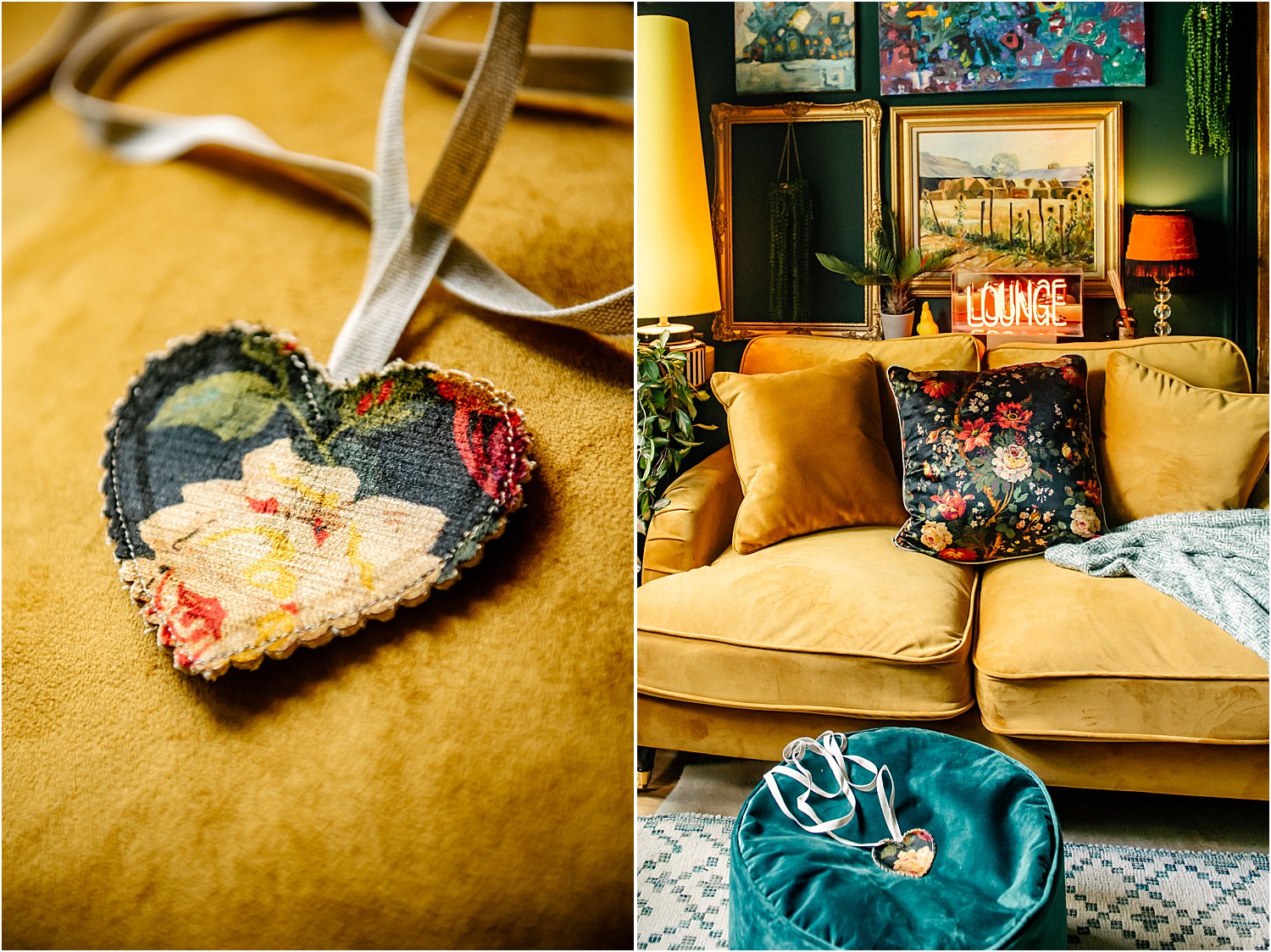 It is also well-worth considering the qualities of linen. Liz tells me that the flax plant is resilient and can grow in poor soil and requires far far less water to produce than cotton. One hectare of flax can regain 3.7 tonnes of carbon dioxide. When grown in the ideal environment it requires no irrigation, no fertilisers, no herbicides or pesticides, leaving behind no pollutants and helps to regenerate the soil. It requires little energy to process and all elements of the plant can be utilised into useful products to create zero waste.
Liz sources her 100% linen from a UK business with a focus on celebrating natural fibres and sources from best factories in Europe and overseas.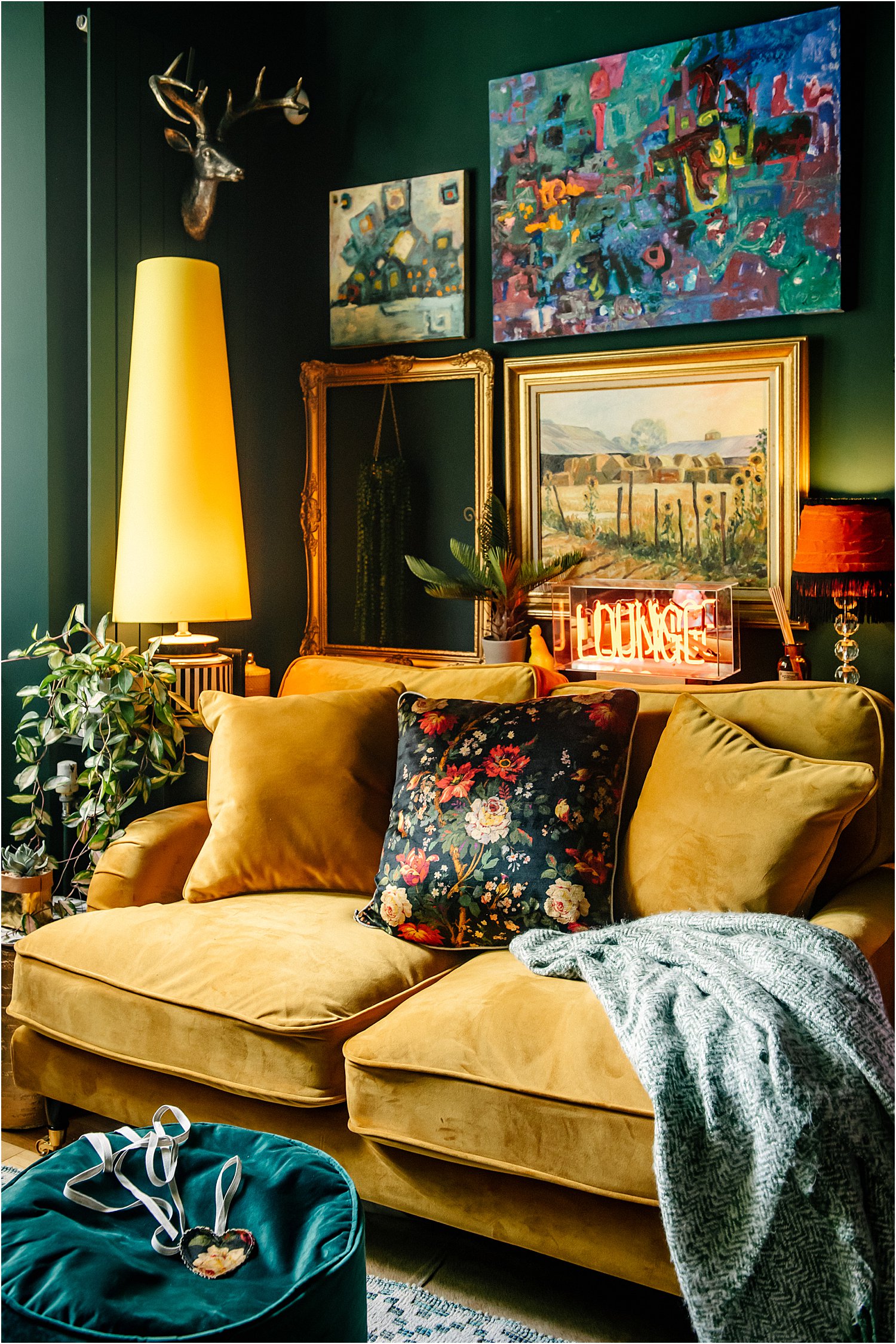 How to care for your velvet fabrics
Liz gave me expert tips on how to care for my velvet fabrics.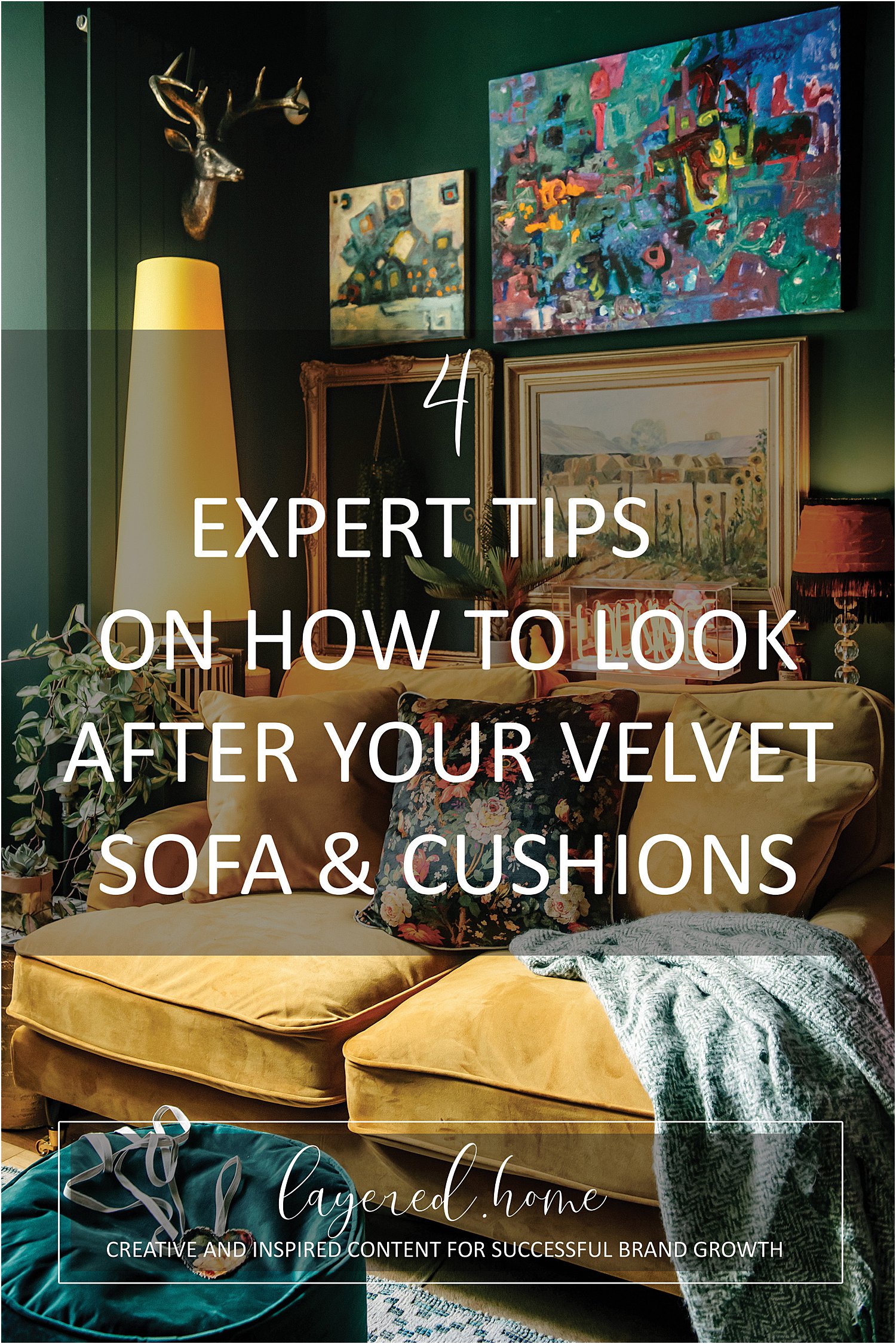 Keep velvets out of direct sunlight to stop them from fading.
To keep cushions looking incredible, flip and fluff them regularly.
For any dry messes or dust- gently brush velvet in the direction of the pile with a soft clothes brush.
When it comes time for a thorough clean, dry clean only in order to extend their life for as long as possible.
Now I understand why velvet is all the rage. Come to think of it, velvet has always been all the rage!
I hope you enjoyed this article on 3 Reasons why you should choose velvet upholstery, cushions and sofas.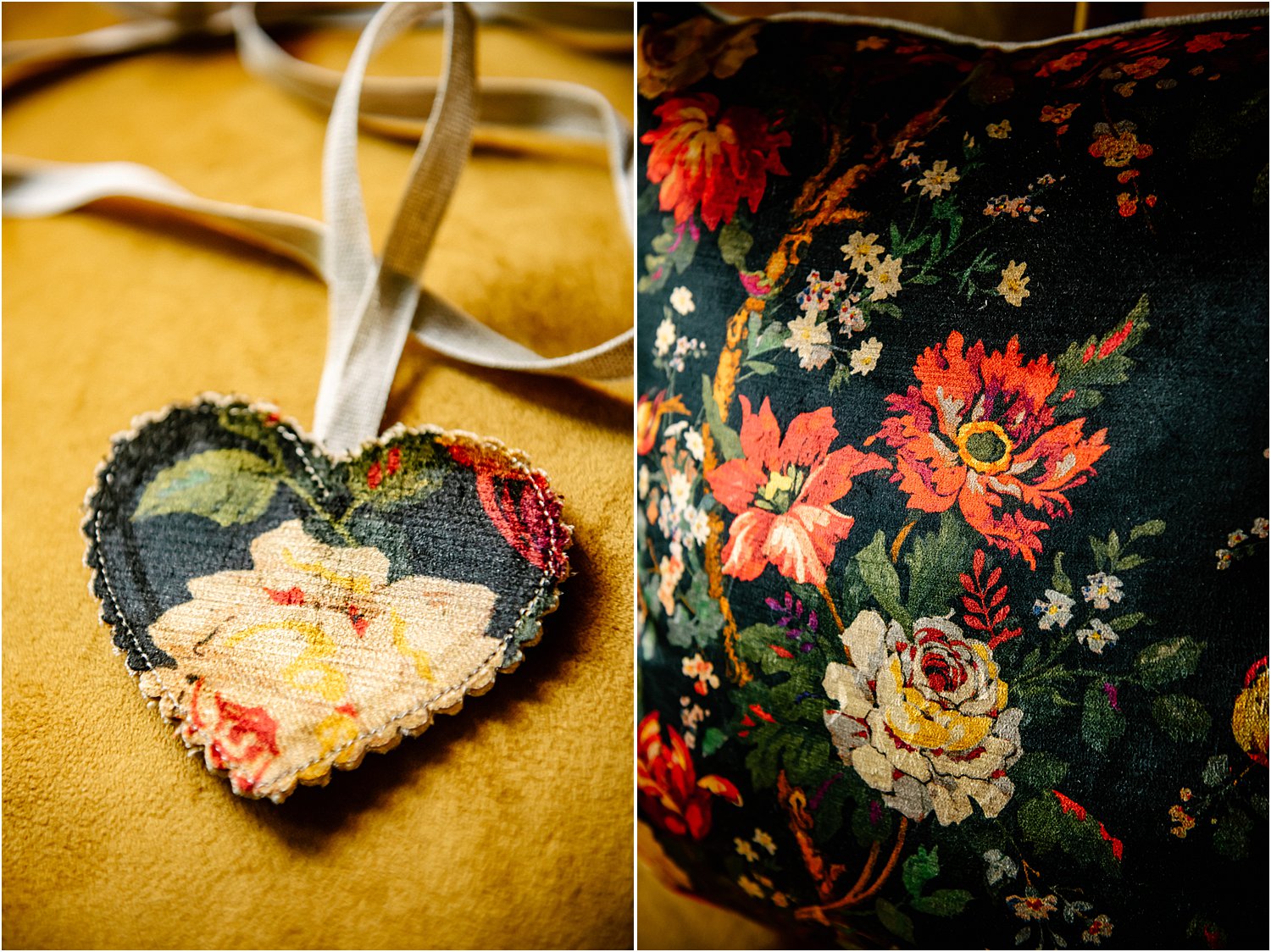 Whilst this is a sponsored blogpost by Velvet Linen, all opinions are my own. Previously gifted items seen in these photos include the velvet sofa, pouffe and rug runner from Dunelm, herringbone thrown from Furn, light from Cottrell and Co.
Don't forget to download my free resources that will help you design your own interiors and grow your Instagram account! Let's chat on Instagram and follow me on layered.home for more inspiration.