Brightening up my dull and dark house front took me 7.5 years. Finally, I can now share my 3 Steps to an eco house front makeover!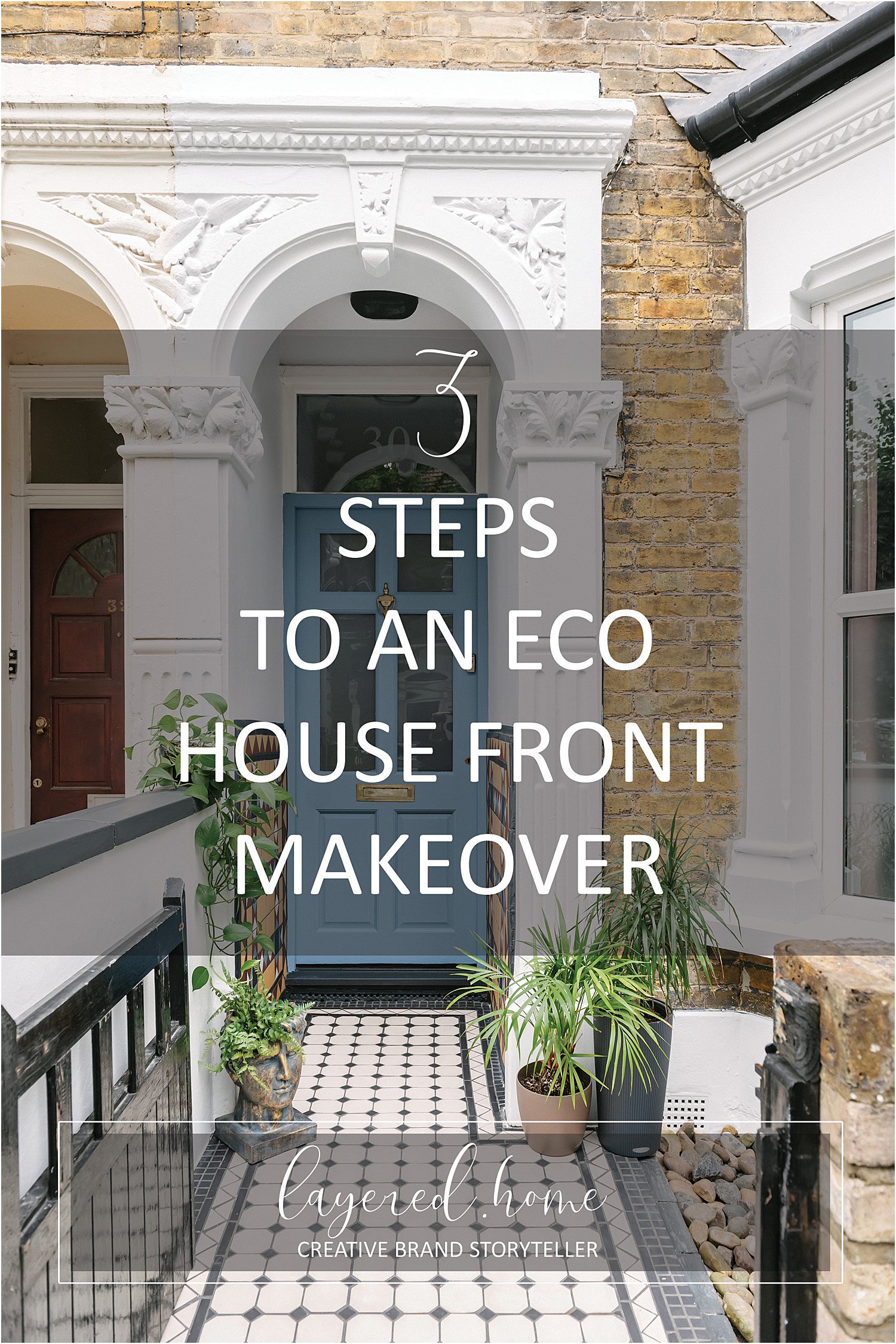 We bought our Victorian mid-terrace house back in 2014 already painted in yellow with a black door. The small front garden had black slate tiles and some red, possibly original, Victorian tiles on the porch area. It wasn't that bad other than the flaked and cracked masonry, dirt and dust and some broken path tiles. The trouble is that the house is north-east facing and gets very little light. The result is a dull and dark house front all year round.
On top of that, the white UPVC windows continue to bug me. The masonry painted in yellow only served to highlight these plastic window frames.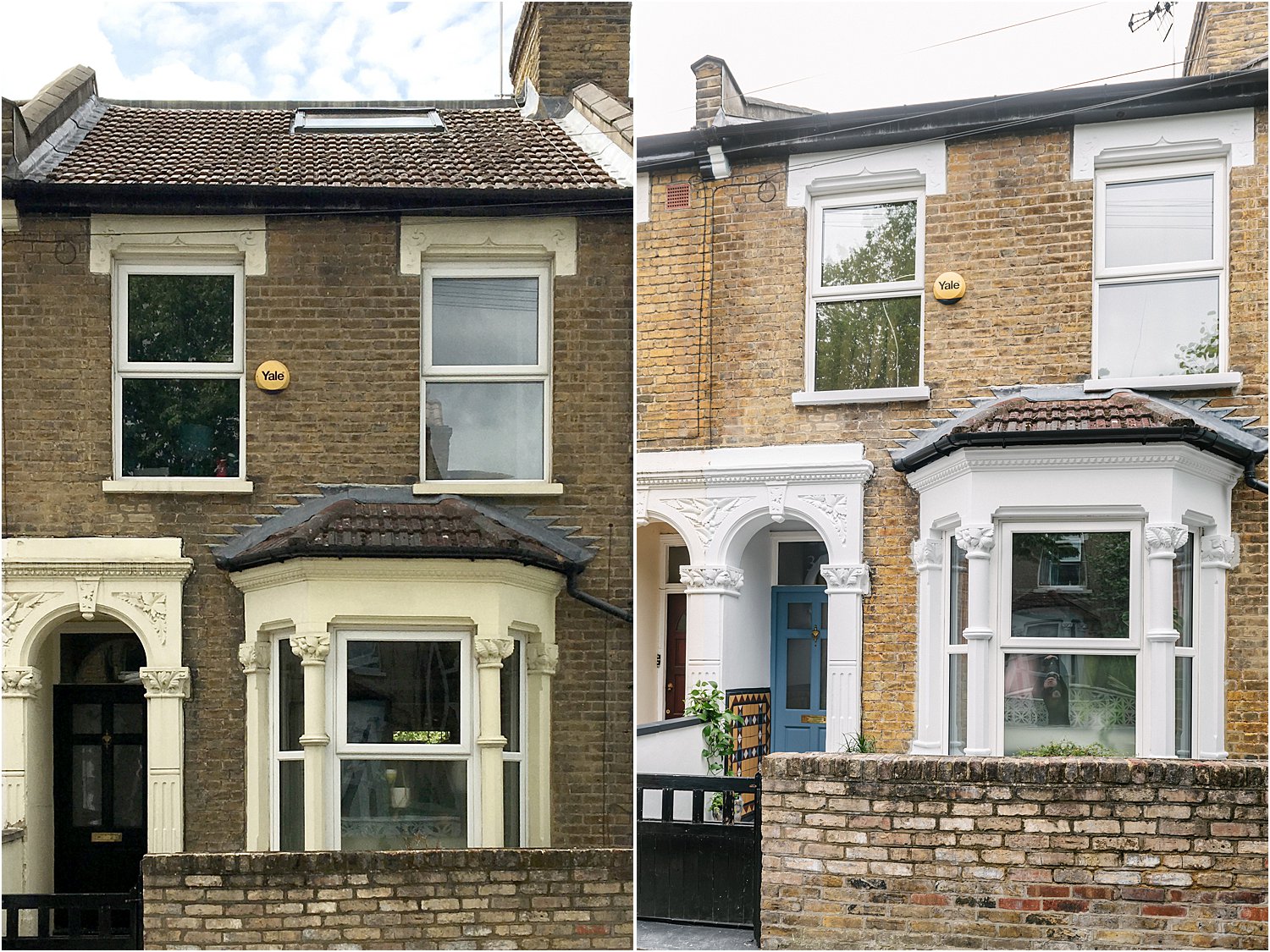 We have done a lot of work inside the house in terms of cosmetic decoration and have also added a loft conversion. The house front wasn't an immediate priority but something that has been staring at me from my to do list for what seemed like forever.
Finally, this summer I was able to tackle this long overdue project starting with re-tiling the path and porch and finishing with the repair and repainting of all masonry.
Here are my 3 Steps to an eco house front makeover.
1. DIY TILING
Using Victorian style tiles for a restoration project is a more economical option compared to sourcing original Victorian tiles which are eye-wateringly expensive.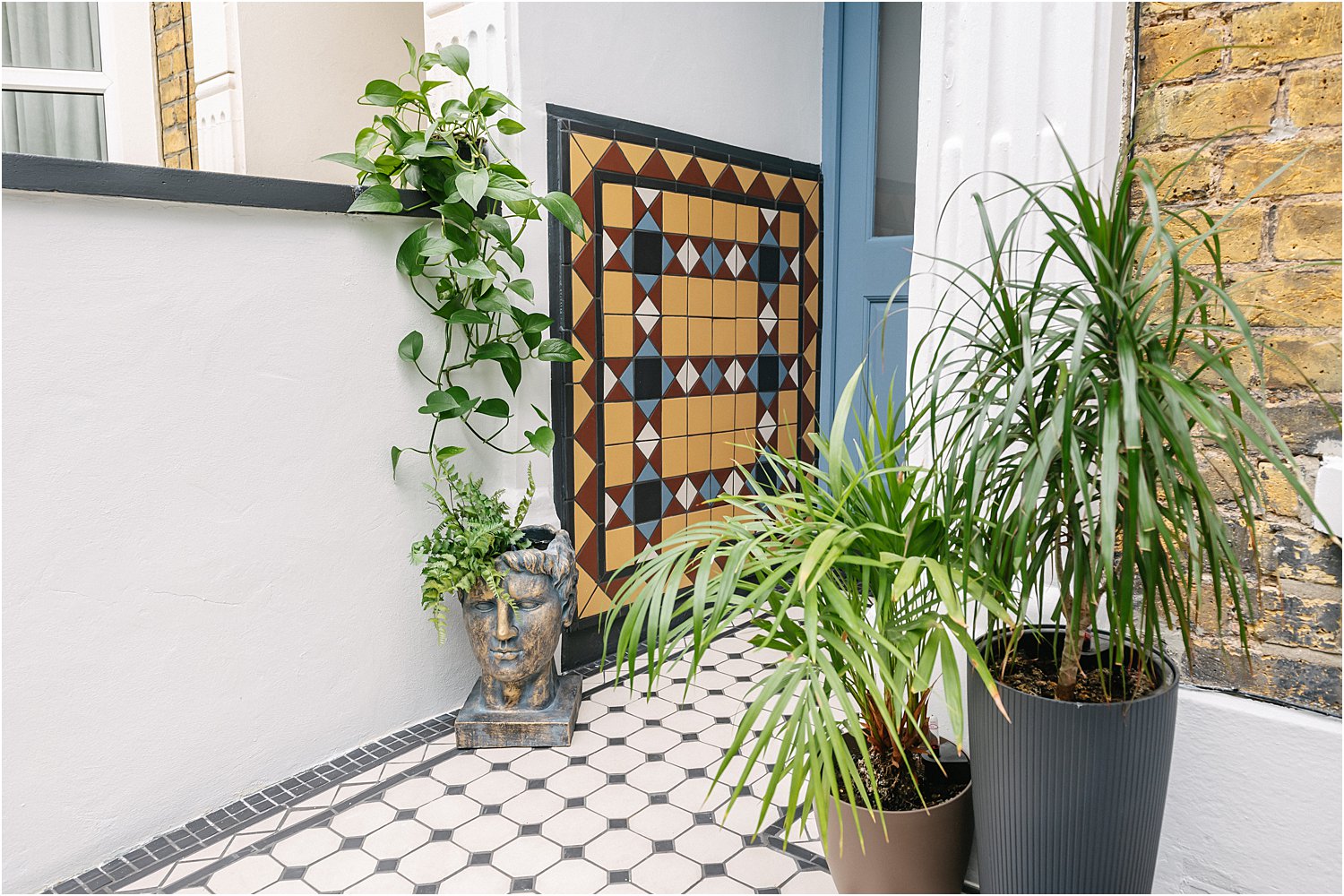 After being quoted insane amounts for labour costs, we decided to do the tiling ourselves. Some builders wanted to remove the old tiles, pour new concrete and lay the new tiles on top. However the tiles were solidly stuck to the ground and provided a stable base. We felt that laying the new tiles on top would be a more eco way of going about it by saving the old tiles from landfill and avoiding the unnecessary laying of new concrete.
I was fortunate enough to work with Tile Giant for this tiling restoration project and used their Redland Border, Redland Pattern Mosaic and Redland Corner for the porch walls. For the path I used Clifton Border, Clifton Corner Black and White and Victorian Octagon White and Black Dot Mosaic
If you are planning any outdoor tiling work, I would suggest choosing porcelain tiles over ceramic ones as they are hardy whereas ceramic tiles tend to chip easily. For this project, we hardly broke or chipped any tiles other than tile waste from cutting with a tile saw.
2. JETWASH YOUR HEART OUT
Once again I had very expensive quotes from tradesmen on the house front paint job. I guess that's part and parcel of being in London – many overpriced trade. I decided to do this myself with the help of a friend who knows his way around these things.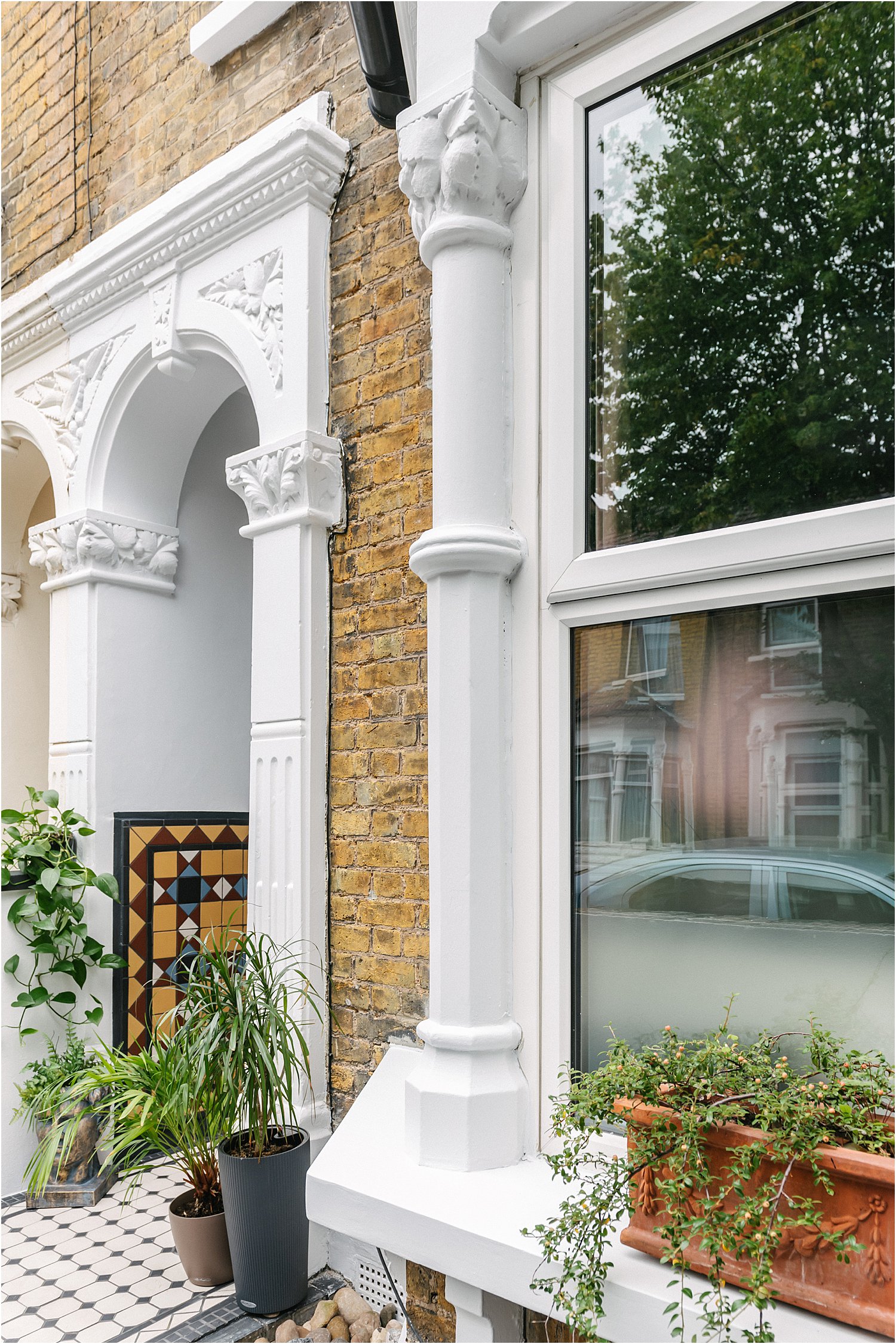 But first, I jetwashed all the masonry and some of the bricks – being careful not to damage the pointing too much. The dirt that washed off was pretty shocking – decades of grime made the water brown! I didn't add any chemical to this wash – just plain water did the job and didn't cost me a penny. It was also a supremely satisfying job. Mind you, any jetwashing job is satisfying!
3. USE GRAPHENSTONE PRODUCTS
When I was jetwashing the bay windows, old cracked and peeling paint came off in large chunks I was able to just lift them with my hands. This required a thorough repair job.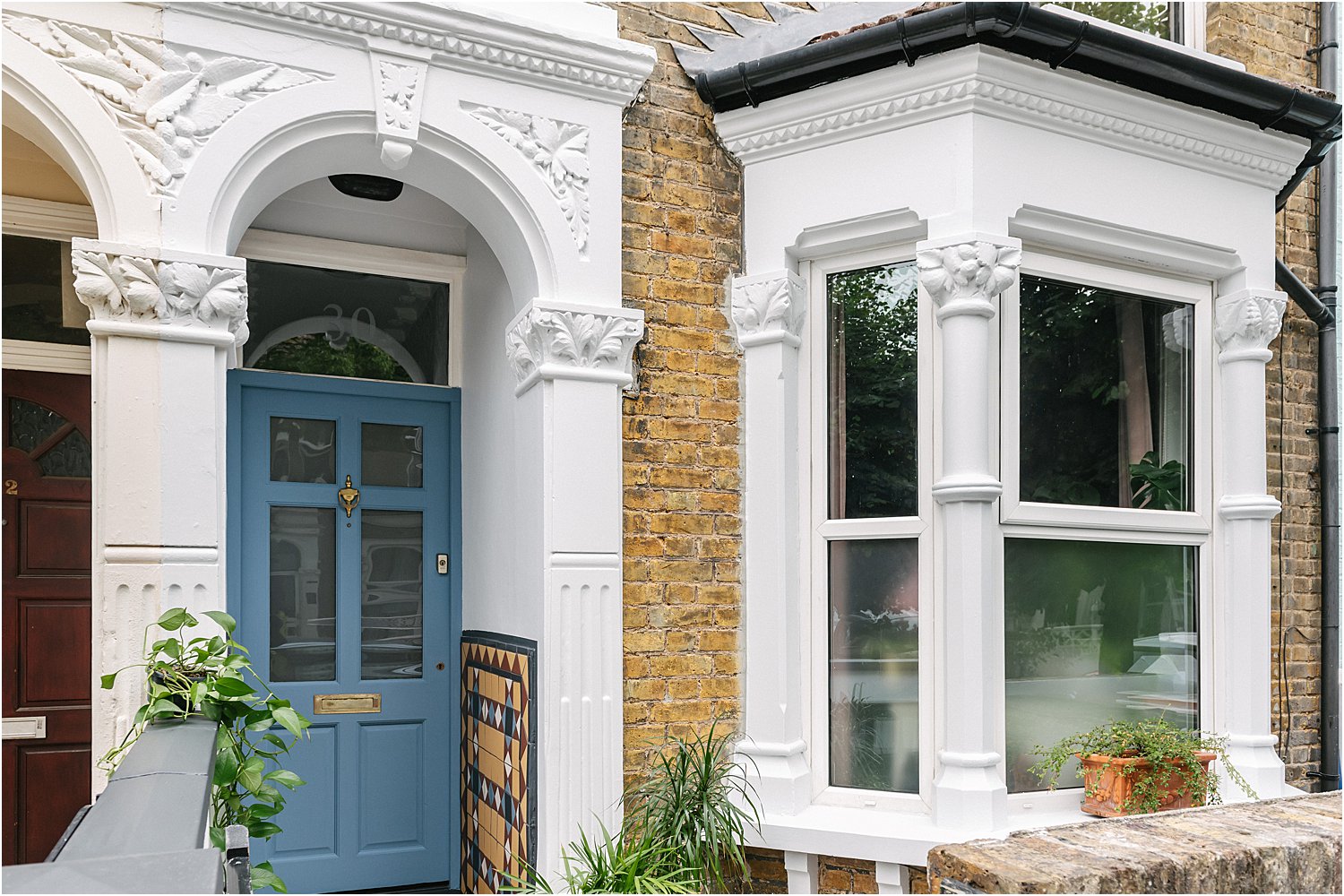 I am delighted to be working with Graphenstone whose products are 100% eco-friendly and sustainably certified. Not only do their products prevent further damage to the environment, they actively purify the air, improving our planet. No VOCs, or off-gassing, as a matter of fact, it's the REVERSE! Using their lime ranges is actually purifying your air.
For my bay window repairs I used Graphenstone Eco Putty which is all natural, breathable and free of VOCs. And for the much finer cracks I used Graphenstone MinerMastic which is a natural wall filler for interior and exterior use with great sandability.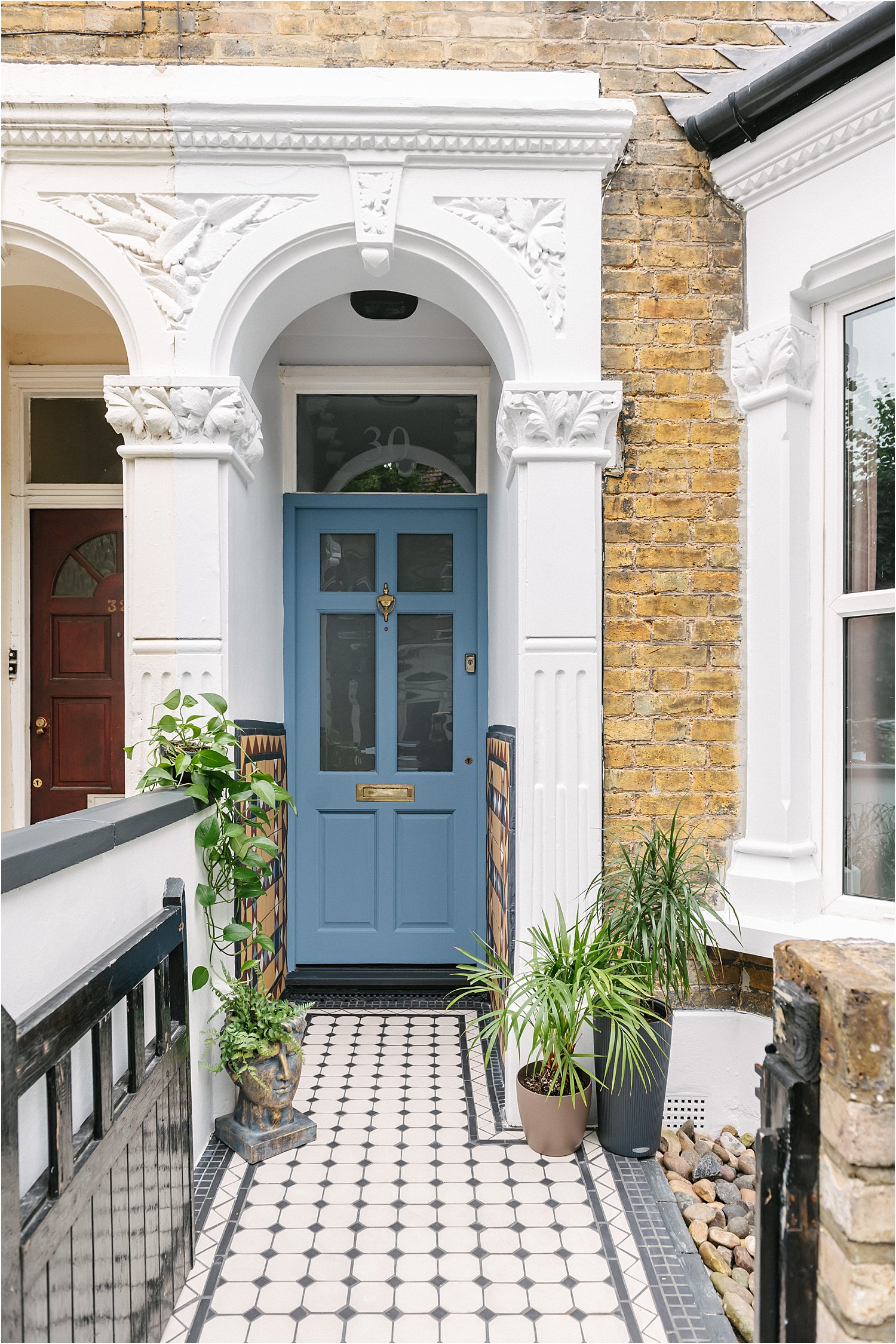 With the masonry all repaired, it was now time to paint. But before that, a primer is needed to ensure good adhesion and longevity. But most importantly, using a good primer reduces the amount of paint needed. I used Graphenstone Ambient Primer.
This made the surface well-prepared for painting and so much easier to paint as well. Not only did it reduce the amount of paint required but also painting time was considerably much faster because the primer made the surface so easy and receptive to paintwork.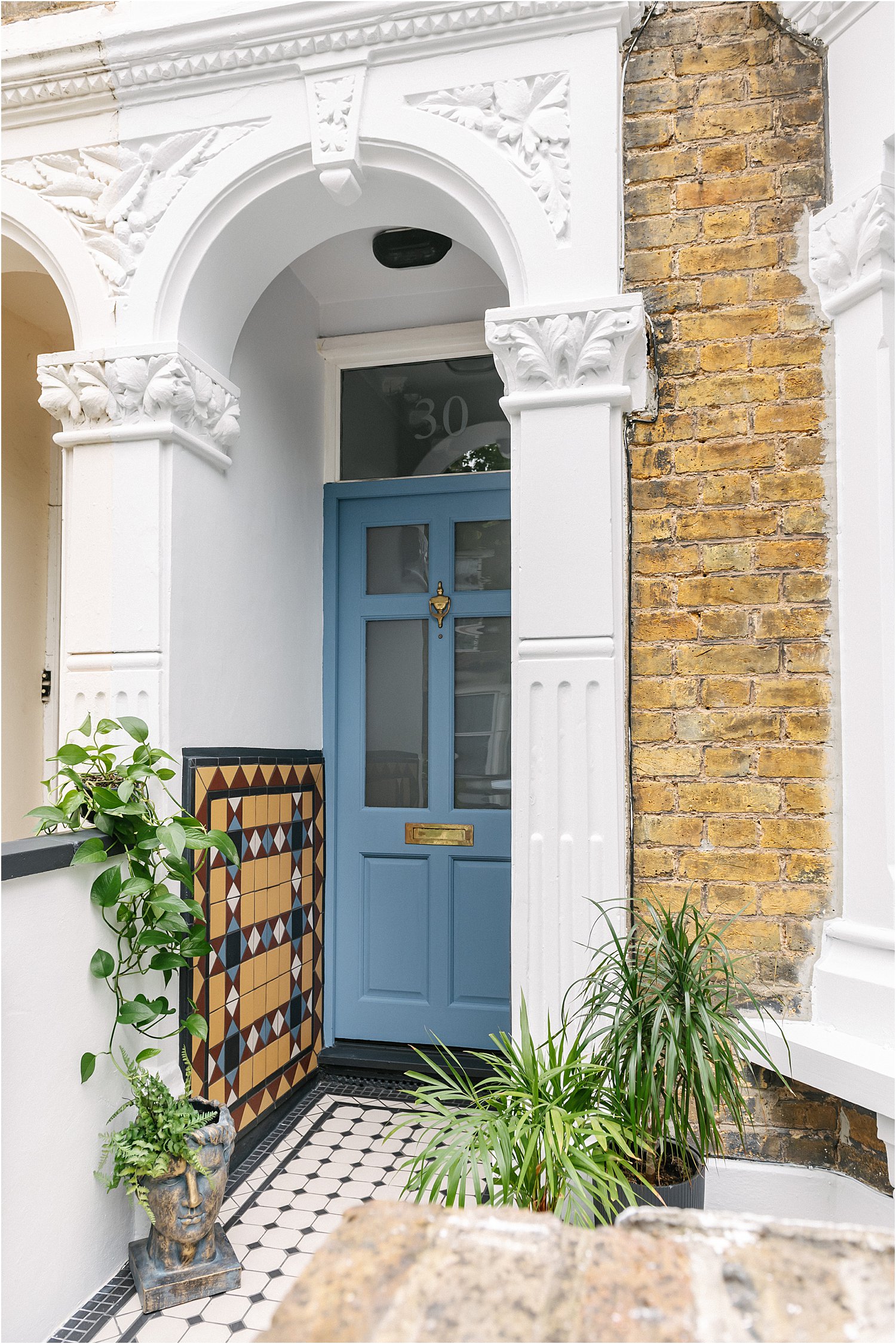 Finally, the paint! I tested a few colours before deciding on one and went for GrafClean MidSheen Pearl Barley – an off-white tone that is neither too warm nor too cool. It was also a close-enough colour for my inherited white UPVC windows to blend in nicely with the entire painted exterior.
Graphene technology is the secret ingredient in Graphenstone products. Graphene fibres make their products super strong, enhancing durability and longevity. Graphene technology means that old trusted minerals like lime silicate, clay and chalk are now repurposed for the 21st Century, from brittle and weak to Class 1 strength!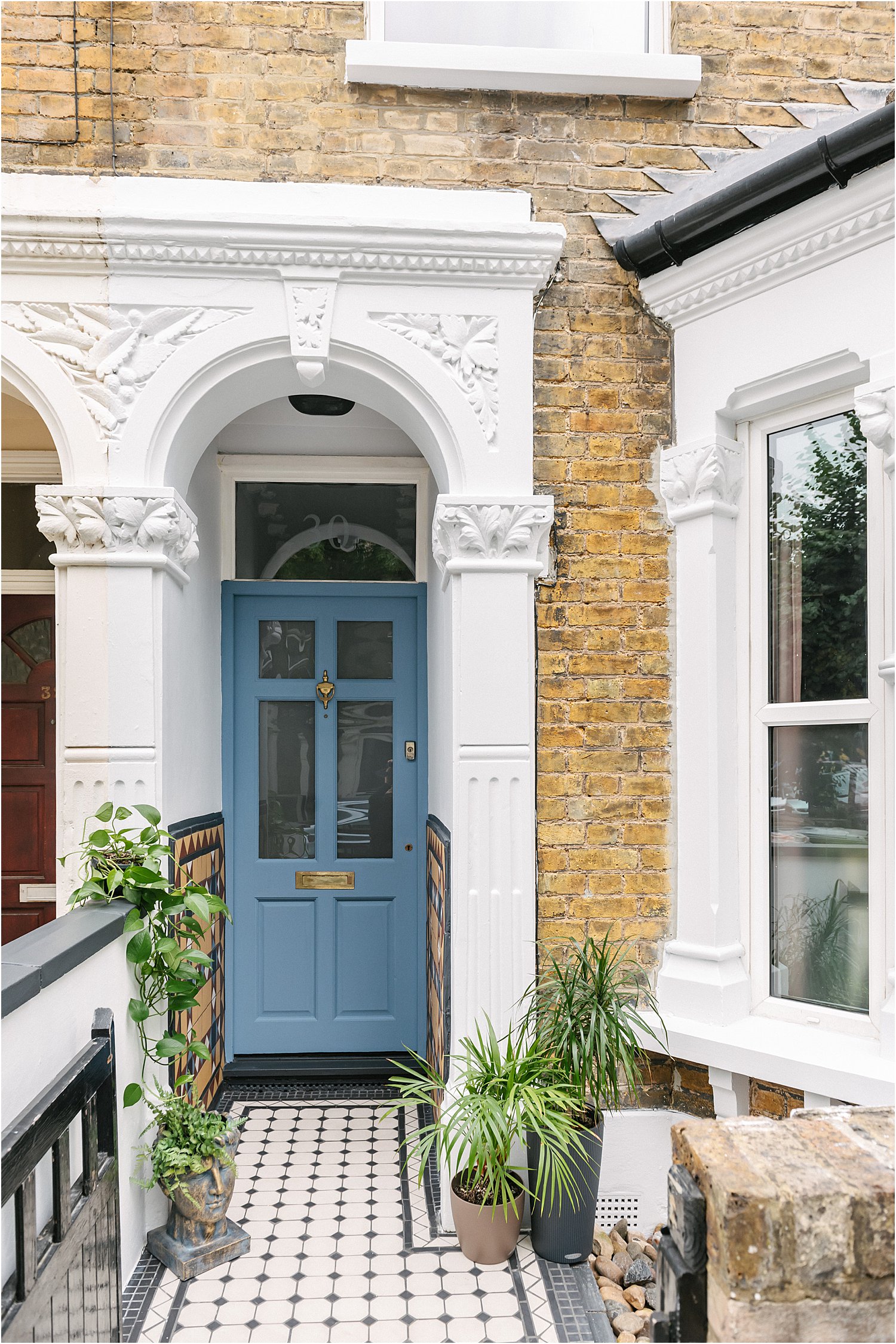 My friend who helped me with this job was so impressed with the paint quality and was happily painting away. I expected to use 5L of paint but we even have leftover paint from the 4L tub which covered all the white you see on here as well as the the inner walls on the opposite side of the brick wall and the wall adjacent both of which are not visible from a front photo.
GrafClean is breathable and can be used on interior and exterior surfaces. For the door I used Graphenstone GrafClean Blue Steel which picks up the blue from the porch tile design. This colour makes the frontage more welcoming and friendly and complements Pearl Barley well.
Graphenstone's range of 96 house colours uses rich organic and metal oxide pigments which offer great depth of colour. You can order a free colour card here.
I am super impressed and delighted with Graphenstone products. The products I have mentioned above cost only around £150 which is amazing value for the highest quality eco-friendly products. No plastic, no micro-beads, no petro-chemicals, all just natural materials. They don't stop there either – all packaging materials are 100% recycled and recyclable. This is total commitment to the planet!
If you have been planning to refresh your house exterior, I hope this blog post has inspired you to go for it and to use eco-friendly products like Graphenstone.
This blogpost is part of a paid partnership with Graphenstone. As always, all opinions in this article are mine and are true. Follow Graphenstone on Instagram for their latest updates.
Don't forget to download my free resources that will help you design your own interiors and grow your Instagram account! Let's chat on Instagram Layered.Home and together get inspired!