In my one and a half bedroom seaside flat, the living room is also used as a shared bedroom for my 3 children when we stay there. I decided to create a zoned area for my eldest so she can have her own nook. The other two sleep on the sofa bed.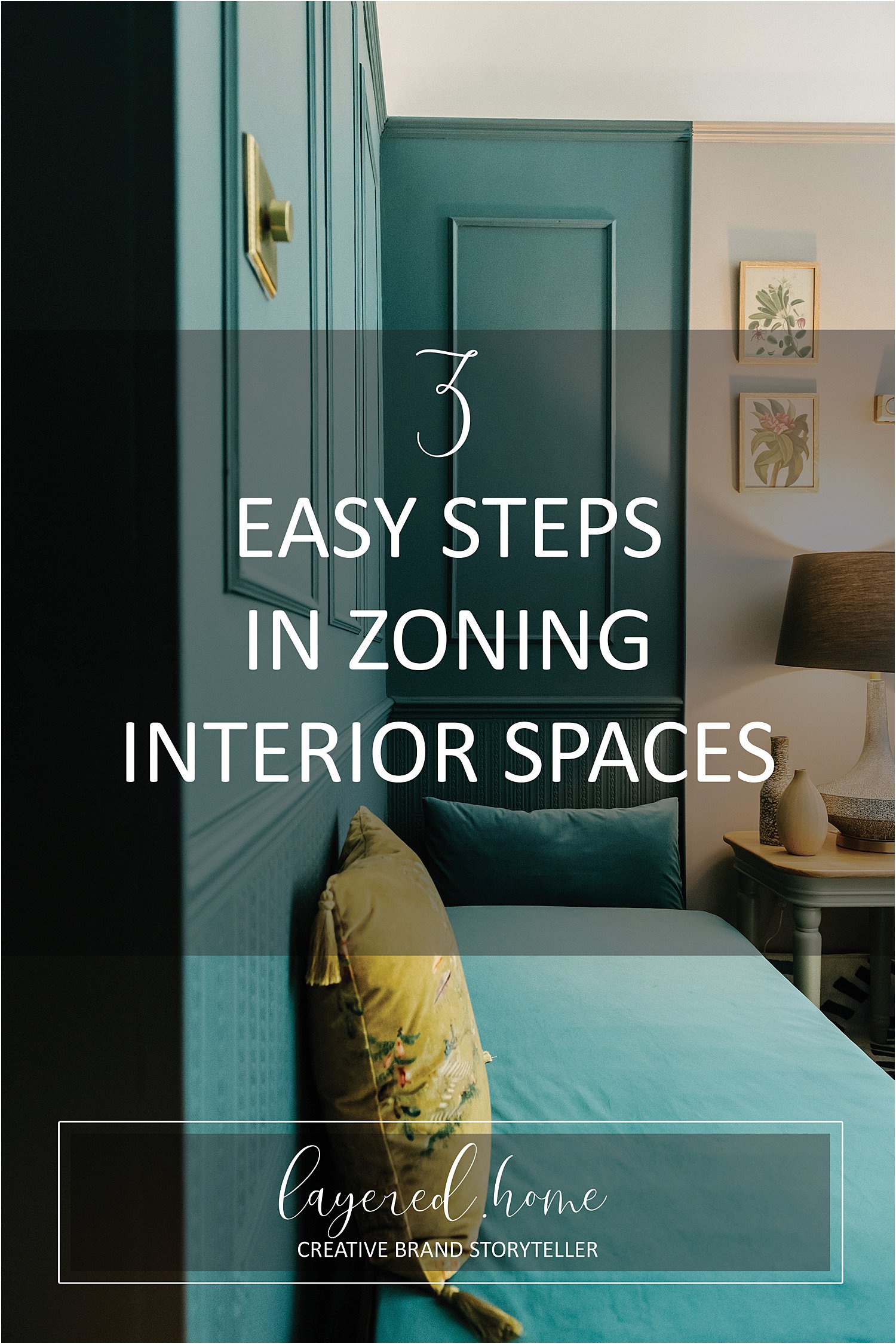 Here are my 3 easy steps in zoning interior spaces. It is an L zone where I separated one wall and a corner using paint and other decorative elements. I did this all by myself so if I can do it, anyone can!
But first, I created a plan. Planning helps me get ideas in my head onto paper via a moodboard. Here is my moodboard for the L-zone project.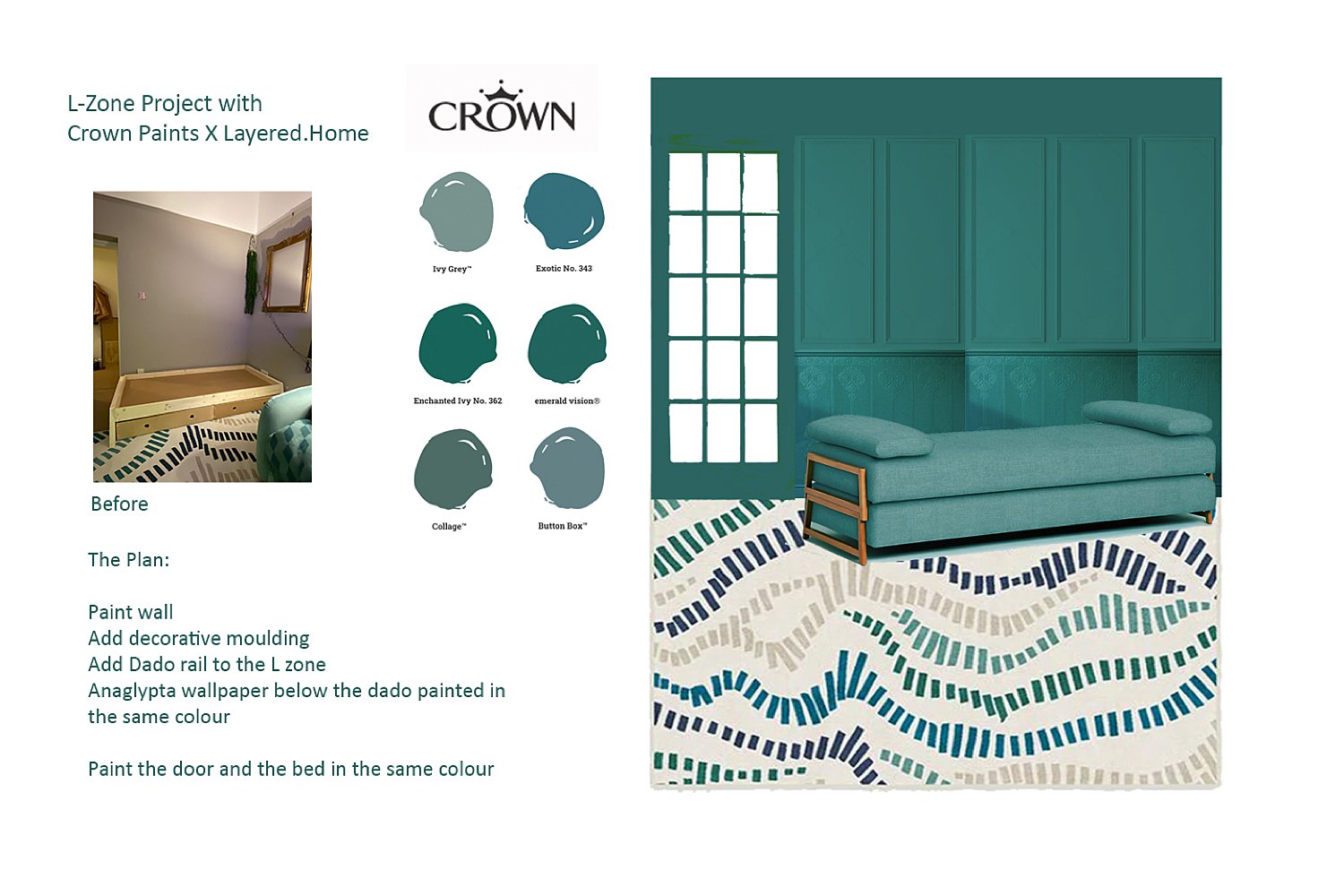 I chose Crown Paints when I found out that they have this new Crafted by Crown collection of paints which can be used on various surfaces. This would make my job very easy, not having to swap paint finishes as I will be painting a wall, wood and wallpaper in this project.
For this zoned area, I wanted an elegant classic period look and feel so it had to be strong and simple.
Below left is the plain wall painted in a clay colour showing the glossy varnished wood next to it which I painstakingly sanded and primed to ensure a good finish.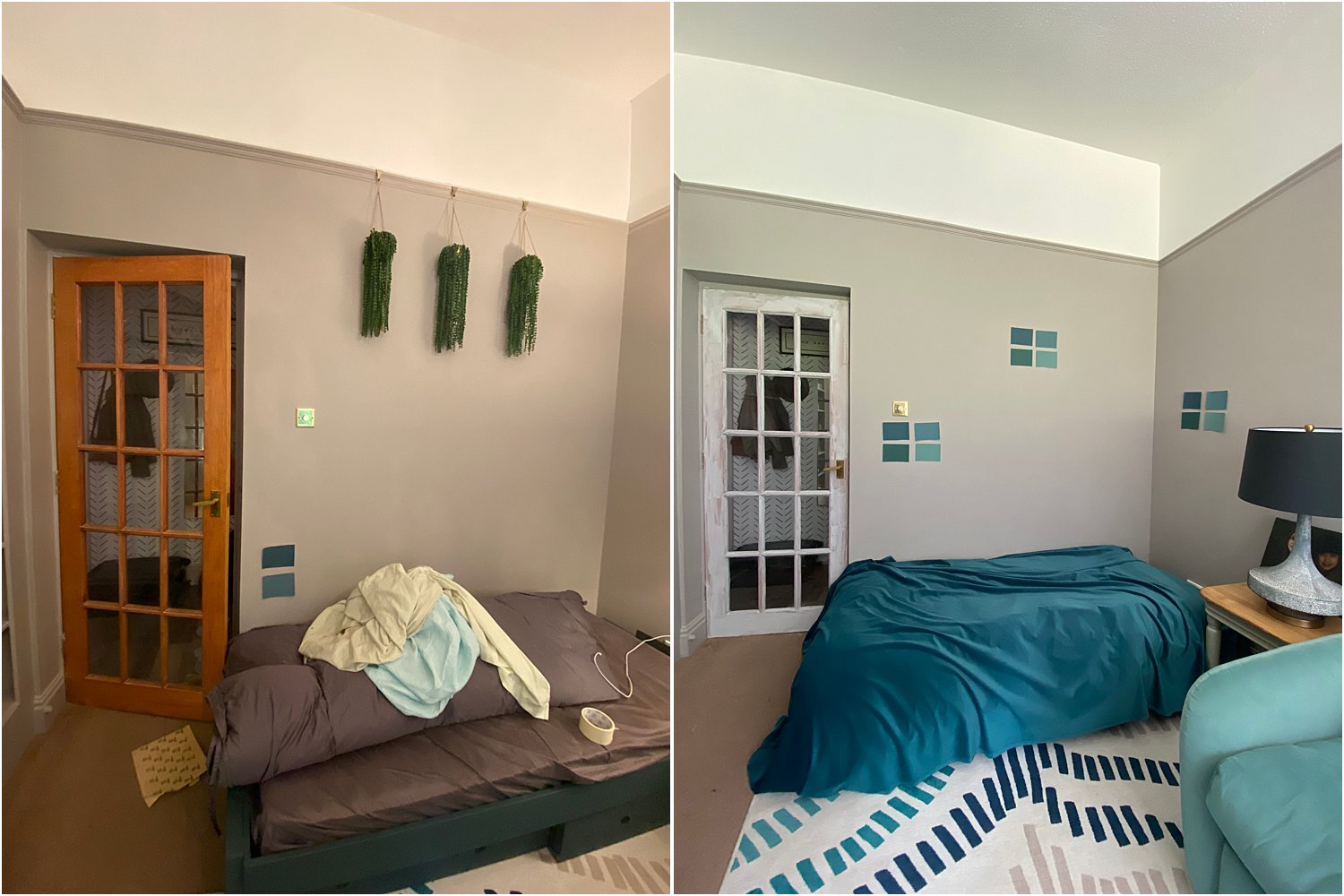 Traditionally, you'd need to use emulsion for interior walls and eggshell or gloss for wood finishes. There are various levels of sheen and I always prefer Matt. I was delighted to learn that Crown Paints do a Luxurious Matt finish that can be used for both wall and wood! Perfect.
I ordered swatches which came in little packs of a colour family. I had 8 tones and shades of green in the pack of Crafted By Crown 'greens' swatches.
Each colour swatch is an exact match to the paint as each swatch is made from the actual paint itself. Many other brands use digitally matched colour swatches, so with Crown swatches being actual paint, there is not an iota of colour variation.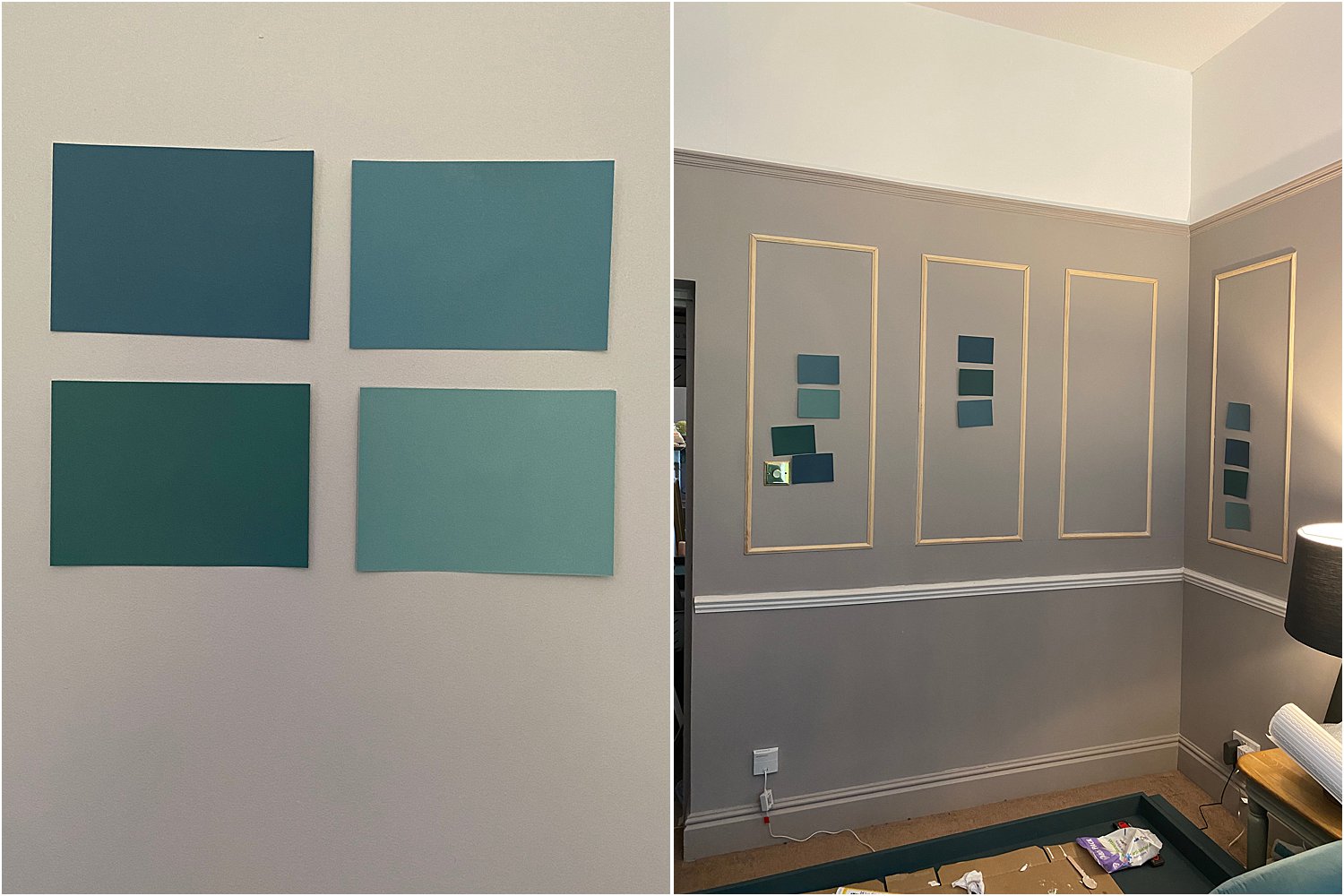 One of my tips when choosing paint is to put swatches on various parts of the wall as the colours tend to look different depending on the light the space gets. It was helpful to have these swatches on both walls and I took time in looking at them at different times of the day.
Without further ado, here's how I did it…
3 Easy Steps in Zoning Interior Spaces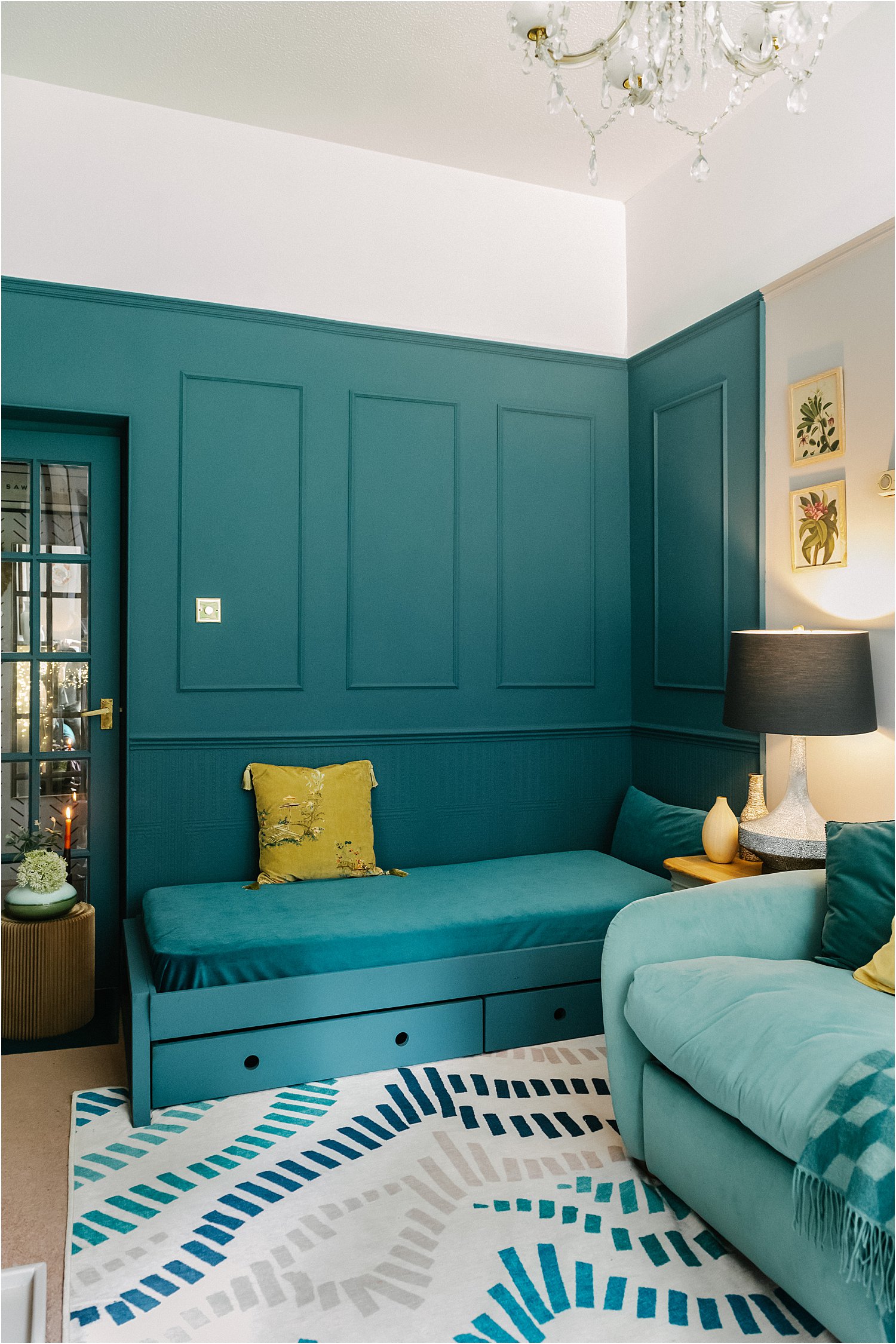 1. GO FOR CONTRAST
I was torn between Button Box – a lighter blue-green shade, and Genuine – a deeper richer shade. In the end I decided for Genuine as I wanted a strong contrast between the zones.
My sofa is a soft teal colour and Button Box was too similar to it. I had already decided that the bed and bedding will be the same colour as the wall so it had to be a strong contrast from the rest of the room for maximum impact.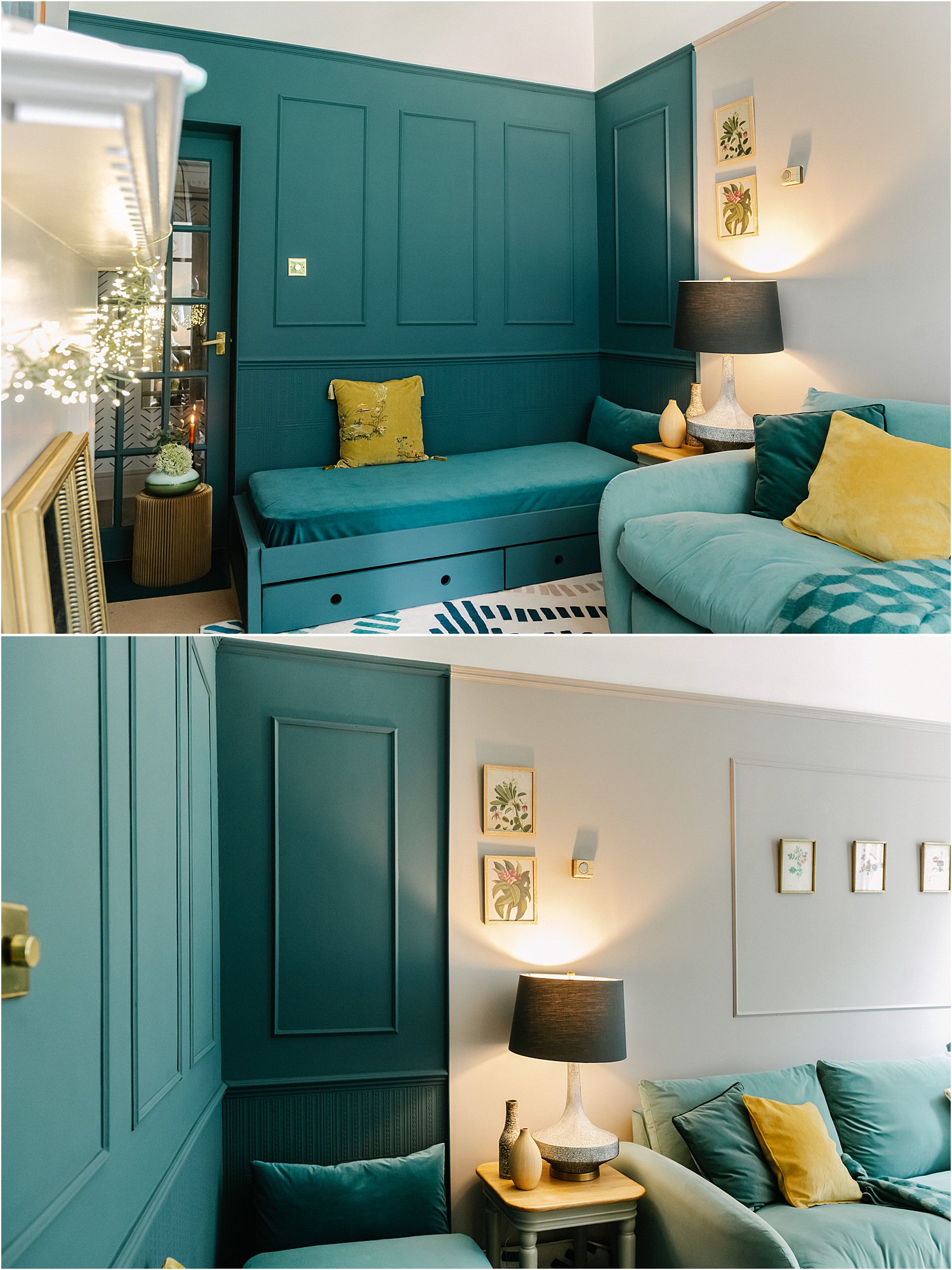 I have many spaces in my home with dark walls and I know that dark spaces come to life with lighting so it had to be the deep rich Genuine shade in this L zone.
I kept painting the space and yet the 2.5 litre tin seemed to never run out! This paint is so rich in pigment despite going from dark to light that I still had about a third of the paint left after 2 coats of everything – wall, door and bed!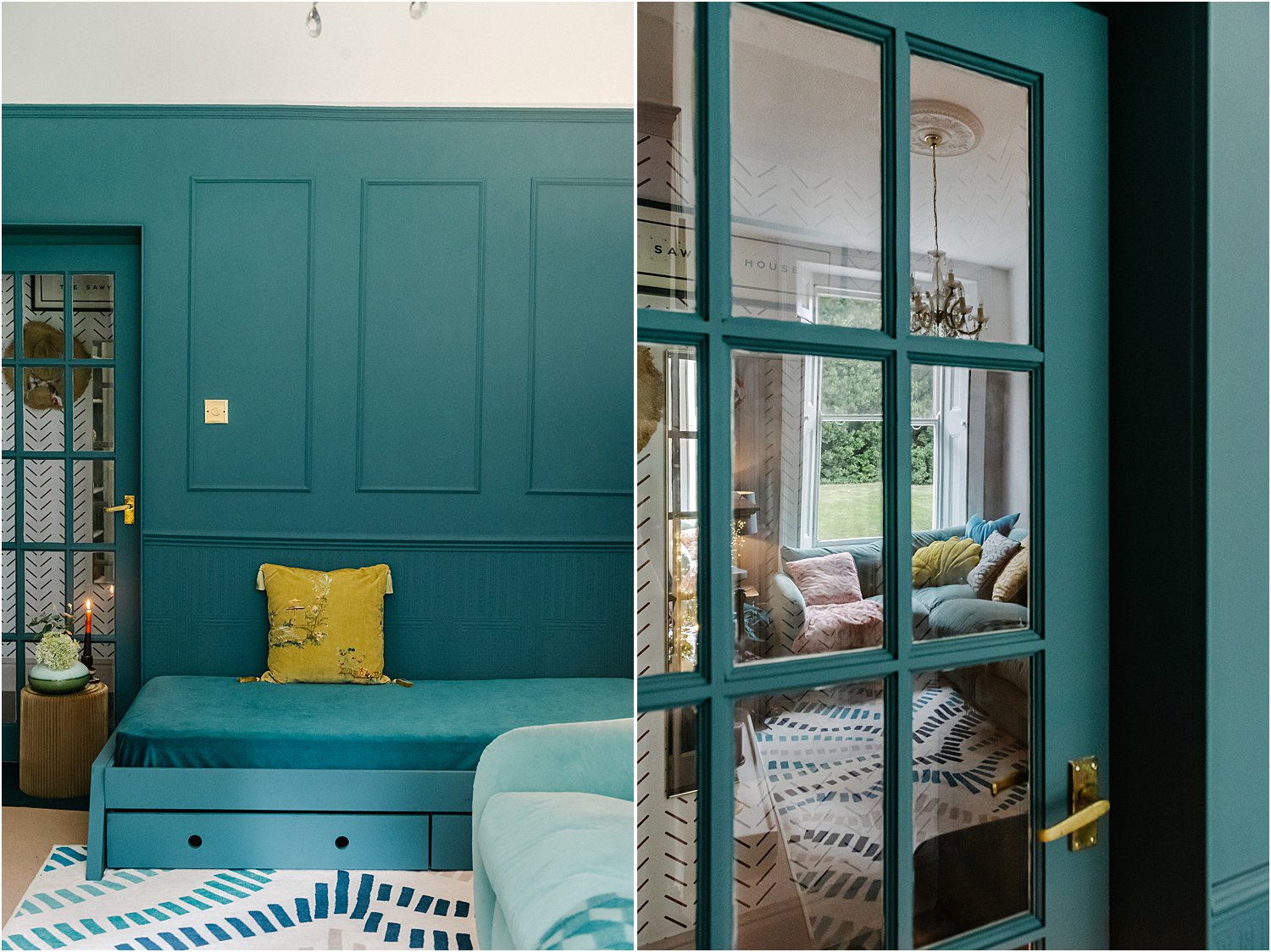 2. INJECT TEXTURE
There are many ways of injecting texture to a space. One of the most obvious ways is via accessories. However, I wanted to veer away from this as my plan was for an elegant classic look and I didn't want the clutter of accessories.
Instead I injected texture directly on the wall itself using textured wallpaper and strips of decorative moulding as panels on the wall. These elements not only added texture but also depth and character to what was once a very plain wall. Painting both in the same colour created subtlety so that the space is not overbearing but exquisite, elegant and yet still feels simple.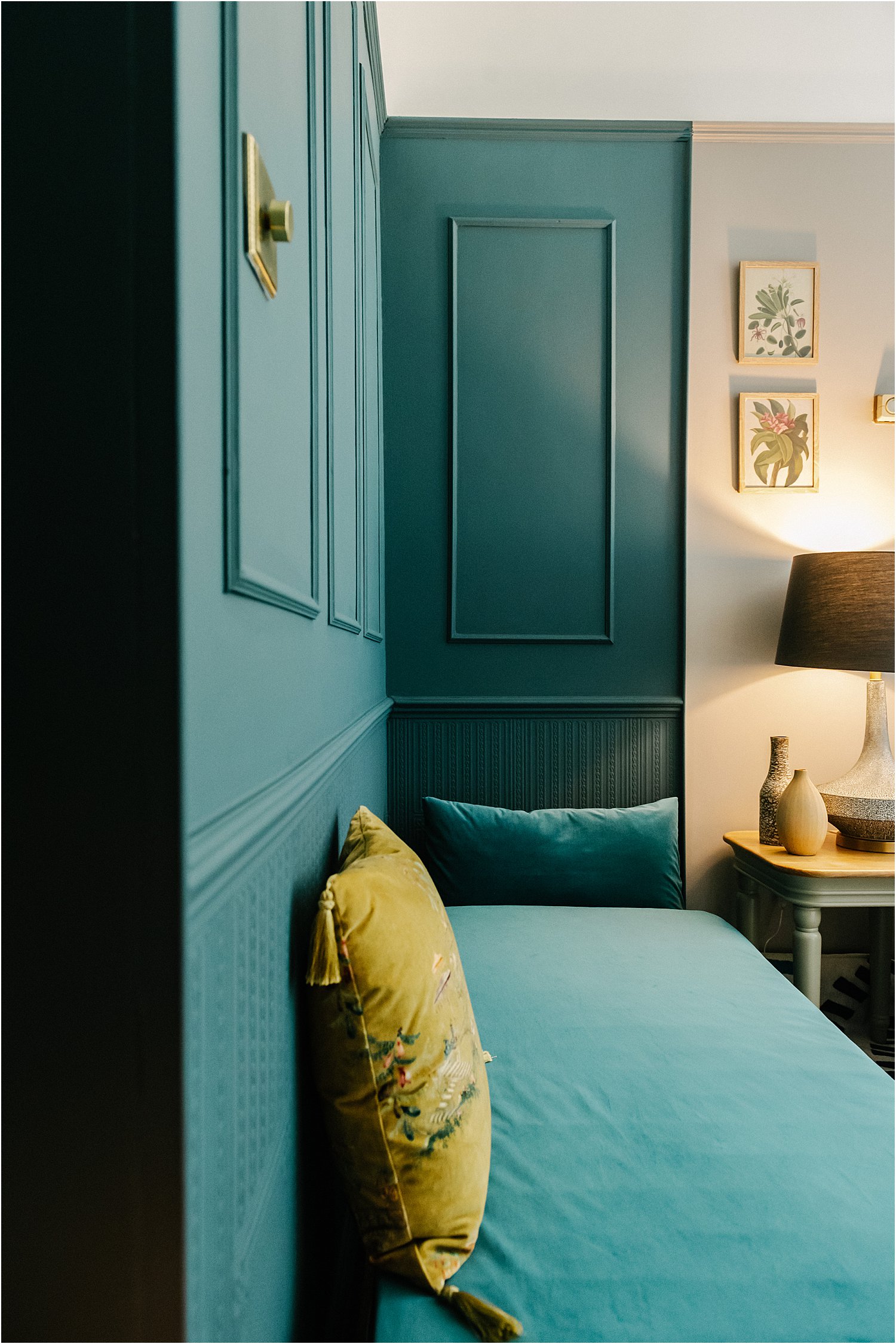 3. EMBRACE ILLUSION
This living room / shared bedroom has a high ceiling but I didn't want to paint beyond the picture rail. To create an illusion of space within the painted area, I added a Dado rail which 'lengthens' walls. Together with the rows of slim rectangular panelling above the Dado rail, this painted wall appears much taller than it really is.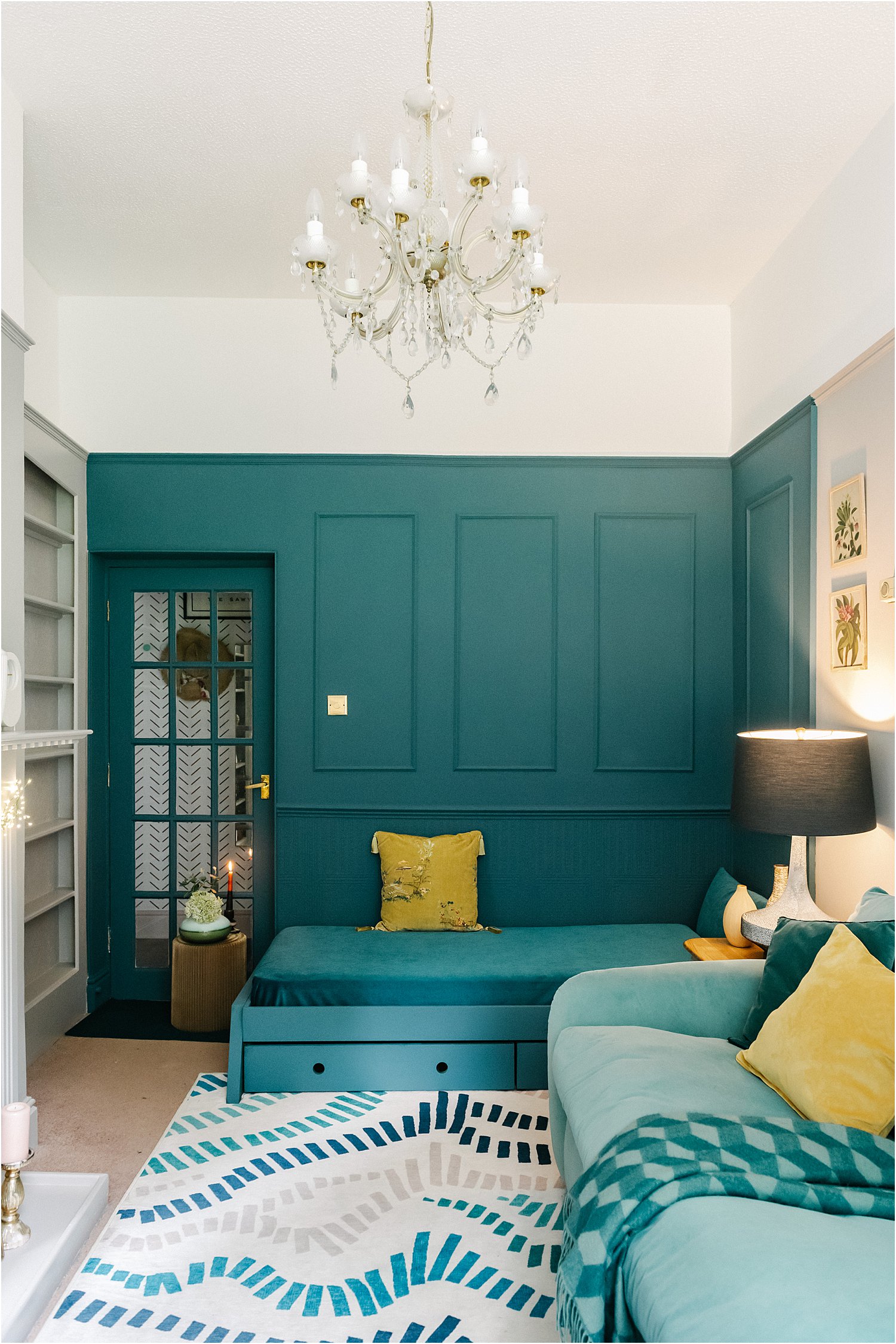 Suffice to say I am absolutely delighted with how this project turned out! I love the rich luxurious matt finish yet is super durable – much needed in this shared space. It's not everyday my husband tells me that this space looks better in real life that on photos!
My eldest loves her little nook now. The trouble is, the youngest also now wants to use this space for herself too. Aargh teenagers!
So there you have it, my 3 easy steps in zoning interior spaces – a totally doable DIY zoning project I hope has inspired you to try something similar.
Here you can see a short timelapse video of how I created this space.
BONUS information! I thought I'd include how much this DIY cost me. I wonder if you could guess…
£32 one 2.5 litre Crafted by Crown paint in shade Genuine for wall, wallpaper, trims, door, bed
£16 textured wallpaper
£43 decorative moulding, divider and dado rail
£8 adhesive
A grand total of £99! So for under £100 with some planning, time, glueing and painting, you too can create an elegant, classic, simple zoned space.
I am super grateful to have worked in partnership with Crown Paints for this oh-so-satisfying zoning interiors project in a sponsored capacity.
Don't forget to download my free resources that will help you design your own interiors and grow your Instagram account! Let's chat on Instagram Layered.Home and together get inspired!