After a long wait we can finally welcome our friends into our homes soon. Here are 3 easy ways to enjoy your garden area with your family and friends under the stars.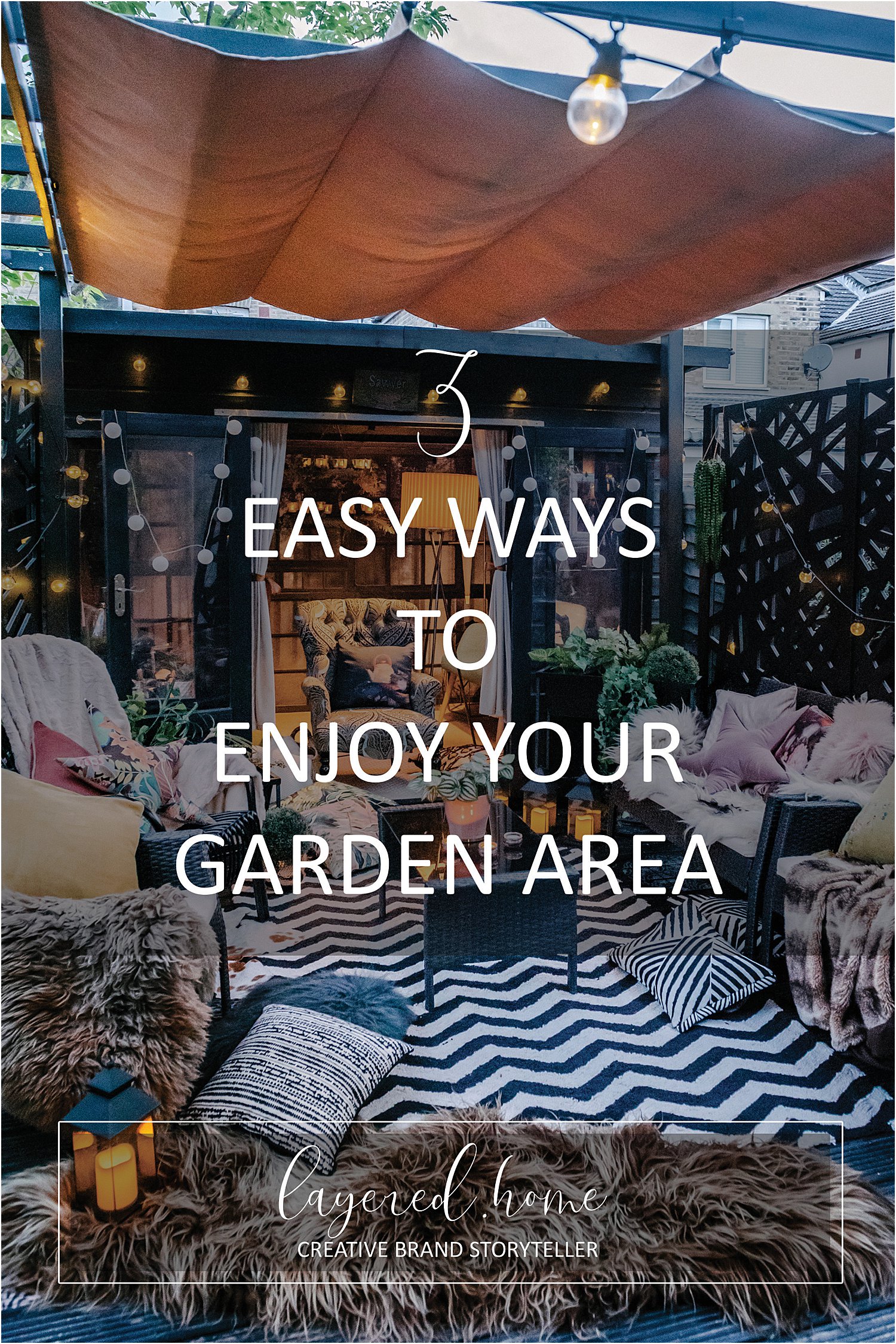 First a little back story. Last year we built our cabin / summerhouse on our decked garden area. I wrote about how I styled it in this blogpost and included a shot of what it looked like when we bought the house.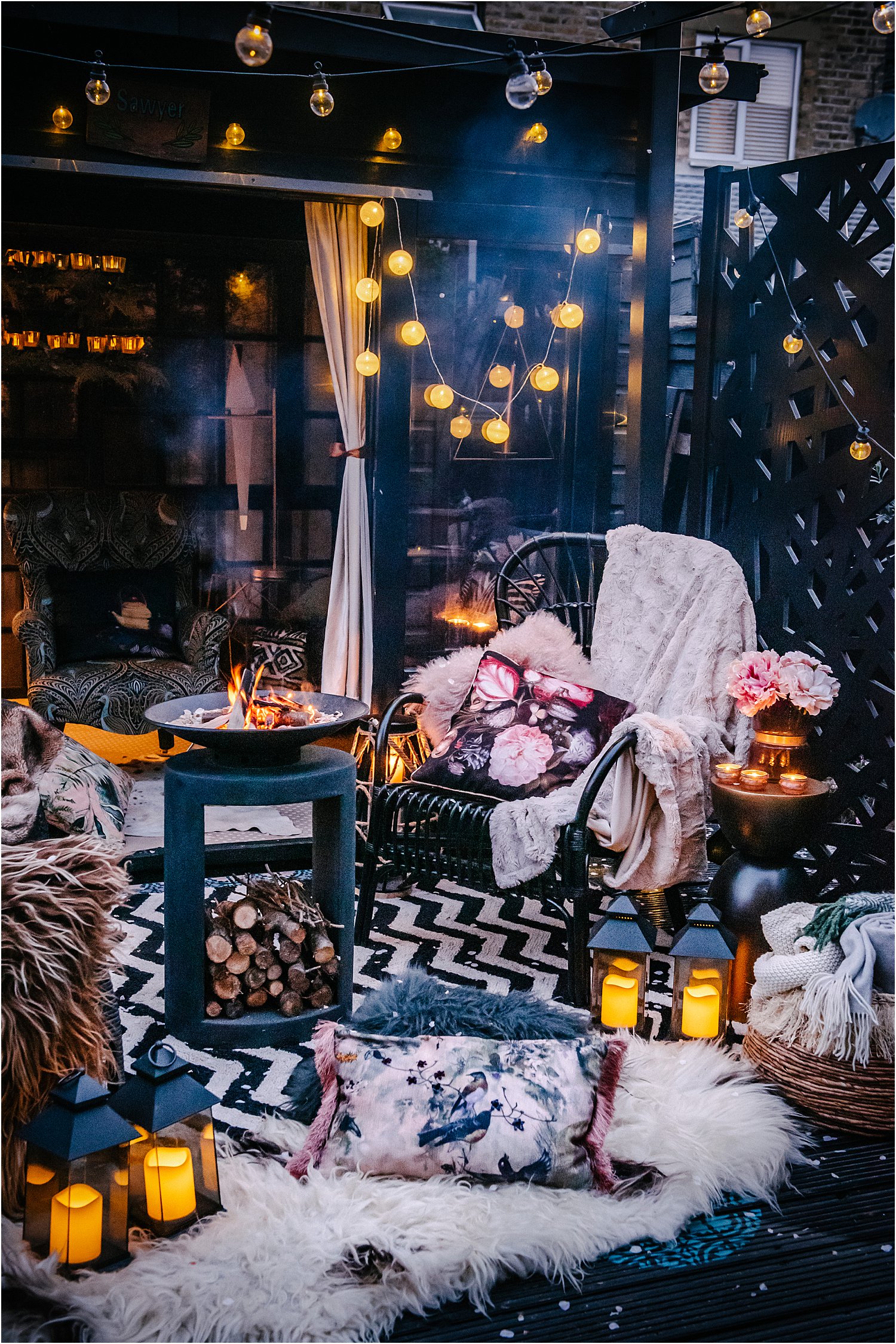 We love it and it's a place to escape to. Unfortunately, we have some noisy neighbours and last year they built a marquee that covered their entire outdoor area and partied most of lockdown.
This year our next door neighbours, who are lovely, have just finished building their kitchen extension which is directly attached to our dining area wall and extends to area next to our outdoor space too. The builders were fantastic, friendly and did a great job. But as we know, building work comes with noise and dust.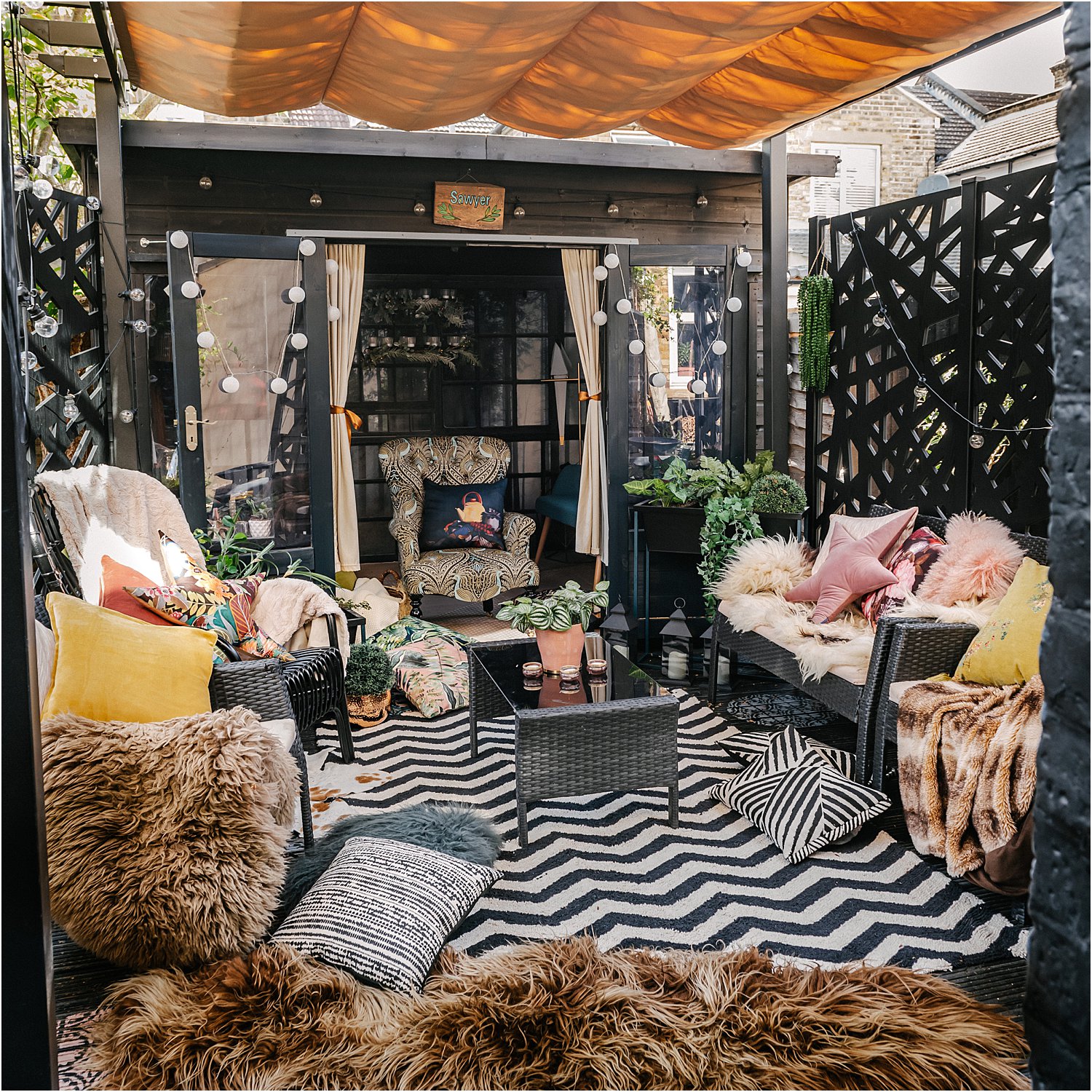 I'm so grateful that I had the opportunity to work with Screen with Envy this spring. They have been a godsend. They sent us these amazing 6ft Kerplunk privacy screens so we could create a more private area in our garden.
We were able to block some of the neighbour's marquee as you can see in these two photos below and the building work next door too.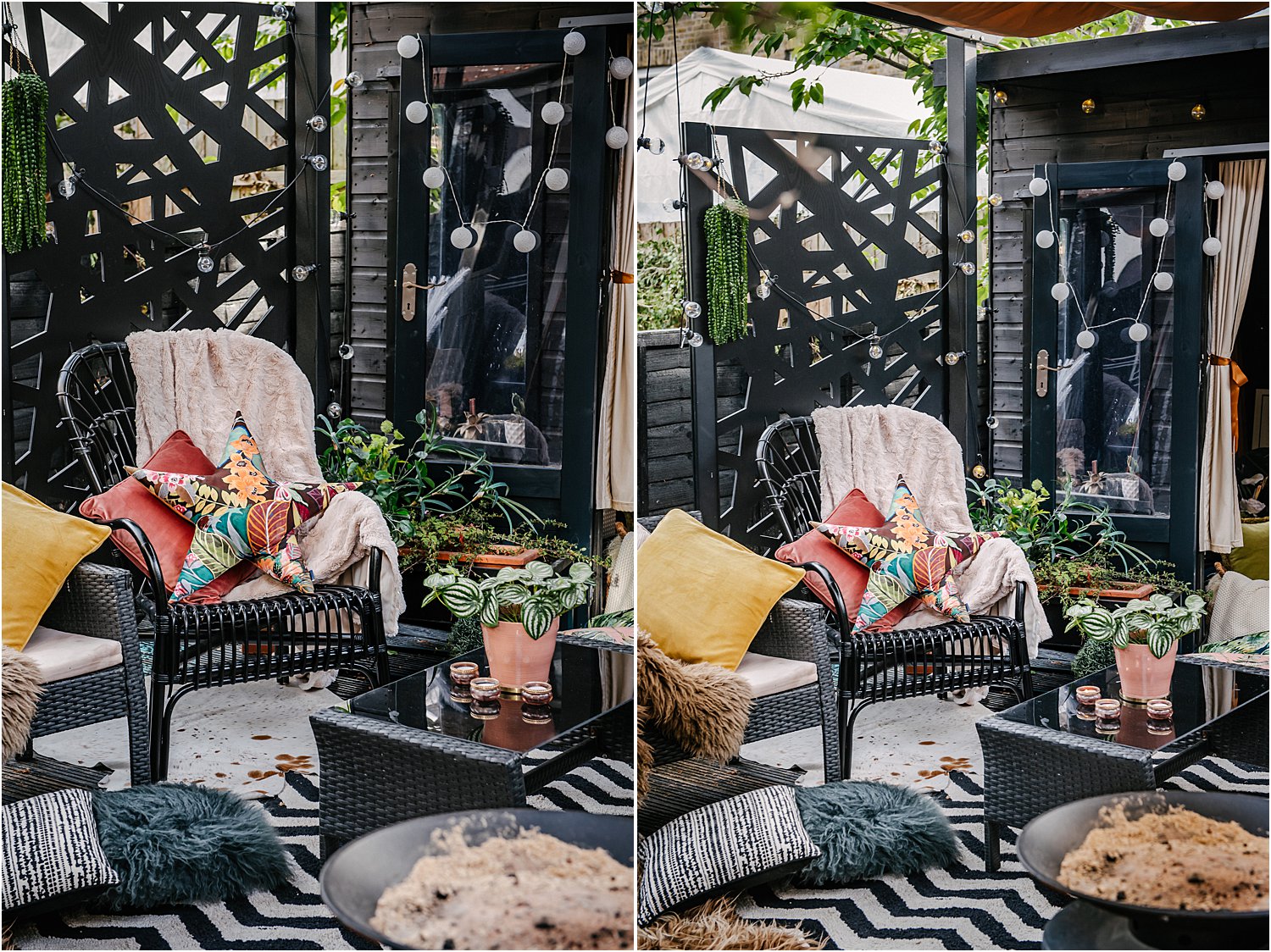 Without further ado, let's look at how we can make out outdoor garden area warm and welcoming.
3 easy ways to enjoy your garden area this summer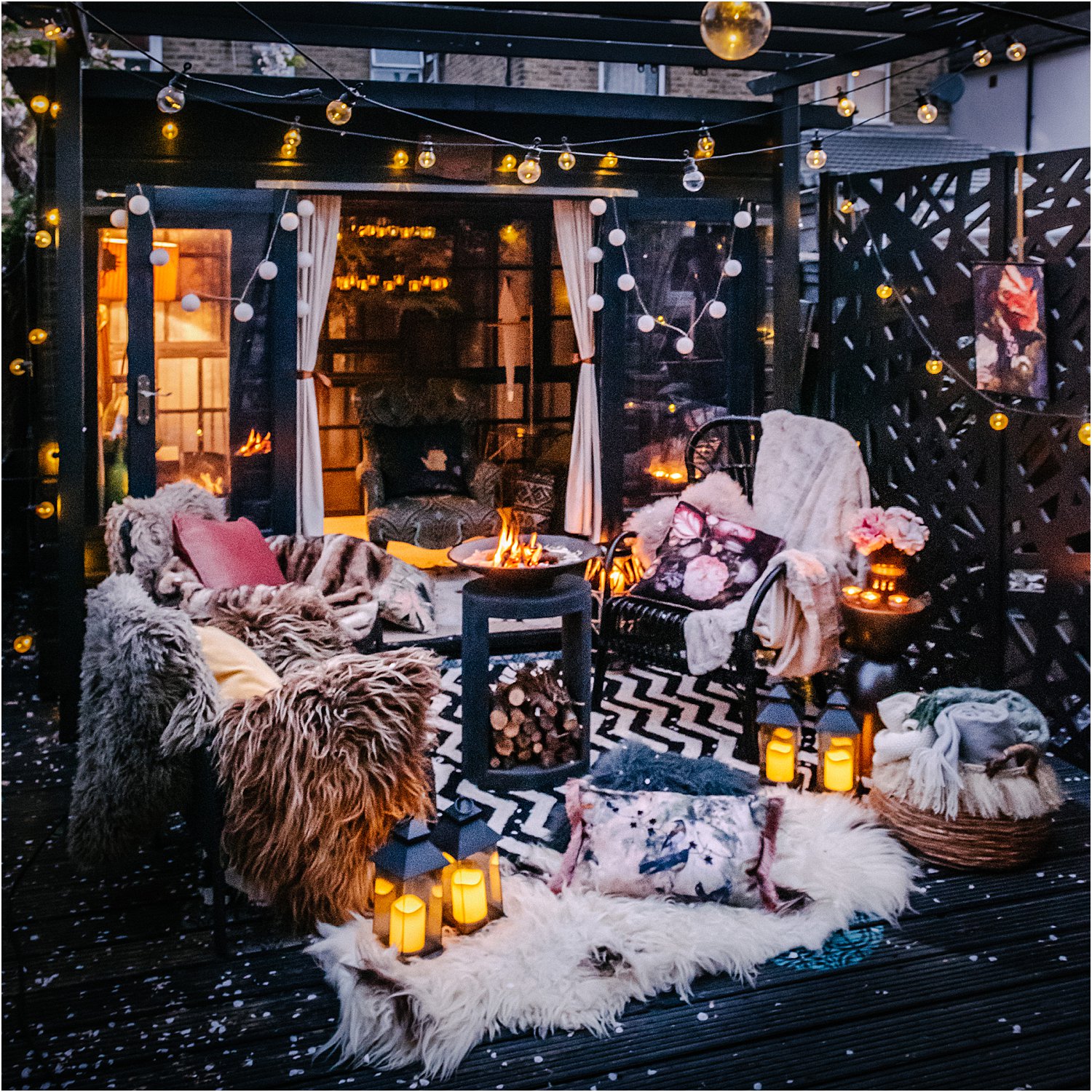 1. Make it cosy
A simple trick in making an outdoor space cosy is to style it like an indoor space – plenty of textures and soft furnishings that make you hunker down and feel hugged.
Rugs that feel comforting on the feet and throws that cocoon you are home comforts that you can easily take outdoors. Of course I mustn't forget cushions – the joy cushions bring cannot be underestimated.
In these pictures, these are the only 3 things I used: rugs, cushions and throws to bring in soft textures. You do have to take them back indoors on wet days!
Making it cosy is the first of 3 easy ways to enjoy your garden area.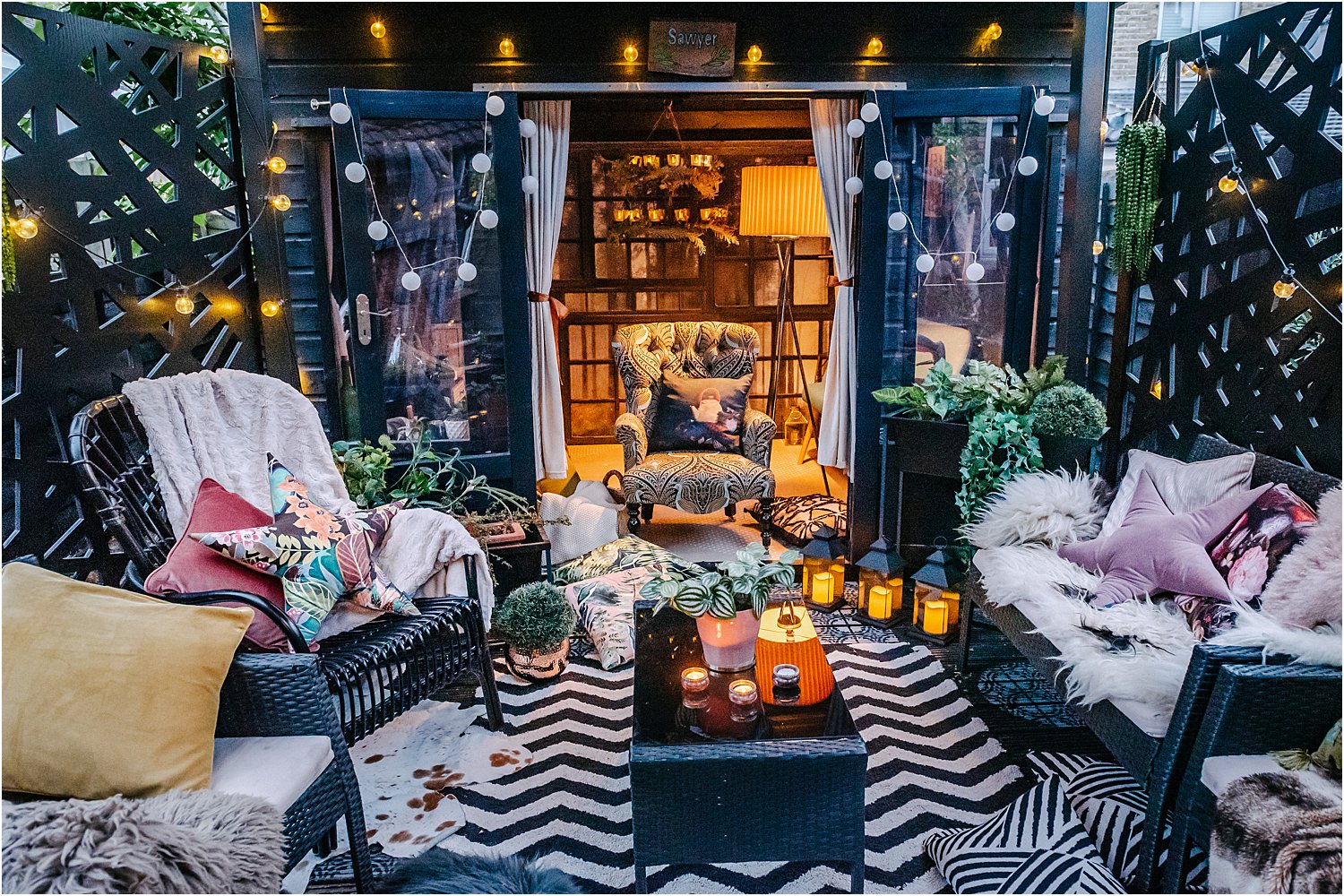 2. Create a private space
Here is where my Screen with Envy Kerplunk screens really shone. These 6 foot panels created a private area in my outdoor space blocking out all the unsightly distractions.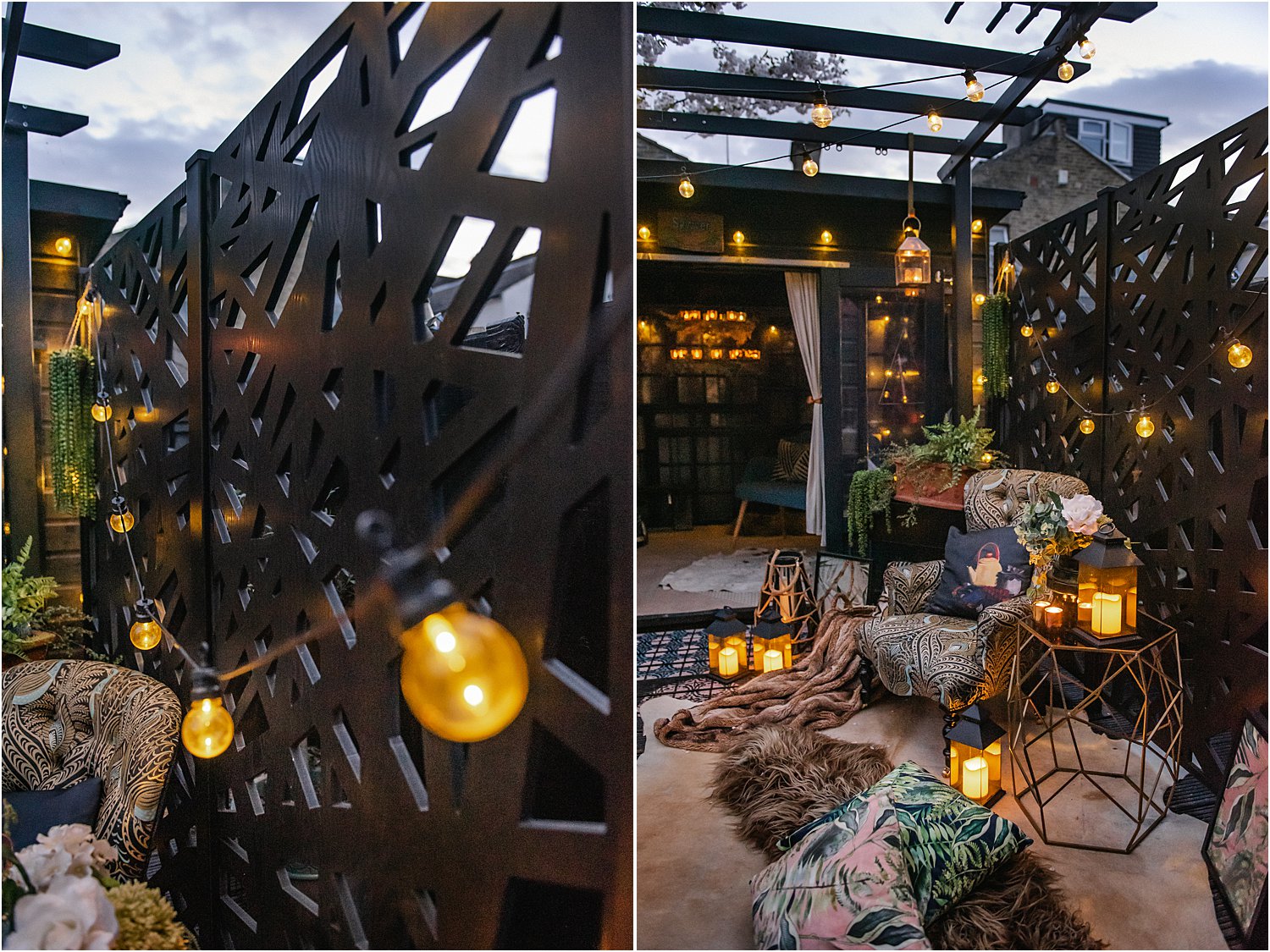 Installation was a breeze using the posts that are made for these screens. It's a no-brainer for us because we had a wooden decking. This meant literally just screwing the posts with wood screws on the deck. Here's a little video showing you how I built and styled this area.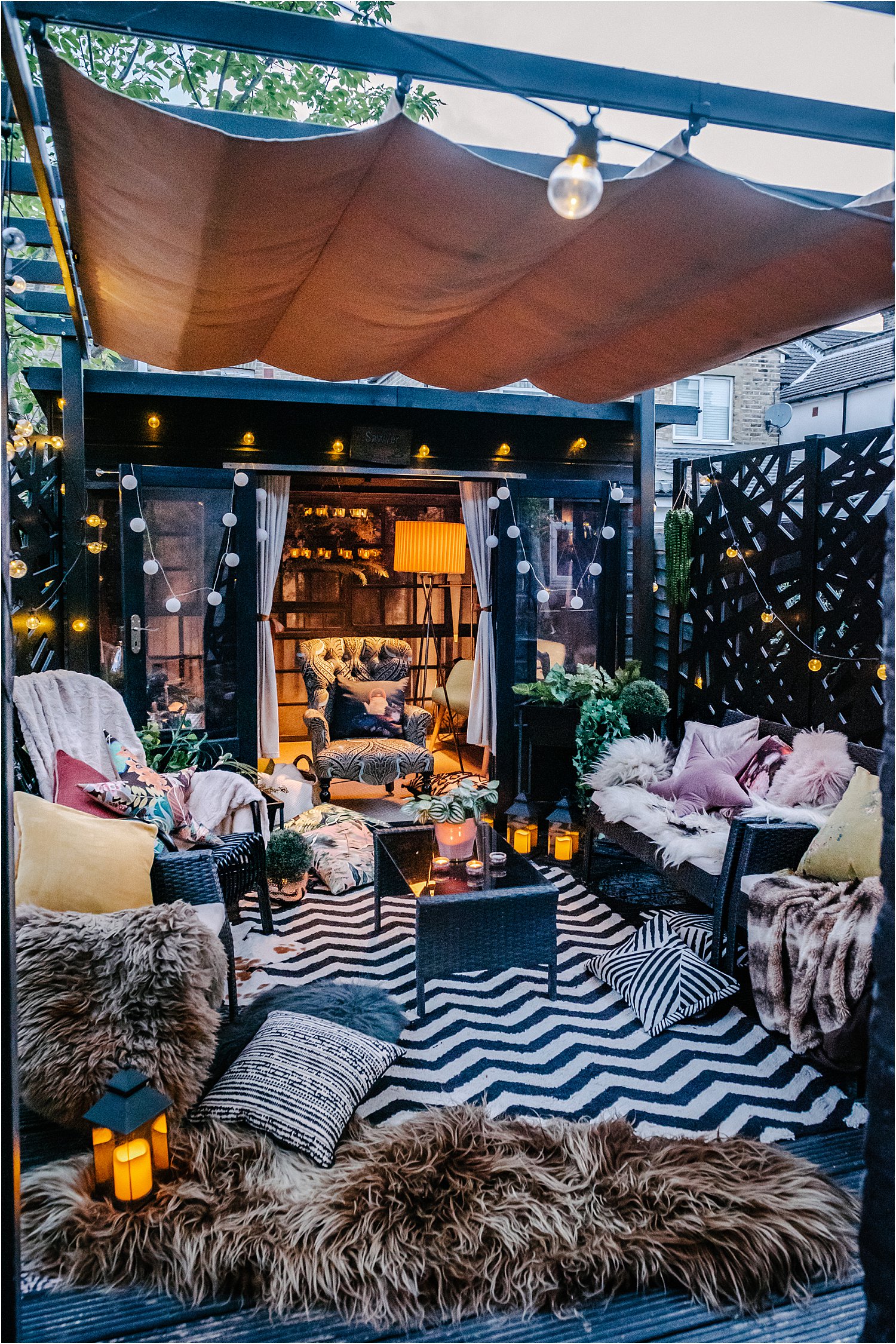 If you have a garden or need to install this in concrete, the screens come with all the bolts and stuff needed too. The screen perfectly fit on the sides of the posts. There are various size spaces that you can use so you have the option of installing them in various heights too.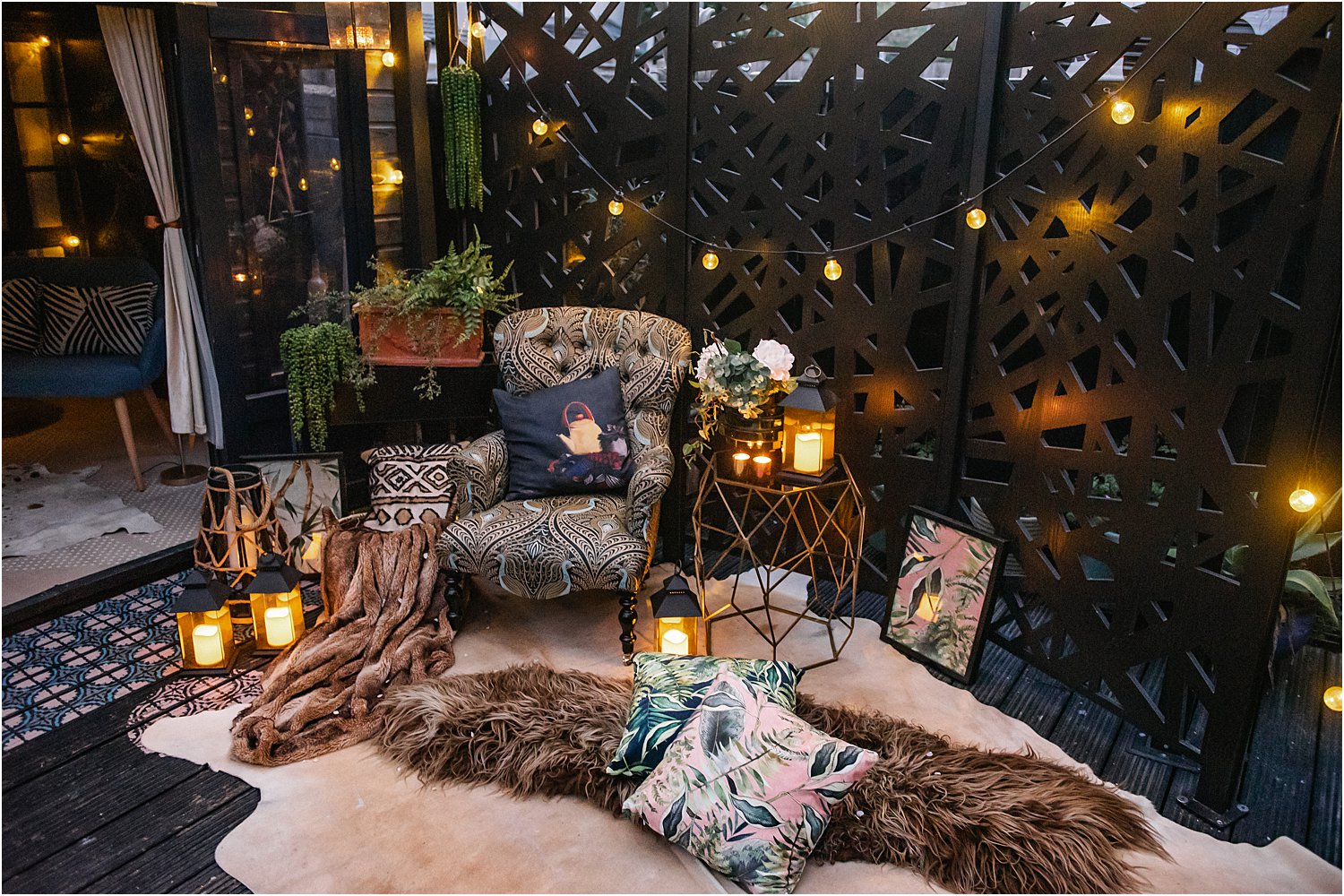 The screens come in a thinner 5mm thickness if you just want to use them as decoration on a wall or the thicker versions like mine if you want them free standing. The front side is textured with a wooden grain effect. They look so smart and feel really sturdy.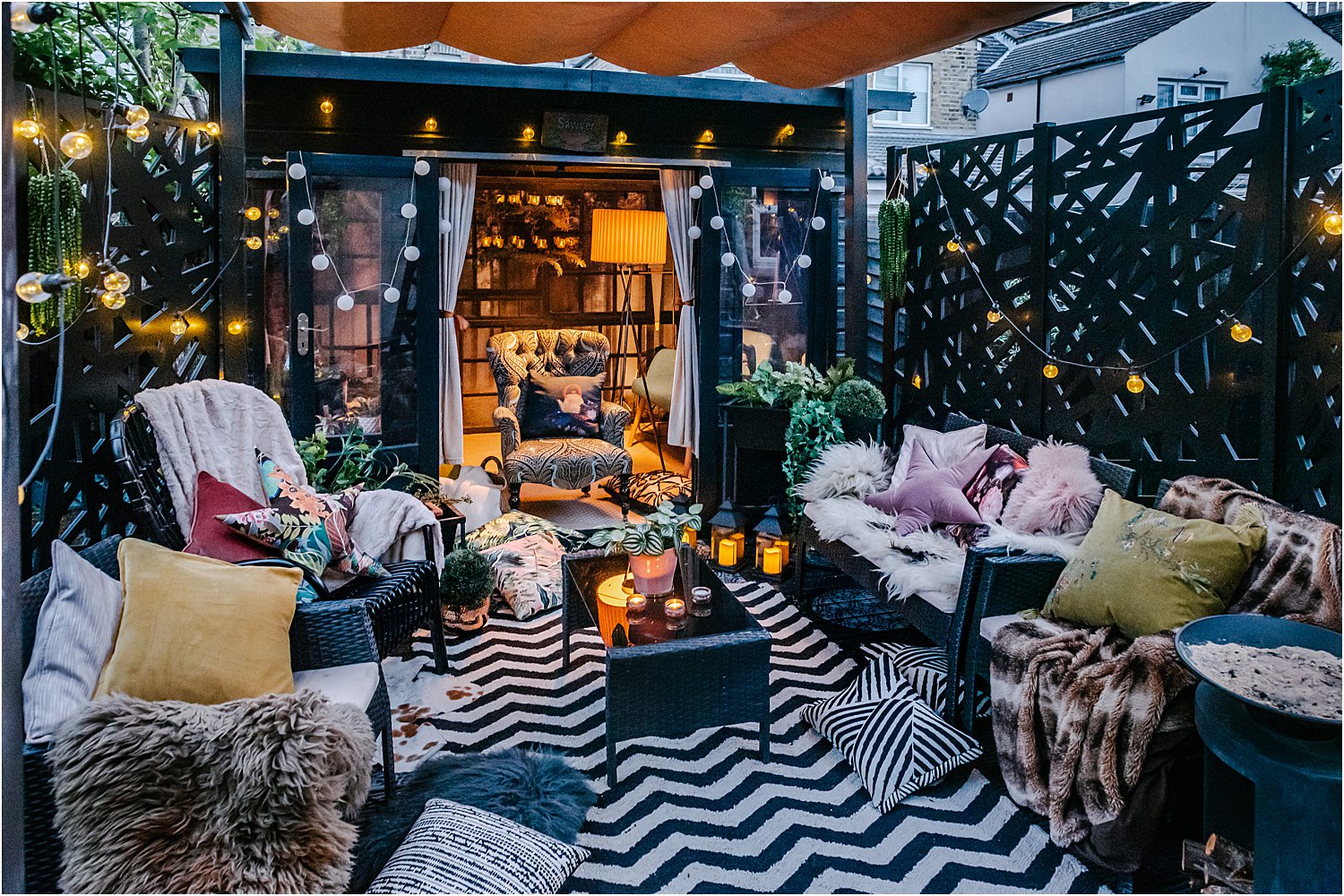 Screen With Envy products are a genius invention and with some amazing designs too. Check out their range of designs from contemporary funky designs to geometric ones. They even do slat panel screens too. I just wish I had though of inventing these screens!
Creating a space with some privacy is the second of 3 easy ways to enjoy your garden area.
3. Light it up
I'm thinking campfires, woodlands and warm lanterns vibes for lighting. Here we have our festoon lights and lanterns that remind me of the woods and a little fire pit that brings me back to summer camping nights under the stars.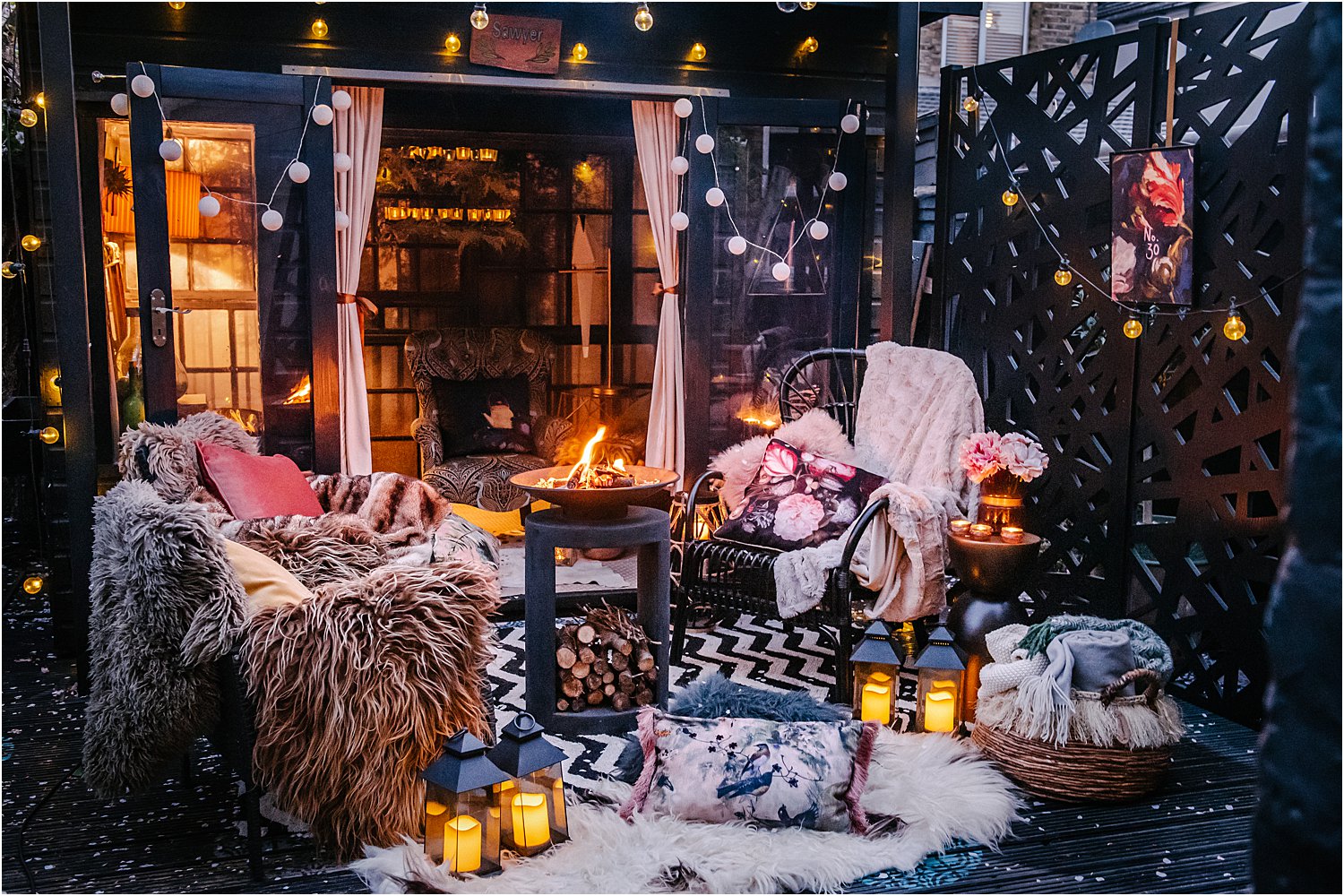 Don't forget plenty of tea lights and candles to add to the magical, dreamy, romantic even ambience that warm lights bring. Just remember never to leave real flames unattended especially when you have a fire pit in close proximity to soft furnishings. Be responsible!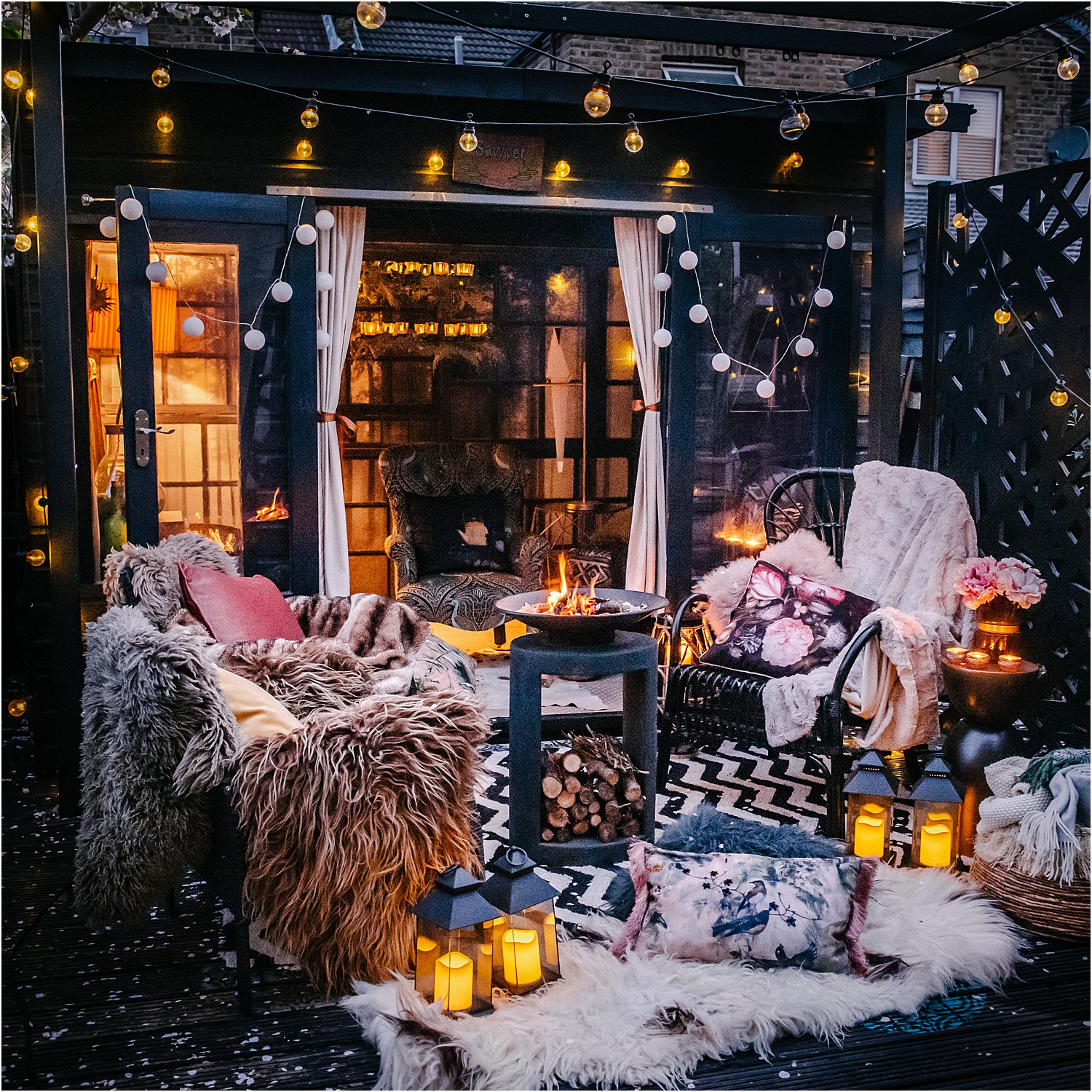 Brining out warm lighting is the third of 3 easy ways to enjoy your garden area, not just for summer but all year round!
Here are also more ideas on styling your garden space for spring and summer.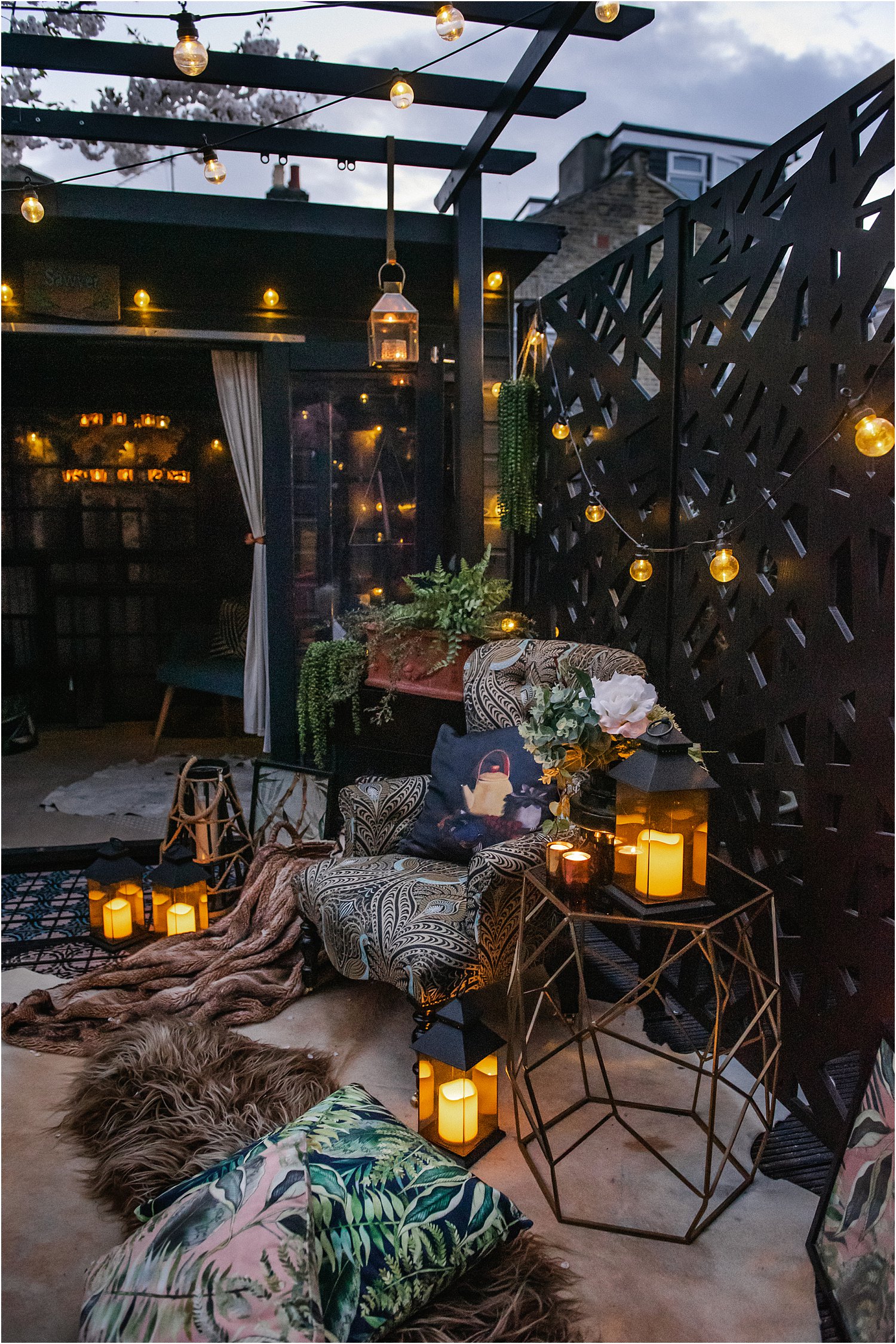 This post is part of my collaboration with Screen with Envy. As always, all the opinions are my own and are true. The photos also feature previous collaborations with: I am Fy! for the Havana black chair and zigzag washable rug, Protek for the cabin and decking paint and stain, Napoleon Rockefeller for the printed chair in the cabin, Festive Lights for the festoon lights and flickering lanterns.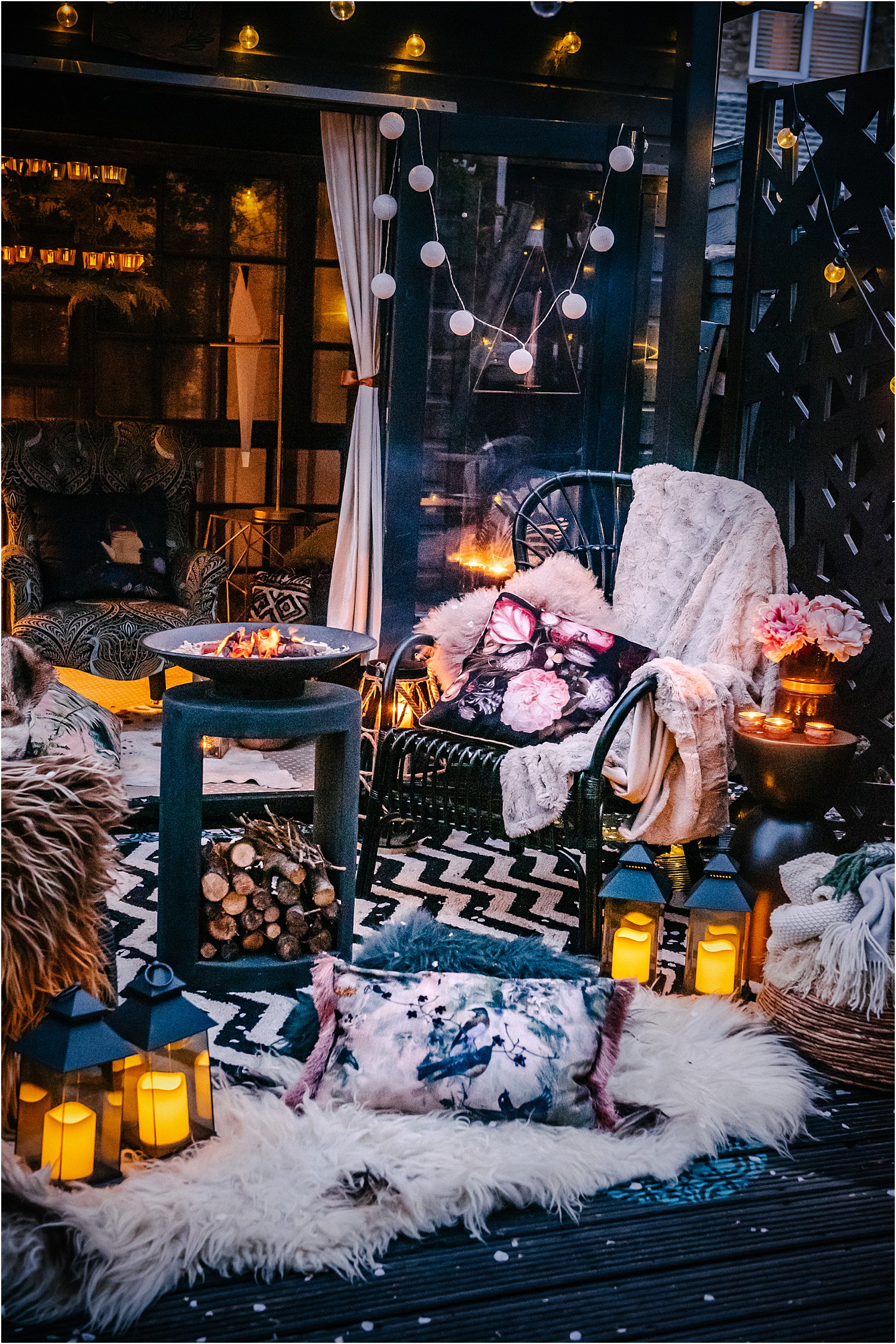 Don't forget to download my free resources that will help you design your own interiors and grow your Instagram account! Let's chat on Instagram Layered.Home and together get inspired!