Seasonal styling can rack up a hefty shopping bill if you're not careful. Here are 3 inexpensive ideas to update a room.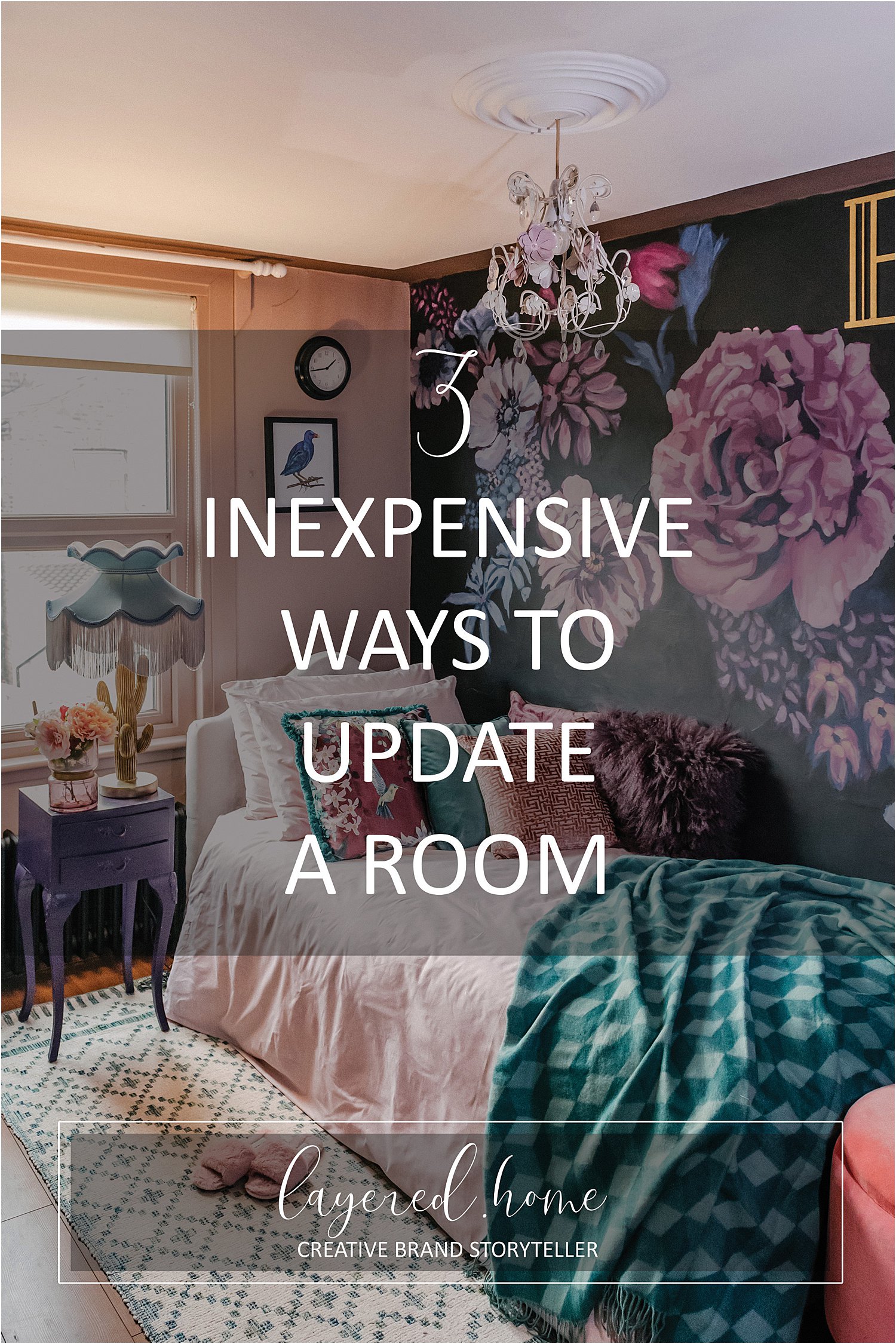 It just takes a little creativity and thinking outside the box and you can have different looks throughout the year without breaking the bank. For this refresh challenge, I had a £100 budget to spend on furn's website. Let's get straight to it.
3 Inexpensive ideas to update a room
1. Paint a wall mural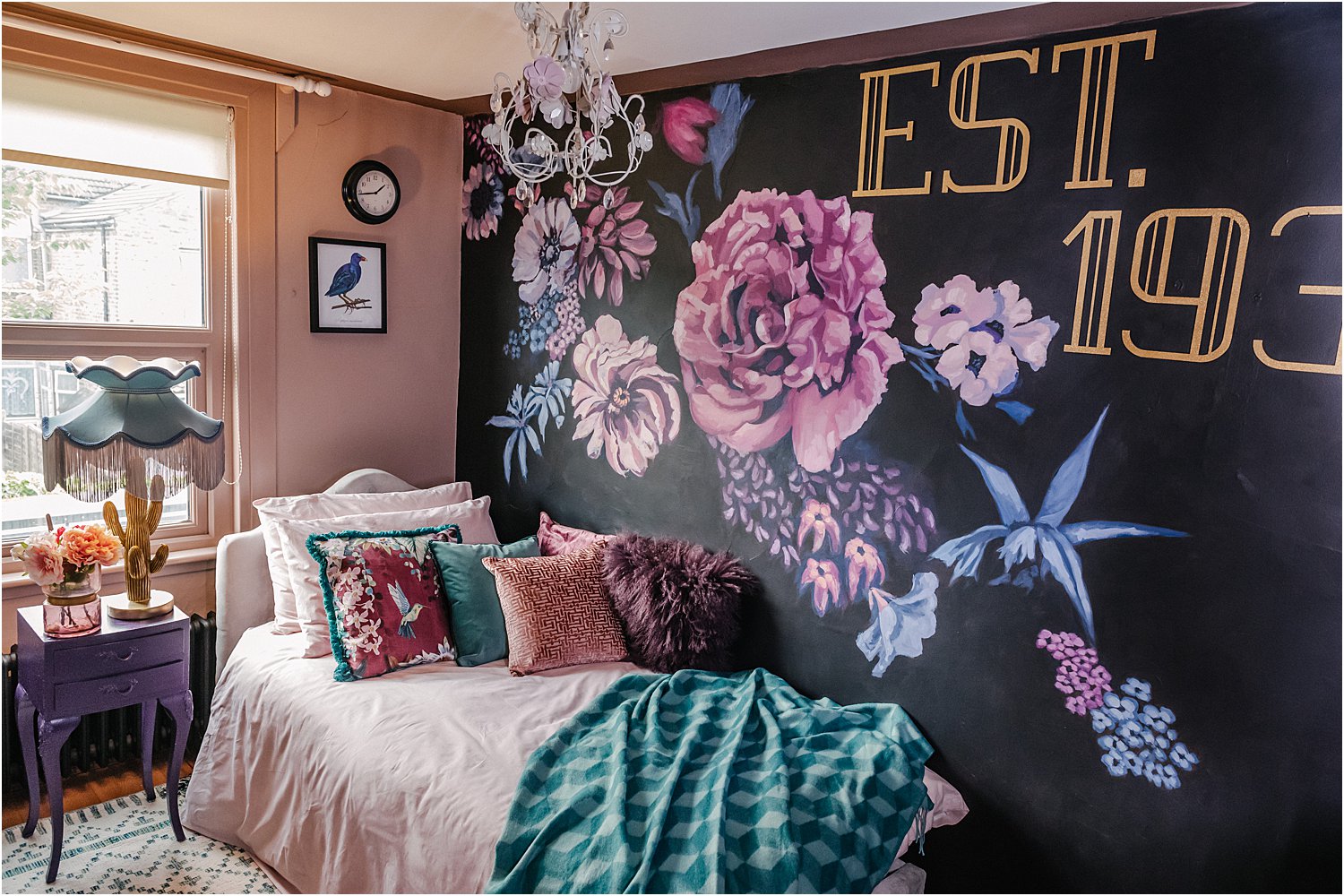 You don't always have to buy new paint. If you have some tester pots or sample leftovers, then find a pattern you can use for them. Painting a geometric mural or a floral mural like this one could completely transform your room.
Now I realise that something like this might feel extremely daunting. But if you think of simple designs like lines or shapes or abstract splashes, then it doesn't have to require an ability to draw.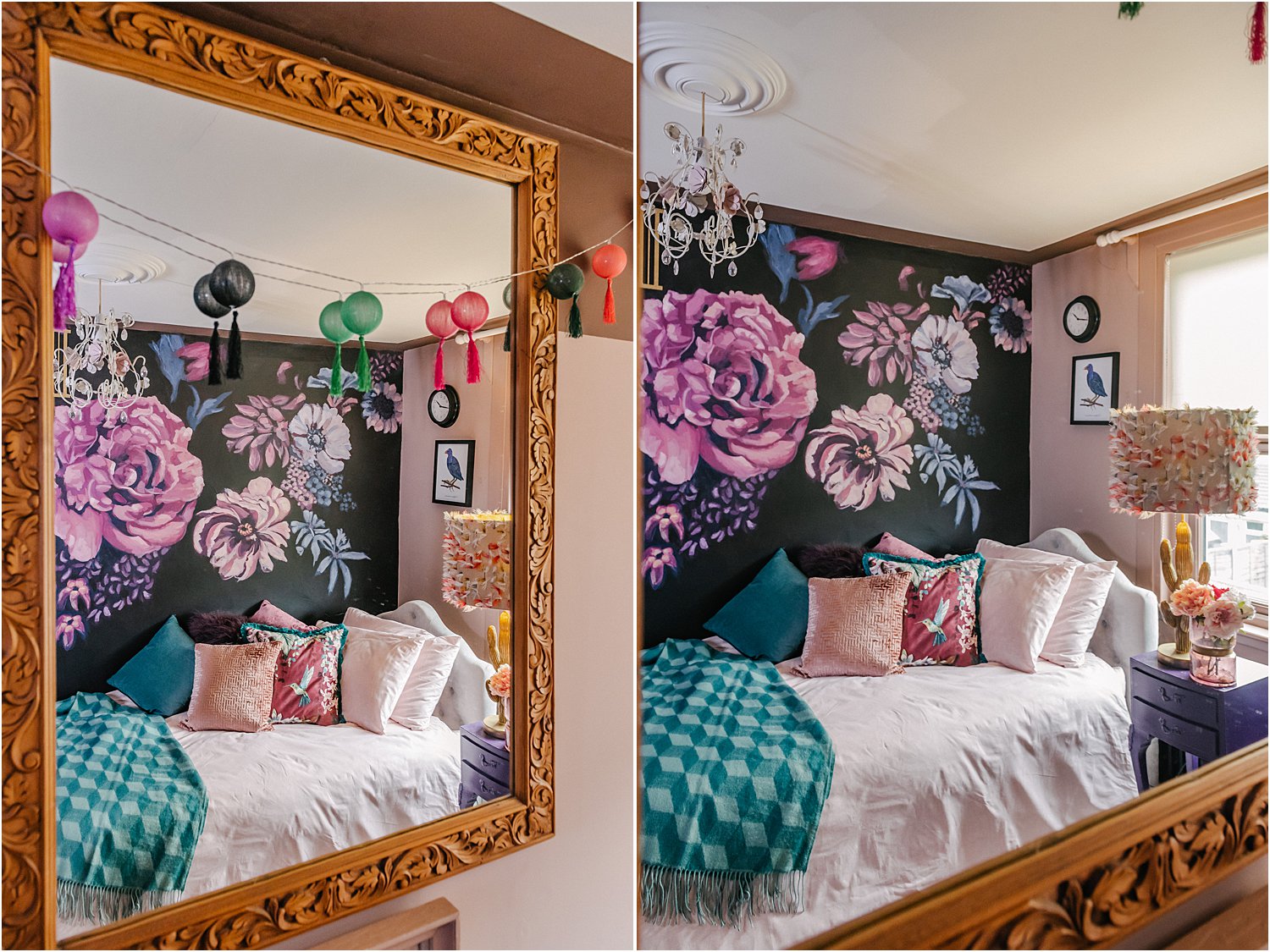 Masking tape, a paint brush and left over paint tins will do. I once painted a simple cherry blossom tree using sample left over sample pots. It cost me nothing but a little time and changed an entire wall in my kitchen.
The background was already white so I didn't even have to repaint the wall, just literally drew some branches and cherry blossoms.
You can even easily get a stencil these days and use them to paint your mural with. In this toilet revamp that I did in my downstairs loo, I started off with a stencil but found that it wasn't the right design for me so I hand-painted these fern leaves.
If you have larger quantities of left over paint that you don't know what to do with, you can mix them up so you can have a base colour for an entire wall. This works best if the brands are the same.
For example, you can mix cool colours to form greys or add some warmer colours to form browns. This could be a good solution for achieving a medium to dark wall base colour that you then paint a design on top of.
Painting a wall mural is one of 3 inexpensive ideas to update a room.
2. Change cushions covers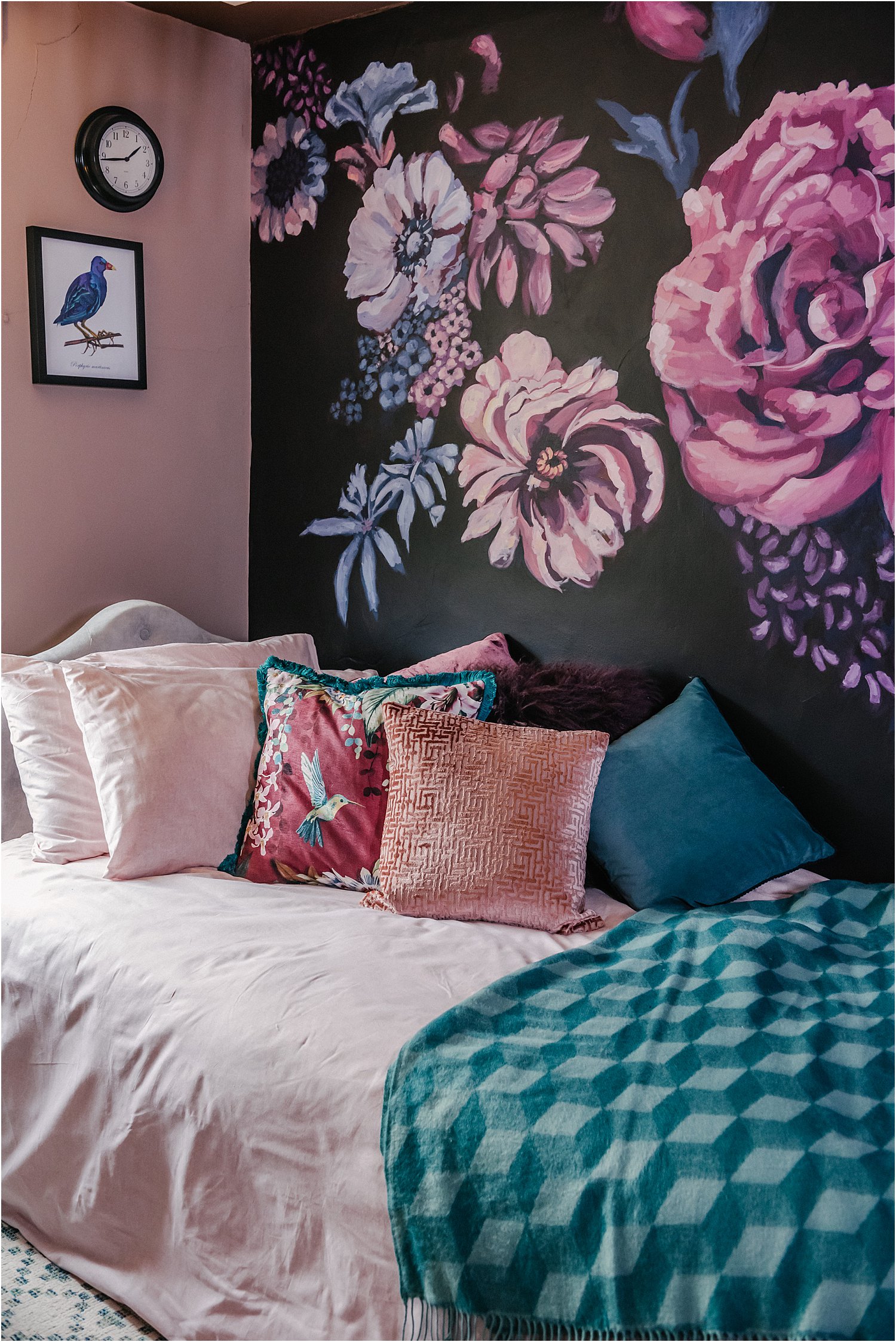 Now if you're a dab hand at sewing, then making cushion covers from fabric remnants, scraps and trims for fringing will be an easy and exciting project. I have made cushion covers before but found that getting a professional looking finish is really difficult to achieve.
Worry not though as it can be super affordable to purchase just the cushion covers like these ones shown here from furn. furn have a huge array of beautiful products and selected brands to choose from.
My challenge was to refresh my Mum's bedroom for £100 so that it feels summer-ready. I had to think of seasonal styling that complements the colour scheme of the painted wall mural.
Choose contrasting colours that complement each other within your colour scheme for added impact so it can't be visually missed. The colour scheme in my mum's room is: pinks, deep purple and teals with gold and brass as accent colours.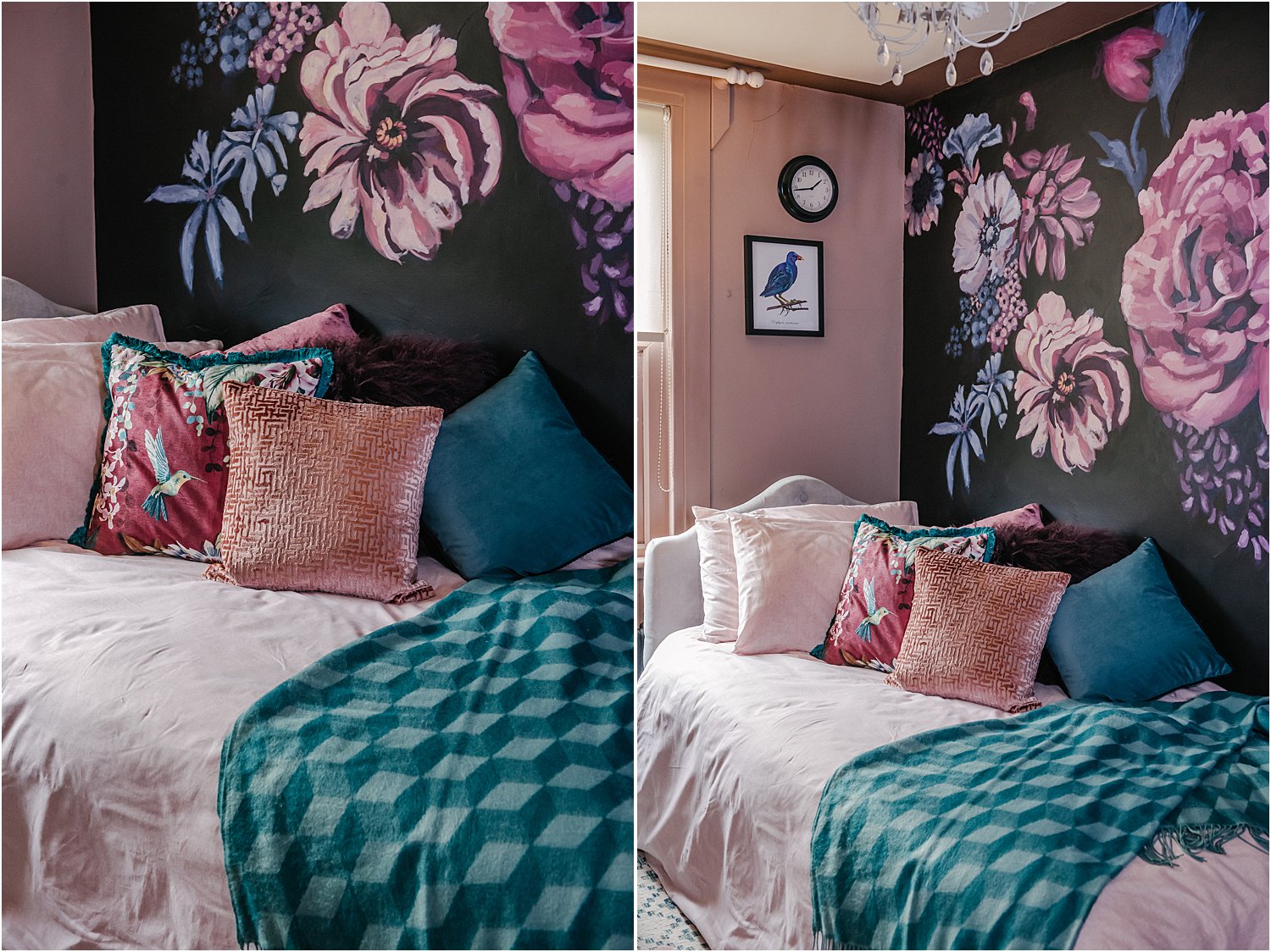 This hanging garden floral aubergine cushion cover is a generous size at 50 x 50cm and fringed all round all for £18! This cosmo velvet marine blue cushion cover with pompom detailing around the edge is an incredible £9 at 45cm x 45cm. This jacquard velvet blush cushion cover is an unbelievable £8 for the same size. Three stunning velvet cushions covers for £35 – where else can you get such beautiful cushion covers at such accessible prices?
With my £100 budget I was able to include a new teal geometric throw for £28. This throw is soft and perfect for when it's too warm that a throw is sufficient or when it's too cold that a throw over the duvet is needed. It's also brilliant for draping and styling to achieve that chilled relaxed vibe.
I chose the geometric design throw to contrast against the painterly style of the floral wall mural.
Changing cushions covers and adding a throw is the second of 3 inexpensive ideas to update a room.
3. Shop your home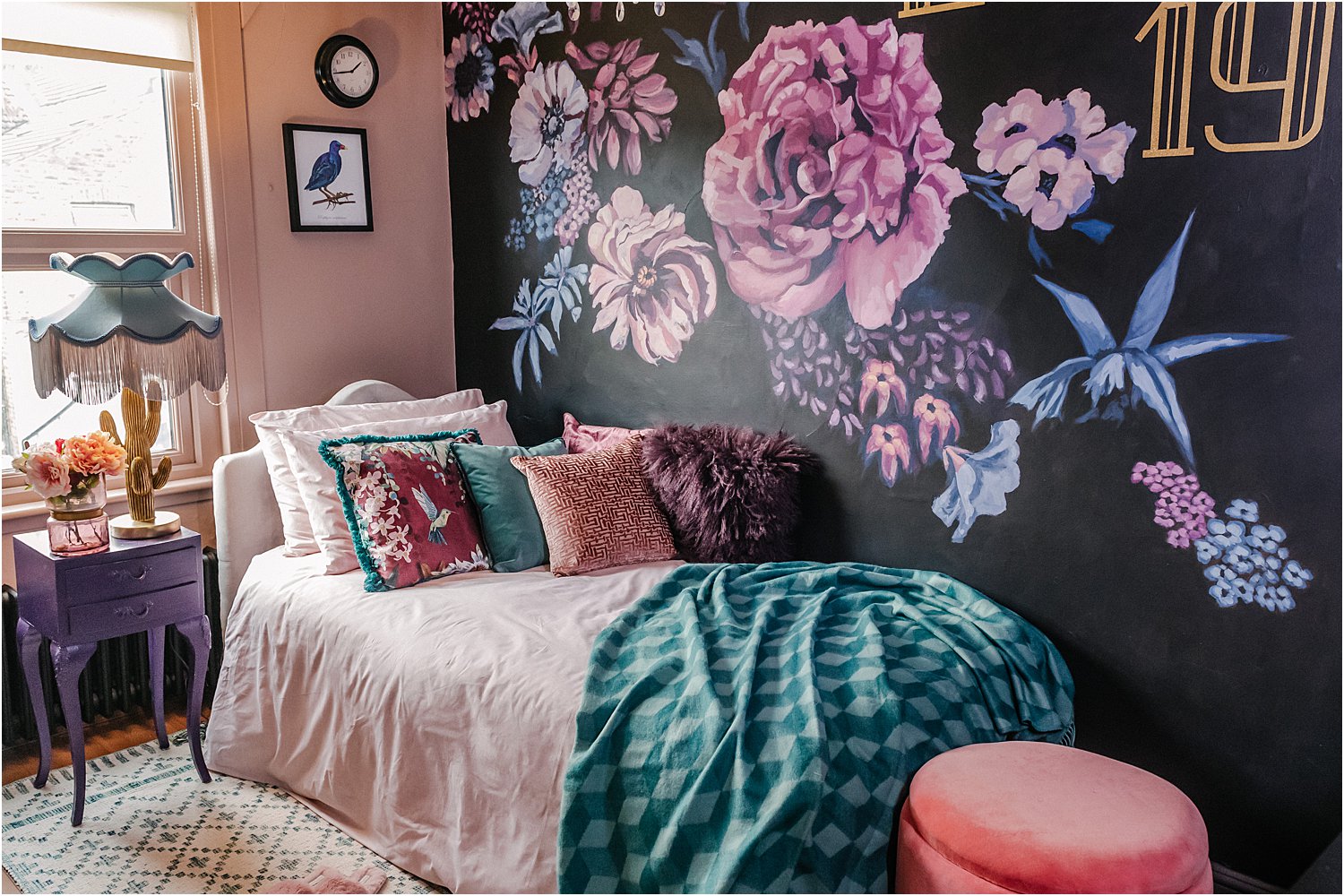 My Mum's bed is a single size and she has a single duvet which just covers the top of the bed. I shopped my home for a spare double duvet and got some new light pink covers for them.
This 100% cotton duvet cover has a linen look and the feel of pre-washed cotton at £38 for a double duvet size and 2 matching pillowcases. The set nicely contrasts against the dark floral wall and strong coloured cushion covers.
The double size duvet cover changed the feel of this room as I was able to drape it all the way to the floor giving it that cosy, relaxed and generous feel with fabric that pools on the floor.
If there's wiggle room in your budget, you can upgrade to lush and opulent looking bedding without the hefty price tag just for a little bit more.
This Palmeria quilted velvet duvet set starts at £56. Opulent, decadent, cosy.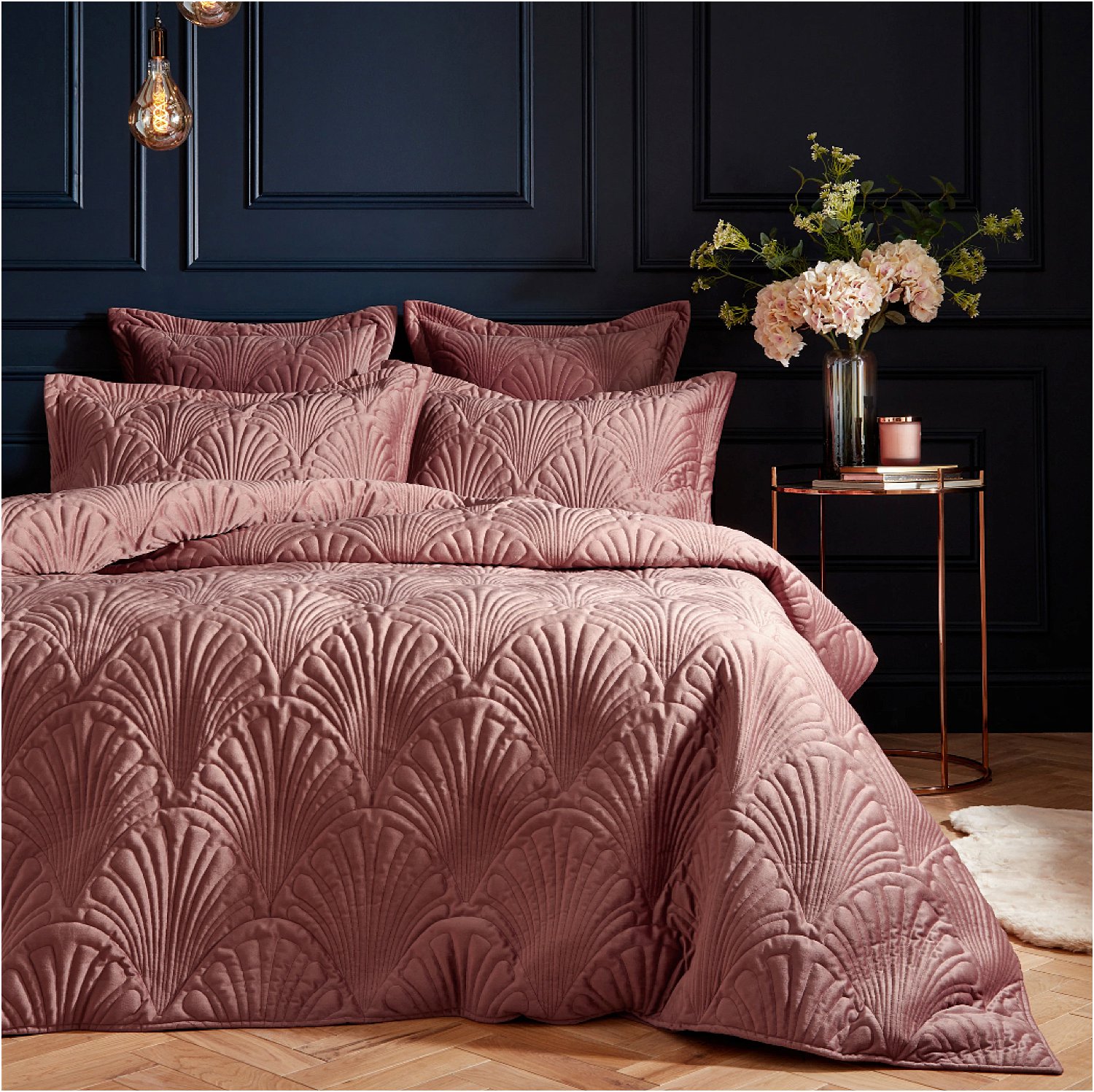 This Tanza Global geometric duvet set starts at £19! A real steal!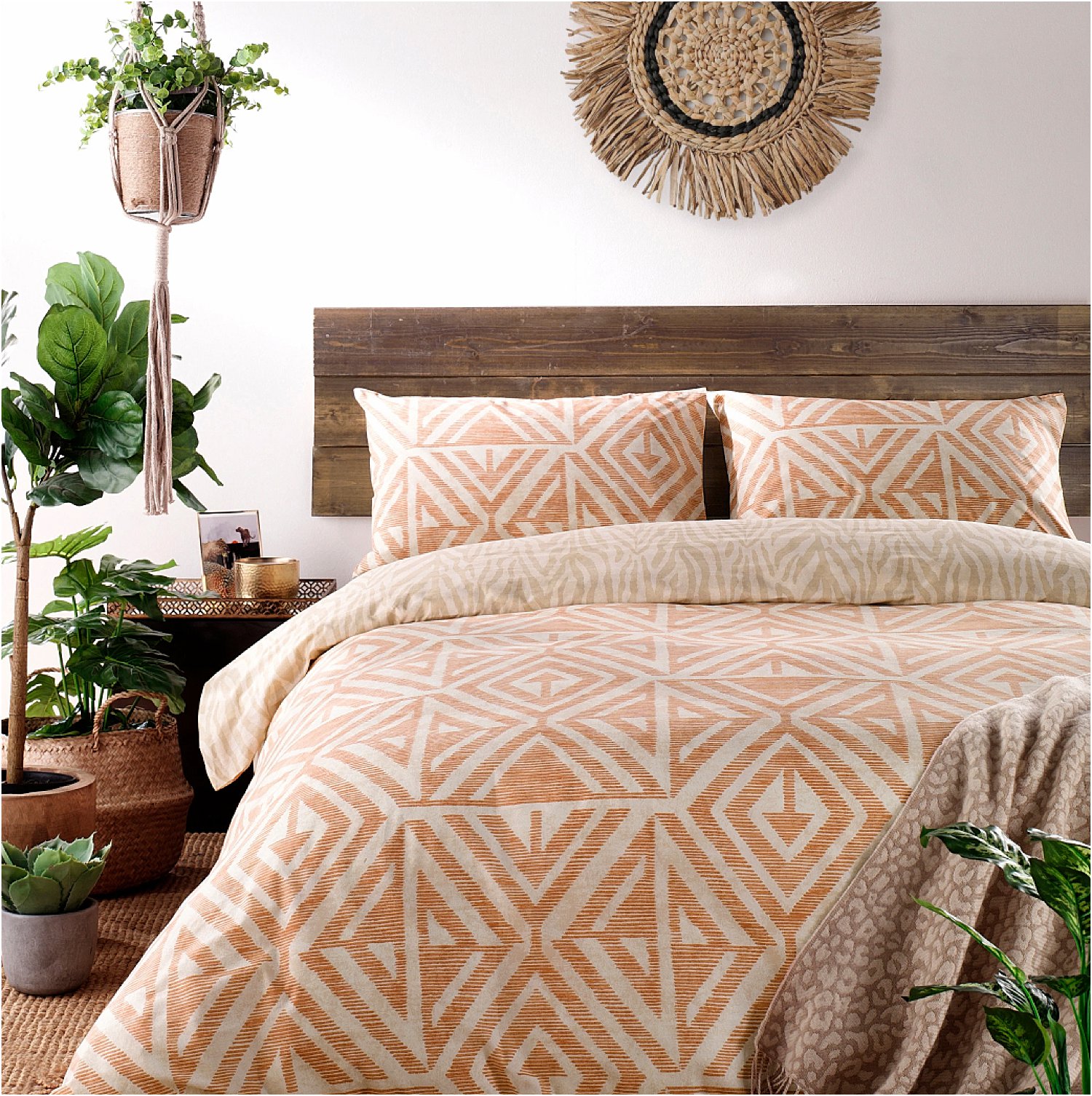 This floral delight Ellaria botanical duvet set starts at £56.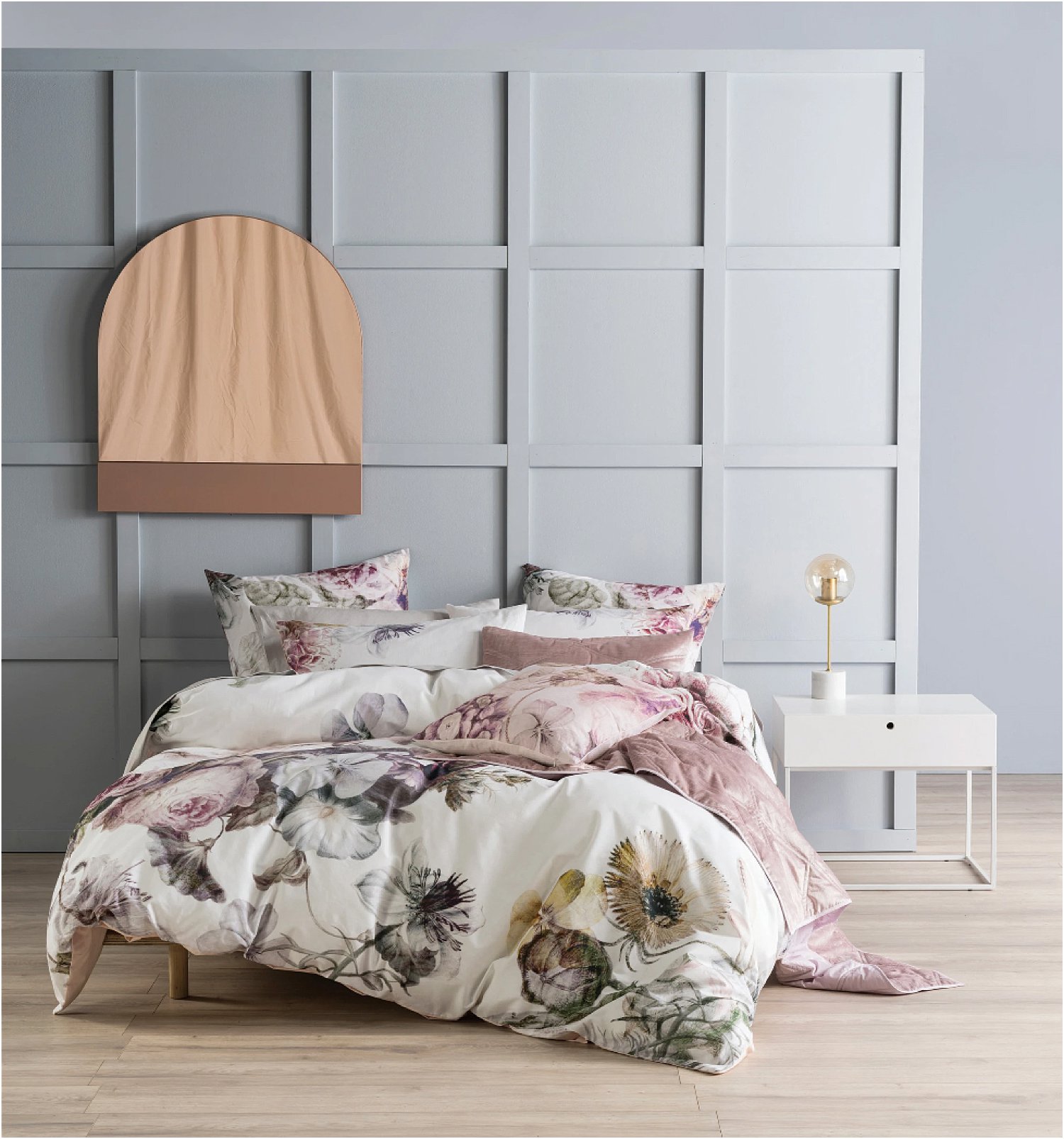 I could go on but really you have to check for yourself furn's amazing offering of home accessories that completes your design and does not break the bank! If you're looking for the perfect finishing touch, check them out. I think you might just be bowled over by their duvet sets.
There is this thing called the domino effect of interiors where once you change one thing, you're going to need to change the rest to complement the new changes. This can be costly. Why not shop around your home and challenge yourself to try out new combinations? Swap accessories around and mix colour schemes up.
Don't be afraid to try things out even if you think they might not work. Moving things around is the only way you'll know for sure whether it's the right update.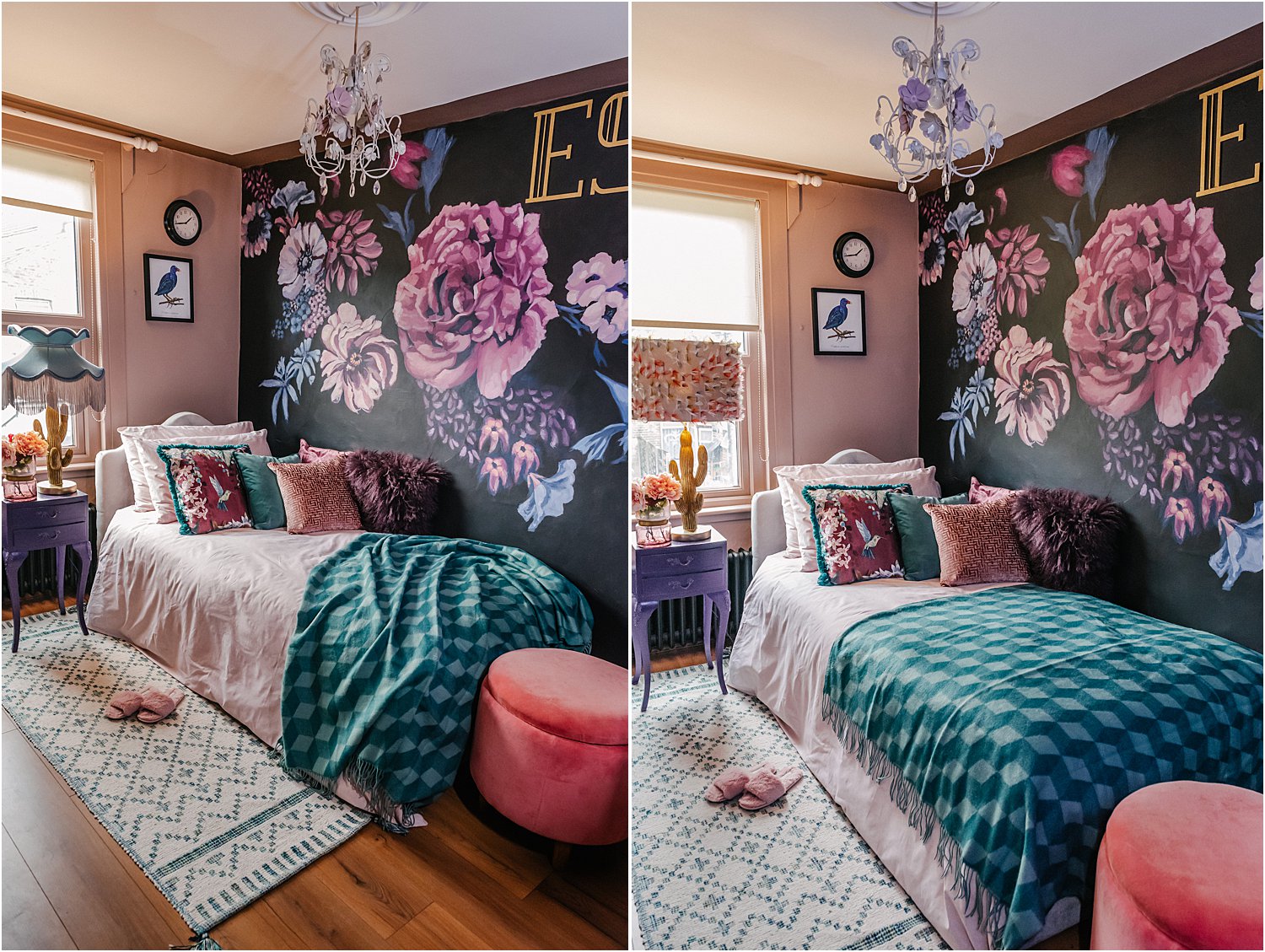 Here I've tried using two different lampshades to find out what colour works best. The blue lampshade is the clear winner here as it mirrors the colour of some of the blue flowers from the mural. I wouldn't have picked this one up straight away if I hadn't tried it out.
I've also tried styling the throw in two ways: relaxed crumpled look on the left, neat and smart on the right. It's fun to try things out and see how they change the mood of the room.
Shopping your home and trying things out is the third of 3 inexpensive ideas to update a room.
I have previously written a blogpost for furn when they first set-up shop a couple of years ago. You can read the article on winter warmer tips with furn on here. The herringbone throw you see on that article has been so versatile – I've not only used it as a throw but also as a chunky winter scarf!
This post is part of my paid partnership with furn. As always, all opinions on this article are mine and are true. You can follow furn on their Instagram account hello furn for their latest offerings and features.
Don't forget to download my free resources that will help you design your own interiors and grow your Instagram account! Let's chat on Instagram Layered.Home and together get inspired!